Bidi Bidi Pavilion at London Design Biennale, North Uganda Architecture Pictures, Africa refugee settlement
Bidi Bidi Pavilion at London Design Biennale, UK
6 June 2023
Design: Hassell with LocalWorks
Location: northern Uganda, Africa
Reframing The Narrative: To.org's Bidi Bidi Refugee Music & Arts Centre, Designed By Hassell, Empowering Creativity In Displaced Communities At London Design Biennale 2023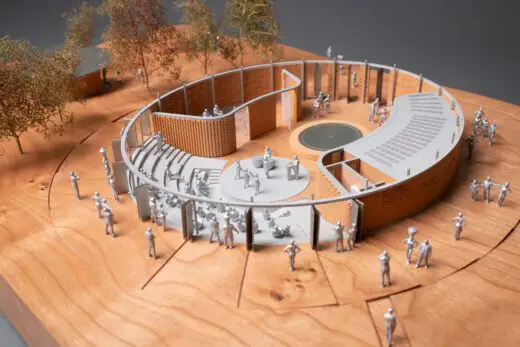 Bidi Bidi Music & Arts Centre in northern Uganda, Africa
A pavilion dedicated to Bidi Bidi Music & Arts Centre in northern Uganda's Bidi Bidi refugee settlement, developed by to.org, designed by Hassell, in partnership with Arup, will debut at London Design Biennale this June.
Bidi Bidi Music & Arts Centre is an interdisciplinary project led by to.org, a platform operating in venture capital, philanthropy, and the creative space, in collaboration with leading international design practice Hassell, Kampala design studio LocalWorks, and global sustainable development consultancy Arup.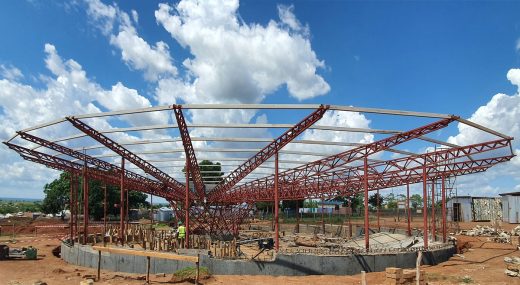 Currently under construction, the centre will provide a space for creative expression, training, and performance in Africa's biggest refugee settlement, which is currently home to over 270,000 refugees who have fled violence in neighbouring South Sudan.
As part of a larger mission to reframe the narrative around the word 'refugee', the Bidi Bidi Pavilion at London Design Biennale will showcase the unique process, architectural elements, and technical solutions exemplified by the Bidi Bidi Music & Arts Centre building, with stories from the refugee and non-refugee communities whose collaboration is bringing the project to life.
The London Design Biennale 2023 is at Somerset House (1-25 June).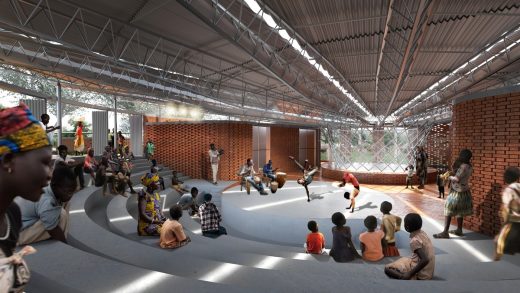 __________________________________________________________
Bidi Bidi is the largest refugee settlement in Africa, the second largest in the world, with a population of nearly 270,000, 65% of whom are under the age of 18, who in recent years were forced to flee their homes in South Sudan due to ongoing violent conflict in the country.
Under the direction of to.org's To:Foundation, this project brings the Bidi Bidi community into collaboration with international architecture practice Hassell, Kampala-based design studio LocalWorks, and global engineers Arup to create a building which will support community and empower creativity, with the goal of creating opportunity and reframing the narrative around what it means to be a refugee.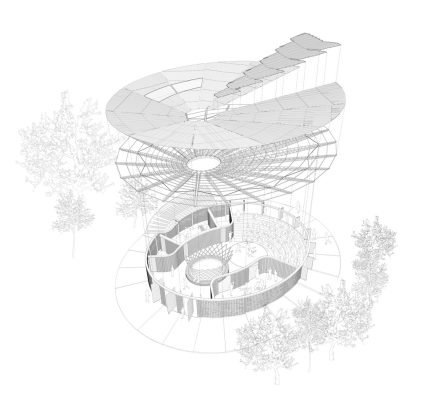 Nachson Mimran, Co-founder & Creative Executive Officer of to.org. said: "The word refugee should refer to a status, not an individual's entire identity. We regularly see demeaning rhetoric around the existence of displaced people. When words are used to 'other' the most vulnerable among us, we have a shared responsibility to reclaim and reframe those words. By creating opportunities for the refugees we work with to shine, to have their voices heard and their creativity amplified, we hope to de-slur the word 'refugee' and turn it into a status that inspires universal respect."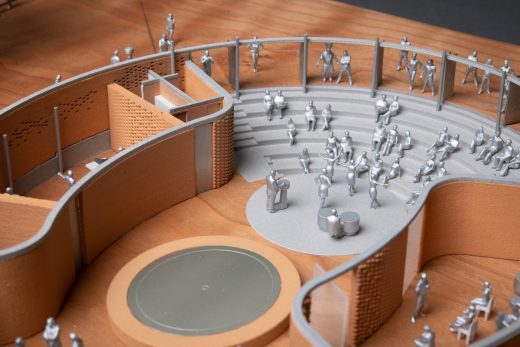 The Bidi Bidi Music & Arts Centre building
Currently under construction in Bidi Bidi refugee settlement in northern Uganda, the structure will take the form of a sheltered, semi-open-air amphitheatre that can double as a performance venue or community gathering space. The centre will provide classrooms, a recording studio, and spaces for music training, as well as a tree nursery, vegetable garden and freshwater facilities – all essential for a community where food and water shortages are rapidly worsening due to climate change.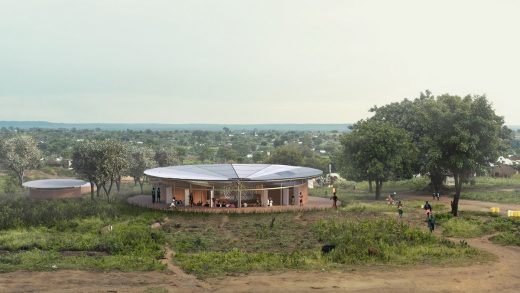 Bidi Bidi Music & Arts Centre's construction uses low-cost low-carbon local building materials, with a labour force comprising refugees and host-community Ugandans. The walls of the building employ compressed stabilised earth brick, as opposed to fired brick, using soil excavated from the site itself. This traditional local technique offers lower construction costs and dramatically reduces the impact on the environment, as the blocks are pressed in situ by hand and cured in the sun, with no need for fuel.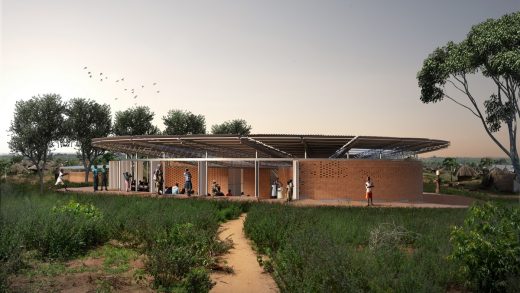 The structure further benefits from a large lightweight funnel-shaped roof, naturally cooling the inside of the building and collecting rainwater which is then filtered to provide potable water to the community. This elliptical plan allows the building to have two centres, one allowing for daylight and rainwater and the other forming a stage for the amphitheatre.
Music and dance programming at Bidi Bidi Music & Arts Centre is being developed with multimedia music project Playing for Change and others including Ugandan and international musicians and dance crews, and will be operated by SINA Loketa in collaboration with Bidi Bidi refugee instructors and administrators.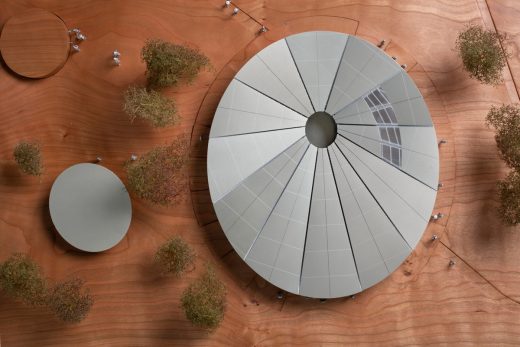 Xavier De Kestelier, Head of Design at Hassell said: "The Bidi Bidi Music & Arts Centre has been designed to empower refugees, providing the community with a space which encourages musical talent and creativity. We wanted to use knowledge and techniques gathered from designing for extreme climates and large scale arts centres in cities around the world and apply this to Bidi Bidi to develop spaces that are both environmentally conscious and harness talent from the community."
Nachson Mimran, co-founder and Creative Executive Officer of To.org, said: "To.org brought together architects, ethnographers, musicians, and activists – some refugees, some not – to find innovative solutions for creating opportunities and infrastructure for the most vulnerable. Because of this collaboration, the Bidi Bidi refugee community will have a space to play, learn, perform, create, and share, with music and dance programming focused on reducing PTSD (post traumatic stress disorder) and building community, setting a new precedent for how we think about, talk about, and create opportunities for displaced people."
Tateo Nakajima, Director at Arup, said: "The Bidi Bidi Music & Arts Centre has been a passion project for Arup – and is one we are incredibly proud to see come to fruition. Cultural spaces are incredibly important, taking people who happen to live in the same place and bringing them together. Working in partnership with to.org, Hassell and LocalWorks, we have created a valuable place of gathering for the community, one which has been built safely and sustainably using materials found locally."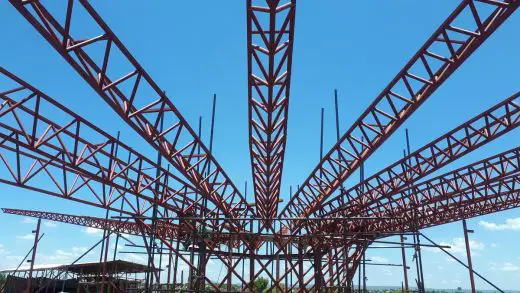 Bidi Bidi Pavilion at London Design Biennale
Visitors to the London Design Biennale will be able to explore a life-size construction detail mockup of the Bidi Bidi Music & Arts Centre, alongside a 1:100 scale wooden model, building plans and details and a specially commissioned video produced by To:Studios, presenting the project through the stories of the Bidi Bidi community. A teaser of the video is available here.
Placing a spotlight on local craftsmanship, also on show will be one of the original presses used to produce the compressed stabilised earth blocks forming the walls of the Bidi Bidi Music & Arts Centre. The press will be used for earth brick making workshops during the exhibition, and employed to produce the blocks for the London Design Biennale installation, with locally sourced soil in the UK.
The exhibition will be accompanied by a panel talk on 20 June at King's College London to mark World Refugee Week as part of the London Design Biennale talk series.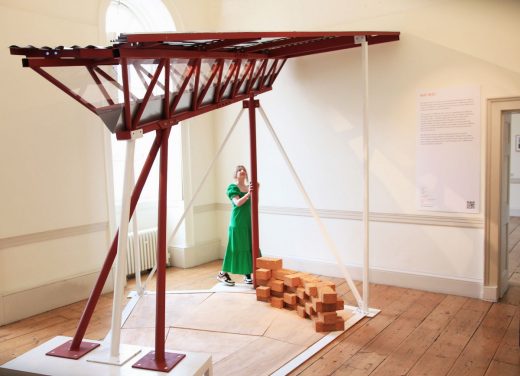 Bidi Bidi Music & Arts Centre Uganda, Africa – Building Information
Project conception and leadership: To.org
Project name: Bidi Bidi Music & Arts Centre
Location: Bidi Bidi, Uganda
Area: 641 sqm
Start on site: 2022
Target completion date: December 2023
Architecture: Hassell with LocalWorks
Contractor: LocalWorks
Engineering: Arup and LocalWorks
Music programming: Playing for Change Foundation and SINA Loketa in collaboration with to.org
Model: Base Models
To.org
To.org is a platform that operates in venture capital, philanthropy, and the creative space, uniting all three on a mission of 'tikkun olam'. Founded by Nachson and Arieh Mimran, the organisation is built around the fundamental belief that in order to heal the world we must take a creative approach and incubate the relationships and talent that make the world a better place.
The to.org mission is achieved in four distinct ways: 1) To: Foundation – accelerating vital solutions to Earth's greatest challenges; 2) To: Create – amplifying Earth's most vital ideas; 3) To: Ventures – investing to accelerate Earth's most vital ventures; 4) To: Collection – driving engagement with provocative commissions.
Website: https://to.org/
Instagram: https://www.instagram.com/to_creativeactivists/
LinkedIn: https://www.linkedin.com/company/toorg/
YouTube: https://www.youtube.com/tostudios
Nachson Mimran Instagram: https://www.instagram.com/nachson_/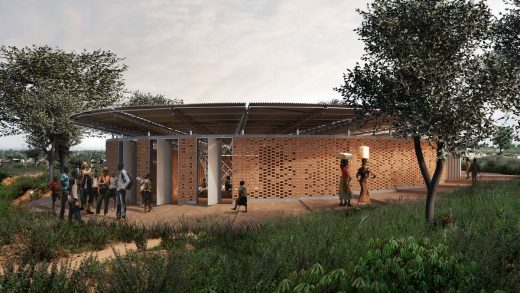 Hassell
Hassell is a leading international design practice with studios in Asia, Australia, the United States, and the United Kingdom. Our purpose is to design the world's best places – places people love. We do this by combining strategic insight with creative design to unlock the social, cultural and economic value of places. We collaborate with the best minds in research, industry and design worldwide and we're committed to making a positive impact on communities and our environment.
Recent projects include a climate responsive 3D printed pavilion and a Mars habitat, First Light Pavilion at Jodrell Bank and a new campus masterplan for the University of Brighton in the UK, Riverside Green and Park Avenue Central, Central Green Forest Park in Beijing, HSBC in Hong Kong, Sixty Martin Place in Sydney, Resilient South City in San Francisco, WA Museum Boola Bardip and the new Sydney Metro North West and Melbourne Metro projects.
Website: https://www.hassellstudio.com
Podcast: https://soundcloud.com/user-918134452
Instagram: https://www.instagram.com/hassell_studio/
LinkedIn: https://www.linkedin.com/company/hassell
Twitter: https://twitter.com/HASSELL_Studio
Weibo: http://e.weibo.com/hassellstudio
Youku: http://u.youku.com/HASSELLstudio
Arup
Dedicated to sustainable development, Arup is a collective of designers, consultants and experts working globally. Founded to be humane and excellent, we collaborate with our clients and partners using imagination, technology, and rigour to shape a better world.
London Design Biennale
Established in 2016 by Sir John Sorrell CBE and Ben Evans CBE, London Design Biennale promotes international collaboration and the global role of design. Since its inception the Biennale welcomes the world's most exciting and ambitious designers, innovators and cultural bodies to the capital.
The fourth edition of London Design Biennale will take place from 1 to 25 June 2023, artistically directed by the Nieuwe Instituut—the Dutch national museum and institute for architecture, design and digital culture. Taking over the entirety of Somerset House, including the Edmond J. Safra Fountain Court and River Terrace, participants from across the globe will be invited to imagine and enact new forms of international cooperation and participation—including with each other—through the medium of design.
London Design Biennale's International Advisory Committee and Jury includes: Paola Antonelli, Victoria Broackes, Aric Chen, Es Devlin OBE, Nipa Doshi, Ben Evans CBE, Marva Griffin Willshire, Suhair Khan, James Lingwood MBE, Prof. Jeremy Myerson, Tosin Oshinowo, Jonathan Reekie CBE, Rashid and Ahmed bin Shabib, Sir John Sorrell CBE, Dr. Christopher Turner.
www.londondesignbiennale.com
Ugandan Building images / information received 060523 from Hassell Architects
Location: Uganda, Africa
African Buildings
Africa Architectural Projects
African Architecture Designs – chronological list
Uganda Architecture
Kampala Tower
Design: Capita Symonds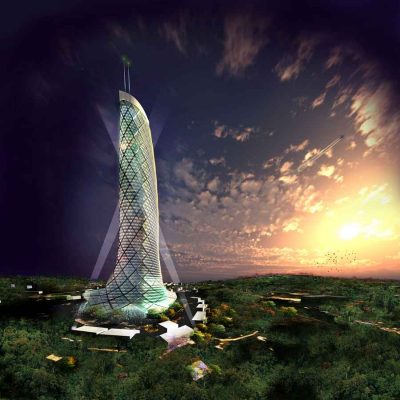 image from architects
Kampala Tower Development
British High Commission Kampala
Design: Kilburn Nightingale Architects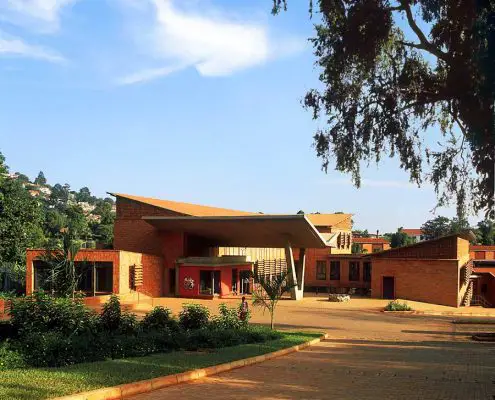 image : Adrian Hobbs
British High Commission Kampala
Uganda Buildings : Article 25 Developments
Uganda Buildings
Comments / photos for the Bidi Bidi Pavilion at London Design Biennale designed by Hassell architects page welcome