HASSELL Architects, Design Office, Architectural Studio, Australia, FreeState
HASSELL Architects Office
International Architecture Practice Information – Merger News, Studio Awards, Events
HASSELL News
HASSELL Architects Practice Information
3 May 2019
HASSELL welcomes new Principal Rebecca Mortimore
We are pleased to announce that Rebecca Mortimore has joined HASSELL as a Principal in the London studio. Rebecca, who comes to HASSELL from Sheppard Robson, will be a fantastic addition to the design studio's capabilities within the region, building on an extensive portfolio of Higher Education, science and laboratory work.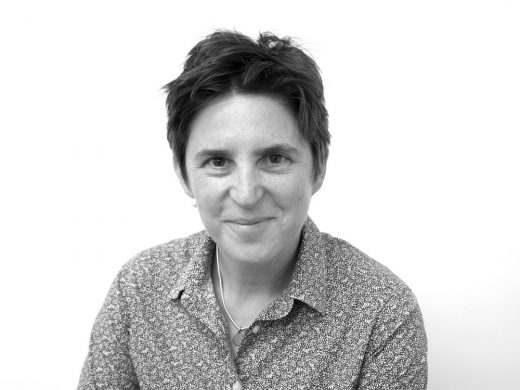 photo courtesy of architects
Rebecca brings with her more than twenty-five years' experience designing and delivering complex technical projects for a wide range of clients, including leading universities, scientific institutions and commercial organisations. Her knowledge, expertise and innovation within the sector as well as significant experience of business development, work-winning and leading project teams, will enhance the offer HASSELL currently brings to a fiercely competitive market.
HASSELL UK head of Higher Education, Julian Gitsham, welcomed Rebecca's addition to the team, saying her experience was the ideal complement to HASSELL's expanding portfolio of work.
"We have carved a strong reputation in the higher education space, working with the likes of the University of Glasgow, the University of Edinburgh, and the University of Brighton to help them bridge the gap between academia and industry," said Julian.
"Rebecca's experience builds on this, and further equips us to address the needs of clients within an increasingly complex market."
Rebecca said the collaborative design culture of HASSELL and its impressive global portfolio were key drawcards for her to join the Australian-born practice.
"HASSELL is leading the field in relation to its people-first design approach that places the needs of the user at the heart of every project, because from this come buildings that occupants love and where discovery and learning can flourish," Rebecca said.
"I'm extremely excited to be joining the talented team at such a critical phase of the practice's growth in the region."
Outside of the studio, Rebecca will continue in her role as a Professional Practice Tutor at the University of Westminster and a Co-Chair of the LB Wandsworth and Richmond Design Review Panel.
26 + 25 Apr 2017
De-smarting the city: HASSELL opinion
e-architect bring you news of a content hub that the HASSELL studio has launched featuring research, speculation and thinking on how to address the challenges faced by cities around the world.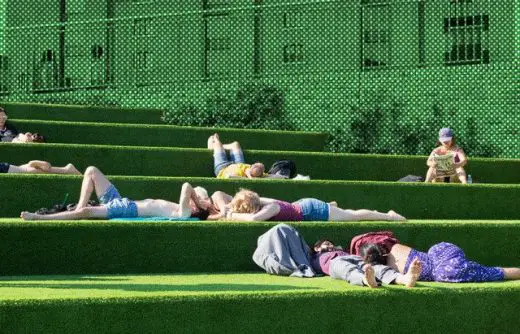 Titled Urban Futures, the hub contains a range of thought-provoking articles exploring what will drive the future design of places people love.
One of the key launch articles is 'De-Smarting the City' by user experience design specialist Adam Scott at UK-based FreeState (which recently merged with HASSELL).
Adam suggests the rationale of 'smart' as a means for improving, designing and building our cities has reached the tipping point of acceptability.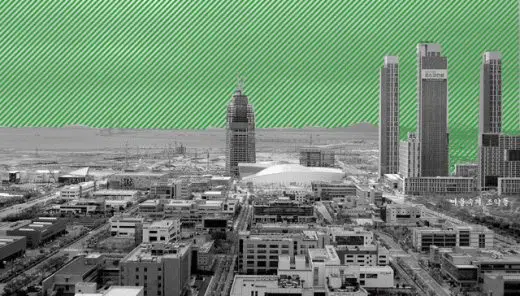 Designing, building and populating a city from scratch, as per the age of emperors, is preferred by some urban planners to create smart cities designed for their users' technological needs, however Adam believes it comes at the cost of the fundamental principle of what cities are about: the experiences of people being people.
The South Korean city of Songdo, the world's so-called smartest city, is an example of the tipping point in action. In Adam's view, Songdo is a clean, safe and predictable and unnatural city which mistakes people for 'categories of users and skillsets' and is largely bereft of the messiness of manufacturing and municipal service industries and the organic, often anarchic, growth of streets.
In contrast, the approach taken by Kings Cross Central lead developer Argent St George was to meet 7,500 people in 353 separate meetings to hear their views, ideas and experiences before deciding on any strategy or laying a single brick to master plan for experience and activate a city by the energy of the very people who gave it life. Their rationale for this approach? Cities do not 'create communities', people do.
Urban Futures also contains pieces by HASSELL urban design principal David Tickle exploring:
• whether cities should expand up or down to accommodate swelling populations. He examines whether a city such as Hong Kong can embrace 'super density' by creating taller, more efficient buildings combined with vertical main streets that wind their way 500m into the sky offering fast and slow movement, open spaces, and social, economic and ecological infrastructure; and
• how major cities can provide additional affordable housing, examining options to reinvent the Sydney 'walkup' apartment, the Xincun 'super block' in Shanghai and a typical London row house.
Follow #Urban Futures conversation
Urban Futures will also feature the release each day of an idea from a member of the HASSELL team. Each idea will focus on an unloved space or place in a city and could range from a popup installation to a new city experience, such as turning a disused motorway into a waterfall or watching a very short film festival while you wait for the Metro.
The ideas are designed to be playful to techno-futuristic to the absolutely viable.
Follow the conversation @hassell_studio #urbanfutures or subscribe to stay up to date with insights.
22 Nov 2016
HASSELL Architects News
HASSELL + FreeState Merger
HASSELL + FreeState merge to offer world-leading user experience design
HASSELL Architects has strengthened its offering to clients by merging with London-based architectural firm, FreeState, a multi-award-winning group of user experience designers founded by Adam Scott, Ben Johnson and Charlotte Boyens.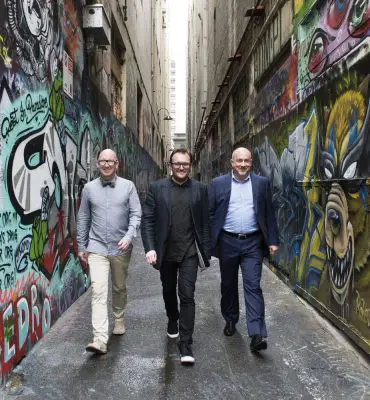 The merger, effective immediately, brings together the collective creativity, knowledge and resource base of the two practices for the benefit of their clients.
Based in London and working internationally, FreeState has collaborated with some of the world's biggest brands including Sony, Nokia and Virgin Atlantic, as well as world-class property developers including Brookfield Property and Exemplar. They are experts in developing user-focused stories, designed journeys and immersive experiences that connect people with brands, each other and places to create a more valuable end product.
"What we've seen really clearly over the past 20 years is a shift into the era of experience. By that I mean that people are increasingly placing value on 'experiences' over 'things' and their expectations of those experiences are very high," said FreeState Creative Director Adam Scott, citing a recent survey by Harris Group that found 72 percent of millennials prefer to spend more money on experiences than on material things.
"What that means is that brands – and places – now live or die by how well they inspire attraction, involvement and a sense of belonging," he explained.
HASSELL Managing Director Rob Backhouse said the merger is about responding to this significant disruption by expanding the HASSELL architects offer beyond the traditional boundaries of architecture and design to encompass new and innovative ways to deliver value to clients and end users.
"Globalisation, rapid urbanisation and fast changing technology are fundamentally changing the way we live, learn, work and play. Our clients and cities are grappling with these dynamics daily – and it's increasingly vital to understand and design for the 'human factors' associated with these changes," said Rob.
"Our shared vision is to design the world's best places – places people love. This merger adds a new dimension to our practice – market-leading capability in user experience – which will give us and our clients a valuable competitive advantage," said Rob Backhouse.
Adam Scott agreed. "In everything we do, we start with people – imagining what their ideal journey might be as the basis for designing their ideal future environment."
"So we can work with clients well before the traditional design process would start to define individual user journeys and map ideal experiences of places 'moment by moment' to create engaging, meaningful and memorable experiences, events, buildings and places.
"This process is really powerful in connecting brands and places with target audiences – whether they be customers, commuters, employees, students or members of the public – in completely new ways and ultimately transforming everyday places into extraordinary experiences," he added.
HASSELL + FreeState have already started working together on client projects, with Arup engaging the practice on its workplace strategy for the Australian region.
"Arup engaged HASSELL to develop its regional workplace strategy and is now implementing it across our various offices. As part of the strategy in Melbourne we were keen to engage clients as well as our staff in the design process. We wish to truly capture what's great about working with and at Arup within our new workplace." said Arup Buildings Principal and Office Leader, Dr Joseph Correnza.
"We were aware of FreeState's past work, and their merger with HASSELL has allowed us to take a different approach to our workplace design. We stepped into the shoes of our clients to understand their experience and how that impacts us as a business. This, in turn, helped the HASSELL design team to deliver the most innovative, engaging and experiential workplace for us. In our opinion, it's the great merger because it delivers the best results for Arup, our people and for our clients," he said.
FreeState will continue to operate under its own name and leadership but as part of HASSELL, sharing people, knowledge and projects.
2014 Melbourne Food and Wine Festival
6 + 4 Mar 2014 – new images of The Immersery: Festival Kitchen, Bar and Raingarden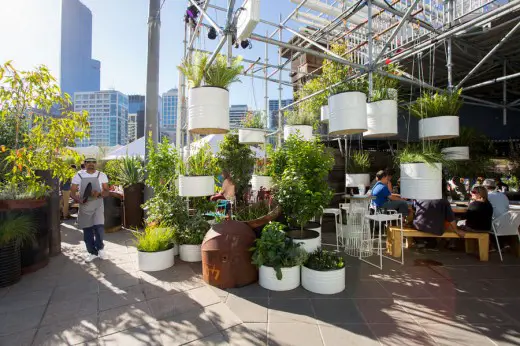 A cloud-like structure suspended above a floating bar and open-kitchen restaurant on the banks of Melbourne's Yarra River form the spectacular centrepiece of the 2014 Melbourne Food and Wine Festival.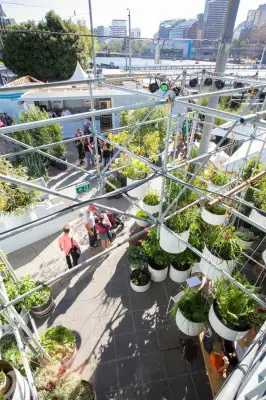 Designed by international design practice HASSELL architects, from a concept dreamt up by the team at MFWF, and more than double the size of last year's Festival hub, The Immersery: Festival Kitchen, Bar and Raingarden is one of the most ambitious temporary spaces Melbourne has ever seen.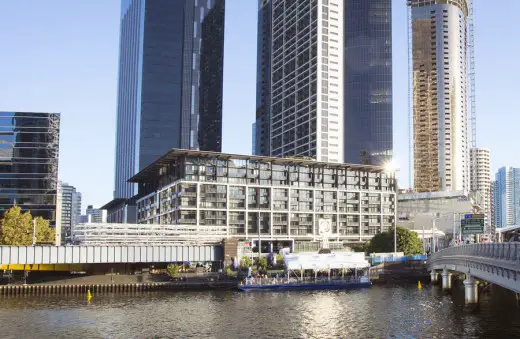 HASSELL designer Brenton Beggs said The Immersery brings the Festival's water theme alive and offers a glimpse of the long-term potential of the Southbank site.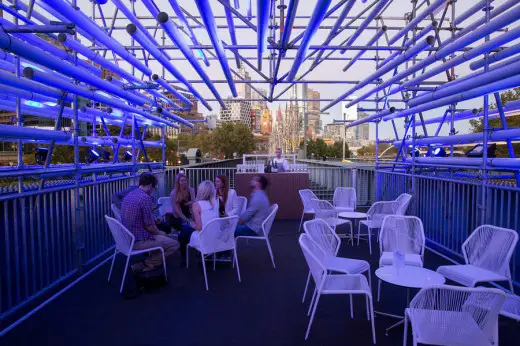 "We thought about how to interpret the theme of water and connect it to the Melbourne Food and Wine Festival brand, which is one of the most prestigious festivals of its kind in the world," said Brenton. "We wanted to design a space that would draw people in and create a sense of excitement and an element of surprise.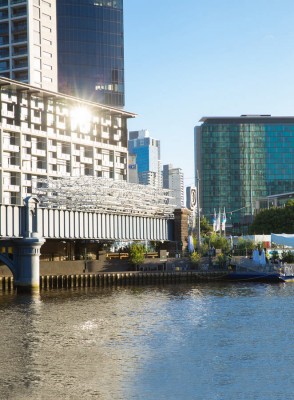 "The design represents the three states of water as well as the water cycles, encouraging visitors to consider how we use one of Earth's most precious resources, at the same time as enjoying the vibrant and lively atmosphere of the festival."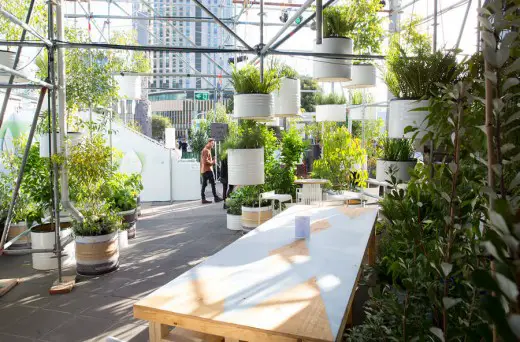 Photographs : Bonnie Savage
Video of design by HASSELL:

UP AMONG THE CLOUDS: 2014 MELBOURNE FOOD AND WINE FESTIVAL HUB
Festival Hub 'The Immersery: Festival Kitchen, Bar and Raingarden'
21 Feb 2014 – The hub for 2014 Melbourne Food and Wine Festival presented by Bank of Melbourne opens to the public on 28 February.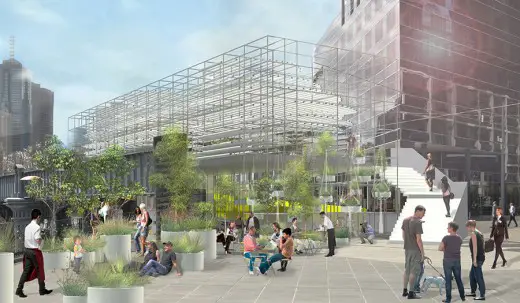 The cloud-like canopy sitting above the disused Sandridge Rail Bridge will create a skyline community space and offer a new city vantage point.
"Water misters, multi-level planting and a water-inspired soundscape all contribute to the sense of an urban retreat, where visitors can relax, and become truly immersed in the landscape," said Brenton.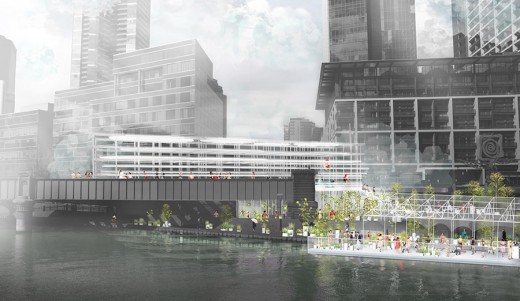 "We worked closely with Melbourne Water to create ground-level raingardens that are located around the site. They feature drought-tolerant plants and demonstration vegetable patches in reclaimed 40-gallon drums.
"They show how people can harness Mother Nature's most precious resource and capture, filter and reuse water before it re-enters the water cycle."
The barge on the Yarra River will be moored to the wharf beneath the cloud and be home to a floating bar hosting some of the country's best wine, cocktails and drinks. The open-kitchen eatery on the concourse level immediately adjacent will feature a lunch and dinner menu designed by a star-studded collective of local chefs.
Many of the materials used throughout The Immersery are connected to water infrastructure, such as plumbing pipes, and have either been reclaimed, recycled or will be returned into circulation following the Festival, ensuring material waste is kept to a minimum.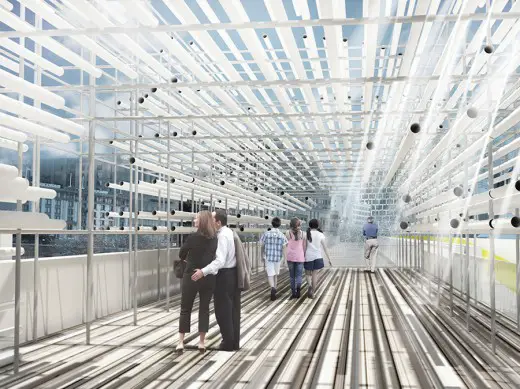 HASSELL Architects Principal Mary Papaioannou said temporary projects such as The Immersery provided the opportunity for experimentation through intervention in the public realm.
"Temporary or 'pop-up' events are great vehicles for testing ideas. They offer a chance to directly challenge established modes of public occupation and behaviour and offer the public a new perspective on a space they may already be extremely familiar with," said Mary.
"The inter-disciplinary nature of practice at HASSELL gives us opportunities to deliver a wide range of street-based design projects ranging from temporary, small-scale works to significant, city-shaping projects."
The Immersery follows the successful centrepiece of the 2013 Melbourne Food and Wine Festival, the HASSELL designed Urban Coffee Farm and Brew Bar.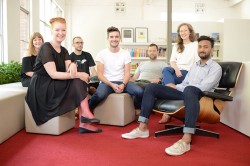 The 2014 Melbourne Food and Wine Festival runs from 28 February – 16 March
HASSELL Sydney studio opens, coinciding with Vivid Sydney Festival
LORD MAYOR CLOVER MOORE LAUNCHES NEW HASSELL SYDNEY STUDIO
9 Jun 2013 – Sydney Lord Mayor Clover Moore opened (on 6 Jun) a new studio for HASSELL Architects – the design firm responsible for some of the most important projects currently helping re-shape Sydney.
Four hundred invited guests attended the studio launch at Walsh Bay. The new studio, in Pier 8/9, will be home to approximately 125 architects, landscape architects, urban designers, planners and interior designers.
New HASSELL design studio at Pier 8/9, Walsh Bay: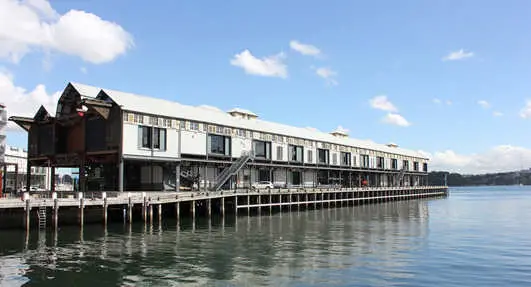 photo from HASSELL
Established in Adelaide in 1938, HASSELL Architects is celebrating its 75th anniversary year. It is now an international design practice, operating studios in five Australian cities, five in China, two in Southeast Asia and two in the United Kingdom.
Interior of the New HASSELL design studio at Pier 8/9, Walsh Bay: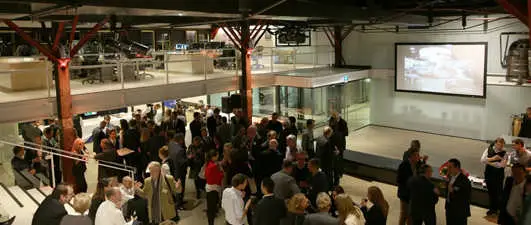 photo from HASSELL
In Sydney, HASSELL is working on projects including Sydney International Convention Exhibition and Entertainment Centre and the associated public domain known as Darling Harbour Live, a new glasshouse and tropical centre at the Botanic Gardens The Biome Top End, Sydney Light Rail project from Randwick and Kingsford through the heart of the CBD to Circular Quay, the bid for the Northwest Rail Link enhancing travel along the Sydney Northwest corridor, the Westconnex urban renewal project, Taylor Square Bike Hub, ANZ's new Sydney head office workplace andHub Sydney a collaborative co-working venue.
Opening evening at new HASSELL design studio:





photos from HASSELL
The new studio takes up 2,636 square metres in the historic Pier 8/9 at Walsh Bay. It is adjacent to the planned Barangaroo Headland Park and in the heart of the Walsh Bay creative industries community. Pier 8/9 was built in 1914 to store and load wool onto ships bound for Europe and has a wonderful tough, industrial character.
The move to an industrial wharf building re-imagined for a new purpose continues a HASSELL tradition – the company's Shanghai studio is in a former motorcycle factory, in Brisbane it is housed in a transformed bakery and in Melbourne it occupies what was once a clothing warehouse.
HASSELL Sydney Managing Principal, Matthew Pullinger, said the move to Walsh Bay brings a new impetus and energy to the studio.
"We are celebrating our new studio with a major contribution to Sydney's Vivid Festival of Light, Music and Ideas," he said.
"Our designers have produced four separate Vivid installations that are drawing hundreds of thousands of people to the city's streets.
"The Vivid installations may appear modest compared to some of the projects we work on. But they give our people a great opportunity to extend their creativity and sense of fun. It also demonstrates our commitment to making a contribution to enlivening creative places and the cities we live and work in."
Matt Pullinger + Mayor Clover Moore + Ken Maher: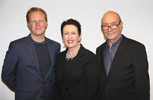 photo from HASSELL
The new studio is designed to reflect the engaged, collaborative culture HASSELL has fostered over the years. It is focused on a large double height creative hub that reveals the historic fabric and function of the building. This space facilitates everything from incidental get-togethers, to formal presentations and even performances for larger groups.
The main studio space on the mezzanine level overlooks the hub, placing our design process on display, visible from both the entry below and throughout the large characterful workspaces.
"Our carefully designed studio environment, situated in a finger wharf on Sydney Harbour is a truly amazing place to work," said Mr Pullinger. "And with the official launch it showed that it is also a great place for celebration."
HASSELL VIVID INSTALLATION BACKGROUNDER
Four Vivid installations by HASSELL designers
Dalgety Line:



photo from HASSELL
The Dalgety Line by David Tickle and Emma Townsend is a site-specific installation that seeks to reconnect the city and the Harbour, responding to the original position of two assets of the Dalgety company (a wharf and a wool store), as well as a 2012 proposal to split the Millers Point area into two suburbs, disconnecting the hillside settlement from the waterfront. The Dalgety Line seeks to reconnect Millers Point with its historic waterfront, both literally and conceptually. It runs along and across a portion of Hickson Road, suspended above the ground and tethered sensitively to buildings and urban elements. Marking the western threshold of the Vivid Festival, the line creates a sense of arrival or departure for people passing beneath it.
Field of Colour:



photo from HASSELL
Field of Colour by Nicholas Elias and Clinton Weaver is a series of illuminated coloured tube clusters. Each cluster has the same geometry and spacing except that each is rotated in a slightly different way. The installation accentuates the quality of the site, as it is a quiet and calm piece of work with no strong narrative. Its abstract nature means that people can engage with it and interpret it in their own way.
Rats by Jason Hammond, Sarah Meyer and Bridget Tregonning references the invasion of rats that took place in 1900 in The Rocks and Walsh Bay area that resulted in an outbreak of bubonic plague. A program of quarantining the outbreak area followed, as the Sydney Harbour Trust demolished all the existing buildings in the area and created a new rat-proof sea wall to stop rats breeding in the area. The invasion of rats can be seen as the single most defining factor in the development of the area as it is today and the design team used this idea to create the random effect of rats floating the water of Piers 8 and 9 in Walsh Bay. The rats – which try to evoke the slightly eerie feeling of eyes staring out from the dark at passers-by – were crafted by the design team themselves, completely out of material that are associated with the sea and water.
Walsh Bay Whispers:



photo from HASSELL
Walsh Bay Whispers by Grace Tham looks to the Walsh Bay Wharves and the significant role they played in Sydney's founding history and maritime past. The wharves were hubs for settlers, traders and travellers, each with their own colourful tale to tell. This installation aims to bring those secrets and stories back to life, capturing the essence of the era when the wharves were first built and the area was a bustling centre of Sydney. Using light and sound to inspire imagination and evoke emotions, Whispers is an immersive experience of discovery and delight where nothing is as it seems. The installation is best described as real-time public theatre and features a custom-built brass and crystal chandelier, ghost illusions, reclaimed doors and windows from historic sites and an emotive soundscape designed by David Pickvance.
Thank you to the sponsors who supported our installations:
Waterman Group, Contemporary Furniture Design, Domus Lighting, Production Resource Group (PRG), MySmartCTI, Stowe Australia, UNSW, Media Architecture Institute, AHL, Light Force, Point Of View Lighting Design and JHA Engineering, David Pickvance.
Urban Coffee Farm and Brew Bar, Melbourne, Australia



photo : Bonnie Savage
Urban Coffee Farm and Brew Bar – 4 Mar 2013
HASSELL designs the Urban Coffee Farm and Brew Bar for the 2013 Melbourne Food and Wine Festival. Coffee and the cafes that sell it are ubiquitous in the world's major cities – but how about a jungle of coffee trees on the edge of a central business district?
Bjarke Ingels in Sydney for HASSELL and AIA, Australia
6 Dec 2012
Australian Institute of Architects Event
Talk at the Australian Institute of Architects in Sydney at an event sponsored by HASSELL.
Ingels heads up the Bjarke Ingels Group (BIG) which had been invited by HASSELL to visit Sydney to explore the potential for future project collaborations. The common design values and easy fit between BIG and HASSELL make it a powerful team.
3 Dec 201
Ben Duckworth, Melbourne, Victoria, Australia
HASSELL welcomes award-winning architect Ben Duckworth as a Principal to be based in the Melbourne studio from today.
Ben brings with him impressive design credentials having worked with some of the world's most creative and respected international design practices over the past 15 years.
After studying architecture at the University of Tasmania and graduating in 1997, Ben worked in Hobart and Sydney before being awarded the RAIA Polyflor Travelling Scholarship in 2003 and basing himself in Europe.
His most recent role was with Herzog & de Meuron in Switzerland where he had been an associate since 2007. During his time with Herzog & de Meuron Ben was involved in projects ranging in scale from single spaces to masterplans for 20,000 people – and across various sectors including residential, sport, culture and education. Ben led the extension and expansion of the Tate Modern, Lords Cricket Ground Master Plan and the Blavatnik School of Government at the University of Oxford in the UK. He was also project director for the Kolkata Museum of Modern Art (KMOMA) in India.
Melbourne Principal Mark Loughnan welcomed Ben commenting that, "Ben joins HASSELL Principal Jad Silvester and me in having previously worked with Herzog & de Meuron in Europe. We are excited to be working together again at HASSELL in Melbourne and contributing to a culture of design excellence for our clients locally, nationally and internationally."
HASSELL and Herzog & de Meuron are currently collaborating on a shortlisted proposal for the Flinders Street Station International Design Competition – an iconic Melbourne project that has attracted entries from numerous international practices.
Celebrating PARK(ing) Day
3 Oct 2012 – PARK(ing) Day is a global event originating from San Francisco that calls on artists, designers and citizens to transform their city's metered parking spaces into temporary public parks. It is based on the idea that paying a parking meter is like 'renting' a public space – instead of parking a car, why not park something else.
Adelaide in South Australia is a city that always gets involved in the event and this year was no exception. Ben Willsmore and Alex Hall from HASSELL were both co-ordinators of the event, supported by Adelaide City Council.
"Overall, PARK(ing) Day was a success. We had even more parkers in Adelaide than last year's record number and we could see and feel the great impact the event had on the city," said Alex.
HASSELL exhibited a unique concept at PARK(ing) Day named Re-Do. Made of ice, the exhibit was set in traffic cone moulds and played on the parking and traffic theme.
The idea was to create something that would disappear by the end of the day, with the exhibit having as little impact on the environment as possible by being created from a non-permanent material. "Re-Do was easily understood by the public who took great interest in the installation as it changed over the course of the day. It was great to see people leaving our park questioning…why do we always build with permanent materials?" said Alex.
Some of the other participants in Adelaide PARK(ing) Day were Woodhead, Hames Sharley, Green Star, Form and Yelp.
Saturday in Design, Australia
7 Sep 2012 – A video produced about an installation for an annual Australian design event called Saturday in Design.
HASSELL designed a large conceptual installation called Frame Fill Wrap:
10 Aug 2012
HASSELL wins architecture competition for Shenyang Hutai New Town, China
HASSELL has won an international competition to design one of northeast China's largest, state-of-the-art ecological urban centres.
Located in the capital of Liaoning province in China's industrial heartland, the 128-square kilometre Shenyang Hutai New Town is one of the city's largest and most cutting-edge ecological and natural urban centres.


image from architects
Situated on the edge of a lake that spreads over 67 hectares, Phase One of the project encompasses a 100,000-square metre architecture design project comprising an administrative and planning hall, a cultural exchange centre, a music hall and a business and convention hotel.
Conveying modernity while paying tribute to the cultural and historical fabric of one of the most pristine and untouched areas of the country, the first phase of the project is due for completion end-2013.
The design by HASSELL establishes an interactive link with users and nature, combining civic and natural elements to create an un-obtrusive, vibrant yet elegant eco-urban space, with each individual architectural design enhancing the character of the whole.
Besides this Shenyang project, HASSELL recently completed the Palm Island project, an integrated commercial-retail development in Chongqing that combines retail space, residential and commercial towers in a seamless lifestyle experience.
HASSELL also spearheaded the large-scale JiNing Huan Bi Quan Commercial Development in Shandong province and designed part of the Hangzhou Xintiandi Development in Hangzhou, Zhejiang province.
HASSELL – Recent News
23 Jan 2012
HASSELL wins double honours in CERN public realm competition
The international design practice HASSELL was awarded last night for its entry in both categories of the international Public Realm competition for CERN in Geneva. The competition entry, which was produced by the London studio of HASSELL, was awarded at a ceremony at CERN's Globe of Innovation.


image from HASSELL
HASSELL was the sole UK based design practice to be recognised with an award. The open international competition, run by the Canton of Geneva, was launched in May 2011.
The competition was split into two categories – an Ideas competition for the length of the Route de Meyrin adjacent to the CERN campus, and a Project competition to design an emblematic Public Realm that will form the public face of the campus. HASSELL was placed in the top three in both categories, with the Project competition completed in collaboration with the lighting architect Rogier van der Heide.
An exhibition of the competition submissions is being held from the 19 to the 28 January 2012 in the Globe of Science and Innovation.
The entry from HASSELL explored the relationship between the imposing natural setting of the CERN Campus, with the evolving technological discoveries that are making headline news around the world. Tony Grist, Head of Architecture for HASSELL and based in the London studio, commented "The result recognises the commitment HASSELL places on the design of the public realm, and the culture of collaboration between architecture and landscape architecture within our practice."
Background:
The Globe of Innovation at CERN is a venue for discussions and exchanges on the interaction between science, industry and society. The Globe hosts exhibitions, conferences, events, meetings and debates.
The top three prizes in the CERN competition in both categories:
1. Studio Bürgi, Switzerland
2. Jacob Plannung, Switzerland
3. HASSELL, London
The exhibition of the Route de Meyrin – CERN International competition will run until 28 Jan 2012 in the Globe of Science and Innovation, CERN.
12 Jan 2012
HASSELL ranked top Australasian architectural practice for third year running
HASSELL has been ranked as the number 1 architectural practice in Australasia amongst a handful of Australian practices included in this year's World Architecture survey. The BD World Architecture's annual survey of the top global architecture practices, WA100, is published in association with UK magazine Building Design. It has become the leading indicator of how the global architectural profession is developing.
Rock Tower, Chongqing, China:



image from HASSELL
Among the world's 100 largest architectural practices, HASSELL was ranked 30 overall. The practice was also included in the global Top 10 for the Business Parks/Offices, Criminal Justice, Transportation and Urban Design market sectors. Our expertise in landscape architecture and interior design also featured in the global Top 10 for 'Areas of Expertise'.
HASSELL is an international design practice with 14 studios in Australia, China, Southeast Asia and the United Kingdom. Our leading position is thanks to a collaborative, diverse group of clients and the expertise, design talent and commitment we offer them. Our scale provides the capacity to deliver a broad range of projects, from small crafted commissions right through to some of the largest most complex developments.
"Whilst size isn't everything, we believe that this ranking and for the third year running, is testament to our success in working with our clients to achieve great outcomes." Robert Backhouse, Managing Director Click here to learn more about some of our internationally recognised work.
7 Nov 2011
HASSELL wins two national Australian Institute of Architects awards
HASSELL is proud to announce that it was the recipient of two major awards at the Australian Institute of Architects National Awards in Hobart.
These are:
Walter Burley Griffin Award for Urban Design – one40william (Perth, Western Australia)
Harry Seidler Award for Commercial Architecture – Ecosciences Precinct (Brisbane, Queensland)
"We feel privileged to have the opportunity to work on major projects that allow us to provide stimulating workplaces as well as contributing to the making of better cities. Design is our passion, so we are indeed honoured to be recognised in this way by the Australian Institute of Architects." said Ken Maher, Chairman of the International Executive at HASSELL.
Walter Burley Griffin Award for Urban Design
one40william (Perth, Western Australia)
Architecture, Interior Design, Landscape Architecture, Urban Design/Planning: HASSELL
Photographs: Peter Bennetts


photo from HASSELL
Jury citation
"(…) The project essentially transformed this city block into a city fabric. (…) At the scale of the city, the massing of the building provides a rich addition to the built form of Perth as it responds to the variety of built form around it. It provides a sensitive response to the GPO, the Commonwealth Bank and the restored heritage structures along Wellington Street. At the scale of the building, the floor plates take the form of a series of parallel slabs, allowing light and air to permeate the workspaces within. At the scale of the pedestrian, the project provides a dense network of laneways and public places such as Globe Lane, Railway Square, Railway Lane and Postal Place, which tie the project to its surroundings and link William Street to Wellington Street and the Murray Street mall.
"The 5 star Green Star Office project also makes one more significant urban contribution that transforms this part of Perth: it fully engages with the Perth Underground Railway Station. The project enhances connectivity with the surrounding city by providing the railway station with appropriate entrance spaces that are highly visible and fully integrated into the placemaking of the building itself."
Harry Seidler Award for Commercial Architecture
Ecosciences Precinct (Brisbane, Queensland)
Architecture, Interior Design, Urban Design / Planning: HASSELL
Photographs: Christopher Frederick-Jones


photograph : Christopher Frederick Jones
Jury citation
"The building concept is simple, powerful and extremely well executed. (…) The building purposefully unites the complex, high-performance requirements of laboratory space with social, people-oriented environments filtered by light garden ambience. From parti to detail, space planning to atmosphere, this is a carefully and sensitively conceived design. It assertively embraces the next generation of healthy, efficient and enjoyable office environments. The interconnection of the working components of expressed externally as truthful to purpose and highly sculpted. Facades are screened appropriately for respective orientations.
"This project exudes a confident approach to workplace best practice and, therefore, respect for its inhabitants."
2 Nov 2011
Walk the Line Sydney
HASSELL to inspire a revival of hopscotch and marbles.
Before iPhones and computer games, kids were playing hopscotch and marbles in the streets. And they'll be doing it again soon thanks to a team of HASSELL landscape architects who will be reactivating under-utilised city spaces.
The team is one of five groups awarded the opportunity to transform several Sydney spaces as part of the 2011 STREET WORKS competition.
The HASSELL concept, called Walk the Line, is a path that connects all six of the STREET WORKS spaces. The path will be a simple painted line that turns into a game in selected areas.
Street corners will become hopscotch pitches, bat tennis courts and marbles fields; stairs will turn into waterfalls and road crossings transformed into arcade games.
The concept responds to cultural changes over the past few decades.
In the sixties, controversial writer and activist Jane Jacobs wrote a book about the death of our cities. By the seventies, the motor car had completely changed the way we lived in and designed our cities.
The eighties and nineties weren't all bad, with shows like The Wonder Years, Neighbours and BMX Bandits championing the life and games that are played outside.
Through Walk the Line, our team hopes to inspire a revival of the pre-iPhone fun that was once considered an iconic expression of our culture.
STREET WORKS is an initiative of the Australian Institute of Landscape Architects (AILA), NSW. The sites will be in place from 21 October 2011 until January 2012. An exhibition of all STREET WORKS competition entries will be held at Customs House during the Sydney Architecture Festival in October 2011.
7 Oct 2011
HASSELL receives hospitality award for activating exciting new Melbourne laneway
The design of South Yarra's vibrant new Yarra Lane Precinct has seen HASSELL win a 2011 Melbourne Design Award.
Last night, the team won the Interior Design, Hospitality award for their work on the precinct and its three exciting new dining venues: Outpost Dining Room, Mopho Noodle Bar and Deba Sushi Bar.
Outpost Dining Room:



photo from HASSELL
Mopho Noodle Bar:



photo from HASSELL
Deba Sushi Bar:


photo from HASSELL
Developer Michael Yates wanted the laneway, which runs off Melbourne's lively Chapel Street, to be characterised by a diverse mix of individual shops – a village high street – that encouraged street activation and vibrancy.
With this in mind, our designers created a unique identity for the precinct and each of its new restaurants.
In all three instances, the shop fronts are designed to reflect the nature of the dining character inside. They not only hint at the interior experience but also open out, allowing food collaboration to spill into this exciting new commercial precinct. Outpost, designed with a simple aesthetic in mind, offers home-style dishes in a communal dining space. A recycled shopfront, door handles, an ice sink and some artwork help create a warm and welcoming homes-style experience.
Mopho Noodle was designed to respond to chef Ben Cooper's pan-Asian culinary masterpieces. Elements of a hawker's bazaar and abstract imagery of cheeky Shanghai models from the 1950s add to the energy of the space.
Deba, derived from the Japanese carving knife Deba bocho, is designed for strength and precision. The space is quiet and contemplative – a respite from the hustle and bustle of the lane.
Yarra Precinct connects Yarra Street through to Chapel Street in Melbourne's South Yarra. HASSELL interior designers Scott Walker and Rebecca Trenorden led the project team, in collaboration with Bird dela Coeur architecture.
11 Aug 2011
Board of Management appointments
HASSELL are pleased to announce that they are appointing members of their Board of Management to new roles to focus on their increasing international growth and success.


image from architects
Current Chairman of the Board, Ken Maher (above), will take on the role of Chairman of the HASSELL International Executive. While Ken will continue to be based in the Sydney Studio, the focus of his leadership will be to guide the Practice's international development.
Peter Duncan, who is currently the Managing Director Asia based in Shanghai, will take on the role of Chairman of the HASSELL Management Board. Significantly, this is the first time this role has been filled by a Director who is located outside Australia – a reflection of the integration of the maturing Practice across China and Southeast Asia and most recently, the United Kingdom. Robert Backhouse will continue in his role as Managing Director with the three leaders being supported by a strong and talented group of Directors and Principals working together across HASSELL's 13 studios.
8 Aug 2011
HASSELL welcomes Steve Coster as a new Principal of the practice
Steve brings extensive experience in developing workplace strategies, strategic briefs, design management/selection frameworks and workplace change management plans. In his previous role as Managing Director of DEGW, Steve worked closely with a range of leading client organisations including ANZ Bank, Google, KPMG and SA Water. He also advised a range of developer clients on commercial building designs to ensure they anticipated tenant workplace priorities.
With a Masters degree in Architecture, Steve is focused on how buildings and workplaces – and the design process itself – can support organisational change and improve business performance. Steve also has experience in briefing, design management and design-led procurement processes for other complex projects including laboratories, campuses and city precincts.
Steve is a joint leader of the HASSELL Knowledge & Sustainability team with Brett Pollard. Steve and Brett will be focused on developing our knowledge leadership and research programs, connecting our people and our clients with the best ideas, research and leading thinkers. These initiatives, across all HASSELL studios, are key contributors to achieving great design outcomes.
4 Aug 2011
Promotion of six senior HASSELL people to Principals of the practice
This talented group of design professionals will continue to lead projects and share their experience throughout the international network of HASSELL studios.
HASSELL design studio:



image from HASSELL
– Benson Abrahams (Sydney) has over 25 years experience in the design and documentation of large-scale and complex projects, particularly hospital and healthcare facilities. He is currently working on health projects ranging from cancer and mental health facilities to the development of master plans for clinic facilities in urban centres.
– Peter Dean (Perth) has gained a diverse range of skills working on internationally recognised projects including institutional buildings, universities, museums, commercial and multiple residential developments. At HASSELL, he has been a key design leader on one40william, Fiona Stanley Hospital and QEII Cancer Centre Stage 2.
– Martin Lee (Sydney), previously an Associate with Foster and Partners in London, has been involved in an extensive range of projects across Europe, America and Asia. His expertise is in the design and delivery of bespoke high rise commercial office buildings.
– Paul Lo (Shanghai) brings more than 12 years of experience in architectural design and management leadership across multiple market sectors. He has experience in the design of complex large-scale commercial, educational, hospitality, civic, cultural and residential projects.
– Brett Pollard (Sydney) is an architect, landscape architect and a leader of Knowledge and Sustainability at HASSELL. He regularly provides strategic input and high level sustainable design advice across a broad range of projects at HASSELL.
– Vivienne Wu (Beijing) has considerable experience in commercial, residential and industrial projects, gained both in Australia and China. Her diverse skill set includes contract negotiation, project coordination and management, master planning, architectural concept design, design development and documentation.
15 Jul 2011
Matt Sheargold joins HASSELL
Talented interior designer Matt Sheargold joins HASSELL as a Principal. Matt brings 16 years design experience across corporate workplace, retail, hospitality, residential and exhibition design.
"Design has given me an appreciation for all sectors and a respect for all design disciplines" Matt states.


photo from HASSELL
Matt has worked with global brands, attracting industry recognition for his work on high-profile projects including Red Bull HQ, Sydney. He has worked on projects across Australia, the UK, Europe and America. Matt's experience includes; Fuji Xerox Epicentre (Tokyo, Singapore, Shanghai and Sydney), Deloitte Consulting HQ (UK) and Telstra Innovation Centre (Australia). Matt is recognised for his open communication and his ability to translate client needs into design. A regular judge on numerous Australian design awards and competitions, Matt is acknowledged as a design leader in the industry and amongst his clients.
Commenting on Matt's appointment, Discipline Leader Sydney Interior Design Matt Blain said "Matt's appointment is significant for both the Sydney studio and the discipline. He becomes a key member of the leadership team and offers a wealth of experience that will be brought to bear across a range of key sectors and projects."
HASSELL further strengthens landscape architecture practice with Senior Appointment
HASSELL is delighted to announce the appointment of leading Brisbane landscape architect and urban designer, Amalie Wright, to the HASSELL Brisbane Studio.


photo from HASSELL
Amalie brings over 14 years' expertise as a multi-disciplinary designer a range of design projects across Brisbane, Australia and overseas. Her design experience has included high density residential projects, urban design, public realm and transport infrastructure. With a background including architecture, landscape architecture and urban art, her project focus is on the pursuit of quality design outcomes at all stages, from project inception to construction.
Prior to joining HASSELL, Amalie worked on projects that include, Northern Link Tender Bid, Saadiyat Island Expressway, Caxton Roma Pedestrian Link, Ephraim Island, Hilton@Surfers and Tennyson Reach Riverside Development. In addition to her extensive project experience, in 2007, Amalie was awarded the MECU Travel Bursary by Queensland University of Technology's Centre for Subtropical Design, enabling her to study the changing role of city parks in Colombia and the United States. Amalie has subsequently been commissioned to further develop her investigations in a book, that is due for publishing in early 2012.
Amalie is a dedicated mentor and passionate designer and will be a great addition to our Studio. We welcome Amalie and look forward to introducing her to you, at coming HASSELL events.
2 Jun 2011
Asia Pacific Property Awards and Asia Pacific Hotel Awards
HASSELL is pleased to announce that a number of its projects were successful at the recent Asia Pacific Property Awards and Asia Pacific Hotel Awards:
International Property Awards – Office Interior
– PTTEP Headquarters – Five Star Award – Best Office Interior Thailand
– Deutsche Bank – Highly Commended – Office Interior Hong Kong
International Property Awards – Office Architecture
– one40william – Highly Commended – Office Architecture Australia
– Alibaba Headquarters – Highly Commended – Office Architecture China
– Sala@Sathorn – Highly Commended – Office Architecture Thailand
International Hotel Awards
– Radisson Suites Bangkok Sukhumvit – Highly Commended – Hotel Interior Thailand
"We're really proud to receive this recognition for some of our most innovative projects located across Bangkok, Hangzhou, Hong Kong and Perth. Congratulations and thank you to our clients in each instance for creating opportunities to deliver unique design solutions in partnership with them," said Peter Duncan, HASSELL Managing Director Asia.
6 May 2011
HASSELL – Award News
HASSELL are pleased to announce that the ANZ Centre, designed by HASSELL and Lend Lease design, has won the prestigious Development of the Year in the 2011 Property Council of Australia/Rider Levett Bucknall Innovation and Excellence Awards.


photo : Earl Carter
Property Council CEO Mr Verwer said: "The ANZ Centre is an outstanding showcase of the great outcomes our industry can produce. The building has not only achieved global benchmarks in environment and sustainability, but has reinvigorated the entire Melbourne Docklands precinct. ANZ Centre is a thoroughly deserving winner of this award."
10 Dec 2010
HASSELL Studio News in 2010
2010 has been an exciting year for HASSELL with a new studio opening in Singapore and the relocation of our Shanghai studio to a new HASSELL-designed space. The Singapore studio is the twelfth HASSELL studio and the seventh to open in Asia.


photo : Earl Carter
Congratulating HASSELL on the Singapore studio opening, the High Commissioner to Singapore, HE Doug Chester noted that, "HASSELL joins an ever expanding group of Australian businesses with a presence in Singapore." Philip Hannaford, who has relocated from Bangkok to Singapore as the HASSELL Director responsible for the Southeast Asia region said, "The expanded regional presence through our new Singapore studio enables HASSELL to broaden the innovative design service we can offer to Singapore clients locally and importantly back into the region."
This latest expansion in Southeast Asia follows a growth model HASSELL has found effective in developing its five studios across China, which operate as a consolidated team working with clients in North Asia. Pictured below is the High Commissioner to Singapore, HE Doug Chester, at the Singapore opening.
More studio information for HASSELL Architects online soon
Location: Melbourne, Victoria, Australia
HASSELL Australia Practice Information
Architect studios based in Australia, China, Hong Kong, Thailand and Singapore
The COX Group of Architects – Canberra Project
Buildings / photos for the HASSELL Architects page welcome
Website: hassellstudio.com