BIG-Bjarke Ingels Group Architects News, Buildings, Design Office, Practice Info
BIG-Bjarke Ingels Group Partners
Danish Architects Studio – Denmark Architecture Practice Profile
July 15, 2021
BIG-Bjarke Ingels Group Announces Seven New Partners

BIG-Bjarke Ingels Group New Partners
BIG-Bjarke Ingels Group adds to its leadership team with the announcement of seven new Partners, 33 new Associates, and one new Director. With the number of staff more than doubling in the last four years, the leadership expansion reflects BIG's 20-year evolution as a global firm with a local presence, underscored by a holistic approach to design and development.
With offices now located in Copenhagen, New York City, London, Barcelona, and Shenzhen, BIG's total staff has grown to over 500 BIGsters. Therefore, the addition of seven new Partners to the existing partnership of 17 is a natural progression. A dedication to Landscape, Product Design, and the Communications operations within BIG is reflected in the naming of three new global Partner roles. The appointment of one new Barcelona-based Partner and two new London-based Partners reflects the tremendous growth of the respective offices, and the growing portfolio of projects to be executed. Similarly, New York's one Partner appointment reiterates the robust portfolio of construction projects, and the imperative delivery expertise.
Founder and Creative Director, Bjarke Ingels, says: "Since our inception Copenhagen two decades ago, to our current condition as a 500+ people firm with offices spanning multiple continents – and work spanning from Earth to The Moon – we have expanded our role and responsibilities beyond the realm of architecture, to include Landscape, Engineering and Product Design. It is only natural that our partnership and leadership now evolves to reflect the ever-increasing complexity and diversity of our current design challenges."
The seven new Partners announced today include: Andy Young, who first joined BIG London in 2016 as a Technical Director, helping shape the fundamental way in which BIG projects are built, with over 25 years of experience in the design and delivery of large-scale projects; Lorenzo Boddi, who first joined BIG Copenhagen as an intern and has been based at BIG London since 2016, continues to give shape to some of BIG's most visionary projects; João Albuquerque, first joined BIG Copenhagen in 2008, eventually moving to Barcelona in 2019 to support the establishment of a strong foundation for BIG Barcelona; Douglass Alligood, who returns to BIG NYC with an extraordinary 37 years of experience, and will support the increasing portfolio of projects going into Design Development and construction; Lars Larsen, a product design leader and long-time BIG collaborator through his own company, Kilo Design and KiBiSi, who will now lead BIG's Products design team; Giulia Frittoli, an instrumental leader within BIG Landscape, who will support the growing emphasis on Landscape projects across the BIG Group from her base in BIG CPH; and Daria Pahhota, who first joined BIG Copenhagen as an intern in 2008, became the group's Chief Communications Officer in 2018, and returns as the leader of BIG's Global Branding and Communications after two years at the global architecture and engineering firm, SOM.
"With three of the seven new Partners beginning their BIG career as Interns, others joining BIG very early in their career and still others joining after years of experience at other studios, each has grown to become important leaders in their own right – their journey highlighting the relevance of every BIGster's contribution, at every level of the company. We are incredibly proud of each of our newly-appointed Partners, Director, and Associates, and congratulate them on their impressive achievements," says CEO, Partner, Sheela Maini Søgaard, "we look forward to the continued growth of their respective expertise and their role in strengthening BIG in both skill and culture."
BIG's appointment of 34 trusted employees to key positions includes 12 Copenhagen-based Associates, 14 New York-based Associates, one Barcelona-based Associate, and six London-based Associates. One new Director will be added to BIG Copenhagen.
The new Associates announced today include: Alana Goldweit, Agla Egilsdottir, Alexandru Malaescu, Andrea Hektor, Ángel Barreno Gutiérrez, Chris Falla, Dominyka Voelkle, Hung Kai Liao, Isabel da Silva, Jason Chee Han Chia, Jason Wu, Jinho Lee, Julie Kaufman, Kate Cella, Laurent de Carniere, Lauren Connell Falla, Lawrence-Oliver Mahadoo, Lorenz Krisai, Lucas Carriere, Margaret Tyrpa, Marie Lancon, 'Molly' Hsiao Rou Huang, Otilia Pupezeanu, Pauline Lavie-Luong, Robert Grimm, Ryohei Koike, Sarkis Sarkisyan, Sebastian Claussnitzer, Shane Dalke, Simon Scheller, Søren Martinussen, Vinish Sethi, and Yu Inamoto. Additionally, Jens Majdal Kaarsholm is named as a new Director.
To view the full list of current Partners, Directors, and Associates, please visit BIG.dk
BIG-Bjarke Ingels Group's Current Partners (L-R)
Top row: Andy Young, Lorenzo Boddi, Giulia Frittoli, Douglass Alligood, Daria Pahhota, João Albuquerque;
Second row: Lars Larsen, Jakob Lange, Jakob Sand, Kai-Uwe Bergmann, Daniel Sundlin, Brian Yang;
Third row: Ole Elkjær-Larsen, Catherine Huang, Agustin Perez-Torres, Martin Voelkle, Sheela Maini Søgaard, David Zahle; Fourth row: Beat Schenk, Leon Rost, Finn Nørkjær, Thomas Christoffersen, Andreas Klok Pedersen, Bjarke Ingels: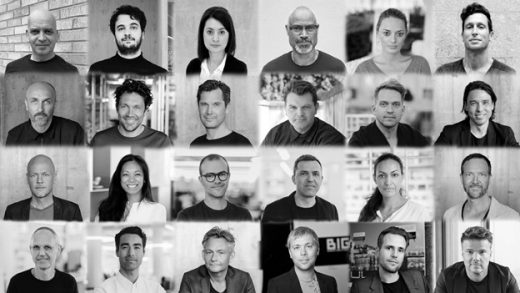 About BIG – BJARKE INGELS GROUP
BIG-Bjarke Ingels Group is a Copenhagen, New York, London, Barcelona, and Shenzhen-based group of architects, designers, urbanists, landscape professionals, interior and product designers, researchers, and inventors. The office is currently involved in projects throughout Europe, America, Asia, and the Middle East.
BIG's architecture emerges out of a careful analysis of how contemporary life constantly evolves and changes. By hitting the fertile overlap between pragmatic and utopia, we architects once again find the freedom to change the surface of our planet, to better fit contemporary life forms.
Instagram, Facebook, Twitter, LinkedIn, WeChat, www.big.dk
Location: Nørrebrogade 66D, 2200 Copenhagen N, Denmark / 45 Main Street, 9th Floor, Brooklyn, NY, New York City 11201, United States of America
Major Architectural Designs
BIG-Bjarke Ingels Group Designs
The Smile Harlem Housing, New York City, NY, USA
Architects: BIG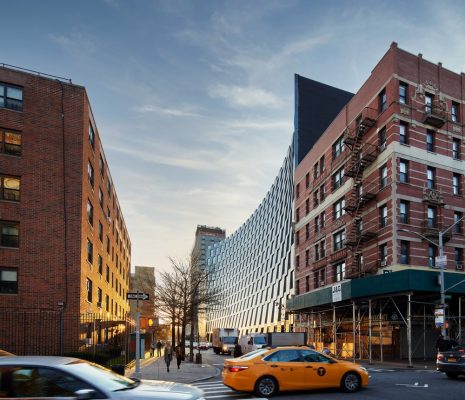 photos by Thomas Loof and Pernille Loof
The Smile Harlem Housing
Musée Atelier Audemars Piguet, Le Brassus, Switzerland
Architects: BIG and ATELIER BRÜCKNER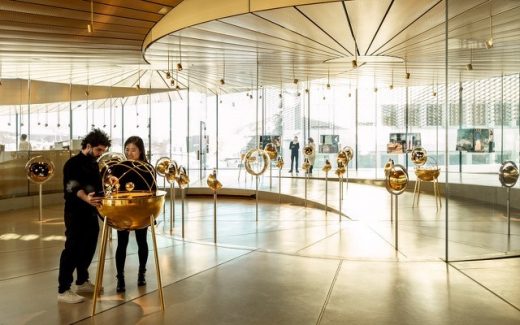 Musée Atelier Audemars Piguet: The Complications. Photography: Giovanni Emilio Galanello
Musée Atelier Audemars Piguet
BIG Architects – Bjarke Ingels Group
BIG : all projects listed alphabetically
Bjarke Ingels Group : further information re studio + older projects
Copenhagen Architects : Architecture Studios in Denmark
Copenhagen Architect – Danish capital city design studio listing on e-architect
BIG Architecture : Article by Steven Tierney, Uniform
Formgiving. An Architectural Future History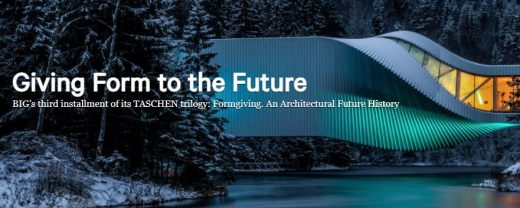 Formgiving. An Architectural Future History
Buildings / photos for the BIG-Bjarke Ingels Group Architects News page welcome
Website: https://big.dk/