Galeries Lafayette concept store Paris, BIG Architects Parisian Retail, French Shop
Galeries Lafayette concept store by BIG
New Retail Building in Capital of France – design by BIG-Bjarke Ingels Group
5 & 4 Jun 2019
Galeries Lafayette concept store by BIG in Paris
Location: Avenue des Champs-Élysées, Paris, France
Renewal of Famous Parisian Department Store by Galeries Lafayette
Design: BIG-Bjarke Ingels Group
DISCOVER BIG'S RETAIL EXPERIENCE AT GALERIES LAFAYETTE CHAMPS-ÉLYSÉES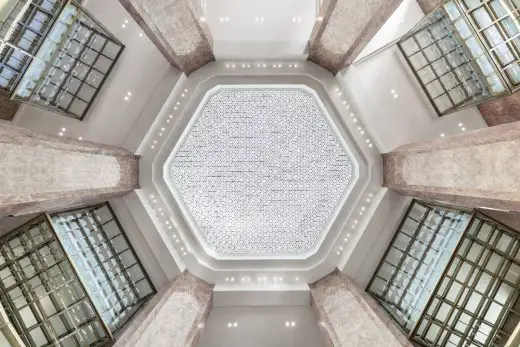 photo by Delfino Sisto Legnani and Marco Cappelletti
Located on Paris's iconic Avenue des Champs-Élysées, the historic Art Deco bank building from 1932 is uncovered by BIG-Bjarke Ingels Group to create a carefully curated retail laboratory for the world's leading fashion, food and lifestyle brands — merging a new hybrid retail model that bonds with the surrounding city.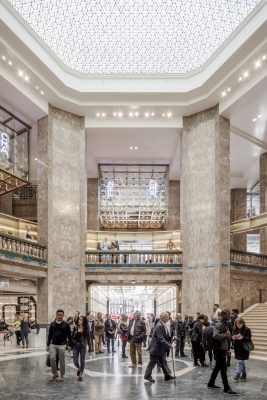 photograph by Michel Florent
The 6,800m2 Galeries Lafayette concept store officially opened its doors to the public this spring, welcoming local and global shoppers into the restored Art Deco gem. The generous four-story environment is the largest store on the famed Parisian boulevard, and combines old world elegance with modern chic for hosting established and emerging brands, experiences and events. The 120-year old heritage brand Galeries Lafayette Group brought BIG on board following an international architectural competition in 2016.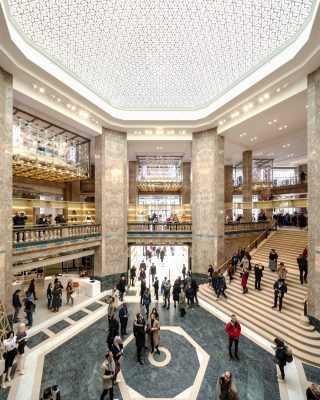 photograph by Salem Mostefaoui
"At Galeries Lafayette, we usually say that the future begins in the past. By opening on the Champs-Élysées, our Group is not only writing a new chapter in its entrepreneurial and family history, it is also fulfilling its founder's dream. A dream expressed nearly 100 years ago on the corner of the "Champs" and rue La Boetie, where in 1927 Theophile Bader planned to build a venue offering something midway between retail, services and entertainment," said Philippe Houze, Executive Chairman of the Galeries Lafayette Group.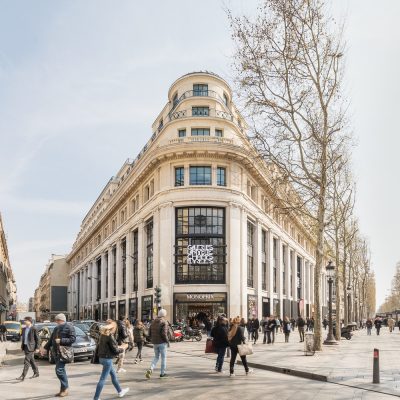 photo by Delfino Sisto Legnani and Marco Cappelletti
"Today, almost 90 years later, we are delighted to pursue his grand design with a store concept that is both historic and disruptive, and which by combining two iconic brands 'Galeries Lafayette' and 'Champs-Élysées, will also help promote a certain French Art de Vivre and contribute to the revival of this world-famous avenue."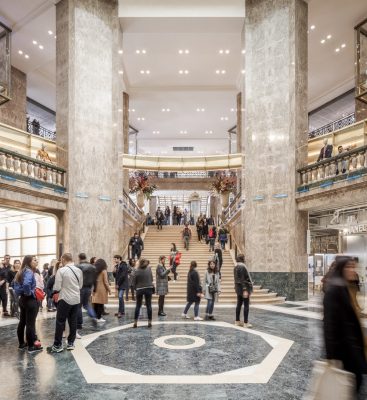 photograph by Michel Florent
BIG's design pays tribute to the tactility and texture of the historical building. Throughout the store, visitors encounter precious materials and refined details from the past that are reinterpreted and deployed in a contemporary way. Walking around the lofty gallery-like space is an experience in moving through a composition of architectural elements that operate at the scale of furniture and defined in experiential shopping zones.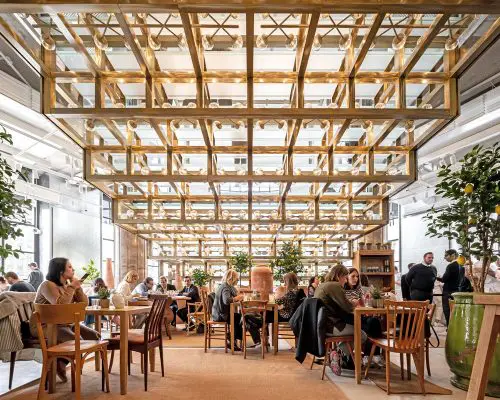 photo by Salem Mostefaoui
"Working with a family and a company that can look back 100 years gives you – not only the possibility – but actually the responsibility to attempt to look as far ahead as you can look back. With the advent and omnipresence of online retail, the urban department store's role and relevance must be renewed as the urban agora. We humans are social beings – and more than ever do we need a forum for collective intimacy – where we can't just get what we want by clicking on it – but where we can engage with others in urban environments that are visually and physically stimulating to all the senses," said Bjarke Ingels, Founder & Creative Director at BIG.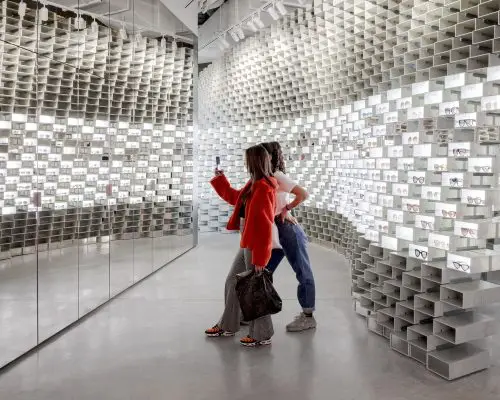 photograph by Michel Florent
Shoppers are invited into the building through an inverse canopy on the street level. A glowing bridge ushers life into the heart of the building: a dramatic circular atrium covered by a monumental glass cupola that has been restored and uncovered for maximum daylight. The entire store unfolds on the ground floor and creates a bright new urban living room for brand activations, fashion shows and other special events.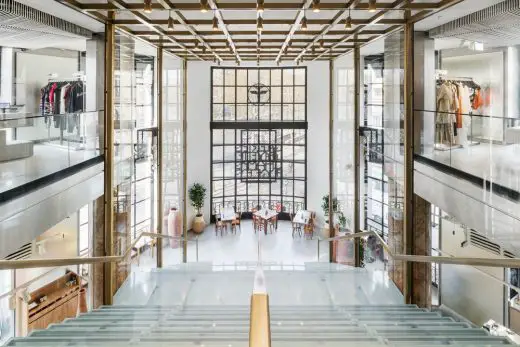 photo by Delfino Sisto Legnani and Marco Cappelletti
A grand staircase, which doubles as an auditorium during events, takes visitors to the mixed-use space on the first floor occupied by creative and emerging brands, as well as a denim lab, jewelry display, limited edition sneakers and tech products. A continuous golden ring of perforated metal wraps around the columns and creates a series of rooms and alcoves facing the atrium.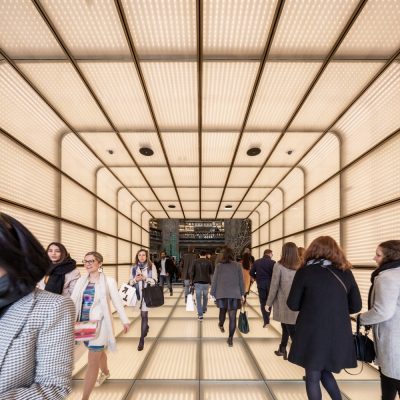 photo by Salem Mostefaoui
"To create an invitation to enter, ascend and explore, we have designed a handful of elements that find themselves at the intersection of architecture and furniture. Rather than messing with the old bones of the building or delineating function with walls – the program has been provided with a family of pavilions that may change and transform over time.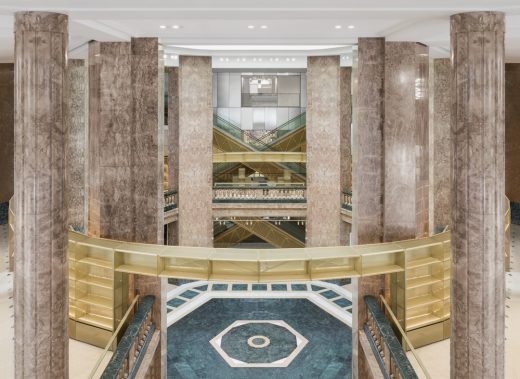 photo by Delfino Sisto Legnani and Marco Cappelletti
The raw space has an almost urban scale and character that makes it capable of accommodating even the wildest interventions, which makes me excited to imagine what I might expect to find here next time I come back. And it shows me that Galleries Lafayette is not only opening a new department store on Champs-Élysées, rather, they have opened up a new urban room for the Parisians," continued Bjarke Ingels.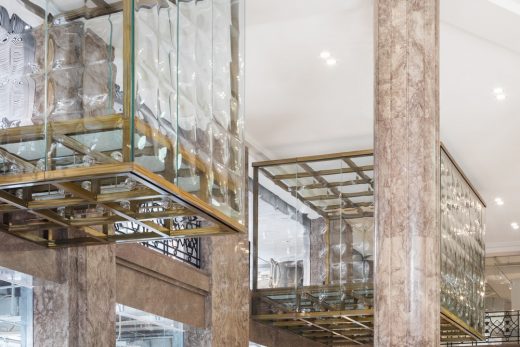 photo by Delfino Sisto Legnani and Marco Cappelletti
From the ground floor, visitors are immediately able to see the upper levels, enticing them to explore the different destinations and activities. The escalators are finished in warm metal and a ribbon of glass from the same material palette as the central atrium. Exploring the store and its different levels is a discovery of carefully curated environments where furniture is never only storage: interweaving carpets become dressing rooms, countertops are a sculptural stack of elements, and magic carpets for the shoe display double as furniture for shoppers to sit and try the footwear.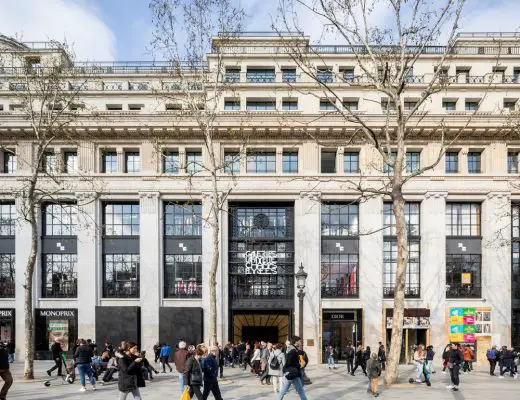 photo by Salem Mostefaoui
"When we inherited this incredible space from 1932, most of the beautiful materials and Art Deco elements were covered with black painted drywall, the skylight was blinded by sheetrock and the connections to the outside had disappeared. We focused on the heart of the building and preserved all of its precious materials and refined details, wrapping them in gallery-like spaces. The historical architecture is supplemented by the raw qualities of ceiling heights and abundance of daylight," said Jakob Sand, Partner at BIG.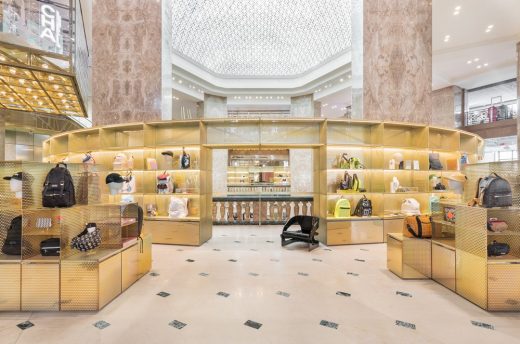 photo by Delfino Sisto Legnani and Marco Cappelletti
The upper levels of the store are further refined and continue the idea of furniture as artifact. The top floor features a series of suspended glass vitrines that resemble independent objects and can host a variety of experiences and activities visible from the lower levels.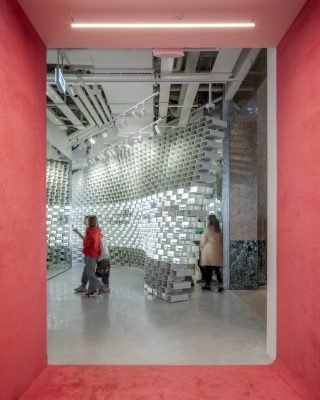 photograph by Michel Florent
Visitors can take a break from shopping and in the Oursin restaurant while enjoying views to the city or relax at the Citron coffee lounge, both designed by French fashion designer Simon Porte Jacquemus and operated by Caviar Kaspia. Meanwhile, a Parisian food court in the entire lower level, where groceries and eateries are divided into sweet and savory sections and where massive counters are arranged around welcoming shared tables.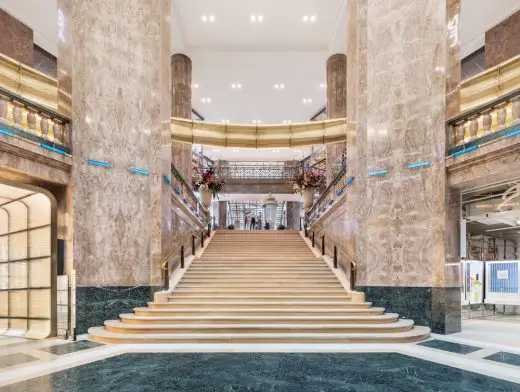 photo by Delfino Sisto Legnani and Marco Cappelletti
Learn more about the Galeries Lafayette Flagship on Champs-Élysées and many other BIG projects at our FORMGIVING exhibition at the Danish Architecture Center in Copenhagen, on view from June 12th to January 5th: https://dac.dk/en/exhibitions/formgivning-big.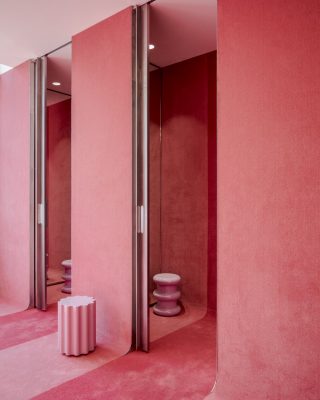 photograph by Michel Florent
Galeries Lafayette Flagship Store by BIG – Building Information
GALERIES LAFAYETTE FLAGSHIP STORE FACTS
Client: GALERIES LAFAYETTE GROUP
Size: 6,800m2 / 73,100ft2
Location: Paris, France
Collaborators: SRA Architectes (Local Architect), SETEC (MEP), AR-C (Structural Engineer), SNAIK (Lighting Designer), Theater Project (Acoustic Consultants), Cabinet Vanguard (Cost Consultants, Arch Specs), BIG Interiors (Interior Design)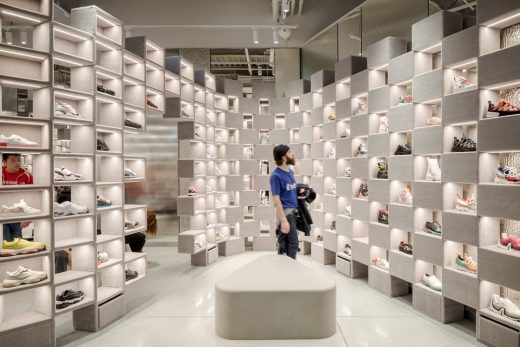 photograph by Michel Florent
BIG – BJARKE INGELS GROUP
Partners-in-Charge: Bjarke Ingels, Jakob Sand
Project Managers: Karim Muallem, Gabrielle Nadeau
Project Leaders: Karim Muallem, Gabrielle Nadeau, Xavier Delanoue (architecture); Francesca Portesine, Pauline Lavie-Luong (furniture)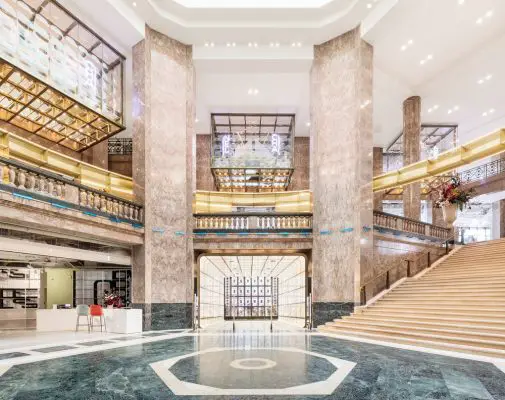 photo by Delfino Sisto Legnani and Marco Cappelletti
Team: Agla Sigridur Egilsdottir, Alvaro Garcia, Amro Abdelsalam, Anis Souissi, Anna Juzak, Aurelie Frolet, Catalina Rivera, Christian Lopez, Clementine Huck, Dimitrie Grigorescu, Emily Pickett, Emine Halefoglu, Enea Michelesio, Ethan Duffey, Étienne Duval, Filip Milovanovic, Francisco Javier Sarria Salazar, Gerhard Pfeiler, Hugo Yun Tong Soo, Hye-Min Cha, Jakob Lange, Janie Green, Joanna M. Lesna, José Carlos de Silva, Katarzyna Swiderska, Laurent de Carnière, Lucas Stein, Lucian Racovitan, Malgorzata Mutkowska, Marie Lancon, Miguel Rebelo, Monika Dauksaite, Paula Domka, Philip Rufus Knauf, Quentin Blasing, Rahul Girish, Ramona Montecillo, Raphael Ciriani, Sergi Sauras i Collado, Stefano Zugno, Taylor Fulton, Terrence Chew, Thomas Sebastian Krall, Thomas Smith, Tomas Karl Ramstrand, Tracy Sodder, Yesul Cho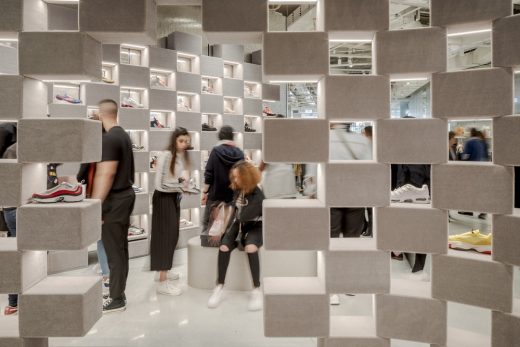 photograph by Michel Florent
Previously on e-architect:
22 Mar 2016
Boulevard Haussmann Department Store Transformation
Renewal of Famous Parisian Department Store by Galeries Lafayette
Design: AL_A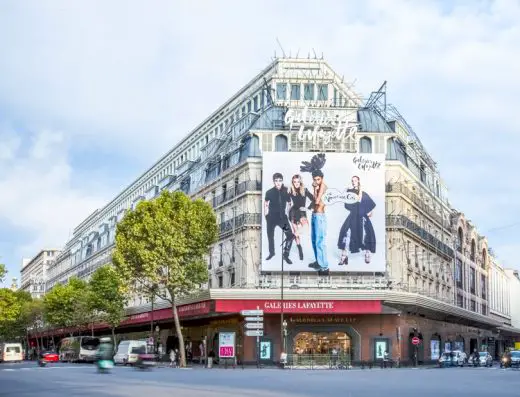 In February 2016 Galeries Lafayette announced that Bjarke Ingles BIG were tasked with the design of a new 9,000 sq m concept store on the Champs Elysées.
Boulevard Haussmann department store design by AL_A – architects studio, London
Location: Boulevard Haussmann, Paris, France
Paris Architecture Design – chronological list
Paris Architecture Walking Tours
Paris Department Stores
Le Bon Marché Paris – Famous Parisian department store, Saint-Germain-des-Près, 7th arrondissement
Design: Louis-Charles Boilleau and Gustave Eiffel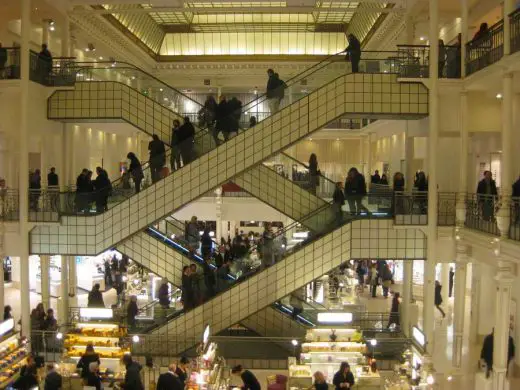 photograph © Adrian Welch
Parisian Department Store
Lafayette Department Store by Manuelle Gautrand Architecture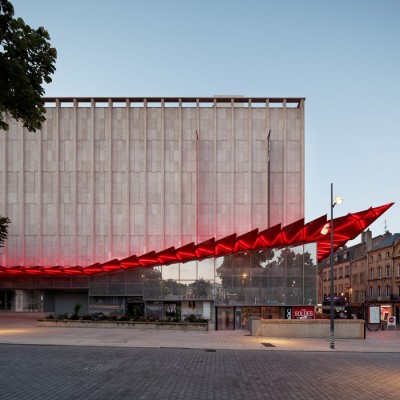 photograph : Vincent Fillon
Lafayette Department Store Paris
Magasin La Samaritaine, 77 rue de Rivoli
Design: SANAA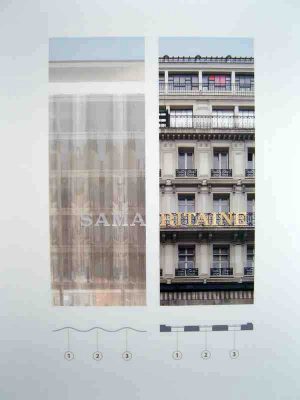 photograph © Colin Eaton
Magasin La Samaritaine Paris Store
Beaugrenelle Shopping Mall
Design: Agence Search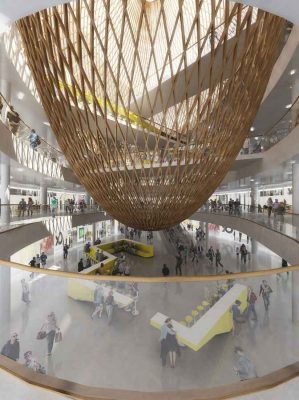 image from architects
Parisian Shopping Mall
Samaritaine Cheval Blanc, Paris
Design: Edouard François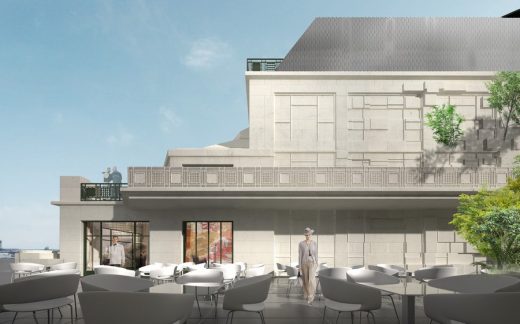 photograph © Edouard François
La Samaritaine Cheval Blanc Paris
Les Halles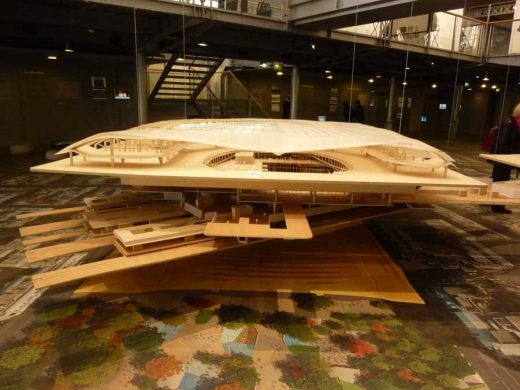 photo © Rebecca Breun
Les Halles Paris
Another Galeries Lafayette store on e-architect:
Galeries Lafayette, Friedrichstrasse, Berlin, Germany
Design: Jean Nouvel Architects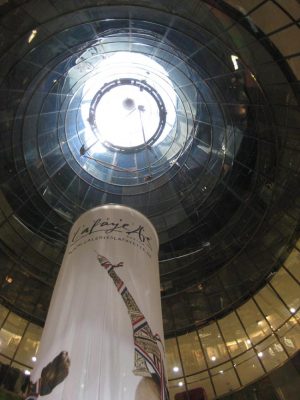 photo © Adrian Welch
Galeries Lafayette Berlin
Paris Architecture : main page
Lafayette Department Store, Berlin
Paris Buildings : buildings listed alphabetically
Department Store Architecture
Harrods Department Store
Harrods Department Store Building
Selfridges Department Store
Selfridges Department Store London
Selfridges Birmingham
Birmingham Department Store
Paris Architects – key Parisian design studios
Musée du quai Branly, VIIe arrondissement, Paris
Design: Ateliers Jean Nouvel, architects
Musée du quai Branly
Tour Eiffel, Rue de Champ de Mars, VIIe
Design: Gustave Eiffel
Eiffel Tower
Cathédrale Notre-Dame de Paris, Ile de la Cité 6, IVe
Notre-Dame Cathedral
65 Croisette Boutique, Cannes
Comments / photos for the Boulevard Haussmann department store Paris – French Department Store Cupola building Shopping page welcome
Website: Boulevard Haussmann Paris Store, France