Baumschlager Eberle Architects, Austria design studio projects, Swiss archutect practice news
baumschlager eberle : Architecture
Contemporary Architects Practice – Austrian / Swiss Buildings + Design Office Information
post updated 9 August 2023
baumschlager eberle News
Baumschlager Eberle Architekten News – latest additions to this page, arranged chronologically:
9 August 2023
New Unionhilfswerk Admin Building, Friedrichshain-Kreuzberg, Berlin, Germany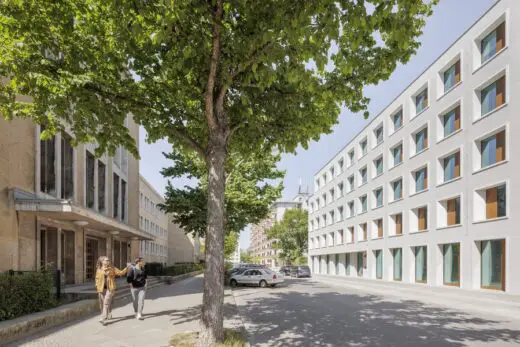 photo : Ulrich Schwarz
New Unionhilfswerk Admin Building Berlin
Unionhilfswerk's new admin building was to make an unpretentious yet positive and powerful contribution to the Berlin cityscape with a particular focus on sustainability – in the widest sense of the word. It was to blend into its environment and provide high-quality space, to use resources sparingly and age gracefully.
3 Sep 2020
Digital Media Centre and Campus Development, Masurenallee 8-14, Berlin, Germany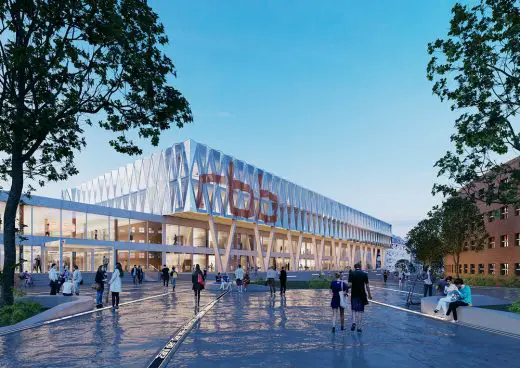 renderings : Baumschlager Eberle Architekten, bloomimages Berlin GmbH
Digital Media Centre and Campus in Berlin
The aim is to make the rbb area and the buildings as they are used today fit for the future: With regard to the outdoor area, the campus is an attempt to forge a link to the urban setting. In future, a media centre with a newsroom will serve as the core for organising new worlds of work based on the "crossmedia" principle.
29 May 2020
2226 Emmenweid, Emmenbrücke, Switzerland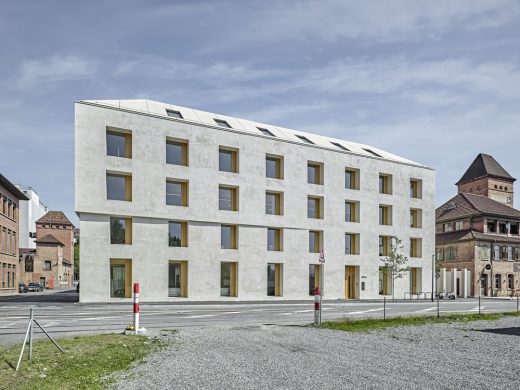 image courtesy of architects office
2226 Emmenweid
Good architecture stands for a hundred years, technical building services may work for perhaps twenty. The 2226 Emmenweid concept has become well-established regardless of the building task and the cultural context. The prototype was successfully put into practice in 2013 in the form of their own office building in Lustenau, Austria.
16 Sep 2019
Skyspace, Arlberg Region, Austria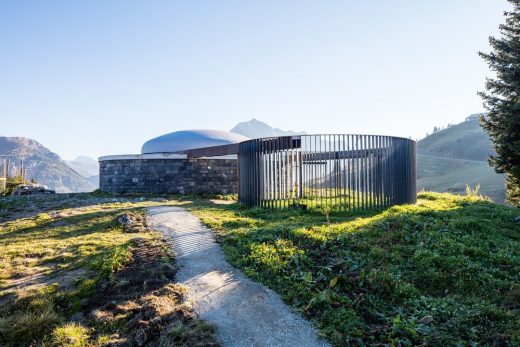 photograph © Florian Holzherr
Skyspace
The electrically controlled dome is opening up for visitors: In the built installation Skyspace they are are experiencing the interaction between the light of the sky and the light of James Turrell: At 1,800 meters above sea level in the rough mountains of Austria's Arlberg region.
5 Oct 2016
Opernplatz 2, Frankfurt am Main, Germany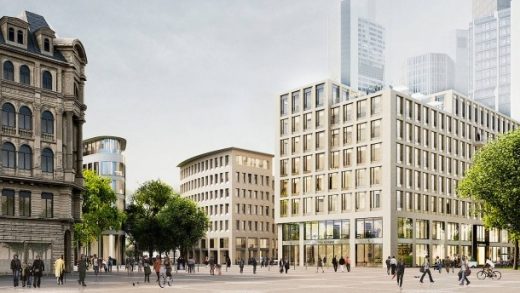 image © baumschlager eberle
Opernplatz 2 Frankfurt Building
baumschlager eberle are going to build in Frankfurt. The architecture office in Berlin has won the realization competition staged by Allianz Real Estate in cooperation with the city of Frankfurt to elicit a design for the site at Opernplatz 2 in Frankfurt.
baumschlager eberle Exhibition, La Galerie d' architecture, Paris, France
'To relocate within the building'
9 Jul – 27 Jul 2013



image from architects office
be baumschlager eberle Exhibition Paris
With over 300 completed buildings be baumschlager eberle today counts among the successful architectural firms in the international context. Founded in 1985 in Vorarlberg (Lochau / Austria), succeed after Austria's EU accession the expansion in Europe and the Far East. The high acceptance of the architectural firm results from a concept that knows how to combine the direct use value, the user needs and cultural sustainability.
Just arrived – the new office of be baumschlager eberle group
12 Jul 2013 – With the award-winning office building Centurion Commercial Center 01 Council (DGNB Gold Certificate) and the known condominium Falkenried (see picture) the design studio has made in the northern German port city a good name. Reason enough to start with be hamburg the tenth site of the architectural firm worldwide.
At the address Bäckerbreitergang 73 – only a thousand meters away from the Alster Lake – is a few days now a young team under the management of Arch Dipl Tim-Philipp Brendel at work. In Hamburg CEO Brendel appreciates, that it is metaphorically a place of short distances, so decisions are taken quickly. "We adapt very well to Hamburg. Here, quality is the focus, history and future are not opposites. People are friendly, trustworthy and personal responsibility is no foreign word, "Brendel notes. New projects from be hamburg are already being planned.
Latest Buildings by baumschlager eberle
Architectural News – latest additions to this page, arranged chronologically:
16 Apr 2013
Seeschanze Lochau Residences, Lochau, Austria



photo : Eduard Hueber
Seeschanze Lochau Residences
The better the location, the higher the density – such wishful thinking on the part of the real estate sector has had negative consequences for the location and the residents on more than one occasion. But that is far from being the case at the former Dornier site in Lochau with its much sought-after views of Lake Constance.
15 Apr 2013
Higher Education and University Center in Le Havre, France



photo : Sebastien Morel
Ecoles – Université Le Havre
The building is made of two twin elements, side by side, centralizing three establishments: the campus of Sciences-Politiques for undergrad education and the two schools SPI (Sciences for engineers) and INSA-Civil engineering. The architects eventually proposed to group together the three institutions in two different entities unified in one single building.
22 Jan 2013
New Law Courts of Caen, north west France
Design: BE Hauvette Paris and Atelier d'Architecture Pierre Champenois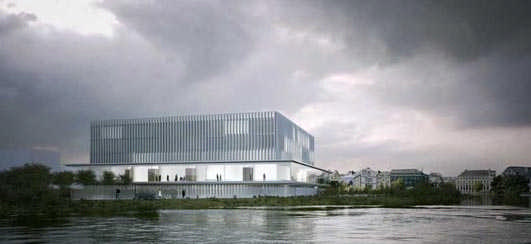 image from architects
New Law Courts of Caen
Concerning urbanistic planning, the law courts of Caen redefines a new domain in the centre of the City. The design of BE Hauvette Paris and Atelier d'Architecture Pierre Champenois for this public building was recently presented to the public. It comes with a quadratic shape which comprises several duties and responsibilities: The cube underlines by its form the importance of jurisdiction by the means of architecture.
11 Dec 2012
Kortrijk Hospital, Kortrijk, Belgium



photo : Werner Huthmacher
Kortrijk Hospital by Baumschlager Eberle
The principal urban development objective of this large-scale project, the dimensions of which far exceed those of the surrounding fabric, is to ensure the successful integration of the complex into a park-like setting. The use of a traditional courtyard structure is an effective means to this end.
9 Dec 2012
Villa K, Switzerland



photo : Roland Halbe
Villa K
The point of departure was the rectangular volume, from which emerged a configuration of apposite urban proportions.
Recent Buildings by Baumschlager Eberle Architects
7 Dec 2012
Vodafone HQ, Amsterdam, The Netherlands



photo from architect
Vodafone HQ Amsterdam
The precisely articulated frame with its sturdy pilasters and vertically staggered stone joints inject rhythm into a rectangular facade that is supported by a fascinating arcade. Crowning the structure is the glass ellipse of a conference hall.
6 Dec 2012
Irène Joliot Curie Housing, Paris, France
Design: BE Hauvette Paris with DATA Architects



photo from architect
Irène Joliot Curie Housing
The practise BE Hauvette Paris, youngest member of Baumschlager Eberle Group, has designed a building which fulfills the diverse needs of the inhabitants. The basic requirements for contemplation and communication are here complied.
6 Dec 2012
Check-in 3, Vienna, Austria



photo : Werner Huthmacher
Check-in 3
The task was to provide the growing service city with a center, to absorb passenger flows in a new building, and to prepare the airport for future growth. An elegantly curved structure connects the new gateway to the skies directly to the existing Terminal 2.
Baumschlager Eberle – Key Projects
Major Projects by Baumschlager-Eberle Ziviltechniker, alphabetical:
Achslengut Residences, St Gallen, Switzerland
2002
Administration building Saeco, Lustenau
1998
BTV, Wolfurt
1998
Casa Büchel, Vaduz, Liechtenstein
–
Eco Secondary School, Mäder
1998
Flatz House, Schaan, north of Vaduz, Liechtenstein
2002
Hotel Martinspark, Dornbirn, west Austria
1996
Housing, Innsbruck
2000
Killesberg Urban Quarter, Stuttgart, Germany
2009-



image : Fürst Developments
Killesberg Urban Quarter – Zukunft Killesberg – Think k
Nüziders Apartment Block, Austria
–
Residential facility, Eichgut, Winterthur, Switzerland
2005
Terminal 1A – temporary airport terminal, Vienna, Austria
–
Design: Itten+Brechbühl, Baumschalger Eberle, P.ARC
More Baumschlager Eberle buildings online soon
Location: Lindauer Straße 31 6911 Lochau, Austria, central Europe
Architects Practice Information
be baumschlager eberle is a group of ten architecture practices worldwide.
Founder and mastermind is Dietmar Eberle, who is Professor at the Swiss Federal Institute of Technology in Zurich.
Design offices are in Lustenau (AT), Vienna (AT), Vaduz (LI), St. Gallen (CH), Zurich (CH), Hong Kong (CN), Berlin (DE), Hanoi (VN), Paris (FR), Hamburg (DE)
Dietmar Eberle – Academic Position:
Dean of Zurich School of Architecture, Swiss Federal Institute of Technology
2003-05
Buildings / photos for the Baumschlager Eberle architects page welcome
Website: https://www.baumschlager-eberle.com/