World Building News 2013, Architecture Information, Design Developments, Project Updates
Architects News – Building Designs
Major Construction+ Architectural Designs – Global Building Developments in 2013
Architects News from 2013
On this page e-architect selects the key recent architectural news items from recent months up to the previous week.
from 24 Sep 2013 to 19 Nov 2013
19 Nov 2013
Platform of Arts And Creativity Guimarães
'Golden Weightlessness' – article for e-architect by Carlos M Teixeira, Brasil



photograph : Joao Morgado
The European Copper in Architecture Awards, given to the best built works in copper, this year went to the Platform of Arts and Creativity in Guimarães, Portugal. Designed by Pitágoras Aquitectos, it is a building of elegant, cantilevered golden boxes right in this town's center which mixes creative labs, workshops, and the recovering of the existing building on the eastern side of the plot — each of them functioning independently and simultaneously, creating different accesses to each of the various services and support areas.
15 Nov 2013
Vendsyssel Theatre and Experience Centre, Hjørring, Jutland, Denmark
Design: schmidt hammer lassen architects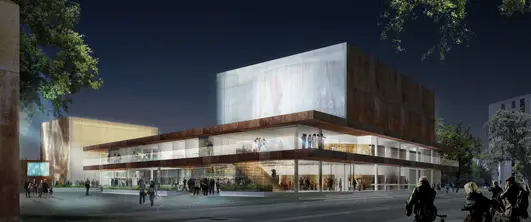 image from architects
As part of a team, schmidt hammer lassen architects has won the competition to design Vendsyssel Theatre and Experience Centre in Hjørring, Denmark. With this 4,200 square metre building, Hjørring gains a vibrant cultural hub in which to feature the city's various cultural activities.
12 Nov 2013
The Couch, Tennisclub IJburg, Amsterdam, The Netherlands
Architects: MVRDV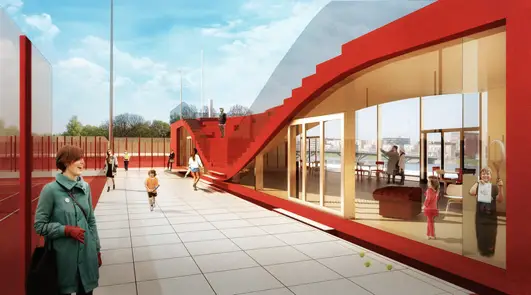 image by architects
The Couch is a new club house for a young tennis club. Inside the building, the concrete construction is clad with fsc-certified wood, with the outside fully sealed with an epdm polymer hotspray in the same colour and texture as the clay tennis courts.
Golden State Warriors Arena, San Francisco, California, USA
Design: Snøhetta + AECOM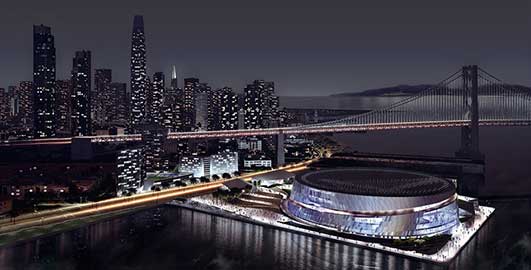 image from architect
New Plan Increases Waterfront Open Space To Nearly Eight Acres; Includes Parks, Plazas, Expanded Public Space
On the third anniversary of the team's "Lacob-Guber Era," the Golden State Warriors released an updated design of its proposed sports and entertainment pavilion on the San Francisco waterfront. Today, the site is a dilapidated 13-acre pier that's falling into the Bay.
Suzhou Buildings, eastern China – new photos online
Design: BDP, architects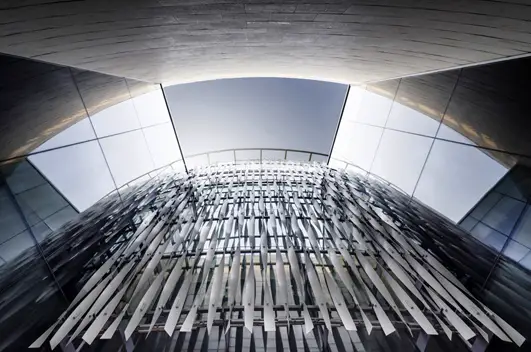 photograph © Marco Jacobs
The first raft of BDP designed projects in China is now starting to complete with two civic projects in Suzhou, one of the country's most visited cities. The Suzhou Planning and Exhibition Hall building (above) is an 8,000 sqm exhibition facility within the Science and Technology Smart City.
La Vitrine Culturelle, St-Catherine / St-Laurent, Quartier des spectacles, Montreal, Quebec, Canada
Design: Moment Factory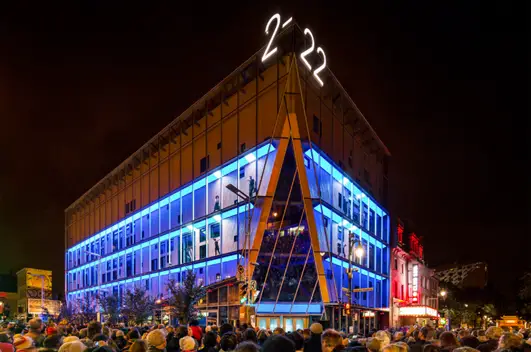 photograph from Moment Factory
The audacious architecture of 2#22 – brainchild of Société de Développement Angus with Aedifica and Gilles Huot – inspired the creative team at Moment Factory to complement the building's strong gesture. Like a real urban theater, the building will be animated 24 hours a day, 365 days a year days a year, and has been rendered versatile enough to accommodate all of the various kinds of cultural programming that will emerge over the years.
Wanda Harbin Indoor Ski Resort, north east China
Design: Patel Architecture Inc. + GDF Design associates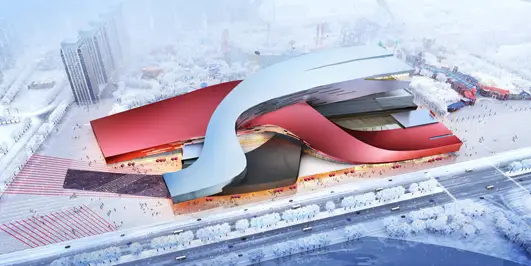 picture from architect
Harbin, which is originally a Manchu word meaning "a place for drying fishing nets", grew from a small rural settlement on the Songhua River to become one of the largest cities in the northeast. It is known for its bitterly cold winters and is often called the "Ice City." Harbin is notable for its beautiful ice sculptures in winter.
EXPO-2017 in Astana, Kazakhstan
Design: Adrian Smith + Gordon Gill Architecture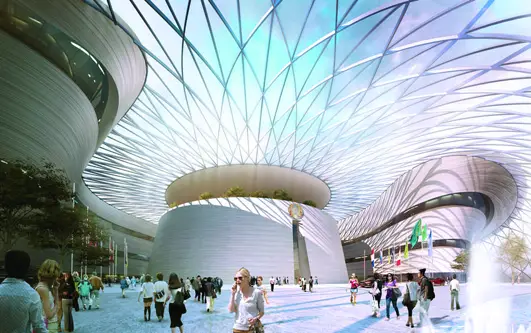 image © Adrian Smith + Gordon Gill Architecture
Adrian Smith + Gordon Gill Architecture (AS+GG) is pleased to announce that it has won a major design competition for EXPO-2017 in Astana, Kazakhstan. AS+GG's design was selected as the winner of the international competition that featured 105 entries from all over the world including Coop Himmelb(l)au, Zaha Hadid Architects, GMP International, Massimiliano, Studio Pei-Zhu, UNStudio, Snohetta, HOK, Isozaki, Aoki & Associates, and Safdie Architects.
Qingdao Culture and Art Center, China
Design: Steven Holl Architects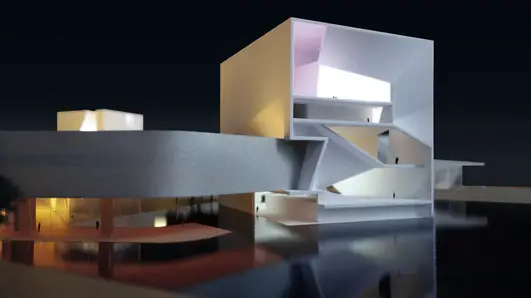 picture : Steven Holl Architects
Steven Holl Architects won this major invited architecture competition by beating OMA and Zaha Hadid Architects. The winning design for the new Culture and Art Center begins with a connection to Qingdao.
The Tales Pavilion Building, Beijing, China
Design: Luca Nichetto Design Studio, Architects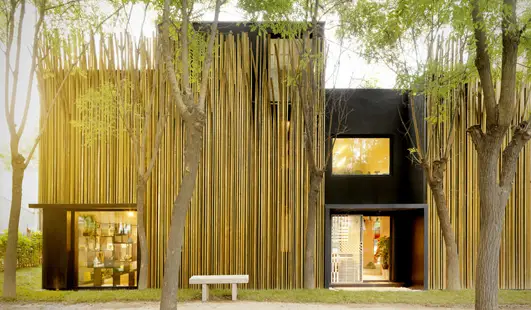 photograph : Jonathan Leijonhufvud
This building is located in the heart of the Beijing Lido Garden. It is clad with brass tubes with large bronze-framed rectilinear windows. The goal of the Tales Pavilion is to establish itself as a design stage of international significance. The pavilion will become a dynamic and vibrant new complex for excellence in design.
St. Elizabeths East Gateway Pavilion, Washington DC – building news
Design: Davis Brody Bond Architects and Planners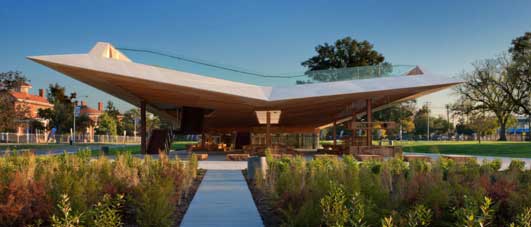 photo © Eric Taylor, EricTaylorPhoto.com
The St. Elizabeths East Gateway Pavilion opened this week. The pavilion is now known as G8WAY DC. This new building is the first step in the city's master plan to transform the 180-acre Saint Elizabeths East campus into a mixed-use development. The 16,300 sqft open air structure will serve as a location for retail and food vendors as well as community and cultural events.
Shanghai West Bund Biennial Pavilions, China
Design: schmidt hammer lassen architects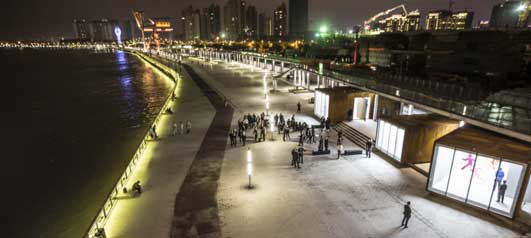 photo : Adam Mørk
Buildings by this Danish architects office include the ephemeral art installation pavilion, 'The Cloud', and a series of Corten pavilions containing support facilities – a café, a gallery and a bookshop. The pavilions site on the waterfront beside an industrial crane.
Clifftop House Maui, Hawaii, USA – added
Design: dekleva gregorič arhitekti



photo © Cristobal Palma
This house is dug into the ridge of an escarpement on the windswept north coast of the island. The 'Roof house' is for a windsurf sail designer who had moved from Europe.
Barneveld Noord Railway Station, The Netherlands
Design: NL Architects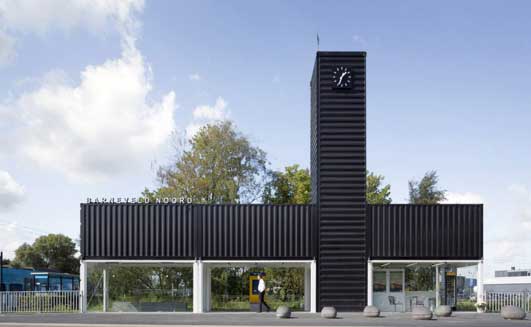 photo : Marcel van der Burg
I find projects by this architect studio refreshing: here is yet another building that pushes the well known Dutch abilities in lateral thinking. It is a temporary building, made of containers. You wonder what the tower is for on a small station in the middle of the countryside? It is for the toilet, yes 12m of tower for a toilet! Ok at its top it also contains a clock and a wind vane.
gmp – von Gerkan, Marg & Partners architects news
Awards for three stadiums by gmp : Two gold and one bronze at the IOC/IAKS Awards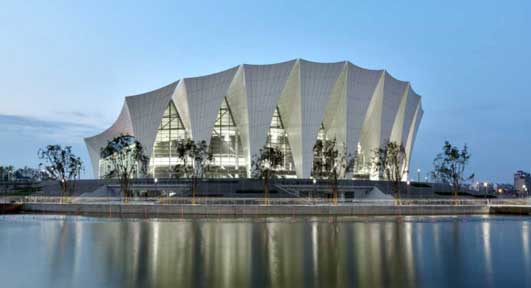 photo © Marcus Bredt
Three stadium buildings by architects von Gerkan, Marg and Partners (gmp) received the most important international architectural awards for sports and leisure buildings. At this year's IOC/IAKS Awards, the Bao'An Stadium in Shenzhen, China, received a gold medal in the "Major outdoor stadiums" category.
Underground Architecture



photo : Luca Santiago Mora
'Scooped out and invisible' Article by Dimple Soni for e-architect"In Denmark, the new museum architecture cruises out of sight, implanted into the turf….The Danish Maritime Museum has drifted from Castle to Dock. After decades of extensive and elevated stay in the glamorous Konborg Castle, the museum, with its revived display and exhibits, now lie low, behind the sinewy walls of historic dock."
Miesian Architecture
Architectural article by James Khamsi for e-architect



photo of James Khamsi
"Miesian" is a term that architectural critics trot out when presented with a project that involves strict orthogonality, grids and rectangular form. In its proper usage, it connotes the mystical transformation of the generic and efficient into the beautiful and transcendent. To be "Miesian" is to be serious and seriously architectural. It should be a badge that is awarded sparingly…
JDS Architects at Architecture Week of Brussels


Isbjerget photo from architects
Julien De Smedt takes part in the first Architecture Week of Brussels.
JDS is involved in the LOST & FOUND Exhibition presenting their competition proposals in Brussels for the Square de L'accueil, the Rue de la Loi, the BE buildings, Tour & Taxis and the Justice Palace.
RIFF 2013 Architecture Expo Conference news
a-lab architects to present the Statoil project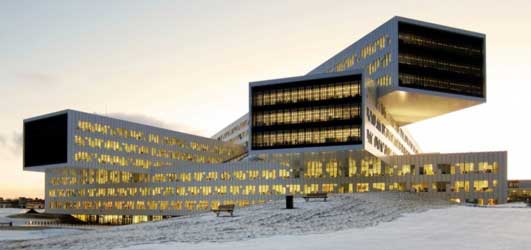 photo © a-lab.no
At the RIFF International Architecture Expo Conference 2013 in November architects Geir Haaversen and Odd Klev, two of the founders of a-lab architecture studio, will present the winner of the World Architecture Festival from Singapore in the Office category.
Perot Museum of Nature & Science, Dallas, USA – new photos
Design: Morphosis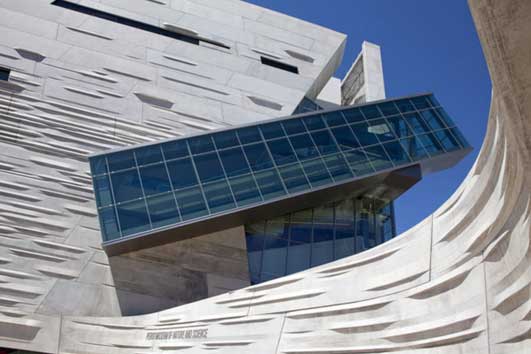 photograph © Kenneth Johansson Photography
The building, designed by Pritzker Prize Laureate Thom Mayne and his architectural firm, Morphosis. The 180,000-sqft structure is 170 feet tall, equivalent to approximately 14 stories high. The overall building mass is conceived as a large cube floating over the site's landscaped plinth.
Sancaklar Mosque, Turkey : WAF Awards 2013 Completed Building Religion winner
Design: EAA – Emre Arolat Architects


photo from architects
This powerful, heavy building "aims to address the fundamental issues of designing a mosque by distancing itself from the current architectural discussions based on form and focusing solely on the essence of religious space", according to its architects.
Zhengzhou Greenland Plaza, China
Design: SOM with ECADI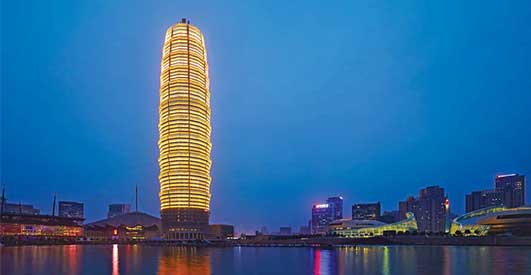 photo SOM © Si-ye Zhang
This tower is the tallest building in the central Chinese city of Zhengzhou. The building contains offices and a 435-room hotel.
Toronto Architecture Walking Tours, Ontario, Canada – launched by e-architect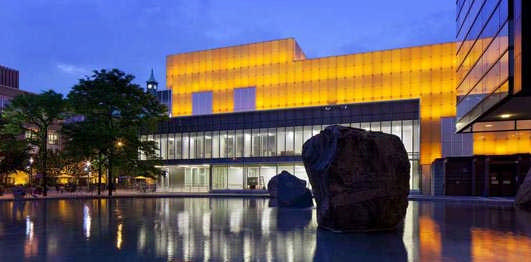 photo © Tom Arban Photography Inc.
Major buildings in the largest city in Canada include the L Tower (proposed) and the Royal Ontario Museum, both designed by architect Daniel Libeskind. Other significant architects with work in the city include Snøhetta, Diamond Schmitt Architects and Hariri Pontarini Architects. This architecture walking tour is our 61st city in the world.
Architecture News September 2013
The Hydro, Glasgow, Scotland – new photos
Design: Foster + Partners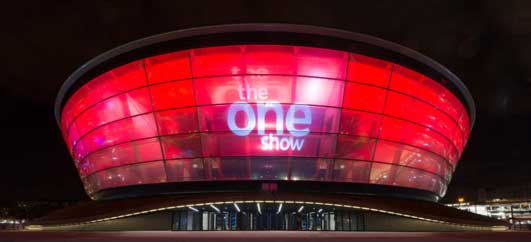 image © Foster + Partners
Designed by world-renowned architects Foster + Partners, The SSE Hydro has a seated capacity of 12,000. It will form a major boost to both the Glasgow economy and the city's stature. The first purpose-built concert venue of its scale, it will play host to around 140 events each year, including national and international artists and bands as well as being a venue for major comedy stars and sporting events.
National Library of Sejong City, Korea
Design: Samoo Architects & Engineers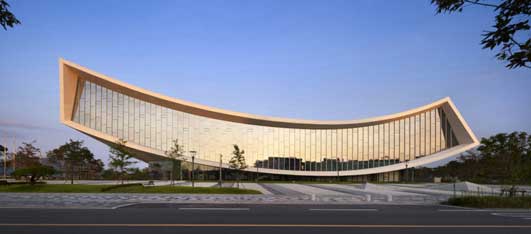 photo : Giovanni Zanghi
Planned to be the major resource & support facility to the newly relocated central government complex, the library will be a fundamental infrastructure for the government as well as the local citizens. Inside the library, an expansive open space with a splendid view of the lake provides an ultimate atmosphere for library users while a central pedestrian plaza forms an open space welcoming visitors inside the building.
University of Iowa Visual Arts Building, USA
Design: Steven Holl Architects / BNIM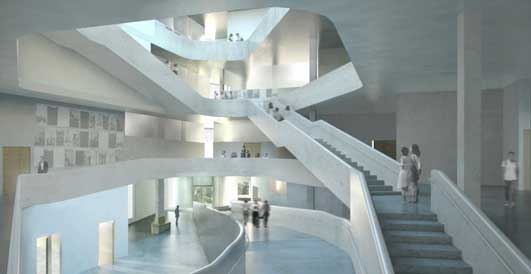 picture : Steven Holl Architects
The new Visual Arts Building relocates and expands educational space from the original 1936 arts building, which was heavily damaged during a flood of the University of Iowa campus in June 2008. The new building will be located directly adjacent to and northwest of Art Building West, which was designed by Steven Holl Architects and has received numerous awards since its opening in 2006.
25 Sep 2013
Serpentine Sackler Gallery, London, UK – more photos + drawings now online
Design: Zaha Hadid Architects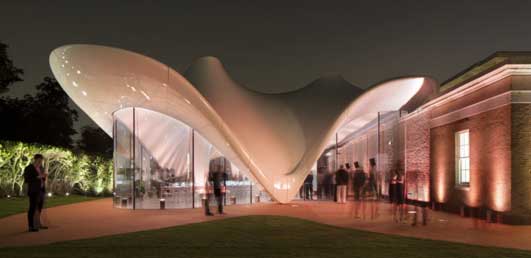 photograph courtesy of Luke Hayes
The extension contains a generous, open social space that we expect to enliven the Serpentine Sackler Gallery as a new cultural and culinary destination. The extension has been designed to complement the calm and solid classical building with a light, transparent, dynamic and distinctly contemporary space of the 21st century. The synthesis of old and new is thus a synthesis of contrasts. The new extension feels ephemeral, like a temporary structure, although it is a fully functional permanent building.
24 Sep 2013
The Turbulences FRAC Centre, Orléans, France
Design: Jakob+MacFarlane Architectes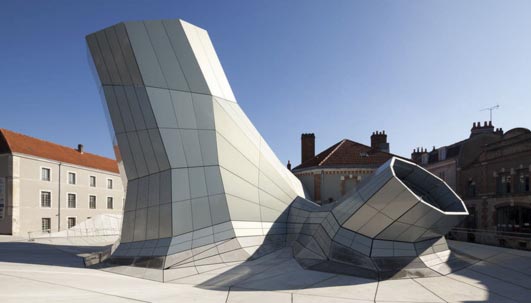 photo © Jakob + MacFarlane, photographie : N. Borel
The Regional Fund for Contemporary Art in the Centre region (FRAC Centre) recently opened in a new location perfectly in tune with its missions and vocation: the diffusion of contemporary art and architecture. The dynamic development of the architectural extension concept from architects Jakob + MacFarlane, gave the new venue its name: The Turbulences.
24 Sep 2013
LEAF Awards, London – architecture award winners news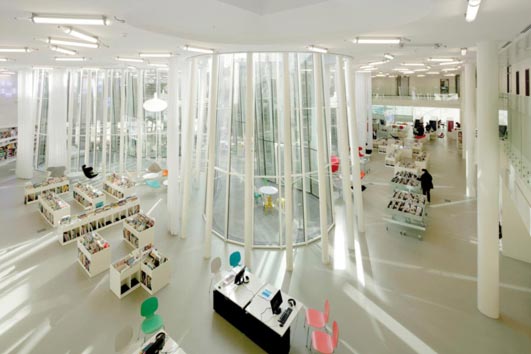 photo from architects
These international architecture awards honour the architects designing the buildings and solutions that are setting the benchmark in the global architectural community. They are open to all individuals and organisations that have made an outstanding contribution to the world of architecture.
Architectural News August 2013 : Global Building at a glance
Aga Khan Award for Architecture Prize – winners news
Architectural News July 2013 : Global Building at a glance
Harpa Reykjavik Concert Hall, Iceland wins Mies van der Rohe Awards 2013
Design: Henning Larsen Architects with Batteriið Architects + Olafur Eliasson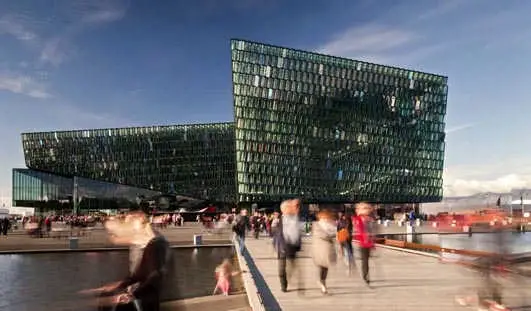 photograph : Nic Lehoux
Wiel Arets, Chair of the Jury, said: "The iconic and transparent porous 'quasi brick' appears as an ever-changing play of coloured light, promoting a dialogue between the city of Reykjavik and the building's interior life."
Danish Bridge Designs : Bridge + Ramp Designs
With the building of Quay Bridge, Copenhagen acquired a new bridge over the harbour for the first time in fifty years.
Danish Architecture Centre Exhibition, Copenhagen, Denmark : New Docklands Architecture
A new exhibition at the Danish Architecture Centre takes visitors on a journey through the history of Copenhagen's harbour and on into its future.
Architectural News June 2013 : Global Building at a glance
Architecture of 2012 – update
Residential-Architecture in Japan
Article by architect Carlos M Teixeira



photo : Ken'ichi Suzuki
Venice Biennale Review, Italy
Article by Gustavo Pernía



photo from Nordic Pavilion
Architecture News – current developments from across the globe
Architectural News archive from 2013-2014
World Architectural News
Buildings of 2013 : major architectural developments in the year
Office Architecture – offices buildings from around the world
Key Architectural Links
Buildings for the World Architects News page welcome