Underground Building, Concealed Building Design, Danish Museum, Discrete Projects
Underground Architecture : Hidden Building
Article by Dimple Soni
22 Oct 2013
Scooped out and invisible
Underground Architecture
In Denmark, the new museum architecture cruises out of sight, implanted into the turf, in the Helsingør Shipyard, located towards north of Copenhagen.
The Danish Maritime Museum has drifted from Castle to Dock. After decades of extensive and elevated stay in the glamorous Konborg Castle, the museum, with its revived display and exhibits, now lie low, behind the sinewy walls of historic dock.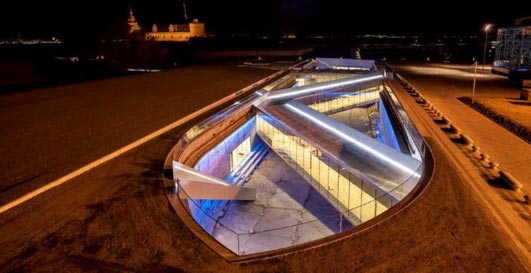 photo : Luca Santiago Mora
Carved along the periphery of a colossal dry dock, the hidden building is situated amid the Culture Yard and Konborg Castle. A vital part of Culture Harbour Kronborg development scheme, the Danish Maritime Museum is an invited competition project, won and designed by architectural firm BIG, Bjarke Ingels Group.
Positioned in the vicinity of UNESCO World heritage Kronborg Castle – reputed for Shakespeare's Hamlet scene – the museum design is rigidly governed by its historical and spatial context. Site constraints are boldly confronted by submerging the edifice underground, encircling the veteran dock, so as not to obstruct but preserve the charismatic vista of fifteenth century renaissance Kronborg Castle – one of the favorite tourist attraction of Denmark. Nevertheless, the panoramic horizontal expanse of cavernous dock forges a striking recognition. The hollow deep pit appears like a sunken jumbo ship, firmly embedded in the ground, with deck-like urbane walkways.


photo : Luca Santiago Mora
The aged dock is secured to retain its original elements and character, illuminating and ventilating the premise – a weathered voluminous setting to narrate the tale of Denmark's sea and ship. A conserve background with an airy view of cerulean sky above, the dock acts as an open courtyard for outdoor exhibitions, events and activities, publicizing the titanic scale of ship building.
Furthermore, the program capitalizes on the vast spaciousness of the empty dock by hanging rectangular glazed connectors that unifies differnet spaces of the museum, concurrently serving as pathways to navigate the structure. Three double-level hefty bridges made of giant steel sections, span the dock and penetrate through the bulky dock walls, graphically dividing the whopping dock-cavity. The building lucidly fuses the rugged thick-walled concrete dock with sleek and glassy contemporary construction.
All floors in and around the dock, slopes gently and run like a continuous ramp, connecting the galleries with the auditorium, classroom, café, offices etc., forming a gradual descending spiral hugging the dock.
Dutch exhibition designers Kossmann.dejong portrays the story of Denmark's maritime world – its distinguished voyages, adventures, world wars, trade and commerce, Danish sailor's life – from Middle Ages to present in a global perspective, entwined in museum's concealed architecture.
The robust aura of scooped out and invisible museum fabrication is further reinforced by sturdy visual identity designed by Danish branding and design bureau e-Types – a reminiscent of muscular graphical characters inscribed on the big ships.
Danish Maritime Museum Building, Sjælland, Denmark
Design: BIG architects
Dimple Soni – regular Guest Editor at e-architect



image from Dimple Soni
Comments for the Underground Architecture – New Danish Maritime Museum Building page welcome
Location: Helsingør, Denmark
Recent article by Dimple Soni for e-architect
Mute or Loud
Integration and Segregation in Architecture – 8 Jan 2013
Comments / photos for the New Underground Buildings – Global Architecture article page welcome