JDS Architects Office, Danish Studio, Architecture Projects Denmark, Designs Images, Products
JDS Architects Practice
Architectural Studio Denmark / Belgium: Contemporary Belgian / Danish Architecture Practice News
post updated 14 December 2021
JDS News
JDS Architects News – latest additions to this page, arranged chronologically:
14 Dec 2021
Belle-île, province of Liège, Wallonia, Belgium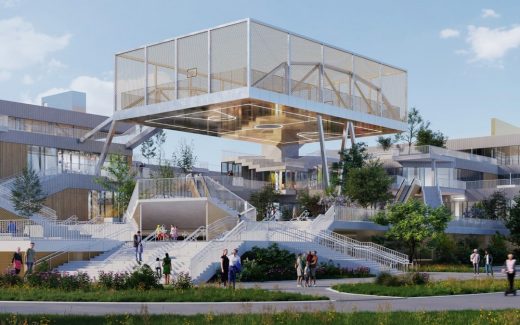 image courtesy of architects practice
Belle-île Shopping Center Building
The project in Belle-île, Liège, is an extension of an existing shopping center. This shopping center is located between 2 waterways, the river Ourthe and the 'Canal de l'Ourthe', which flow into the Meuse a little further.
13 Dec 2021
Féval Tower, Rennes, Brittany, north west France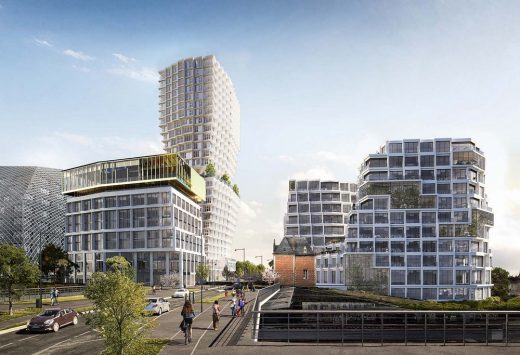 image courtesy of architects practice
Féval Tower, Rennes, France
The Féval Tower development is located next to and comprises of the new station inaugurated in July 2019. The city's new express train connections have cut travel times to its neighbours and the capital by nearly half, enthusing many to develop business with or relocate to Brittany's epicentre.
10 Apr 2019
JDSA Open Office & Friday Bar, Copenhagen, Denmark
JDSA has reopened its Copenhagen office – their first Friday Bar takes place during the Copenhagen Architecture Festival 2019.
Drinks will appropriately be beers from Danish brand To Øl (www.toolbeer.dk), brewed in Belgium, the design studio's motherland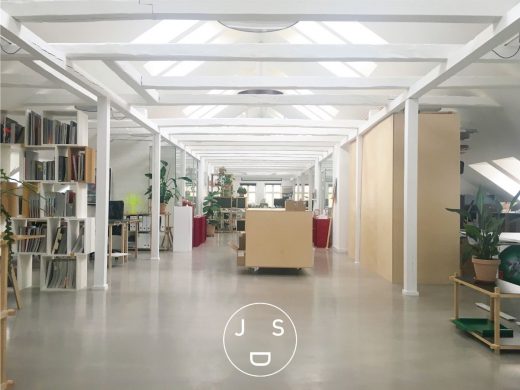 16.30-20.00
Friday April 12th
Ryesgade 23
2nd floor
2200 Copenhagen
www.jdsa.eu
JDSA is a multidisciplinary office that focuses on architecture and design, from large scale planning to furniture. Rich with multiple expertises, our office is fuelled by talented designers and experienced architects that jointly develop projects from early sketches to on-site supervision. All of which, regardless of scale, outlines an approach that is affirmatively social in its outcome, enthusiastic in its ambition and professional in its process.
At the core of our architecture is the ability to take a fresh look at design issues through experienced eyes. Our approach aims at turning intense research and analysis of practical and theoretical matters into the driving forces of design. By continuously developing rigorous methods of analysis and execution, JDS is able to combine innovative thinking and efficient production.
Founded and directed by Julien De Smedt (co-founder of PLOT), JDSA currently employs some 30 people with offices in Copenhagen and Brussels. We work with corporate, government and private clients in numerous countries to realize civic, residential, office, commercial, healthcare, educational, and waterfront development projects.
We carefully limit the commissions we take on to help ensure a high degree of professional attention and overall project quality. JDSA envisions itself as a proactive partner for its client, rather than a consultant. The office has a wide portfolio of international work and the attitude of involving external experts to improve the design intelligence of its team.
6 Sep 2017
"JDSR" X CITROËN
JDS Architects and Diller Scofidio + Renfro announce their selection to the challenging Citroën Cultural Centre project in Brussels.
The new facility will host a Museum of Modern and Contemporary Art (15,000 m2), an Architecture Centre (10,000 m2) and last but not least public spaces, open to all, to be used for cultural, educational and recreational functions (10,000 m2).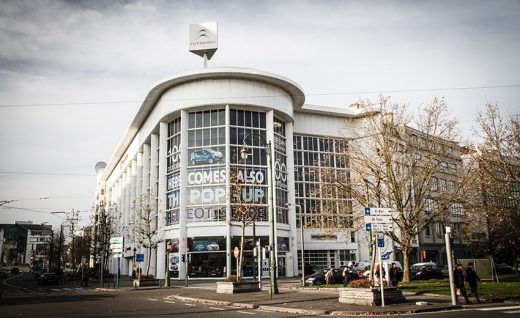 photo courtesy of architects office
The project will take over the historically preserved industrial building Citroën at the crossroad of multiple urban conditions in downtown Brussels.
'The Citroën Cultural Centre will need to invent its own model, that of a constantly changing cultural tool. It intends to favour innovation, to be cross-disciplinary in its approach, and to serve as a flexible tool for both creative workers and the public, capable of adapting to ongoing cultural change and embodying the notion of flexibility. It will seek to be open to the city and its districts, welcoming as many people as possible and serving as a genuine tool for life in the community.'
The Urban Development Corporation (SAU-MSI) has shortlisted seven teams from the 92 applications received in response to the call.
Citroën Cultural Centre – A new ambition for Brussels from Citroën Cultural Centre Brussel on Vimeo.
Competing design teams:
– 51N4E with CARUSO ST JOHN ARCHITECTS
– ADVVT, AGWA and 6A
– LHOAS & LHOAS with ORTNER & ORTNER
– NOA with EM2N and SERGISON BATES
– OFFICE with CHRIST & GANTENBEIN
– OMA
The multidisciplinary team is composed of:
JDS Architects, mandataire, Diller Scofidio + Renfro, SETEC, UTIL, Arup Lighting, Bureau Bouwtechniek, D'ici la paysage, dUCKS scéno, IDEA Consult, City Tools, Jérôme Sans, L'Observatoire International, RL et Associés, Lamoureux Acoustics, Delta GC, ABV Development, Securisan
The budget for the execution of the work is 125,000,000 euros plus VAT.
BUILT UNBUILT LAUNCHES
New book by JDS, Built Unbuilt, will be released this September at various venues and online on FRAME Publishers.
Built Unbuilt revisits 16 years of Julien De Smedt's work from the inception of the architectural practice PLOT with Bjarke Ingels in 2001 to the work of JDSA and the founding of the design studio Makers With Agendas with William Ravn in 2013.
The Built section of this book gives an overview of De Smedt's built work seen through the lens of photographer Julien Lanoo.
The Unbuilt section is a selective narrative by De Smedt of projects that haven't made it to the built world.
Edited by Shumi Bose and Mark Isitt.
Contributors: Karsten Ifversen, Michael Speaks and Karen Wong.
Designer: Studio Mathias Clottu
Publisher: FRAME Publishers
For online sales:
http://store.frameweb.com/frame-publishers-built-unbuilt-by-julien-de-smedt.html
Launch Calendar:
September 14th Brussels, CouCou, place Flagey, 18.00 – 22.00
In collaboration with Design September.
September 16th: Chicago Architecture Biennale. The Graham Foundation, 17.00
September 29th @ Experimenta 2017. Venue: MAAT, Lisbon
'Letters to the Mayor: Oslo' Exhibition, Oslo, Norway
JDS will participate in the exhibition Letters to the Mayor: Oslo
The Oslo Architecture Triennale (OAT) in collaboration with Storefront, will organize and present the project in Oslo during the autumn of 2017. The purpose is to create a forum for dialogue as a means of bringing innovative ideas and visions of the city closer to the decision-makers, and vice versa.
The architecture studio's letter outlines the challenges of Oslo's growth. Currently ranking fastest growing city in Europe, the Norwegian capital will nearly triple its population by 2100. In collaboration with Syracuse University, NY, JDSA envisioned the city's potential future.
The architects' letters will be exhibited at DOGA. On September 26th, Oslo's Mayor, Marianne Borgen will participate in the opening event.
31 Mar 2017
BCDA Iconic Building Design Competition News
JDS Architects shortlisted for the Iconic Tower in Manila Philippines International competition.
The Bases Conversion and Development Authority aims to develop its new corporate office in the northern portion of Bonifacio Global City, Taguig with an area of 7,275-sqm. The majority of the area will be allotted for open spaces, parks, landscapes, and public arts.

BCDA Iconic Building Design Competition
JDS at Architecture Week of Brussels
JDS OPENS ITS DOORS AND LECTURES AT THE BRUSSELS ARCHITECTURE WEEK
Isbjerget Aarhus, Denmark – a recent completion by this architecture studio:


photo from architects
17.10.2013
Julien De Smedt will lecture this Thursday the 17th, from 19.00 alongside David Van Severen (OFFICE KGDVS) and Jorn Bihain (V+) as part of the first Architecture Week of Brussels (HTTP://AWEEK.BE).
Pavillon A.WEEK
rue Ravenstein 15
1000 Bruxelles
Price: FREE
Aside from today's lecture, as part of the A+ Architecture in Belgium Benefit, JDS will contribute the Bone Chair which will be up for auction today at 8:30pm at the Bozar Center for Fine Arts, Brussels.
Until 20.10.2013
Everyday until the 20th, closing date of A.WEEK, JDS is also taking part in the LOST & FOUND Exhibition presenting our competition proposals in Brussels for the Square de L'accueil, the Rue de la Loi, the BE buildings, Tour & Taxis and the Justice Palace
13.00 to 20.00, daily until October 20th
rue Ravenstein 15
1000 Bruxelles
Kalvebod Waves, Copenhagen, Denmark – 30 Aug 2013
Design: KLAR + JDS/Julien de Smedt Architects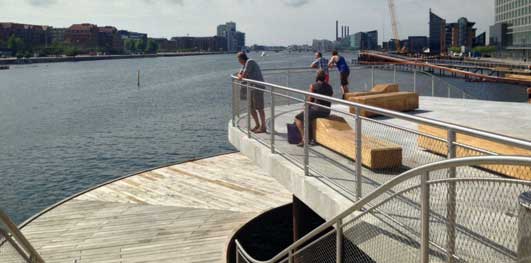 photo from architects
This harbour front project in Copenhagen, KALVEBOD WAVES, is collectively designed by KLAR and JDS/JULIEN DE SMEDT ARCHITECTS with the support of Sloth Møller and Niras Engineers.
29 Nov 2012
Youth Centre Lille, France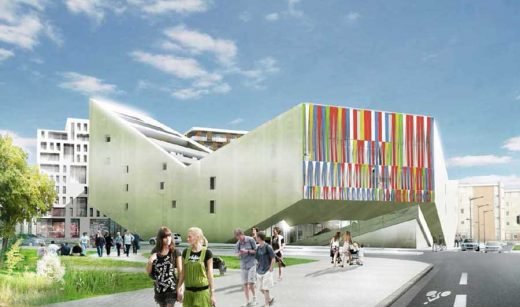 image from JDS architects
The architects announce that their project for the city of Lille just received a building permit. The construction will start in 2013.
Over the past twenty years Lille has become a European hub; a destination for business and congress, a great place to study and live and also a tourist destination. It is a city with a turbulent history of conquest and reconquest, a heritage as an important medieval city and later on enjoyed and sometimes suffered the title of Northern France industrial capital.
Town Branch Commons, Lexington, Kentucky, USA
2012-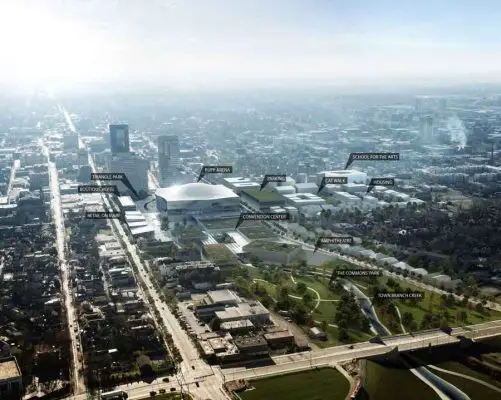 image © Space Group Architects / Mir
JDS SHORTLISTED FOR TOWNS BRANCH COMMONS MASTER PLAN IN LEXINGTON, KENTUCKY
The JDS team is selected as 1 of 5 to compete for the ambitious Town Branch Commons, bringing Town Branch Creek to the surface for the first time in more than 100 years.
The JDS core team is composed of Balmori (NYC) for landscape, Nitsch Engineering (Boston), Atelier Ten (NYC) for sustainable development and ourselves as lead.
Excerpts from Kentucky.com the Lexington Herald Leader: '…Town Branch Commons, envisioned as a two-mile stretch of green space through downtown, was a major recommendation of the Arena, Arts and Entertainment District master plan.
The plan was developed in 2011 by architect Gary Bates and the Norway-based architectural firm Space Group. Bates' idea was to bring the creek to the surface in some form and create a linear park to connect the entertainment district on the west end with the rest of downtown.'
Full team includes:
JDS/Julien De Smedt Architects: architecture, urban planning
Balmori Associates, Inc.: Landscape Design
Nitsch Engineering: Civil Engineering
Atelier Ten: Environmental Sustainability
James Lima Planning + Development: Consultant for Economics of Place Making
Creative Concern Ltd: Multi-Media Design
Ref. to the related development by other architects : Rupp Arena Kentucky
The Iceberg Project – Isbjerget, Aarhus, Denmark
2008-13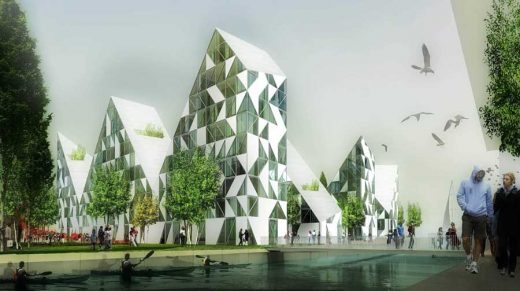 Isbjerget render by labtop – image from Julien De Smedt Architects
The Iceberg Project
To achieve optimal views from the apartments to the sea, the building has been cut in a crisscross manner, taking its inspiration from floating icebergs in constant motion. The sloping rooftops emphasize views and bring in natural daylight while providing stunning views out in several directions. The 25,000 sqm building houses 155 apartments.
7 Feb 2012
JDS Products News
JDS Architects Unveils Two New Products
Stoop: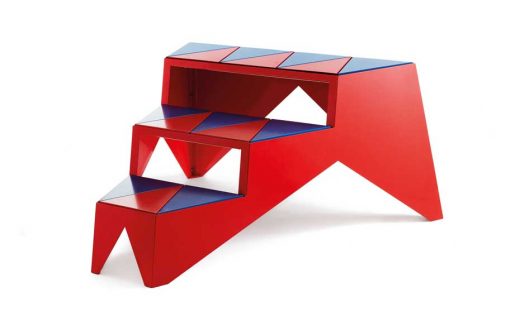 image from architects office
JDS Architects unveils two new products at the Stockholm Furniture Fair currently underway in the snowy capital from the 7th until the 11th of February. Pictured (left) is the next evolution of the Stacked project, Mini Stacked, the wall-mountable and scaled down little brother of Stacked. And pictured (right) is Stoop, a public bench that redefines the public bench with multiple seating levels inviting people to sit in a way that is less prescribed, more flexible and more social.
Mini Stacked: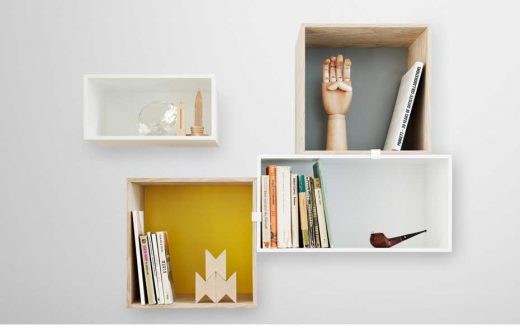 image from architects office
For those attending the Stockholm Furniture Fair, you can see Mini Stacked at the Muuto display and Stoop can be found at the Vestre display. Any further questions concerning the JDS product line can be directed to Julien De Smedt or our product designer, Wouter Dons,who can also be found in Stockholm until the end of the week.
23 Dec 2011
JDS Chinese Buildings + Studio News
JDS Architects New Office in Shanghai + Current Projects
JDS IN NYC



picture from JDS architects
JDS was commissioned to design the masterplan and provide custom furnishing for the Brooklyn Bazaar event held in a 40,000 square foot warehouse on the Williamsburg waterfront from December 15th-17th, 2011. During the three nights, the space was converted into a bustling marketplace, food festival and concert venue. Over 100 food, art, and craft vendors and an impressive roster of DJs and bands were brought in to showcase local artisans.
Drawing inspiration from Lars Von Triers Dogville, the layout featured stenciled typography and designated spaces outlined in dotted chalk floor markings. The furniture included custom made tables, bars, vendor stands and benches.
JDS IN CHINA



picture from JDS architects
After 6 years development in Asia, JDS Architects establishes its first office in Shanghai in order to oversee its projects in the region. The new office will service a number of key projects in the People's Republic of China and in Asia as a whole. JDS founder Julien De Smedt and partner Andrew Griffin are responsible for the running of the office and ongoing projects. JDS is committed to design contemporary, sustainable projects that can address the challenges of some of Asia's most rapidly expanding cities. To close the year JDS Architects introduce some of the projects that occurred in the region in 2011.
HANGZHOU WAVES



picture from JDS architects
JDS releases its design for a limited competition to design a new 5 star hotel and class A office complex in Hangzhou Xintiandi district.
WUHAN TWIN TOWERS



picture from JDS architects
JDS have been commissioned to develop two 170 meter mixed use towers in Wuhan consisting of residential, sports club, retail and park space in Wuhan's Central Business District. The project is now in the schematic design phase and is due for construction start early 2013.
HANGZHOU H BUILDING PERMIT



picture from JDS architects
The competition winning Hangzhou H project has now received building permit and, along with partners at Hangzhou Xintiandi, CHINA CUC and MUDI, JDS Architects expect construction to commence in March 2012.
WUHAN MIKADO



picture from JDS architects
Design for an invited competition of a 198,000 sqm mixed-use development in Wuhan's CBD together with ARUP and MUDI.
SHANGHAI COMMUNITY RING


picture from JDS architects
Design for a community centre in Shanghai Pudong District pending government approval.
CHONGMING BIKE CITY



picture from JDS architects
Together with MUDI and Tongji University, JDS have submitted a design for the Chongming bike park limited competition. The project consists of 3 main buildings: a gateway building to the park, a multifunctional hall and a bicycle museum.
30 Nov 2011
JDS Studio News
JDS Architects New Office Reception, Birthday & Exhibition, Brussels, Belgium


picture from JDS architects
New spaces of office and exhibition in the center of Brussels. In preparation for the European Danish presidency, JDS will present a series of realised or ongoing projects in Denmark and abroad.
25 Nov 2011
JDS – NYC News
Brooklyn Night Bazaar, New York, USA



picture from JDS architects
Quoted from Brooklyn Night Bazaar press release:
"Williamsburg, NY… Brooklyn Night Bazaar, a recurring nighttime market readies for the holidays with an extravagant showcase for independent artists, crafters, chefs, designers, and musicians in a 40,000 sq foot warehouse with 30-foot ceilings on the waterfront. Founder and Brooklynite Aaron Broudo was inspired by the Southeast Asian night markets — where a manic energy infuses with music as locals and tourists sample dishes and bargain for objects. Brooklyn's version is a mega-pop-up platform that commingles indie music, handmade zines, homegrown jams, projected art videos and giant helium balloons.
Broudo has tapped Ken Farmer, the Creative Director of Nuit Blanche New York (NBNY), to orchestrate the artistic vision behind this part street fair, part art fair, and part concert to take place over the three nights of December 15-17. Highlights include a curated vendor area of innovative retail entrepreneurs like Playbutton, Kill Devil Hill, and Sit & Read; an artist-designed half pipe that will double as the music stage; as well as video installations and light projections curated by NBNY, the group who helmed the Bring to Light festivals in Greenpoint. Architect Julien De Smedt, whose recent ski jump in Norway garnered numerous awards, has been commissioned to masterplan the market and design special furniture for the space.
Brooklyn Night Bazaar re-imagines the sights, sounds and smells of the market and provides an environment that supports the local creative economies by encouraging artistic expression."
Brooklyn Night Bazaar
December 15, 16, 17 2011
From 5pm to midnight
149 Kent Avenue, Williamsburg
For more info see www.bkbazaar.com.
The JDS design is inspired by the set design of 'Dogville' by Lars Von Trier.
10 Nov 2011
JDS Prize News
THE HOLMENKOLLEN SKI JUMP WINS THE NORWEGIAN STEEL DAY PRIZE
Holmenkollen Ski Jump, Norway



picture from JDS architects
Holmenkollen Ski Jump
JDS's Holmenkollen Ski Jump has been announced as the winner of the 23rd Norwegian Steel Day Prize for excellence in steel construction. The conference is a open professional and social forum for professionals, and is the natural meeting place for updating of knowledge, new contacts and care of existing and previous contacts in the steel community.
JDS WINS THE GOLD AND SILVER AWARDS AT THE INTERNATIONAL ASSOCIATION FOR SPORTS AND LEISURE (IAKS) CEREMONY IN COLOGNE
JDS Architects were the recipient of two awards in the 2011 ICO/IAKS Awards, the world's only international architecture competition for sports and leisure facilities. JDS's New Holmenkollen Ski Jump received the gold award and JDS+BIG's Sjakket Youth House received the silver award.
IAKS, IOC and IPC award international architecture prizes for sports facilities Prize-giving ceremony took place on 26 October 2011 in Cologne.
JDS ARCHITECT'S STACKED SHELVING SYSTEM AND CRUSHED BOWLS ARE PART OF MUUTO'S 5 YEAR EXHIBIT AT DESIGN MUSEUM DENMARK
JDS Architect's Stacked shelving system and Crushed bowl are part of Muuto's 5 Year Exhibit at Design Museum Denmark. The birthday reception with music and drinks is on the 10th of November from 16.30h until 18.30, Bredgade 68, Copenhagen. Access to the exhibition is free and open to the public from the 11th to the 13th of November during normal opening hours of the museum. More information about the event can be found here.
JDS WILL BE EXHIBITED AT THE "WILD WILD WEST – YOUNG BELGIAN ARCHITECTS"
The exhibition started in Munich on the 10th of November 2011 and runs until the 18th of January 2012, afterwards it travels to Cologne and Rotterdam.
The exhibition focuses on the philosophy and the outlook on architecture in Belgium and its influences internationally. On display are drawings, photographs, visualisations, films and scale-models.
More studio information re JDS Architects online soon
Location: Copenhagen, Denmark
JDS Architects – Practice Information
JDS Architects studios:
Copenhagen (Denmark) + Brussels (Belgium) + Stockholm (Sweden).
Former offices in Belo Horizonte (Brazil) + Shanghai (China)
JDS / Julien De Smedt Architects is a multidisciplinary office that focuses on architecture and design, from large scale urban planning to furniture. The office is fueled by talented designers and experienced architects who jointly develop projects from the early sketch to on-site supervision. Independent of scale, this outlines an approach that is affirmatively social in its outcome, enthusiastic in its ambition and professional in its method. By continuously developing and implementing precise and rigorous methods of analysis, we are able to combine innovative thinking with an efficient production.
At the core of our architecture is the ability to take a fresh look at things through experienced eyes. This approach has resulted in a wide portfolio of both Danish and international projects. The office is 30 people strong, and supports an attitude of involving external consultants when required and relevant. This use of complementing resources ensures that projects will never suffer from being neither too conventional nor too naive. JDS is founded and directed by Julien De Smedt, former co-founder of PLOT.
Julien de Smedt : further information
Julien De Smedt Architects Selected for "Europe 40 Under 40"
Copenhagen Architects Office
Danish Architects designers
Buildings / photos for the JDS Architects page welcome
Website: www.jdsarchitects.com