Platforma Artes Guimarães, New Portugal Architecture, Portuguese Arts Venue Photos
Platform of Arts and Creativity in Guimarães
Portuguese Arts Venue by Pitágoras Architects – article for e-architect by Carlos M Teixeira
12 Nov 2013
Platforma Artes Guimarães – Golden Weightlessness
Text by Carlos M Teixeira
The European Copper in Architecture Awards, given to the best built works in copper, this year went to the Platform of Arts and Creativity in Guimarães, Portugal. Designed by Pitágoras Aquitectos, it is a building of elegant, cantilevered golden boxes right in this town's center which mixes creative labs, workshops, and the recovering of the existing building on the eastern side of the plot — each of them functioning independently and simultaneously, creating different accesses to each of the various services and support areas.
European Copper Architecture Awards 2013 – winner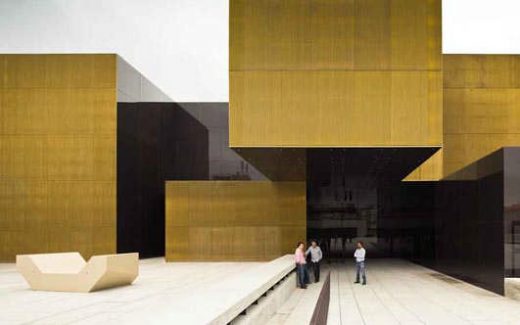 photograph : Joao Morgado
The building has many of the features present not only in this office's portfolio, but in contemporary Portuguese architecture overall: precise expressive shapes, strong materiality, fine details, deep relationship with the urban fabric and the landscape, delicate dialogue with the past, clear play of solids and voids, shocking contrast between inside and outside spaces, and a nearly sculptural programmatic freedom overlapped with orthogonal compositions.
The solid blocks are cantilevered against a black but light volume, the different parts of the program working like perpendicular boxes put over the square and stressing the copper weightlessness. The building has the scale of the square although seems to be an exception in Guimarães; copper's timeless bringing historical contextualization and revealing the project's ambiguities.
As written by the prize jury, the design is a confident response to the challenges of working within a UNESCO and City of Culture site. Pulling together a diversity of old buildings, the regeneration gives a new civic heart to the city – looking to the future as well as the past.
The Platform of Arts and Creativity is a nice surprise in a country where architecture seems to be in a wave of coherent production; where a whole generation of architects is building in unison and with a distinctly national – yet extremely universal – approach to the small and middle scale.
Carlos M Teixeira
This week's guest editor, Carlos M Teixeira, is the founder of Vazio S/A, an architecture studio based in Brazil. He has shown his work at Venice Biennale, the V&A, São Paulo International Art Biennale and others. His latest book, "Entre: Architecture from the Performing Arts", was published by Black Dog this year.
Location: Platforma Artes, Guimarães, Portugal, southwestern Europe
Architecture Articles by Carlos M Teixeira
Contemporary Architecture Articles
Back to 1916
Article about 425 Park Avenue Competition Manhattan by Carlos M Teixeira
Uncanny Scales
Residential Architecture in Japan by architect Carlos M Teixeira
Shelter byGG
Design: Gabriela Gomes
Guimarães Building
Heavy and Light Lights by Carlos M Teixeira
Sea and Architecture by Carlos M Teixeira
Northern Portuguese Architecture
Vidago Palace Spa, Porto
Design: Álvaro Siza Vieira
Palácio de Justiça de Gouveia
Design: Barbosa & Guimaraes
Carnaxide Offices
Design: Contacto Atlântico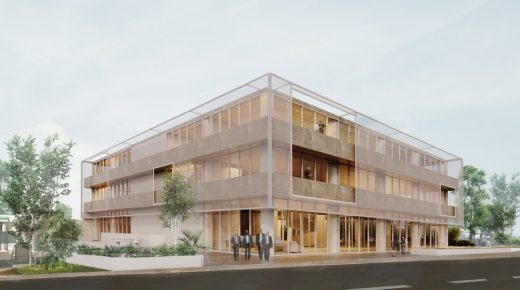 image : Contacto Atlântico
Carnaxide Offices in Lisbon
Architecture Articles – Selection
Comments / photos for the Platform of Arts and Creativity in Guimarães page welcome