Copenhagen Bridges Pictures, Denmark Project News, Odense Crossing, Danish Proposal
Odense Brygge: Copenhagen Bridge Designs News
Danish Harbour Crossing Projects designs by Dissing + Weitling
23 Apr 2013
Copenhagen Bridges + Ramps
Danish Bridge + Ramp Designs
First, the existing bridge (from 2006), followed by a new design proposal, both in Copenhagen,
then a competition design for a bridge in Odense, Denmark:
Bryggebroen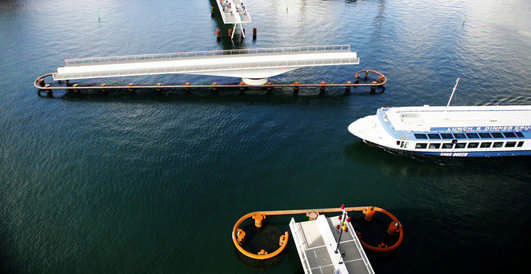 pictures from DAC
With the building of Bryggebroen (Quay Bridge), Copenhagen acquired a new bridge over the harbour for the first time in fifty years. The bridge stretches in a light arc from Havneholmen to Islandsbrygge creating a desirable short cut for pedestrians and cyclists between two of the most recently developed harbour fronts of central Copenhagen.
The bridge is designed as a steel structure with a trapezoidal spine from which light decks are cantilevered. The structure provides sufficient navigational clearance height below, while the maximum slope for wheel chair users is maintained for the pedestrian deck above. An integrated girder housing sweeps below the swing span, enclosing the pivot mechanism above the water level. The deck parapet is topped by a handrail incorporating a continuous lighting fixture which at night reveals the bridge as a thin strip of light spanning the dark harbor.
The bridge has two navigational spans for water vessel traffic. A fixed span with a width of 21 m and a clearance height of 5.45 m for small vessels and the city's water bus. For masted and larger vessels a swing bridge span opens to provide a navigational clearance width of 35 meters. In 2006 D+W was recognised with a diploma for the Bryggebroen from the National Capital Beautification Committee (Foreningen til Hovedstadens Forskoennelse).
Odense Bryggebroen Information
190 m swing bridge for pedestrians and bicycles.
Copenhagen, Denmark
2006
Client: Municipality of Copenhagen
Architect: DISSING+WEITLING
Engineer: Carl Bro Group
Award: Certificate of Recognition from the National Capital Beautification Committee (Foreningen til Hovedstadens Forskoennelse)
Odense Brygge photographs: D+W/Steen Savery Trojaborg
Odense Brygge rampen
Bridge Ramp
The area around Fisketorvet shopping center is characterized by a particular problem, there are two distinctive groups of users, each with conflicting interests, cyclists and pedestrians. The cyclists need to get easily from Kalvebod Brygge over to Island Brygge. They will use the connection daily and want an easy and safe passage through the area. This gets in conflict with the many pedestrians using either Fisketorvet shopping center or just staying in the public bath area. Pedestrians are not always aware of cyclists and move slower. Mostly during summertime is where the conflicts arise. The problem is rooted not solely to the two groups' movement patterns, but also because of the physical conditions that require 90-degree turns, blind corners and stairs. The area also lacks physical separation of bicycle paths and sidewalks.
The Municipality of Copenhagen has asked D+W for a proposal to solve these issues. D+W has proposed a long ramp/bridge that takes off from Havneholmen and continues in a winding course along Fisketorvet towards the shopping center's main entrance. The long ramp will be an interesting object in the area and it will separate completely cyclists from pedestrians. The cyclists will pass quickly and efficiently through the area, while experiencing a unique and exciting view. Finally, the elevated road will allow pedestrians the use of the entire wharf avoiding perilous situations. The ramp will provide a unique harbour outlook during sunny days and a shelter during rainy days.
The owner of Fisketorvet will be able to use the now more quiet area to establish a more recreational space. This will eventually lift the overall area's quality.
The solution is reasonable and simple from an engineering point of view. Construction will be fast and with no need of lifting heavy weights since the distance between the columns is fairly modest at approx. 17m.
Brygge rampen Information
Harbour ramp
Copenhagen, Denmark
Total length: 235m
Height difference between Havneholmen and Fisketorvet main entrance: 5.5m
Column distance: 17m
Design phase: 2011
Detail Design: 2011
Construction: 2012
Client: Municipality of Copenhagen
Architect: D+W architecture
Engineer: COWI (DK)
Renderings: D+W architecture
Odense cycle and pedestrian bridge design
28 Feb 2015
Eventually D+W did not win this competition for a cycle and pedestrian bridge in Odense, Gottlieb Paludan Architects did.
Odense Brygge – Danish cycle and pedestrian bridge proposal: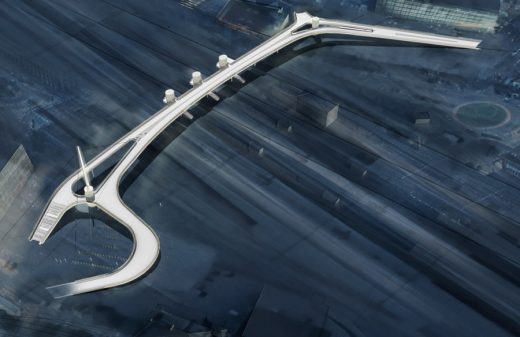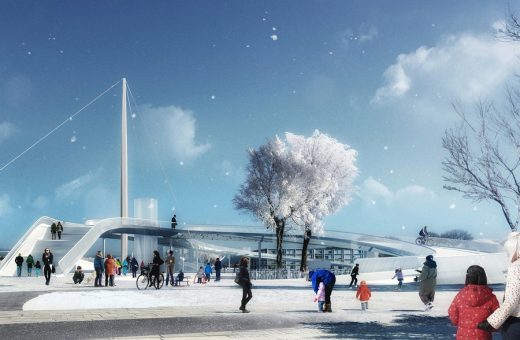 Information about the bridge – which is currently under construction:
Gottlieb Paludan Architects' proposal for a new foot and cycle bridge across the railway in Odense is intended to improve the connection between the city and harbour area for the cyclists and pedestrians of Odense. GPA developed the proposal in cooperation with ES Consult, NIRAS, Bartenbach Lichtlabor and lighting-design artist Anita Jørgensen.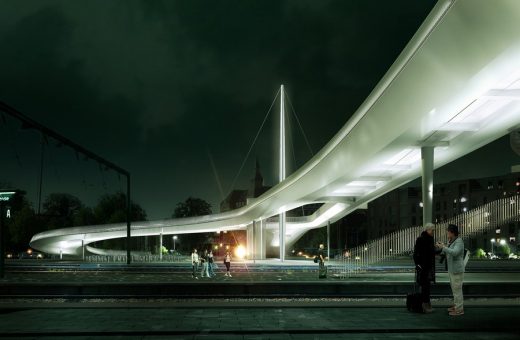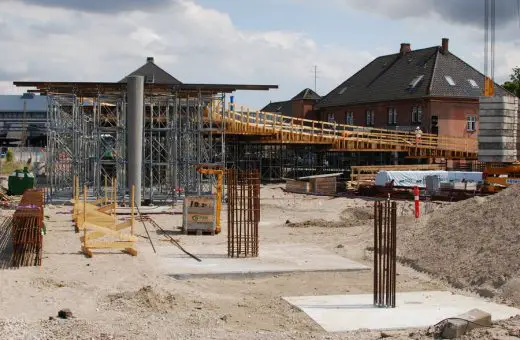 The project strives to give shape to the vision of a remarkable and truly memorable bridge across the railway, using simple and effective architectural tools. The decision of Odense Local Authority to establish a connection between the urban quarters north and south of the railway is brought about by focusing on exactly that key function — the bridge must be a beautiful, practical and organic part of Odense's urban space, and it must be easy to use for all pedestrians and cyclists and for the many people travelling to and from Odense by train every day.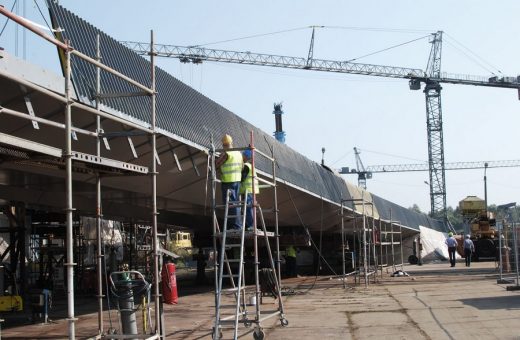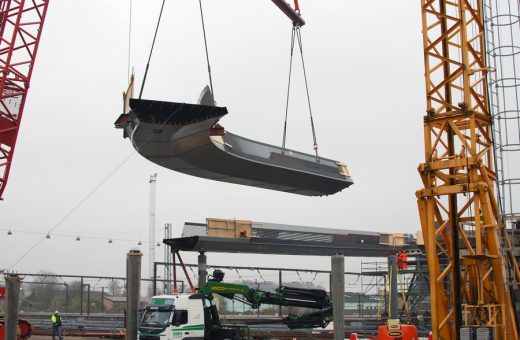 This basic functional quality translates into a bridge that will integrate art, lighting and construction, blending all these elements together into one exquisite, fluid design that will give Odense Local Authority an inspirational and efficient traffic solution, at the same time creating a striking landmark that will stand the test of time."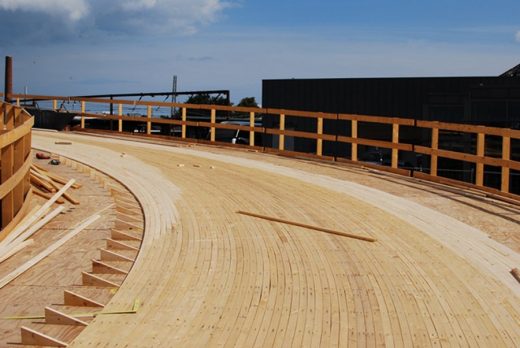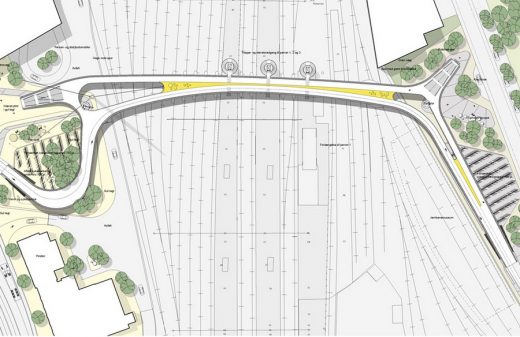 Odense cycle and pedestrian bridge – Gottlieb Paludan Architects
Dissing+Weitling's design for the Odense cycle and pedestrian bridge:
Odense cycle and pedestrian bridge
Odense Brygge design:






pictures from DAC
Odense cycle and pedestrian bridge news
Competition design for a bridge in another Danish city
The panel judging the project competition on a a cycle and pedestrian bridge between city and harbour for Odense has just selected two teams which are through to the negotiation round before the winner is finally announced on 14 December 2012. Dissing+Weitling's team also includes global engineering company Schlaich Bergermann und Partner and Danish landscape architects SLA A/S.
The new bridge will serve pedestrians and cyclists, creating a route for getting across the railway west of Odense station and a fixed link between city and harbour. Odense Local Authority attaches great importance to the project as part of the extensive development of Odense that is planned for the next few years. In this connection, the bridge is expected to provide a strong visual impact for Odense – at close quarters when pedestrians and cyclists make their way across the bridge as well as from a distance as a landmark seen from the railway and the surrounding city.
A swan's embrace
The expectations to the visual and emotional impact of the bridge were uppermost in the minds of the D+W architects during the design phase. In the words of D+W partner Steen Savery Trojaborg, the architectural vision "took its departure in the sheltering hollows of sand dunes, trees that grow together over your head like a roof and the comforting wing of a swan shielding you from harm."
The result is a very recognisable structure with a strong visual expression. The panel of judges made the following deliberations:
"The architectural vision has great visual impact: sweeping elegant lines that effortlessly create both the bridge deck and roof in one fluid, organic structure produced in white metal and glass; it is an exquisite, almost poetic shape that integrates the bridge and the roofs, creating a unified structure of great vitality. The characteristic shape provides pedestrians and cyclists with varied spatial experiences and very different views at different points on the bridge."
Bridges and urban environments
Over the last few years, Dissing+Weitling architects have worked on a number of projects that focused particularly on urban development, landmark effect as well as visual and emotional impact. Among the most well-known and highly publicised are Bryggebroen and Åbuen in Copenhagen, Denmark.
Odense cycle and pedestrian bridge Information
Girder bridge over the railway by Odense station, Odense, Fyn, Denmark
Client: Odense Local Authority
Architect: DISSING+WEITLING
Engineer: schlaich bergermann und partner
Landscape architect: SLA A/S
Visualisations: DISSING+WEITLING
Copenhagen Bridge Competition images / information from Studio Bednarski
Copenhagen Bridge design : Dissing + Weitling
Location: Bryggebroen, Copenhagen, Denmark, northern Europe
Architecture in Copenhagen
Copenhagen Architecture Designs – chronological list
Cirkelbroen Copenhagen : Olafur Eliasson



image : Olafur Eliasson
Copenhagen Harbour Bridge – CPH Arch : 3XN



picture from architects
Copenhagen Harbour Gateway : Steven Holl Architects



image courtesy of Steven Holl Architects
Comments / photos for the Odense Brygge + Copenhagen Bridge Designs by Dissing + Weitling page welcome