Open Architecture Collaborative: OAC, Architecture for Humanity, Disaster Response, News
Open Architecture Collaborative
OAC Humanitarian Architectural Network – Built Environment Renewal + Disaster Relief
Mar 22, 2016
Open Architecture Collaborative News
Architecture for Humanity transforms to The Open Architecture Collaborative
When it was announced that Architecture for Humanity — one of the world's most well-known nonprofit organizations dedicated to humanitarian design — was closing its doors on January 1st 2015, there was collective dismay amongst architects across the globe, reports the architizer.com.
Architecture for Humanity had become renowned as a bastion of public-interest design, inspiring architects to get involved in pro bono work and — significantly — leading advocacy for the power of great design to help vulnerable communities build a better future for themselves.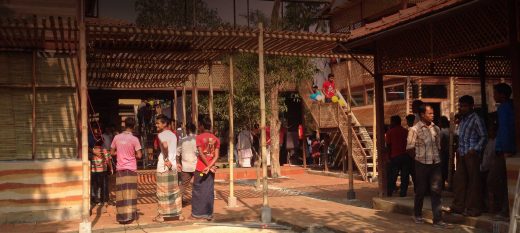 While that news was met with an outpouring of grief, a glimmer of hope remained: International offshoots of the organization known as the "Chapters" were preserved thanks to the hard work of volunteers in over 30 cities around the world. Now, this resilient network of creative people has come together to form a brand new initiative based on the same inspiring mission — earlier this month, the Open Architecture Collaborative (OAC) was launched with big plans to bring humanitarian design back to the mainstream.
The Open Architecture Collaborative describes itself as an "international collective" encompassing designers, allied professions and community partners with a founding membership of over 11,500. The OAC aims to address two fundamental issues in the built environment: lack of hands-on community experience for young professionals and limited access to design services for marginalized communities.
Public-interest design is currently a hot topic — 2016 Pritzker Prize-winner Alejandro Aravena was recognized for projects that aim to provide better solutions for communities with limited resources, and the Chilean architect will continue discourse on the subject at the upcoming Venice Biennale, for which he is the curator. Within this climate, it appears that Open Architecture Collaborative has been formalized at just the right moment, and executive director Garrett Jacobs is excited about the potential for this evolving collective.
ABC Orphanage by the Dhaka chapter / Architect of record Imrul Keyes
"Every day, I am awestruck by passion and momentum this group of people brings to preserving and growing our organization," said Jacobs. "Now, the OAC takes our work to the next level, retooling our approach to reach more people than we ever imagined with the level of locally focused engagement that humanitarian design ultimately demands. I very much look forward to what we will do together in the months ahead."
Website: Open Architecture Collaborative news
Open Architecture Collaborative Launch
Posted by Shalini Agrawal, Director at the Center for Art and Public Life at California College of the Arts and an Open Architecture Collaborative advisor, on 3/10/2016:
It is my distinct pleasure to welcome you to the Open Architecture Collaborative. You might say this project is 17 years in the making, and there are literally hundreds of people to acknowledge in the creation of this organization. This is an incredibly proud moment, a true global collaboration. The transition of a group of chapters loosely affiliated to a functioning network.
As this now becomes a platform to amplify local people doing local work, we will hear from many involved over the coming months. Right now I would like to introduce our Advisor Shalini Agrawal, Director at the Center for Art and Public Life at California College of the Arts to tell you a bit more of how we are committed to openness and inclusivity.
– Garrett Jacobs, Executive Director, Open Architecture Collaborative
My primary responsibility in a community design workshop is to include all voices, and listen. I'm not design thinking, but instead, "design listening". I have learned the value of listening for the unexpected and unplanned in support of a design that represents a community's needs.
This is a skill not emphasized or explicitly taught, but yet is a core practice when engaging community. It becomes immediately apparent when 100 elementary school students clamor to share their ideas during recess, or when a neighborhood gardener takes agency to transform a "drug park" into a "birthday party park", or when a fourth grade class rallies 150 community volunteers over a weekend to reshape an empty lot into an interactive landscape. The power of community participation is humbling.
A collective of distinct projects is emerging as community-engaged practice has established itself over the decades. The role of designer is being re-defined, and a new generation is asking how to better understand responsive and authentic collaborations with communities.
They are seeking a deeper exploration of community-engaged design, and an understanding of how communities can be empowered to hold agency during the collaborative process. Engaging with community is not simply a box to check off, but instead is a practice to be integrated on an on-going basis. The Open Architecture Collaborative (OAC) is committed to this method of effective collaboration built on the intention to hold ourselves, and those who work with us, accountable for equity, inclusivity and access.
OAC's Code of Conduct asks practitioners to embody this understanding in a manner that lays the foundation of a meaningful community engagement practice to be enacted on a regular basis. We are committed to encourage on-going self-reflection when interacting with under-served (and often over-exploited) communities. The Code of Conduct is a living document to help designers understand their relationship with existing societal constructs, and identify common mistakes that might occur when engaging in communities as "outsiders".
In addition to a self-reflective space, working with community partners has its own inherent learning that shapes a community-engaged practice. This Code of Conduct should be applied to internal and external engagement to ensure safe and encouraging spaces, while being mindful not to reinforce existing power structures. Engaging with community translates to responsive solutions, we just have to listen.
Location: USA
Architecture for Humanity
Architecture for Humanity



photo of post-earthquake buildings
Architecture for Humanity AIA Partnership
About The American Institute of Architects
For over 150 years, members of the American Institute of Architects have worked with each other and their communities to create more valuable, healthy, secure, and sustainable buildings and cityscapes. Members adhere to a code of ethics and professional conduct to ensure the highest standards in professional practice. Embracing their responsibility to serve society, AIA members engage civic and government leaders and the public in helping find needed solutions to pressing issues facing our communities, institutions, nation and world. Visit http://www.aia.org.
About Architecture for Humanity
Architecture for Humanity is a nonprofit design services firm founded in 1999. We are building a more sustainable future through the power of professional design. By tapping a network of more than 40,000 professionals willing to lend time and expertise to help those who would not otherwise be able to afford their services, we bring design, construction and development services where they are most critically needed. To learn more, please visit http://www.architectureforhumanity.org
Architecture for Humanity Competition
Safe Trestles Design Contest



picture from architect
Hosted by Architecture for Humanity, the Safe Trestles international design competition received over 100 entries for the design of a safe and low-impact access route to Trestles Beach, home to one of North America's most prized surfing spots and the 6.0 Lowers Pro surf event. Every year more than 100,000 people follow informal trails through marshlands and over active train tracks to access the beach, presenting a safety hazard with passing trains and a threat to the marine habitat that is home to a number of endangered animal species and important flora.
Architecture for Humanity Competition



picture from architect
The American Institute of Architects – Links Selection
AIA Gold Medal



photograph © Mark Heitoff
American Institute of Architects Gold Medal
AIA UK Chapter Excellence in Design Awards
AIA Architecture Firm Award 2009
AIA Architecture Honor Awards 2009
AIA Living The Box Competition
AIA Utah Design Competition



picture from AIA Utah
American Architecture
American Architecture Award Winners
Comments / photos for the Open Architecture Collaborative: OAC page welcome