Architecture for Humanity, AFH Court Case News, U.S. Bankruptcy Court San Francisco
Architecture for Humanity News
AFH Court Case re Bankruptcy, USA – Disaster Relief Nonprofit Organization
Jul 20, 2016
Architecture for Humanity
Architecture for Humanity Founders and Board Members Sued for $3 Million
Leaders of the nonprofit organization, which closed in 2015, are being accused of mismanaging funds.
In 2015, Architecture for Humanity (AFH), a U.S.-based nonprofit organization with more than 60 chapters worldwide, abruptly closed and declared bankruptcy, leaving many to wonder what exactly went wrong, reports the Architectural Record. Now it has emerged that AFH's founders and board members are being sued for alleged mismanagement of funds.
On June 10, a court-appointed trustee filed a complaint against the group's founders, Cameron Sinclair and Kate Stohr, who were paid employees, and 10 members of the board of directors, who served as volunteers.
The board consists of entrepreneurs, tech experts, and architects, including Toshiko Mori, a prominent New York-based architect, and Clark Manus, the former president of the American Institute of Architects (AIA).
The other board members named are Matthew Charney, Paul Gabie, Niama Jacobs, Scott Mattoon, Taylor Milsal, Narry Singh, and Margaret Stewart.
The lawsuit, filed in the San Francisco division of the U.S. Bankruptcy Court, alleges that the defendants acted with gross negligence and breached their fiduciary duties between July 21, 2012, and December 31, 2014.
Specifically, the suit accuses the AFH founders and board members of improperly using "restricted funds"—charitable contributions with specific requirements—and violating agreements with donors.
Architecture for Humanity project in Sri Lanka, taken on July 29, 2007: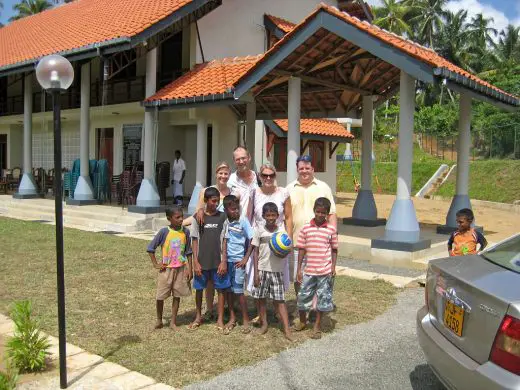 images courtesy wikimedia commons ; Source flickr http://secure.flickr.com/photos/motherscratcher/1094300512/in/photostream/ ; Author: 4 Neus
7 Feb 2012
AIA + Architecture for Humanity Partnership
New Partnership Combines Resources That Help Communities Better Respond and Rebuild Following Disasters
The American Institute of Architects (AIA) and Architecture for Humanity announced a strategic partnership to coordinate advocacy, education, and training that helps architects make effective contributions to communities preparing for, responding to, and rebuilding after disaster. The partnership is focused on providing resources so more architects can utilize their skills in disaster response environments and better serve as leaders in their community.


photo of post-earthquake buildings
Architecture for Humanity Architecture Contest – Open Architect Challenge
About Architecture for Humanity
Architecture for Humanity is a nonprofit design services firm founded in 1999. We are building a more sustainable future through the power of professional design. By tapping a network of more than 40,000 professionals willing to lend time and expertise to help those who would not otherwise be able to afford their services, we bring design, construction and development services where they are most critically needed. To learn more, please visit http://www.architectureforhumanity.org
Open Architecture Collaborative: OAC
Location:San Francisco, USA '
The American Institute of Architects – Events Selection
Architecture for Humanity Competition
Safe Trestles Design Contest



picture from architect
Architecture for Humanity Competition
Hosted by Architecture for Humanity, the Safe Trestles international design competition is for the design of a safe and low-impact access route to Trestles Beach
American Architecture
US Architecture Designs – chronological list
American Architecture Award Winners
The American Institute of Architects – Links Selection
AIA Gold Medal



photograph © Mark Heitoff
American Institute of Architects Gold Medal
AIA Utah Design Competition



picture from AIA Utah
Comments / photos for the Architecture for Humanity News: AFH Court Case – American Architects Project page welcome
Architecture for Humanity Court Case : page