Moshe Safdie Boston Architects, Buildings Images, American Design Studio, Project News
Moshe Safdie Architects
Contemporary Massachusetts Architectural Practice, United States of America
post updated Apr 13, 2021
Architecture Practice retitled to Safdie Architects
Page updated June 30, 2020.
Habitat 67: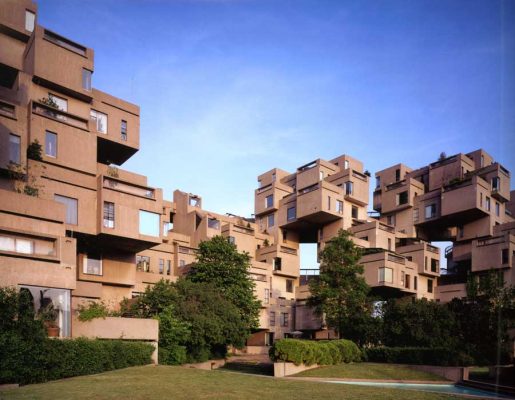 photo © Timothy Hursley
Architectural office in Boston with sub-offices in Jerusalem, Toronto and Singapore.
Moshe Safdie News
Moshe Safdie Architects News, chronological:
May 14, 2013
Shoval Kibbutz Houses, Negev, Israel


photograph © Adrian Welch
Shoval Kibbutz Houses
The key architectural aspect of this kibbutz are the houses by Moshe Safdie from the 1980s, located north of the centre. The styling is crisp and the landscaping has stood the test of time very well. Shoval is a kibbutz in the northern Negev desert in Israel. It is located just west of the Bedouin city of Rahat.
May 13, 2013
Yad Va'Shem Holocaust Museum, Jerusalem, Israel
Design: Safdie Architects



photo © Adrian Welch
Yad Va'Shem Holocaust Museum Building – review + new photos
The rebuilding of this museum building includes a new visitors' center, a new history museum, a Hall of Names, a synagogue, galleries, an exhibitions pavilion and a learning and visual center. The pincipal building is formed from one long slot dug into the earth, tapering and then widening and rising at the west end to cantilever out over a valley, providing light and relief after the dark journey inside. The project quadruples the permanent exhibition space.
29 Jan 2013
Crystal Bridges Museum of American Art, Bentonville, Arkansas, USA
Design: Safdie Architects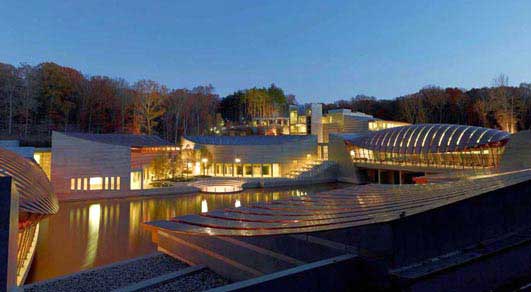 photograph : Timothy Hursley
Crystal Bridges Museum of American Art Building
Located in the heart of the new Crystal Bridges Museum of American Art (designed by Moshe Safdie, 2011), the museum store is an insertion by Marlon Blackwell Architect into an existing 3,040 sqft curved concrete space. A local competition was held to find an architect that could contribute to the overall museum experience and provide the museum with a functional and tactile museum store.
Residential Tower in Colombo, Sri Lanka
Safdie Architects has been selected to design a 69-storey residential building in Colombo, Sri Lanka, due to be the city's tallest building. The mixed-use development is in the city center and will face Beira Lake, with pedestrian accessible retail outlets at the ground level.
Bishan Central, Singapore
Date built: 2011-



image from Moshe Safdie
Bishan Central – new information + images – 15 Sep 2011
Condominium at Bishan Central, which will be designed by renowned international architect Moshe Safdie as a distinctive example of new urban living. This building will comprise approximately 500 apartments across two 38-storey towers. He has introduced a strong and distinctive stepping form for the condominium, moving past the traditional approach of deploying individual towers to create a three-dimensional matrix of homes, private terraces and public gardens..
Marina Bay Sands, Marina Bay, Singapore, Southeast Asia
Dates built: 2006-12
Design with Aedas Architects



photo : Tom Ravenscroft
Marina Bay Sands building
The ArtScience Museum at Marina Bay Sands, conceptualized and designed by architect Moshe Safdie as the first museum dedicated to the dynamic interplay between art and science, will open to the public on February 19, 2011. Designed as part of the Government of Singapore's vision that Marina Bay Sands feature an iconic cultural building on the promontory, the ArtScience Museum is grounded around a circular base with 10 extending finger-like structures that house 21 naturally lit galleries.
Moshe Safdie Book : Second Monograph by the Practice
Moshe Safdie – Key Projects
Featured Buildings
Habitat 67, Montréal, Quebec, Canada
Date built: 1967



Habitat 67 Photo © Timothy Hursley
Habitat 67
Corrour Lodge, Loch Ossian, Highlands, Scotland, UK
Date built: 2003
Design in association with né Begg



image : Moshe Safdie Architects / Morris and Steedman Associates
Corrour Lodge
Center for Human Rights Education, Philadelphia, PA, USA
Date built: 2010-



image : Moshe Safdie and Associates
Center for Human Rights Education Philadelphia
US Institute of Peace, the Mall, Washington DC, USA
Date built: –



photograph : Timothy Hursley
Toronto Lester Pearson International Airport expansion, Toronto, Canada
2007
McGill University Health Centre Glen Campus
Salt Lake City Public Library, Salt Lake City, Utah, USA
–



photo © Timothy Hursley
Holocaust History Museum, Yad Vashem, Jerusalem, Israel
–



photo © Timothy Hursley
Key Buildings by Moshe Safdie
Telfair Museum of Art, Savannah, Georgia, USA
Skirball Museum & Cultural Centre, Los Angeles, California, USA
Eleanor Roosevelt College, University of California, San Diego, USA
Springfield Civic Buildings, Massachusetts, USA
Performing Arts Centre, Kansas City, USA
Lester B. Pearson International Airport, Toronto, Canada
Ben Gurion International Airport, Tel Aviv, Israel
Salt Lake City Main Public Library, Utah, USA
Exploration Place, Wichita, Kansas, USA
Peabody Essex Museum, East India Square Salem, Massachusetts, USA
United States Institute of Peace Headquarters, Washington D.C., USA
National Campus for the Archaeology of Israel, Jerusalem, Israel
Central Library – Renovation and expansion, Philadelphia, USA
Khalsa Heritage Memorial Complex – national museum of the Sikh people, Punjab, India
More projects by Moshe Safdie and Associates online soon
Location: Boston, Massachusetts, USA
Architects Practice Information
Moshe Safdie Architect – Background
Moshe was born in 1938, Haifa, Israel. He received a Bachelor of Architecture with honors in 1961 from McGill University, Montreal, Quebec.
Moshe though born in Israel later moved to Canada with his family. After apprenticing with Louis Kahn, Architect, in Philadelphia, Safdie returned to Montreal, taking charge of the master plan for the 1967 World Exhibition, where he also realized Habitat '67, the central feature of the World's Fair, Canada.
Moshe Safdie and Associates Inc., Architects and Planners
Principal Office: Boston, Massachusetts, USA 1978-
Branch Offices: Jerusalem, Israel 1970- ; Toronto, Ontario, Canada 1988-


photo from RIAS 2002 for Conference
Books
'Beyond Habitat' (1970)
'For Everyone a Garden' (1974)
'Form and Purpose' (1982)
'Jerusalem: The Future of the Past' (1989)
'The City After the Automobile' (1997)
'Moshe Safdie' (1996)
'Moshe Safdie II' (2009)
Films
'The Sound of the Carceri', about Bach and Piranesi, with Yo-Yo Ma, directed by Francois Girard (1997)
'Coldspring New Town' (National Film Board of Canada, 1973)
'The Innocent Door' (National Film Board of Canada, 1973)


Corrour Lodge photograph from Morris and Steedman Associates
An architectural competition entry with Allan Murray Architects: Aberdeen University Library entry
Marina Bay Sands, Singapore:



photo : Tom Ravenscroft
Comments / photos for the Moshe Safdie Architecture page welcome
Website: www.safdiearchitects.com