Riverside Inverclyde Project, West Scottish Architecture Renewal, Facility Refurbishment, Images
Custom House Greenock Building News
Georgian Building for Riverside Inverclyde in Scotland: Architecture Conservation
19 Jan 2018
Custom House Greenock Lease News
Joules at Greenock's Custom House
International fashion and lifestyle brand, Joules, signs three year lease extension at Greenock's Custom House
Riverside Inverclyde (ri), the organisation charged with delivering the economic redevelopment of Inverclyde in the west of Scotland, has concluded an agreement with international fashion and lifestyle brand, Joules on a three year lease of 1,578 sq ft of space from 1 January 2018 at Greenock's recently refurbished Custom House.
Custom House Greenock Building front facade: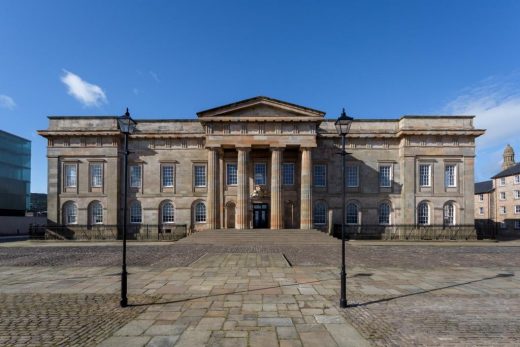 The company fulfilled a short term lease in 2017 at the Georgian architectural masterpiece, and its decision to opt for a subsequent three year lease has been hailed by ri's chief executive, Fiona Maguire, as "fantastic news".
She said: "To secure another international brand like Joules to join Toshiba and PG Paper at Custom House is fantastic news for both ri and Inverclyde.
"Our aim is to provide outstanding facilities that can help attract new businesses like Joules into the area and to create new job opportunities for residents."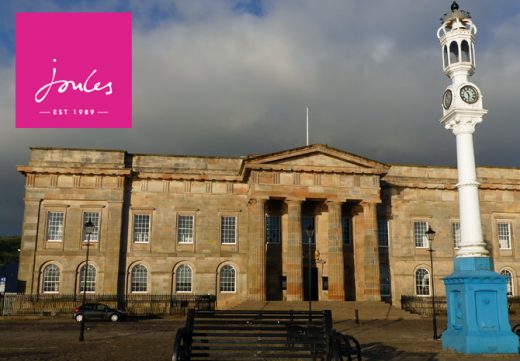 Established by Tom Joule nearly three decades ago, Joules is a premium lifestyle brand which designs clothing, footwear and accessories for women, men and children, as well as an expanding range of homewares, toiletries and eyewear collections, all of which are available through its own retail stores, online, rural shows and events and wholesale channels.
The final phase of the £5m remarkable and extensive transformation of 18,000 square feet of Custom House was completed in May 2017, bringing the popular landmark fully into productive use, creating jobs and ensuring that it has a new-found status as a vibrant link between Greenock's illustrious heritage and its ambitious future growth plans.

With increasing market demand, Riverside Inverclyde has turned its attention to filling the remaining 649 sq ft SME suite, and the newly refurbished Long Room and its supporting suites at 4,000 sq ft, which offers one of the most attractive spaces available on the current market.
Andrew Bowman, Head of Business Investment at Riverside Inverclyde said: "Custom House's high quality suites, flexible fit-out options, competitive pricing, skilled workforce, great infrastructure and local, national and international connectivity make Inverclyde a compelling choice for international companies like Joules. The Long Room makes for a fantastic national or regional headquarters, offering space for 50 or more staff."
Companies wishing to arrange a viewing of the most suitable premises for their business should contact Martin Speirs of Cushman and Wakefield on 0141 223 8792 or [email protected] or Andrew Bowman on 01475 755 080 or [email protected]
Video footage of the Custom House can be found here: https://www.youtube.com/watch?v=N9Hy_wqAqSg&t=8s
14 Nov 2017
Custom House Greenock Building Opening
Greenock Custom House Official Opening
Official Opening of Greenock's 200 year old Custom House marks also the 10 year anniversary of Riverside Inverclyde's successful regeneration efforts.
Riverside Inverclyde, the organisation charged with the economic regeneration of Inverclyde, celebrated not only the completion of the refurbishment of Greenock's Custom House, but also its 10 year anniversary at a ceremony held at the lovingly restored, 200-year old Georgian Custom House on Friday November 3.
Martin Brennan, Provost of Inverclyde, who formally re-opened the building and unveiled a plaque to mark the occasion, said: "The upgrading of this building, ably delivered by the team at Riverside Inverclyde, has helped to preserve this landmark for the current and future generations."
Also present was Her Majesty's Lord-Lieutenant of Renfrewshire, Mr Guy Clark, Fiona Maguire, Chief Executive of Riverside Inverclyde and project architect, Tom Connelly of Elder & Cannon.
Restoration of the Custom House has been a six year, £6 million project for Riverside Inverclyde. And while the Custom House is the jewel in the crown, the organisation has been the driving force behind much of the Inverclyde's recent renaissance, including the Riverside Business Park, which employs 600 staff, the creation of James Watt Dock Marina and water-and-wind-proofing of the Sugar Warehouse, designed by Walter R Kinipple, and completed in 1886.
Ms Maguire, said: "It has been a stellar decade of achievements for Riverside Inverclyde, almost too many to list. Being able to cap the 10 years with the completion of this iconic piece of Greenock history is magnificent.
"We are not resting on our laurels, though; we have a number of projects currently in the pipeline, including Baker Street, a dedicated Food and Drink Incubator Hub in Greenock, and the development of a new spur road into Port Glasgow Town Centre."
Over the past decade, the organisation has obtained more than £73million direct investment in Inverclyde, from a variety of sources. These include modern business centres in Gourock (Municipal Buildings), Greenock (Victoria House), and Port Glasgow (Scarlow House).
In addition to developments and restorations, Riverside Inverclyde has setup networks of local construction companies and community hubs, such as the Local Construction Forum, the Regeneration Forums as well as delivery of the Community Benefits Programme, which provides the benchmark to maximise opportunities for local people.
26 Oct 2017
Custom House Greenock News
PG Paper announces two year lease extension at Greenock's Custom House
PG Paper announces two year lease extension at Greenock's Custom House
Following a period of negotiation between landlord Riverside Inverclyde (ri) and PG Paper Company Ltd, a leading global exporter of paper, a two year extension of the company's existing lease at Greenock's Custom House has been agreed.
PG Paper Company currently leases 3,896 sq ft at the Georgian architectural masterpiece, and has been a tenant of ri's since phase three of the restoration of the building was completed in September 2015.
Created and driven by CEO Poonam Gupta OBE in 2003, PG Paper has grown rapidly, and is now one of Scotland's biggest exporters with a presence in 55 countries across five continents. It exports over 95% of sales to the Indian subcontinent and South East Asia, primarily from its Greenock headquarters.
Restoration of the Custom House has taken place in four phases over four years. To date £4.1 million has been spent on transforming 18,000 sq ft of productive business space, which has been eagerly snapped up by companies including PG Paper, Toshiba Global Commerce Solutions and Joules, as well as local web design and printing business IL Media.
The last remaining space is the Long Room and associated rooms at 4,000 sq ft, with interest in the available space being progressed by ri.
7 Jul 2017
Custom House Greenock Building Refurbishment
Original Design: architect William Burns
Location: Greenock, Western Scotland
The Custom House, Greenock's Jewel in the Crown, opens its doors to global business
A Georgian architectural masterpiece in one of the most dramatic locations in Scotland has been restored to its former glory. The building was originally designed by celebrated Scottish architect William Burns.
Photos © mcateer photograph
The hunt is now on for a suitably impressive new occupant for the building. Riverside Inverclyde, the organisation behind the economic regeneration of Inverclyde, has just unveiled the beautifully and sympathetically renovated Custom House in Greenockand plans to attract a further national or global player to be its headline tenant.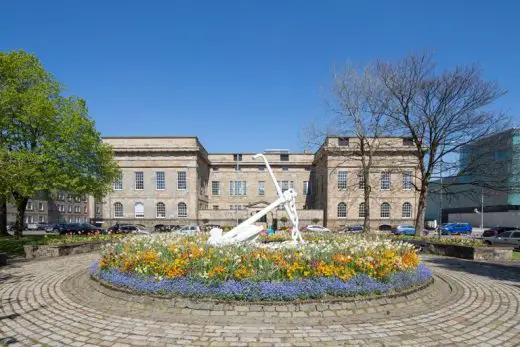 The imposing building, which looks out across the Firth of Clyde to the Argyllshire hills, will be 200 years old next year. It has seen the tides of history wash past the eponymous quayside which it dominates.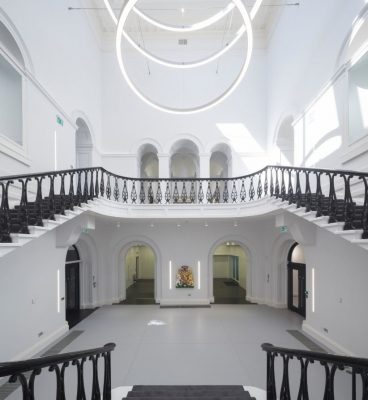 The classically-proportioned building, designed by architect William Burns, was home to the vigilant assize men who policed Scotland's burgeoning trade with the world. It witnessed the rise and fall of the tobacco, sugar and shipbuilding industries in the town.
It also looked out over the desperate bustle of naval traffic as warships filled the safe haven of the Firth in two world conflicts, and the quayside played host to the Queen as she joined Britannia for her annual summer cruise of Scottish waters.
"It really is Inverclyde's Jewel in the Crown," said Andrew Bowman, Head of Business Investment and Operations at Riverside Inverclyde, "and we wanted to make sure that we did the building justice with the refurbishment."
The impressive restoration has taken place in four phases over four years and £4.1 million has been spent on transforming 18,000 sq ft of productive business space, which has been eagerly snapped up by major companies such as Toshiba Global Commerce Solutions and PG Paper, as well as other SMEs. An initial £1.1m was spent to secure the 175 year lease of the building.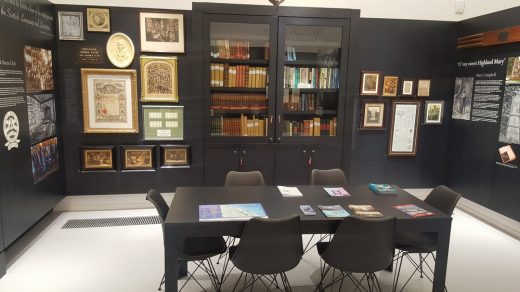 The final phase included the white, pillared Long Room, the northern entrance and the elegant Grand Staircase. It is to the Long Room, a stunning space which is flooded with light that Riverside Inverclyde wishes to attract a world class client who will provide a further boost to local employment.
"We are conducting a global search," said Mr Bowman, "as well as offering some particularly attractive incentives. The Long Room, which is fully Cat6 cabled, could provide MD and boardroom space as well as an extensive open-plan office space.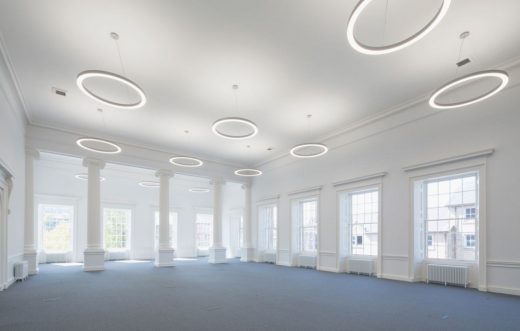 "The new occupants will also benefit from considerable reliefs for locating in Inverclyde, which is a Tier 2 Scottish Enterprise zone, attracting a potential 30% credit towards capital expenditure through Regional Selective Assistance grants."
The completion of the Custom House transformation is the latest milestone for Riverside Inverclyde, which has breathed new economic life into many projects in the area. Over £70m has been committed to the area by the company over the past 10 years. The Custom House project was also supported with £650,000 from the Scottish Government.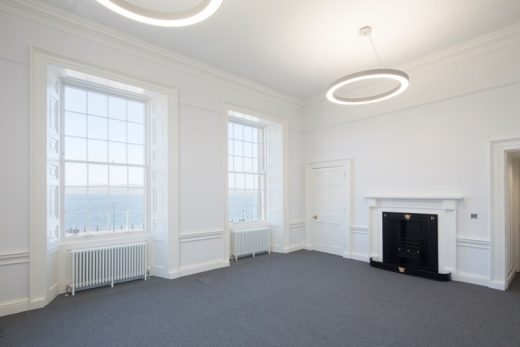 Companies wishing to arrange viewing of the most suitable premises for their business should contact Martin Speirs, of letting agent Cushman and Wakefield, on 0141 223 8792 or [email protected]
For further information contact Andrew Bowman, Head of Business Investment and Operations, Riverside Inverclyde, Room 17, Ladyburn Business Centre, 20 Pottery Street, Greenock PA15 2UH. T: 01475 755080. M: 07714 787 023. W: www.riversideinverclyde.com. E: [email protected]
Custom House Greenock Building images / information received 070717
Photography: © mcateer photograph
Location: Custom House, Greenock, Scotland
Architecture in Scotland
Scottish Architecture Designs – chronological list
Another Greenock building on e-architect:
Beacon Arts Centre, Greenock, western Scotland – winner of a RIBA National Award
Beacon Arts Centre Greenock – 13 Jun 2013
"This building seems wholly appropriate for its superb waterside setting. It is elegantly contemporary in its materials and form, both open and welcoming."
Ross Pavilion Competition Shortlist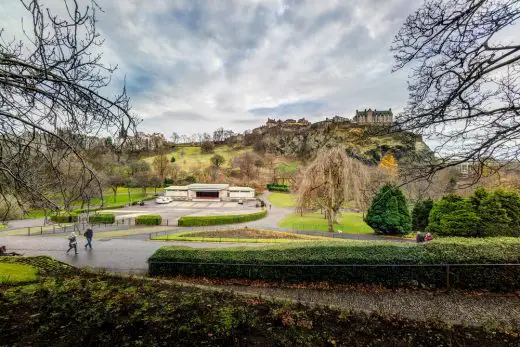 photo © Malcolm Reading Consultants / David Springford
• Adjaye Associates (UK)
• BIG Bjarke Ingels Group (Denmark)
• Flanagan Lawrence (UK)
• Page \ Park Architects (UK)
• Reiulf Ramstad Arkitekter (Norway)
• wHY (USA)
• William Matthews Associates (UK) and Sou Fujimoto Architects (Japan)
Ross Pavilion Design Competition
The Lighthouse, Glasgow
Design: Page & Park Architects
The Lighthouse
Comments / photos for the Custom House Greenock Building Refurbishment page welcome
Website: Custom House Greenock