Brighton Waste House, UoB Faculty of Art Sustainable Building, Tyvek Design, University
Brighton Waste House
Tyvek Breather Membrane, Sussex design by architect Duncan Baker-Brown, England, UK
26 Jun 2014
The Brighton Waste House Project
The Brighton Waste House is now open:
DuPont™ Tyvek® advanced breather membranes help waste products to perform in unexpected ways in a new building experiment
Architect: Duncan Baker-Brown, BBM Sustainable Design Ltd
June 2014 – Architect Duncan Baker-Brown and the University of Brighton's Faculty of Art have undertaken new a 'living experiment' in sustainable building. The Brighton Waste House is an on-going project involving students of the University, Brighton & Hove City Council and wide ranging support from industry and the community, and is designed to explore ways in which to build as ecologically as possible. DuPont Building Innovations has donated two advanced breather membranes to assist with the project.
The project aims to use as much reclaimed and recycled material as available or appropriate – but where a certain type of product or technology proves to be the best solution in terms of optimum efficiency, then new materials or equipment have been specified (and in most cases, donated.) Both the finished building itself, and what has been learned from the construction process, will serve as an 'accessible laboratory', in conjunction with the Building Research Establishment (BRE) and the University, aiming to demonstrate ways to combat the 45% contribution to CO2 emissions in the UK that can be attributed to architectural structures.
Construction of the Brighton Waste House is now complete and the 'living experiment' is open for research and learning. The building features over 85% waste material, plus hi-tech solutions such as DuPont Tyvek® breather membranes: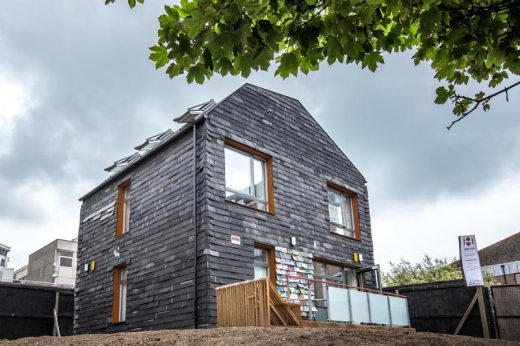 photo courtesy of Brighton Waste House, all rights reserved
The timber-framed structure is made largely of timber off-cuts with salvaged ply and is insulated in a variety of ways, from donated KoolthermK15 boards to internal wall 'cassettes' filled with old VHS tapes and compact disc cases, discarded wallpaper and 19,800 disposable airline toothbrushes! In excess of 85% of the building product has been sourced through reclamation of some kind, but certain new products and hi tech solutions have been added where needed.
For example, making the structure as wind and watertight as possible, while also capable of diffusing interstitial vapour to the exterior, was crucial to the success of the experiment, and it became clear to the team that the ideal membrane solution to protect the build was the renowned reliability and performance DuPont™ Tyvek®. In total 400 square metres of DuPont™ Tyvek® Housewrap has been used to seal the building envelope and a similar amount of the specialised DuPont™ Tyvek® UV Façade membrane has been installed directly behind the second-hand carpet tiles that act as rain screen cladding to the external walls.
The construction phase of The Brighton Waste House involved the combination of waste and surplus material with hi-tech solutions such as DuPont™ Tyvek® UV Façade breather membrane installed behind the unusual rain screen cladding, made from second-hand carpet tiles: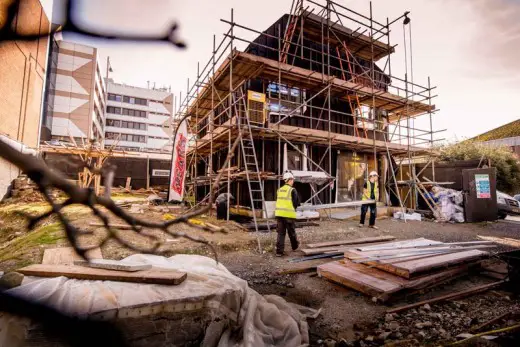 photo courtesy of Brighton Waste House, all rights reserved
Architect and project leader Duncan Baker-Brown of BBM Sustainable Design Ltd comments, "We were very happy to specify DuPont™ Tyvek® Housewrap and DuPont™ Tyvek® UV Facade for The Brighton Waste House, as the products guarantee the proper performance of our rather unusual walls made of reclaimed and surplus material from the construction industry, as well as from household waste. DuPont™ Tyvek® Housewrap ensures that our carbon neutral building manages moisture sensibly, while DuPont™ Tyvek® UV Facade forms a highly effective weather seal for the building, sitting just behind our unusual external rain screen, which is of course, also made of waste."
Mark Hill, DuPont Building Innovations, Sales Manager for UK and Ireland adds, "DuPont has been delighted to support this fascinating research and learning project with the donation of our advanced breather membranes for buildings, with two different types of DuPont™ Tyvek®.
This experimental and important build involves the community from industry experts and manufacturers to students and schoolchildren. It's an exciting and innovative way to explore all the possibilities for building with optimum efficiency by combining waste material with hi-tech products that have been designed for very specific purposes, and whose performance cannot easily be replicated by other solutions."
Construction of the Brighton Waste House is now complete and the 'living experiment' is open for research and learning. The building features 85% waste material, including old posters, VHS cassettes and airline tooth brushes as insulation. Hi-tech solutions such as DuPont™ Tyvek® breather membranes have also been specified to enhance their performance.
The DuPont™ Tyvek® family of advanced building membranes are distinctive in several key ways that make them ideal for today's construction projects. All the essential requirements for a high-performance breather membrane are embodied in DuPont™ Tyvek® which is unique in the market because of its high-quality single layer construction. DuPont™ Tyvek® is naturally vapour open but also wind and water-tight due to its composition of millions of micro fibres bonded together to make a "maze" that's impermeable to air and moisture but which allows water vapour to pass through its natural pores.
The construction phase of The Brighton Waste House involved the combination of waste and surplus material with hi-tech solutions such as DuPont™ Tyvek® Housewrap and DuPont™ Tyvek® UV Facade breather membranes to protect and enhance the performance of some very unusual recycled solutions for insulation and cladding: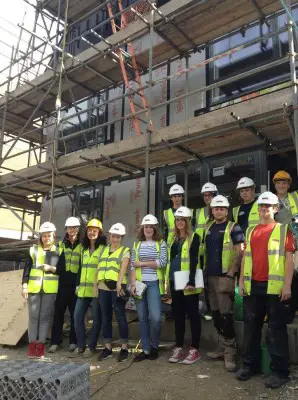 photo courtesy of Brighton Waste House, all rights reserved
Lightweight yet robust, DuPont™ Tyvek® is easy to install to exterior walls and roofs and offers long term proven reliability and durability. Designed to protect the building envelope against the effects of weather and moisture, the membranes also offer optimal air-tightness and can help to improve the thermal performance and energy-efficiency, as well as the interior climatic stability and comfort of a building.
DuPont™ Tyvek® UV Facade was developed using the same unique technology that has made DuPont™ Tyvek® the market leading breather membrane and this innovative solution allows for greater freedom and confidence when designing open-jointed facades. The membrane reliably protects against wind, water, interstitial condensation and air-leakage, while being designed especially to resist UV damage and offering an entirely black finish. DuPont™ Tyvek® UV Facade bears the CE mark in accordance with EN 13859-2 and rigorous testing has shown it to be able to withstand UV exposure for a very significant length of time.
The Brighton Waste House was officially opened on June 10th 2014. For more information:
http://arts.brighton.ac.uk/ease/the-house-that-kevin-built
For more information about DuPont™ Tyvek® in the UK please visit: www. tyvek.co.uk
or call 01275 337 660 (087 922 2740 in ROI)
About DuPont™ Tyvek® (www.tyvek.co.uk) – Invented by DuPont research and development laboratories in the late '60s as a premium material for personal protection and packaging, DuPont™ Tyvek® is manufactured using a unique, proprietary technology, and has, over time
been discovered and developed as ideally suited to a variety of further applications and markets. Around 1990, it was first adopted as a breather and water proof membrane for roofs and walls for building construction in certain countries in Europe.
Between 1990 and 1995, it was introduced to the Nordic Countries (Scandinavia), Switzerland, Germany and then to the United Kingdom. Today, DuPont™ Tyvek® is marketed in 35 countries in the Europe Middle East and Africa region, in addition to the USA, Canada and many other countries in the other regions. In 2005, the entire range of DuPont™ Tyvek® membranes achieved CE certification, the first to do so in the building membrane market.
About DuPont Building Innovations – DuPont™ Tyvek® is a product of DuPont Building Innovations. From innovative energy-saving systems to beautiful and long-lasting surfacing solutions, the extensive offering of DuPont Building Innovations delivers safety, durability, beauty and energy efficiency, providing a major contribution to the modern built environment – across the spectrum of building and architecture, roads, bridges and other infrastructure and also to landscaping and gardens, as well as to the preservation or the renovation of contemporary and historical constructions.
The main products and brands managed by DuPont Building Innovations are DuPont™ Corian® (www.corian.com), DuPont™ Tyvek® and DuPont™ AirGuard® (www.construction.tyvek.com), DuPont™ Energain® (www.energain.co.uk), DuPont™ Typar® (www.typargeo.com) and DuPont™ Plantex® (www.plantexpro.dupont.com).
About DuPont – DuPont (NYSE: DD; www.dupont.com) has been bringing world-class science and engineering to the global marketplace in the form of innovative products, materials, and services since 1802. The company believes that by collaborating with customers, governments, non-governmental organizations, and thought leaders we can help find solutions to such global challenges as providing enough healthy food for people everywhere, decreasing dependence on fossil fuels, and protecting life and the environment.
The Brighton Waste Housre Project – DuPont® Tyvek Breather Membrane images / information received 260614
Brighton Waste House Project – Stephen Lawrence Prize Shortlist 2015 information from RIBA from 3 Sep 2015
A video introducing DuPont™ Tyvek® FireCurb™ technology for breathable flame-retardant building membranes
Location: Brighton, Sussex, England, UK
DuPont Products
Brørup Sparekasse, Denmark
Corian Sphere, England
The Cineroleum, London
Architectural Products
Libeskind House : Daniel Libeskind
Artemide lamp – Genesy
DuPont Building Innovations News
Comments / photos for the Brighton Waste House – Tyvek Breather Membrane page welcome