Glastonbury Sphere, Patrick Beveridge, Matteblak Light Sculpture, Photo, Design, Pictures
Glastonbury Sphere : Matteblak Design
Glastonbury Sphere, Somerset, Southwest England – design by Patrick Beveridge + Matteblak
30 June 2010
Sphere of 'moonlight' over Glastonbury offers revelers some heavenly art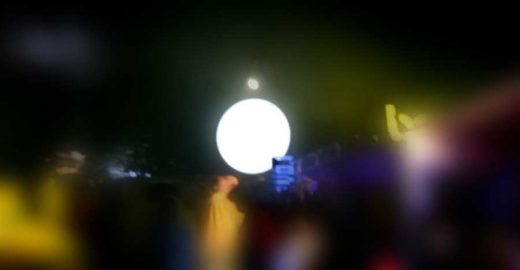 Corian Sphere
Artist Patrick Beveridge and architectural design outfit Matteblak illuminated after hours at Glastonbury with the SPHERE, a suspended light sculpture created from Corian, the iconic design material made by DuPont.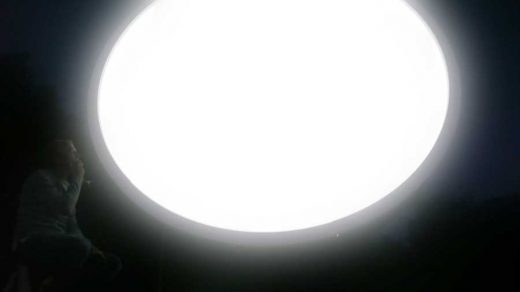 SPHERE hung moon-like in the night sky over the 'Common' area at the world's largest and most legendary greenfield music festival, as part of the celebrations for its 40th birthday. First created by Beveridge and exhibited in a different material twelve years ago, SPHERE has been re-imagined and re-engineered by Matteblak, working closely with the DuPont Corian team, to exploit the purity, formability, structural integrity and ethereal translucency of this high-performance material.
Suspended by crane in a carefully constructed steel cradle and measuring an impressive 12ft in diameter, the installation creates an optical experience based on the phenomenon of 'whiteout' where there are no gradations of light in the visual field.
Matteblak, who specialise in merging art, architecture and contemporary construction materials to create truly unique projects, chose to work with Corian® as it offered the opportunity to apply and develop their use of a five axis 'CNC' engineering programme to design and fabricate the seamless joints and the 'perfect skin' essential to realising the lighting concept.
Perhaps one or two festival goers may have imagined they were hallucinating, as the sculpture's appearance 'phases' in both brightness and form, alternating between the perception of a sphere and a disc, but whether in rave or chill-out mode, they could enjoy the extra dimension of inspiration that the artwork brings to the celebrations.
The mesmerising luminosity and appearance of 'infinity' is achieved by three light rings hidden by a lip and following the circumference of the interior. Experienced at ground level, the viewer standing close to the sculpture is surrounded by an even illumination. Sensitive time adjustment and integrated fading of the three colours chosen for Glastonbury – white, yellow and red to emulate sun set and moon rise – complete the effect, reverberating at different speeds as the entire structure was slowly raised and lowered.
After casting its spell as a beacon of calm and contemplation over the 'Love Garden' every night from 10pm to 6am during the Glastonbury festival, SPHERE will feature at further art events later in the year.
Matteblak is a boutique architectural design firm which offers a full service from design and consultation through to construction and project management. Matteblak also works with bright, new talent from the artworld to create inspiring architectural interventions and interiors for homes, businesses and events. For further information visit www.matteblak.com
Patrick Beveridge (born 1967, Madrid) was educated in sculpture, philosophy and film, and studied colour and light in the work of James Turrell. The light phenomenon experienced in the original sculpture was described by German psychologists in the 1920s, and reinvestigated by Nasa scientists in the 1960s, and featured in art works by the Californian light artist, James Turrell.
DuPont™ Corian®: From invention through forty years of forward thinking, DuPont™ Corian®, the original solid surface, continues to lead the way in surface materials. Award-winning Corian® is a high-performance and incredibly versatile solid surface that is stain-resistant, hygienic, easy to clean, durable and renewable. Available in over 100 colours, including some with enhanced translucency, DuPont™ Corian® can be shaped into virtually any conceivable design and is joined in a way that creates sleek, functionally seamless surfaces. SPHERE was fabricated by Interior Surfaces, approved fabricators for DuPont™ Corian®. For further information call 0800 962 116 or visit www.corian.co.uk
SPHERE and DuPont® Corian® images / information received Jul 2010
Location: Glastonbury, Somerset, south west England, UK
Architecture in England
Contemporary Architecture in England
Glastonbury Dance Platform, England
The Cineroleum, London
Brørup Sparekasse, Denmark
Architectural Products
Selection of Architectural Products featured on e-architect
Libeskind House : Daniel Libeskind
Artemide lamp – Genesy
Zaha Hadid Jewellery – Celeste Necklace
Comments / photos for the Glastonbury Corian Sphere page welcome
Website: Glastonbury Festival