SOCAR Azerbaijan Gas Station Buildings, Corian Design, Gasoline strcuture pictures
SOCAR Gas Stations Azerbaijan
SOCAR gas station design using Corian materials for facade
22 Jul 2010
Superior functionality and aesthetic quality: a worldwide first for gasoline stations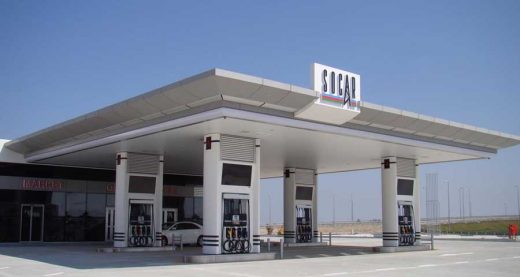 photo courtesy of SOCAR, all rights reserved
DuPont Corian SOCAR Azerbaijan
A hi-tech architectural dress in DuPont Corian for the entire network of SOCAR's gasoline stations in Azerbaijan
The first SOCAR gas station to adopt DuPont™ Corian® hi-tech surfacing material for the external cladding of all the built structures:


photo courtesy of SOCAR, all rights reserved
July 2010 – Azerbaijan sees a world first in architecture: all the building structures of the national network of gasoline stations of SOCAR are going to "wear" an external cladding made with DuPont™ Corian®, a high-tech surfacing material renowned for its superior combination of functionality and aesthetics. DuPont™ Corian® combines super-versatility as a design solution with durability, extreme practicality and hygiene.
This architectural upgrade brings the design of the gasoline station network of SOCAR to a world-class position in terms of innovation, elegance and functionality.
Overall, DuPont™ Corian® will be used for the external cladding of about 120 gasoline stations in SOCAR's network throughout Azerbaijan.
Computer generated images showing the gas stations of SOCAR adopting DuPont™ Corian® hi-tech surfacing material for the external cladding of all the built structures:




images courtesy of SOCAR, all rights reserved
The external cladding of buildings represents one of the most promising new applications for DuPont™ Corian®. The research and development teams of DuPont have gathered decades of experience in materials and technologies and this combined with the experience and the know-how of qualified customers and partners and with the vision and the imagination of creative architects brings outstanding results.
The result is a new, versatile, reliable and elegant solution that can meet the needs of modern architecture in terms of both innovation and performance. DuPont™ Corian® combines aesthetics with high performance, making it an ideal choice for panelised façade systems for both commercial and residential buildings.
Coloured all the way through, DuPont™ Corian® made-to-measure panels offer easy maintenance, good weather and UV resistance, and high-quality detailing and finishing possibilities. The panels can also be repaired in situ.
The Exterior cladding on the SOCAR facades are made by the Azerbaijan company PALİTRA MMC (official distributor of DuPont™ Corian® in Azerbaijan). The panels are fixed via supporting structure with invisible fastenings.
DuPont® Corian® SOCAR Azerbaijan images / information received Jul 2010
Location: Azerbaijan
About SOCAR – Employing about highly qualified 59 000 people, SOCAR (www.socar.az, English version at www.socar.az/index-enl) is the State oil Company of Azerbaijan Republic and one of the largest oil and gas companies in the world.
About DuPont™ Corian® (www.corian.com) – First marketed as a high performance solution for kitchen and bathroom worktops, DuPont™ Corian® is now a leading global brand in superior quality surfacing materials for design, architecture and furnishing, a solution chosen worldwide by many dozens of thousands of architects, designers and companies and by millions of consumers.
DuPont™ Corian® (the whole range or specific types) has received important independent certifications for its environmental performance (like GreenGuard®, NAHB North American Builders Association, U.S. Green Building Council's LEED® Green Building Rating System, ISO 14025 Green Choice, Scientific Certification Systems for the series with recycled content). Its hygienic performance has also been certified by prestigious independent institutions (for example, by NSF International, The Royal Institute of Public Health and LGA QualiTest).
About DuPont – DuPont is a science-based products and services company. Founded in 1802, DuPont puts science to work by creating sustainable solutions essential to a better, safer, healthier life for people everywhere. Operating in more than 70 countries, DuPont offers a wide range of innovative products and services for markets including agriculture and food; building and construction; communications; and transportation.
The DuPont oval logo, DuPont™ and Corian® are registered trademarks or trademarks of E. I. du Pont de Nemours and Company Inc. or its affiliated companies. Other logos, trademarks or registered trademarks are a property of their respective owners.
Corian Designs
Corian Design Selection
Corian Sphere, England
Architectural Products
Selection of Architectural Products featured on e-architect
Libeskind House : Daniel Libeskind
Artemide lamp – Genesy
Zaha Hadid Jewellery – Celeste Necklace
Comments / photos for the Azerbaijan Corian Design page welcome
Website: Republic of Azerbaijan