DuPont Energain, iCon Innovation Centre England, Daventry Building, Consarc, Products
DuPont Energain : iCon Innovation Centre in Daventry
DuPont Energain phase change material used in West Northamptonshire, England, UK design by Consarc Architects
5 Oct 2011
DuPont™ Energain® improves energy efficiency of the new iCon Innovation Centre, a BREEAM Excellent project by Consarc Architects
The iCon Innovation Centre in Daventry, United Kingdom, adopting DuPont™ Energain® phase change material as thermal mass to improve energy efficiency; project by Consarc Architects: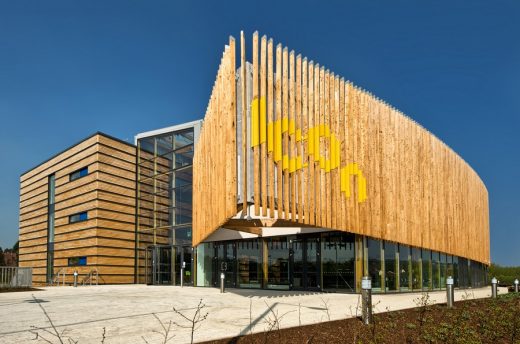 photo by Andrew Hatfield, all rights reserved
Location: Daventry, West Northamptonshire, England, United Kingdom
DuPont Energain
October 2011 – When a new icon of architecture is dedicated in both design and function to the purpose of "Innovation" it makes perfect sense to specify the most innovative solutions to energy-efficiency. Consarc architects won the competition to design the iCon Innovation Centre in Daventry with an exciting proposal for a building that would embody not only the highest standards of aesthetics and human-friendly design, but also optimum sustainability. DuPont™ Energain®, the pioneering phase change material from a global leader in forward thinking, helped to enable these goals by adding lightweight, high-tech thermal mass.
The 4000 square metre iCon building is a BREEAM Excellent project which uses less than 15 Kg of carbon dioxide /sqm/year and showcases the feasibility of achieving zero carbon status via sustainable design and construction techniques and the integration of renewable energy technologies. A timber frame construction, the building also features a responsive showcase façade made from sustainable timber and an ETFE (Ethylene Tetra Fluoro Ethylene) foil covered atrium. As advanced as such methods and materials are, however, the construction of such lightweight buildings can also result in the problem of low-inertia and excessive heat gains due to a lack of thermal mass.
This makes it difficult to efficiently control rapid temperature variations without expensive cooling and heating systems and thereby creates problems for both energy consumption and interior comfort, especially during hot weather. In turn, this can have an adverse effect not only on the environmental footprint and running costs of a building, but also on the wellbeing and productivity of its occupants.
To overcome this challenge without compromising design or construction methods, Consarc specified an ingenious solution from DuPont Building Innovations to adding lightweight thermal mass. DuPont™ Energain® is an advanced phase change system which exploits a high-tech compound – and a helpful calculation model – to address these crucial issues. The system is supplied in easy-to-install panels of 1.0m x 1.2m x 5.26mm thickness which are sealed behind the plasterboard in walls or above ceiling panels, using standard tools and working practices. Build time, energy use (both on-site and in transport) and weight loadings are considerably reduced using this straightforward solution.
DuPont™ Energain® works by absorbing ambient heat as room temperature rises (at around 22 degrees C), storing it until the temperature drops again (at around 18°), and then releasing it back into the room. In ventilated structures this can make a significant difference to comfort and also to the choice of construction methods and materials. In buildings with air-conditioning DuPont™ Energain® can reduce costs by an average of 35% and help to reduce heating bills in the winter by up to 15 percent.
Comparing DuPont™ Energain® with traditional thermal mass solutions such as concrete, material analysis of equal volume has shown that concrete offers only approximately 17 percent of the energy capacity offered by DuPont™ Energain® in the temperature window of 18-24 degrees C for a 5 mm panel. Like traditional mass contributes to stabilising room climate, DuPont™ Energain® can help to also improve the energy efficiency of the building thanks to its heat storage and release capacity.
For iCon, 475 square metres of DuPont™ Energain® has been installed into a number of rooms at sofit level. It is the intent to measure the effectiveness of this material by comparing temperature changes against similar rooms that have not had the material installed.
DuPont™ Energain® phase change material: a high tech thermal mass solution improving the comfort and energy efficiency of buildings:




photos : DuPont™ Energain®, all rights reserved
About the iCon Building
Consarc won the million UK pounds project to house the Sustainable Construction Innovation Network (iNet) in an international competition organised by the RIBA in 2008. The client's brief for the project had five essential requirements:
– To provide a supportive environment for small businesses innovating in the area of construction, alongside a space that can also be used by the local community
– To act as the 'kick-start' development to a larger social and economic planning policy master plan to redevelop the canal and basin area of Daventry.
– To achieve environmental performance of Breeam 'Excellent'
– To minimise its carbon use to a maximum of 15kg/carbon dioxide per annum
– To champion and enact these goals 'in-use' through active monitoring of the building.
The new innovation hub and office building in Daventry includes 54 'incubation units' for start-up businesses, public exhibition space, conferencing facilities and cafe. At the heart of the design is a dramatic ETFE covered exhibition street. 'The Street' is an area in the centre of the building which is open plan, treble height, and provides exhibition space for all of the small businesses to use to showcase products and development in the building. This links the business units to the conference and exhibition centre.
The façade facing 'The Street', potentially allows the showcasing of products and development within the business units and each floor within the business unit block has a central glazed section facing outwards to the public realm which can be used to exhibit similar material. To the South, and abounding the public realm is the Showcase suite host to large volume spaces. These include reception, conferencing, meeting and catering requirements.
The internal arrangement mirrors the intellectual processes of the iCon, complementing innovative thinking and motivates and nurturing entrepreneurial activity. The building offers a number of facilities for both business and public users, including: Incubation units, contained to the North of the site shielded from traffic noise; a 300-person conference facility/auditorium which is available for local groups to hire for music and performing arts events; A public cafe area; Meeting rooms and breakout space; Exhibition space ('"The Street")
Consarc Architects (www.consarc.co.uk) are a London based design practice, led by Directors Liz Pickard and Tom Bell. In 2010 the practice was selected as one of the "40 under 40" best emerging practices in Europe. In the same year it reached the shortlist of the UK Young Architect of the Year. Consarc have developed a strong track record in sustainable workplace design, such as the Icon project, Daventry and award-winning public sector buildings. The range of projects we are involved in currently includes corporate workplace and luxury resort and urban hotels, station infrastructure and regeneration. We are part of a multi-disciplinary consortium engaged in the large-scale master planning of a new town in North Africa and in mixed use tower proposals in China.
About DuPont™ Energain® (www.energain.co.uk) – DuPont™ Energain® is a long-lasting thermal mass solution for environmentally sustainable buildings, based on an innovative phase change material from DuPont. Available in light-weight and easy-to-install panels, it is suitable for "low-inertia" structures such as timber, steel or aluminium framed buildings, this ground-breaking product can help to reduce interior temperature peaks by as much as 7 degrees C, optimizing comfort levels and helping to save energy. DuPont™ Energain® decreases air conditioning costs (by an average of 35 percent) and heating costs (about 15 percent) and can therefore make a meaningful contribution to reducing the carbon footprint of a building.
For commercial or technical information on DuPont™ Energain® in UK: Tel: 01275 879 770/ Email: [email protected] / www.energain.co.uk
About DuPont Building Innovations – DuPont™ Energain® is a product of DuPont Building Innovations. From innovative energy-saving systems to beautiful and long-lasting surfacing solutions, the overall offer of DuPont Building Innovations is able to deliver safety, durability, beauty and energy efficiency, providing a major contribution to the modern built environment – including every kind of building and architecture, roads, bridges and other infrastructures and also gardens, as well as to the preservation or the renovation of existing and historical constructions. The best known products and brands of DuPont Building Innovations are DuPont™ Corian® (techno-surfaces for interior design and architecture), DuPont™ Zodiaq® (quartz surfaces for interior design), DuPont™ Tyvek® (advanced building membranes), DuPont™ Energain® (panels for energy consumption reduction), DuPont™ Typar® (geosynthetics for construction) and DuPont™ Plantex® (geosynthetics for landscaping).
About DuPont – DuPont (NYSE: DD) has been bringing world-class science and engineering to the global marketplace in the form of innovative products, materials, and services since 1802. The company believes that by collaborating with customers, governments, NGOs, and thought leaders we can help find solutions to such global challenges as providing enough healthy food for people everywhere, decreasing dependence on fossil fuels, and protecting life and the environment. For additional information about DuPont and its commitment to inclusive innovation, please visit www.dupont.com.
Address: Eastern Way, Daventry NN11 0QB, UK
Phone: 01327 304800
DuPont Products
DuPont Product Designs – related selection
Corian Sphere, England
Brørup Sparekasse, Denmark
The Cineroleum, London
Architectural Products
Building Products – chronological list
Architectural Product Designs – a recent selection featured on e-architect:
Libeskind House : Daniel Libeskind
Comments / photos for the DuPont Energain® – iCon Innovation Centre Daventry page welcome
Website: iCon Innovation Centre in Daventry