DuPont Building Innovations at Ecobuild 2011, Photos, Innovative materials design, Pictures, Products
DuPont Building Innovations : Ecobuild London
Earl's Court London Event: DuPont Building Innovations at Ecobuild 2011 news
27 Jan 2011
March 1st – 3rd, Earl's Court, London, Stand N620
DuPont Building Innovations shows high performance and sustainable solutions for energy-saving, indoor comfort, protection of the building envelope, advanced landscaping products and decorative surfaces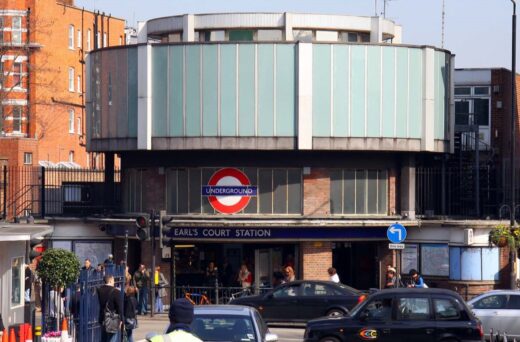 photo : Earl's Court Underground Station by Steve Daniels, CC BY-SA 2.0 https://creativecommons.org/licenses/by-sa/2.0, via Wikimedia Commons
DuPont Building Innovations at Ecobuild 2011
At Ecobuild 2011, DuPont Building Innovations will present a wide range of innovative materials, products and technologies demonstrating its commitment to developing more environmentally sustainable architectural solutions and building infrastructures. From unique building membranes to energy saving systems and advanced surfacing materials made with recycled content, the offering has applications for increased energy efficiency, reduced emissions and reliable, durable, sustainable functionality.
A) Weather Proofing – proven performance for the long-term
DuPont™ Tyvek® (www.tyvek.co.uk) advanced breather membranes are the renowned 'peace of mind' solution for long-term, high-performance protection the building envelope and now new test results have demonstrated the superior durability in watertightness of DuPont™ Tyvek® in comparison to many multi-layer products after exposure to UV and heat.
All the key requirements for a high-performance breather membrane are built into the very nature of DuPont™ Tyvek®. Unique because of its high-quality single layer construction, DuPont™ Tyvek® is naturally vapour open but also water-tight. This is due its composition of millions of micro fibres that are bonded together to make a "maze" that's impermeable to moisture and yet allows water vapour to pass through the natural pores in its structure.
Not only does DuPont™ Tyvek® protect the building structure's integrity from water ingression, wind, dust and insects, but also by protecting the insulation and enhancing air-tightness, while allowing for vapour diffusion, it also helps to optimise energy efficiency and improve indoor comfort.
The family of DuPont™ Tyvek® membranes, many of which have been adapted for specific qualities or applications, includes:
DuPont™ Tyvek® Reflex® metallised breather membranes for walls, which combine high reflectivity (low emissivity surfaces) with superior moisture diffusion capacity and improved air tightness.
DuPont™ Tyvek® UV Façade, an advanced, extremely lightweight, flexible and easy to install membrane specifically designed to provide lifelong protection to open-jointed façades exposed to UV radiation. This is the only publicly quoted CE marked product on the market for this application and now also has BRE certification (no 155/10).
Also from DuPont Building Innovations, hi tech air and vapour control layers such as:
DuPont™ AirGuard® Reflective, a highly reflective metallised vapour control and air-tightness layer that also offers very low emissivity of radiant heat.
B) Energy management – pioneering technology
DuPont™ Energain® (www.energain.co.uk) is a long-lasting thermal mass solution for environmentally sustainable buildings, based on an innovative phase change material from DuPont. Available in light-weight and easy-to-install panels, it is suitable for "low-inertia" structures such as timber, steel or aluminium framed buildings.
This ground-breaking product can help to reduce interior temperature peaks by as much as 7°C, optimizing comfort levels and helping to save energy. DuPont™ Energain® decreases air conditioning costs (by an average of 35%) and heating costs (about 15%) and can therefore make a meaningful contribution to reducing the carbon footprint of a building, as well as reducing build time and weight loadings.
Comparing DuPont™ Energain® with traditional thermal mass solutions such as concrete, material analysis of equal volume has shown that concrete offers only approximately 17% of the energy capacity offered in the temperature window of 18-24°C for a 5 mm panel. While traditional mass contributes only to stabilising room climate, DuPont™ Energain® can help to also improve the energy efficiency of the building thanks to its heat storage and release capacity.
Visitors to the stand can also learn more about the pioneering ionomer-based encapsulant technology that DuPont has developed to enhance the performance and longevity of building-integrated photovoltaic solar roofing tiles.
C) Civil & Landscaping – the groundwork of quality
DuPont™ Typar® Geosynthetics (www.typargeo.com) – DuPont™ Typar® Geosynthetics are a recognised solution for today's civil engineering and construction challenges worldwide. Overtime, they have proven their high performance and resistance, offering the highest quality to the civil engineering and construction sector. DuPont™ Typar® is a spunbonded non-woven fabric made of continuous polypropylene fibers: it has high tensile properties and excellent water permeability and is one of the most well-known and broadly used high-quality materials for road building, drainage systems, inversion roofing, and landscaping.
DuPont products for landscaping and gardening (www.plantexpro.dupont.com) – The products of DuPont for landscape and gardening include a variety of non-woven structures that can be used to control weed and roots without using chemicals, for moisture management, for ground stabilization and to create functional and appealing landscaping solutions. Its main products are DuPont™ Plantex®, DuPont Xavan®, DuPont™ Racibloc™ and DuPont™ Geoproma™
D) Performance Based Design – long lasting good looks
DuPont™ Corian® (www.corian.co.uk) high-tech surfaces have become an indispensable and iconic design material renowned for both long-term performance and versatility, offering a vast array of capabilities and applications from interior surfacing to external cladding. In 2010 new colours were launched including the first of an evolving collection to include recycled content.
At Ecobuild 2011, DuPont™ Corian® will be shown as a forward-thinking façade material that offers architecture a new solution for a stylish, sustainable, easy care and long-lasting external 'skin.' This concept also includes a striking alternative structure for 'Living Walls' to assist in urban greening.
DuPont™ Corian® also has important independent certification (e.g. GreenGuard®, U.S. Green Building Council's LEED® Green Building Rating System, ISO 14025 Green Choice, Ecospecifier, etc). DuPont™ Corian® is hygienic and completely non-toxic and inert, with no negative impact on indoor air quality.
DuPont and Sustainability
One of the first companies to publicly establish environmental goals about 20 years ago, DuPont has broadened its sustainability commitments beyond internal footprint reduction to include market-driven targets for both revenue and research & development investment. The goals are tied directly to business growth, specifically to the development of safer and environmentally improved new products for key global markets.
DuPont Building Innovations is a strategic business unit of DuPont. From innovative energy-saving systems to beautiful and long-lasting surfacing solutions, the overall offer of DuPont Building Innovations delivers safety, durability, beauty and energy efficiency, providing a major contribution to the modern built environment.
Further exciting developments to assist the industry to meet the highest standards or performance, reliability, functionality and sustainability are in the pipeline…
DuPont is a science company. Founded in 1802, DuPont puts science to work by solving problems and creating solutions that make people's lives better, safer and easier. Operating in more than 70 countries, the company offers a wide range of products and services to markets including agriculture, nutrition, electronics, communications, safety and protection, home and construction, transportation and apparel.
Location: London
Corian Designs
DuPont Corian Design Examples
Corian Sphere, England
Brørup Sparekasse, Denmark
The Cineroleum, London
Architectural Products
Selection of Architectural Products featured on e-architect
Libeskind House : Daniel Libeskind
Artemide lamp – Genesy
Comments / photos for the DuPont Building Innovations at Ecobuild 2011 page welcome
Website: Earls Court Exhibition Centre