Tyvek Reflex, low emissivity breather membrane for walls, Design pictures, Building products
Tyvek Breather Membrane
Low emissivity breather membrane – news
15 Aug 2011
From an unfortunate situation arises a further demonstration of superior resistance
DuPont™ Tyvek® Reflex provides long-term protection
August 2011 – In this period of uncertainty in the UK construction market, it is encouraging to know that some manufacturers (and their distributors) place significant emphasis on the durability and integrity of their products.
Tyvek Reflex Breather Membrane
DuPont Building Innovations, the division responsible for the renowned DuPont™ Tyvek® family of membranes is one such manufacturer. Not only does the company's innovative approach consistently develop new solutions and systems for the benefit of the market, but the resulting product range offers long-term performance and peace of mind.
This has been proven on a number of occasions, but perhaps few more dramatically than on one construction site towards the end of 2010. The product in question is DuPont™ Tyvek® Reflex, the original low emissivity breather membrane for walls, which was installed in four timber frame houses in Burwell.
The membrane was supplied by SIL Bedford to Kingspan Potton (a long-term user of DuPont™ Tyvek® Reflex) and factory fitted to the timber frame panels during manufacture in March 2008. Unfortunately the main contractor went into administration during the build, leaving the work incomplete and subsequently the membrane was left fully exposed to the elements and potential UV degradation for a period of 33 months.
As unfortunate as this situation was, it nevertheless offered an opportunity for DuPont to test the product under such extreme conditions. Samples of the exposed material, which were removed for examination by DuPont at its facility in Luxembourg, provided the following results.
Property ; Standard ; Unit ; 3480M nominal at new ; North after 33 months UV ; South after 33 months UV
water tightness Class ; EN1928 with modifications EN13859-2 ; Class ; W1 ; W1 ; W1
water column ; EN20811 m ; > 2 ; 2 / 2,2 ; 1,6 / 1,8
Emissivity ; Lux meth. ; 0,15 ; 0,18 ; 0,18
Tensile MD ; EN 12311-1 mod. EN13859-2 ; N/5cm ; 250 ; 215 ; 212
Tensile XD ; EN 12311-1 mod. EN13859-2 ; N/5cm ; 210 ; 180 ; 164
DuPont guarantees the functionality of DuPont™ Tyvek® Reflex on the basis that it is protected from UV exposure within 4 months of installation and tests have shown that the product will suffer no reduction in performance over this time. However, in this case, the recommended time period was clearly exceeded – and by over 800%!
These test results demonstrate that companies such as Kingspan Potton, when choosing a product with such proven reliability, can be confident in the long-term performance of the membrane in terms of both energy efficiency and the protection of the structure, even when exposed to wind, rain and UV. The two most important criteria for a reflective breather membrane are
• the emissivity value and hence the benefit to the structure's u-value
• protection against water ingression (304)
From the test results above, watertightness is unaffected, while the emissivity performance saw a drop of only 0.03. This is a significantly minimal reduction in performance, particularly when the considerable exposure time is taken into account and thus offers distributors, manufacturers, contractors and homeowners the reassurance that when DuPont™ Tyvek® Reflex is installed to the manufacturer's instructions, the enduring reliability of the product is guaranteed.
DuPont™ Tyvek® Reflex exposed for 33 months at a site in Burwell, UK. South and North-facing views:




photo : DuPont™ Tyvek®
This example also illustrates how the product provides a structure with long-term protection against all weather conditions. Over the preceding 33 months, the area of Burwell (and therefore the construction site in question) experienced the full range of UK climatic conditions without any damage being sustained by the membrane.
DuPont™ Tyvek® Reflex is an advanced metallised breather membrane with proven durability: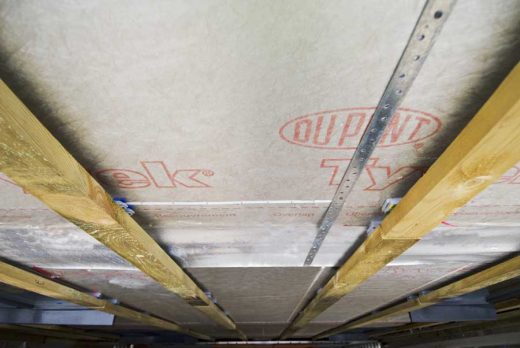 photo : DuPont™ Tyvek®
DuPont™ Tyvek® Reflex is one of a family of high-performance membranes from DuPont available to the market for use in walls, ceilings and roofs. All are CE marked and accredited and manufactured to stringent standards by a company committed to its customers and to advances in construction and sustainability, today and for the future.
For commercial information about DuPont™ Tyvek® please visit www.tyvek.co.uk or call 01275 337 660 in the UK and 087 922 2740 in Eire. An introduction to the overall DuPont offer for architecture, interior design, building and construction markets is available at www.buildingonscience.dupont.com.
About DuPont™ Tyvek®: DuPont™ Tyvek® underlays offer proven long-term durability and resistance (as demonstrated by recent test results) and are distinctive in several key ways that make them ideal for today's construction projects, whether new build or to preserve the treasures of the past. Unique because of the high-quality single layer construction, DuPont™ Tyvek® is naturally vapour open but also water-tight. This is due to its composition of millions of micro fibres that are bonded together to make a "maze" that's impermeable to moisture and yet allows water vapour to pass through the natural pores in its structure.
About DuPont Building Innovations – DuPont™ Tyvek® and DuPont™ AirGuard® are products of DuPont Building Innovations. From innovative energy-saving systems to beautiful and long-lasting surfacing solutions, the extensive offering of DuPont Building Innovations delivers safety, durability, beauty and energy efficiency, providing a major contribution to the modern built environment – across the spectrum of building and architecture, roads, bridges and other infrastructure and also to landscaping and gardens, as well as to the preservation or the renovation of contemporary and historical constructions.
The main products and brands managed by DuPont Building Innovations are DuPont™ Corian® (www.corian.co.uk), DuPont™ Zodiaq® (www.zodiaq.co.uk), DuPont™ Tyvek® (www.tyvek.co.uk), DuPont™ Energain® (www.energain.co.uk), DuPont™ Typar® (www.typargeo.com) and DuPont™ Plantex® (www.plantexpro.dupont.com).
DuPont® Tyvek Breather Membrane images / information received 15 Aug 2011
Location: Burwell, England, UK
DuPont Corian Examples
Corian Sphere, England
Brørup Sparekasse, Denmark
The Cineroleum, London
Architectural Products
Building Products – chronological list
Architectural Product Designs – a recent selection featured on e-architect:
Tile of Spain Products for a Post-pandemic World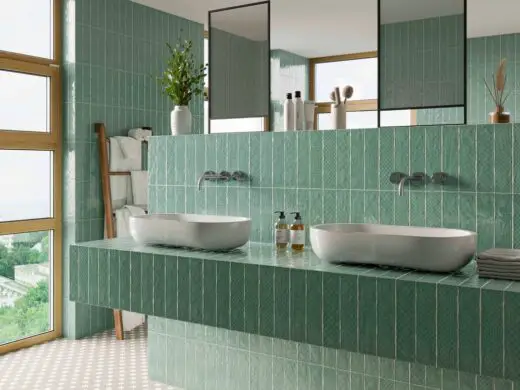 image courtesy of architects practice
Tile of Spain Products for a Post-pandemic World
Libeskind House : Daniel Libeskind
Comments / photos for the Tyvek Breather Membrane page welcome