Tyvek roofing Underlays, Independent Tests, Photos, Building Design Products, Pictures
Tyvek roofing Underlays
Building Roof Design – Independent tests news: Information + Image
22 Nov 2010
Keeping roofs watertight for the long-term
Independent tests demonstrate the superiority of DuPont™ Tyvek® in the key protective role of roofing underlays
DuPont™ Tyvek® outperforms alternative membranes in terms of UV and heat resistance for reliably watertight functionality
Tyvek roofing underlays
November 2010 – A building membrane should perform not only in terms of the vital functions required of it when it is installed, but it should perform for the long-term, even after exposure to damaging conditions. Now a comprehensive ageing testing programme commissioned by DuPont Building Innovations from "SP Technical Research Institute of Sweden (Chemistry and Materials Technology – Polymer technology division)" has demonstrated the significantly superior reliability of DuPont™ Tyvek® in a crucial aspect of an underlay's protective function.
The results show that even after major exposure to both direct UV-A radiation and to heat, the watertightness capability (preventing water penetration into the building structure and into a home from the roof) of different types of DuPont™ Tyvek® breathable underlays considerably outperforms that of a variety of multi-layer breathable roofing membranes on the market from various manufacturers internationally.
The result of these ageing tests clearly show (see Graphic 1) that a roof incorporating DuPont™ Tyvek® breathable underlays will maintain its watertight protective function more efficiently and for a much longer period than ordinary multi-layer breathable membranes.
By guarding the building structure's integrity from the damaging effects of water intrusion and optimising energy efficiency and a healthy indoor climate by helping to keep the insulation dry, DuPont™ Tyvek® offers a proven and meaningful guarantee of long-term peace of mind for both constructors and home owners.
The watertightness performance (fail/pass) of different roofing underlays after artificial UV ageing measured in weeks. (test commissioned by DuPont Building Innovations from "SP Technical Research Institute of Sweden"):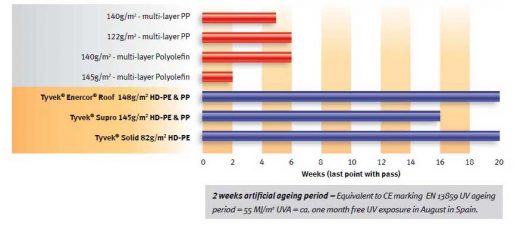 photo : DuPont™ Tyvek®
The materials used for these artificial ageing tests were purchased from the market (one roll for each product) by SP and delivered directly to the SP Technical Research Institute of Sweden.
The artificial exposure to UV radiation and the determination of resistance to water penetration, class W1, were performed according to EN 13859-1&2.
The excellent resistance of DuPont™ Tyvek® to UV radiation which was demonstrated by these ageing tests is extremely important. Often on site, roofs or walls are not covered quickly during the construction process and completion can be delayed, so that underlays remain exposed to the strong degrading action of direct UV rays.
This can mean that the watertight capability of the tested multi-layer products is enormously reduced, while DuPont™ Tyvek® demonstrates a significantly superior resistance without suffering damage.
Photos taken with an electronic microscope: cracks in the microporous films of multi- layer membranes (originated by the aggressive action of UV) demonstrate the lack of functionality:



photo : DuPont™ Tyvek®
A second ageing test programme was also conducted by "SP Technical Research Institute of Sweden (Chemistry and Materials Technology – Polymer technology division)" to demonstrate the impact of heat on underlays. The membranes were submitted to heat exposure of 90 °C, more severe than the CE marking requirement as per EN13859 (70 °C) to further evaluate the resistance to heat, simulating what is likely to occur in a roof environment.
Depending on the colour of both the roof tiles and of the underlay itself the temperature in the cold side of the roof can reach very high levels. Some recent publications have shown that temperature below a metal roof can easily reach 90 °C.
The resistance to water penetration class W1 was tested also according to EN 13859-1&2.
The results confirmed that the heat impact on the underlay's degradation is less aggressive and immediate than the UV radiation impact, but the loss of watertightness due to high thermal exposure is nevertheless real, progressive and destructive.
By demonstrating watertightness after 45 weeks of exposure to temperature of 90°C (a result which is considerably overpassing that achieved by the tested multi-layer membranes), DuPont™ Tyvek® underlays confirm their superior resistance to the progressively damaging impact of heat therefore their greater value in function and quality. A complete report will be available shortly at www.construction.tyvek.com.
The main reasons why DuPont™ Tyvek® outperformed other membranes can be attributed to the unique nature of the material's structure and to the higher quality and the greater thickness of its functional layer. Whether underlays are supplied as single layer or multi-layer products, it is the actual functional layer which takes care of the key tasks of wind-proofing, water-proofing and vapour breathability. The quality and thickness of this layer are fundamental to the durability and effectiveness of the underlay as a whole.
The functional layer seen with an electronic microscope (photo DuPont):



photo : DuPont™ Tyvek®
The functional layer of DuPont™ Tyvek® is naturally five to eight times thicker than the functional layer of most multi-layer membranes. Even a human hair is three times thicker than the most common micro porous films that serve as the functional layer of multi-layer products.
"We are delighted that this testing programme scientifically confirms both the widely held perceptions and the user knowledge within the market as to the quality and reliability of DuPont™ Tyvek®. Modern roofing underlays and wall membranes are a vitally important element of high quality pitched roof and cladding constructions.
Although these windproof and waterproof underlays constitute only a relatively very small part of the total thickness of wall and roof structures, their functionality in terms of building physics are absolutely vital and this needs to be preserved for the lifetime of the element of which they are part. The degradation of a roofing membrane can render the entire roof structure ineffective and therefore make the building structure and its interior vulnerable to damage from water ingression.
This is a waste of the initial investment and potentially causes very expensive and unpleasant problems for a home and its occupants," says Mark Hill, Sales Manager, UK & Ireland, DuPont Building Innovations – Building Envelopes.


photo : DuPont™ Tyvek®
"As these new tests demonstrate a membrane such as DuPont™ Tyvek® can continue to deliver its protective action for many years, even after having been exposed for several weeks to direct UV radiation during construction and to the effects of heat over many years, and is therefore a key ingredient for ensuring peace of mind to both roofers, builders and home-owners," adds Mark Hill.
DuPont™ Tyvek® underlays can resist temperatures of up to 100 C degrees without suffering damage, a unique level of performance among roofing membranes. In an increasingly confusing market place in which the actual manufacturing provenance of many 'third-party' and 'private label' products can be difficult to distinguish, DuPont™ Tyvek® underlays offer a further significant differentiation: they are produced and marketed by renowned global science leader DuPont.
This means that DuPont retains full control over the manufacturing process and is then in a prime position to offer continuous product upgrades and evolution, in addition to ensuring ethical practice and a consistency of high quality in its product offering, " Mark concludes.
DuPont™ Tyvek® provides long lasting protection and indoor comfort to the prestigious newly-built sports and leisure centre "Les Thermes" for Strassen and Bertrange towns in Luxembourg (photo DuPont™ Tyvek®):



photo : DuPont™ Tyvek®
About DuPont™ Tyvek® (www.construction.tyvek.com) Invented by DuPont research and development laboratories in the late '60s as a premium material for personal protection and packaging, DuPont™ Tyvek® is manufactured using a unique, proprietary technology, and has, over time been discovered and developed for a variety of further applications and markets. Around 1990, it was first adopted as a breathable and water proof membrane for roofs and walls for building construction in certain countries in Europe.
Between 1990 and 1995, it was introduced to the Nordic Countries (Scandinavia), Switzerland, Germany and then to the United Kingdom. Today, DuPont™ Tyvek® is marketed in 35 countries in the Europe Middle East and Africa region, in addition to the USA, Canada and many other countries in the other regions. In 2005, the entire range of DuPont™ Tyvek® membranes achieved CE certification, the first to do so in the building membrane market.
Since it was introduced to the construction industry, DuPont™ Tyvek® has been applied to the roofs and/or walls of approximately 5.5 million residential and commercial buildings in Europe & Middle East and Africa, 8 million in the USA and Canada and over 6 million in Asia Pacific.
About DuPont Building Innovations – DuPont™ Tyvek® is a product of DuPont Building Innovations. From innovative energy-saving systems to beautiful and long-lasting surfacing solutions, the extensive offering of DuPont Building Innovations delivers safety, durability, beauty and energy efficiency, providing a major contribution to the modern built environment – across the spectrum of building and architecture, roads, bridges and other infrastructure and also to landscaping and gardens, as well as to the preservation or the renovation of contemporary and historical constructions.
The main products and brands managed by DuPont Building Innovations are DuPont™ Corian® (www.corian.com), DuPont™ Zodiaq® (www.zodiaq.com), DuPont™ Tyvek® (www.tyvek.co.uk), DuPont™ Energain® (www.energain.co.uk), DuPont™ Typar® (www.typargeo.com), DuPont™ Plantex® (www.plantexpro.dupont.com) and a new range of highly efficient building integrated photovoltaic modules (www.gevity.dupont.com).
Some constructions must be totally sure that all their building elements are long lasting: St. Augustine's Church in the UK adopted DuPont™ Tyvek® for remaking the roof (photo DuPont™ Tyvek®):



photo : DuPont™ Tyvek®
About DuPont – DuPont is a science-based company. Founded in 1802, DuPont puts science to work by creating sustainable solutions essential to a better, safer, healthier life for people everywhere. Operating in more than 70 countries, DuPont offers a wide range of innovative products and services for markets including agriculture and food; building and construction; communications; and transportation.
All rights reserved on design and photos.
DuPont® Tyvek roofing underlay images / information received 22 Nov 2010
Location: UK
Corian Designs
DuPont™ Corian® – Examples
Corian Sphere, England
Brørup Sparekasse, Denmark
The Cineroleum, London
Selection of Architectural Products featured on e-architect
Libeskind House : Daniel Libeskind
Artemide lamp – Genesy
Comments / photos for the Tyvek roofing underlays page welcome