Easter Sculpture Museum Albacete, Hellín Architecture, Spanish Building Photos
Easter Sculpture Museum, Albacete Building
Easter Sculpture Museum building, Hellín design by Exit Architects, Spain
29 Apr 2012
Easter Sculpture Museum Albacete
Location: Salburúa, Vitoria
Design: Exit Architects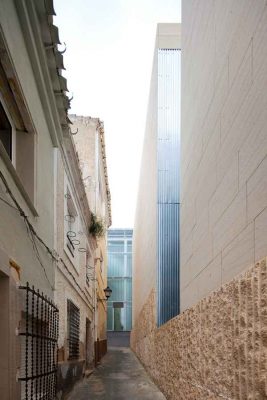 photograph : Fernando Guerra
Easter Sculpture Museum Hellín
English text (scroll down for Spanish):
The Museum Project was the result of an ideas competition organized by the Hellín Municipality.
The competition rules considered the refurbishment of the Casa del Conde as well as the construction of an extension on the plot area former occupied by some small service buildings of the house.
In the competition winning proposal we included the completely refurbished Casa del Conde as a part of the Museum. We even wanted to give it a main role, incorporating the former backyard facade as the background of the new main exhibition space. The inner court of the house played also a significant role as an exhibition area which established a relationship between the old and the new parts. The upper levels hosted an administration area and a library.
Nevertheless, at the time we developed the Project, and after a rigorous inspection of the building we confirmed that it was not possible to refurbish the whole house at a reasonable cost, so we decided to concentrate all the efforts in preserving and restoring the painted façade and those valuable elements (stone columns, ironworks,…) we could recover for the museum.
This way, the old façade, once disappeared the rest of the house, is no more only a construction element and becomes also a canvas, a decorated surface to be integrated in the museum as an exhibition object. Indeed a very special one, due to the decisive role it plays in the relation of the building with its surroundings (the Assumption Church) and with the city history and memory.
Despite the disappearing of the house, we preserve the volume occupied buy it, as a mechanism to adequate to the surroundings scale. The new building steps backwards, creating a small square in front of the main visitors access. Therefore the museum as a whole responds to a double urban scale, the close-scale of the street and the far-scale of the Church square. Besides the building adapts itself to the steep slope of the plot decreasing its height in the longitudinal section so that it keeps always the urban scale of the surrounding houses.
Another mechanism to integrate the building and give it a representative character is the use, for the facades, of the same local stone as the one of the nearby Church, keeping the museum into the chromatic spectrum f the historic centre.
In the inside, a white-concrete space, shaped by light, surrounds a sinuous way among the sculptures, which stand on several big wooden bases that organize the exhibition and contain the showcases for smaller objects. Therefore it happens just the opposite as in Easter, and in this case it is the visitor who wanders between the sculptures as he discovers them from different points.
The great scale of the main space, the intentional use of light and the construction with few and durable materials give the interior a character very appropriate for the important collection of religious sculptures to be exposed.
Easter Sculpture Museum – Building Information
EASTER SCULPTURE MUSEUM. HELLÍN. ALBACETE
project
EXIT ARCHITECTS
IBÁN CARPINTERO / MARIO SANJUÁN
architects
PUBLIC WORKS MINISTRY / HELLÍN MUNICIPALITY
client
2.160 m2
built area
3.512.235 EUROS
budget
2002
project
2011
completion
MIGUEL GARCÍA-REDONDO
SILVIA N. GÓMEZ
ÁNGEL SEVILLANO
JOSÉ Mª TABUYO
collaborators
ALBERTO PALENCIA / JOSÉ ANTONIO ALONSO
technical architects
MAINTENANCE IBÉRICA
mechanical consultant
INDAGSA (JOSÉ LUIS CANO)
structural consultant
FERNANDO GUERRA
http://www.ultimasreportagens.com/
EXIT ARCHITECTS
photographs
PEFERSAN, S.A.
general contractor
Spanish text:
Museo de Semana Santa
El proyecto del nuevo Museo de Semana Santa se gestó a través de la convocatoria de un concurso de ideas por parte del Ayuntamiento de Hellín. Las bases contemplaban tanto la rehabilitación y utilización del espacio de la Casa del Conde como la construcción de una zona nueva en la parte del solar liberada tras la desaparición de las dependencias auxiliares de la Casa, que no tenían ningún valor y se encontraban en estado de ruina.
Fase de concurso
En la propuesta presentada a concurso y que, a la postre, resultó ganadora, se contemplaba la rehabilitación integral de la Casa del Conde como parte del nuevo Museo. Se la quería otorgar además una importante presencia incorporando la fachada trasera de ésta como fachada interior del espacio principal de exposición. El patio interior de la misma se consideraba también un elemento singular que relacionaba el edificio antiguo y el nuevo, dándole uso de exposición y estableciendo una relación continua entre ambos. La segunda planta se destinaba fundamentalmente a despachos y oficinas de las Cofradías y Hermandades y la tercera a biblioteca y mediateca.
Fase de proyecto
Sin embargo, a la hora de desarrollar el proyecto, y después de realizar una inspección más minuciosa del inmueble, se pudo constatar que no era viable la conservación integral del mismo, por lo que se decidió concentrar los esfuerzos en la consolidación y rehabilitación de las dos fachadas policromadas y en recuperar aquellos elementos valiosos, como la rejería o las columnas, para su incorporación y puesta en valor en el nuevo edificio.
De esta manera, la fachada que se conserva, una vez eliminada el resto de la Casa, deja de desempeñar un papel estrictamente funcional como elemento constructivo y se convierte en un lienzo, un plano decorado que pasa ser un objeto más de los que se exponen en el nuevo edificio. Eso sí, un objeto más, pero que juega un papel fundamental en la relación del edificio con el entorno, con la iglesia de la Asunción y la plaza adyacente, y con la historia y la tradición colectiva de la ciudad.
La solución general adopta como punto de partida la conservación de la huella de la volumetría de la casa del Conde como primer mecanismo para la adecuación a la escala del entorno. La nueva construcción se retrasa, creando un ámbito-plaza urbana vinculado a la entrada y salida de visitantes y de pasos (en las celebraciones de la Semana Santa). De este modo el conjunto de Rehabilitación-Obra nueva responde de forma simultánea a una doble escala, la cercana de la calle San Jerónimo y la lejana de la Plaza de la Iglesia.
En su conjunto el edificio se configura como un volumen escalonado, reconociendo las rasantes pronunciadas del solar en su eje Norte-Sur, apareciendo en todo momento como un edificio con carácter institucional (materiales nobles, conformación de fachadas…) pero con la escala de la trama en la que se inserta.
Como último mecanismo para la respuesta a los criterios de adecuación al entorno y de carácter representativo de la edificación se parte de un revestimiento mediante aplacado de piedra de las canteras locales, creando así un eco con la sillería de la Iglesia de la Asunción, marcando la representatividad del mismo, y obteniendo una escala cromática pareja con los tonos dominantes en el casco histórico.
En cuanto a la parte de obra nueva, un volumen de hormigón blanco tallado por la luz envuelve un recorrido sinuoso entre los pasos de Semana Santa. Estos se encuentran colocados sobre unos grandes pedestales de madera que a su vez organizan el espacio y alojan algunas vitrinas. De esta manera, inversa a lo que sucede en las calles, es el espectador el que processiona entre las imágenes que permanecen estáticas y va descubriéndolas desde distintas perspectivas.
Location plan ; plans at level 0 ; +3 ; +7m






images : Exit Architects
Museo de Semana Santa – Ficha Técnica
MUSEO DE SEMANA SANTA DE HELLÍN. ALBACETE proyecto
EXIT ARCHITECTS
IBÁN CARPINTERO / MARIO SANJUÁN
arquitectos
MINISTERIO DE FOMENTO / AYUNTAMIENTO DE HELLÍN
cliente
2.160 m2
superficie
3.512.235 EUROS
presupuesto
2002
fecha de proyecto
2011
fecha fin de obra
ALBERTO PALENCIA / JOSÉ ANTONIO ALONSO
arquitectos técnicos
MAINTENANCE IBÉRICA
consultor instalaciones
INDAGSA (JOSÉ LUIS CANO)
consultor estructuras
FG + SG FOTOGRAFÍA DE ARQUITECTURA
EXIT ARCHITECTS
fotógrafo
MIGUEL GARCÍA-REDONDO
SILVIA N. GÓMEZ
ÁNGEL SEVILLANO
JOSÉ Mª TABUYO
colaboradores
PEFERSAN, S.A.
empresa constructora
Easter Sculpture Museum Albacete images / information from Exit Architects
Location: Hellín, Albacete, Spain
Architecture in Spain
Spanish Architecture Designs – chronological list
Spanish Architectural Practices
Architecture Walking Tours by e-architect
Albacete Building
Centre New Entrepreneurs, Vitoria
Design: QVE arquitectos
Albacete Building
Murcia Buildings – Selection
Santa Lucía General University Hospital
Design: CASA Sólo Arquitectos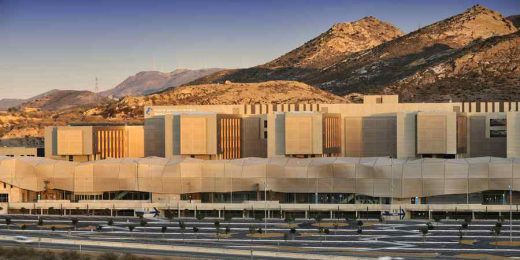 image from architecture office
Santa Lucía General University Hospital
Los Arcos del Mar Menor University Hospital, San Javier
Design: CASA Sólo Arquitectos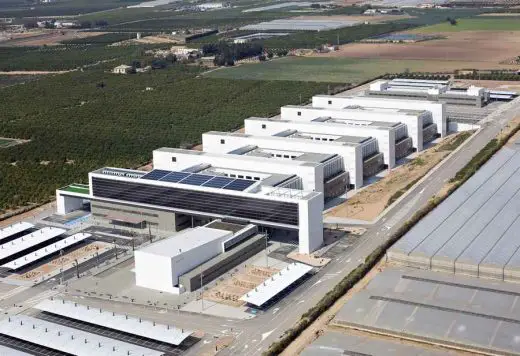 photo from architects
Los Arcos del Mar Menor University Hospital
Spanish Museum Buildings – Selection
San Telmo Museum, San Sebastián
Nieto Sobejano Arquitectos
San Telmo Museum
Museo de al Memoria de Andalucía, Granada, southern Spain
Alberto Campo Baeza
Museo de al Memoria de Andalucía
Museum ABC
Aranguren & Gallegos Arquitectos
Madrid Museum Building
Comments / photos for the Easter Sculpture Museum – Albacete Architecture page welcome