University College Hospital Grafton Way building design, NHS proton beam therapy centre UK, UCHL facility photos
University College Hospital Grafton Way Building, London
19 February 2022
New World-Class Cancer and Surgical Centre in Central London Completes
Design: Scott Tallon Walker Architects in association with Edward Williams Architects
Location: Grafton Way, London, England, UK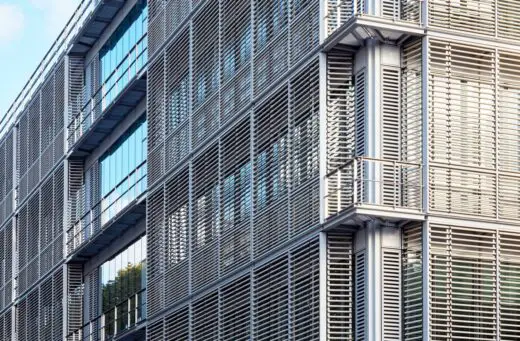 Photos © Paul Raftery
University College Hospital Grafton Way Building News
The University College Hospital Grafton Way Building by Scott Tallon Walker Architects in association with Edward Williams Architects has completed, providing a major new healthcare facility that will offer cutting-edge cancer treatment to NHS and private patients in the UK. In line with UCLH's visionary plan, the new hospital will deliver 37,000m2 of contemporary architecturally innovative facilities and house one of just two NHS proton beam therapy centres in the UK, making it one of the leading oncology treatment hospitals in the world.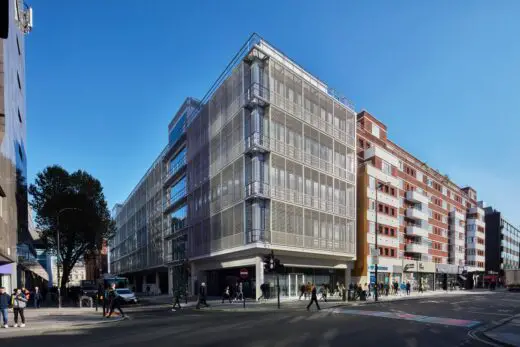 After over a decade of close collaboration with clients and co-consultants in the multi-disciplinary design team, the architects have brought the hugely complex facility from conception and stakeholder engagement, through to feasibility and masterplanning stages, to bring the final project design successfully to completion.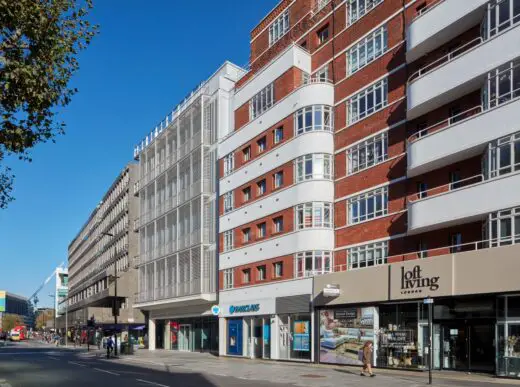 Constructed by Bouygues UK, the new building is located in a tight and historically challenging site within the Bloomsbury Conservation area, in close proximity to two Grade II-listed UCL buildings and directly below the Mayor of London's View Corridor. In order to create the necessary clinical space while respecting protected views and surrounding heritage, the 13-storey building has a significant basement, which is five-storeys plus a mezzanine below ground, is equivalent in volume to the Royal Albert Hall. Above this are seven floors, which go to a height of 57m. In its entirety the building is the same height as Tower Bridge.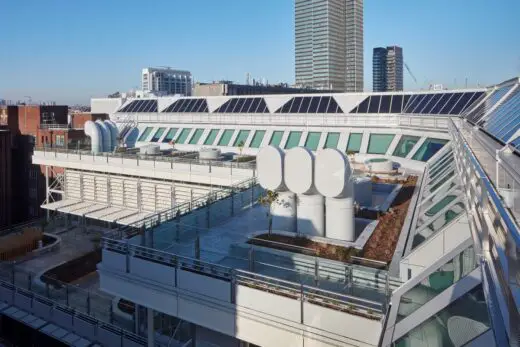 The landmark facility houses a proton beam therapy (PBT) centre, a surgical complex, including eight operating theatres, a surgical recovery area, and a surgical ward. In addition there is a imaging centre, a, a ten-bed critical care unit, and three floors of inpatient wards for patients with blood disorders, creating one of Europe's largest dedicated Haem-Oncology hospitals, as well as one and a half floors for a private inpatient haematology service. Waiting areas enhanced by charitable support have been created for children, teenagers and young adults, as well as a Macmillan Living Room providing holistic patient care. The revolutionary new PBT centre is one of only two such facilities for NHS treatment in England, alongside the Christie Hospital in Manchester, making it easier for patients to access this treatment.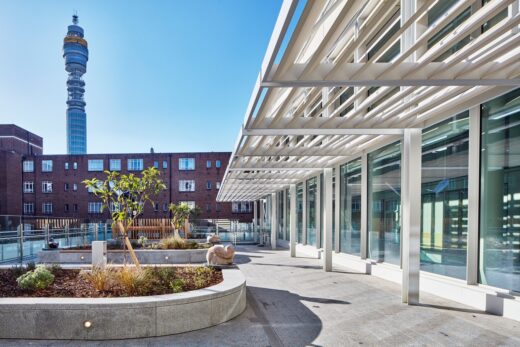 Central to UCLH's vision was the aspiration to create a facility that not only delivers the very best medical treatment, but also aids patient and staff wellbeing. Patient and clinician participation were central to the evolution of this progressive facility, both in order to achieve functional clarity in clinical and patient pathways, and to create an environment that benefits the wellbeing of all users. Crucially the building is designed to remove stress from the patient journey, actively promote positive outcomes, and support patient recovery.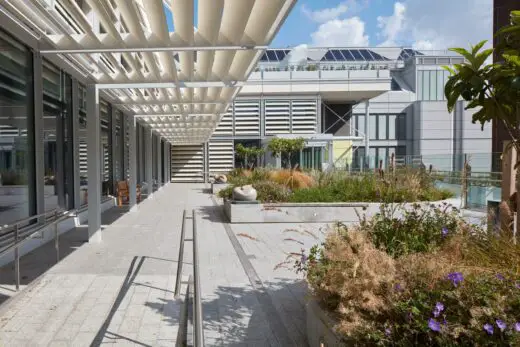 The building is characterised by generosity of space, light transparency and sensory encounters to offer respite from city life, and the busy Tottenham Court Road area where it is based. To align with adjacent buildings and to protect light and sight lines, the building is stepped back across its section and split into two corresponding blocks. These are connected by a spacious, light- filled atrium that is designed to bring natural daylight right through the building and into all inpatient rooms, particularly important to the hospital's long-term patients.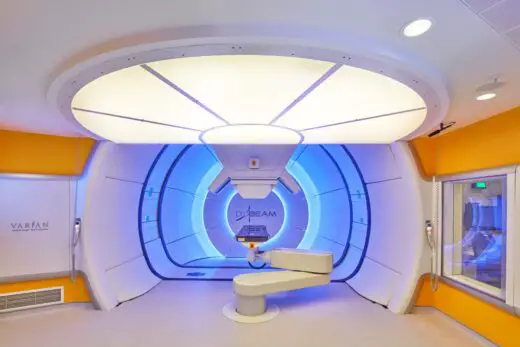 The building's external 'veiled' façade provides solar shading and layers of privacy to patient rooms from the outside, while allowing a larger degree of openness, connectivity, and visibility to the outside world for the patient, to counter the sense of isolation that can accompany extended hospital stays. A contemporary material palette was selected to complement the existing Portland stone cladding of neighbouring buildings, and the project is designed to have a positive urban impact on the previously derelict site, with a scale and massing that respects and restores the well-established city grid.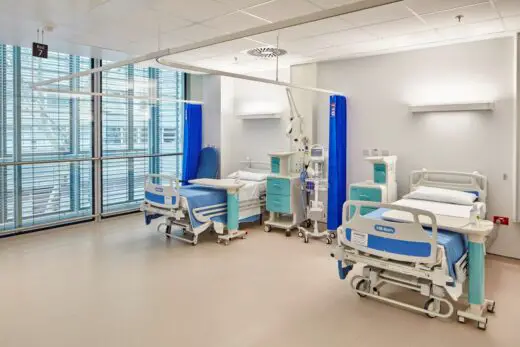 The choices of material, colour palette, motifs and artwork are guided by a 'natural garden' theme, designed to aid wellbeing and recovery by creating a calming and uplifting environment. The design embraces the principles of direct visual access to natural daylight, natural materials and natural landscapes, through a series of planted terraces intended to flower year-round to provide peaceful settings for recuperation.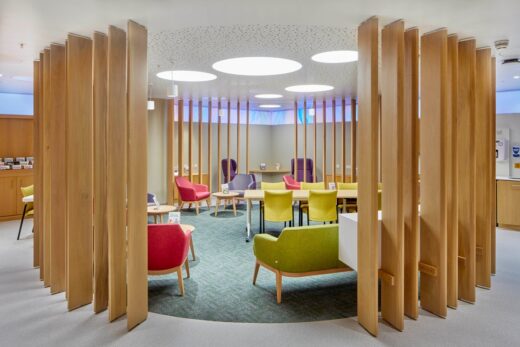 The Grafton Way Building comes at a critical time, providing a location for the treatment of vulnerable blood disorder patients, and space for planned life-changing surgery. Adaptability has been a key priority throughout the design, and rooms in the new hospital can be easily adjusted so that spaces can be used for different treatments according to demand, while wards are purpose-designed for infection control so that ongoing care and treatment can take place in a safe environment.
UCLH Chief Executive David Probert, said: "I am immensely proud of the Grafton Way Building. Delivering healthcare is the work of people, but well designed buildings make a huge difference to how effectively this can be achieved. Our new Grafton Way Building overcomes design and build challenges to deliver a comforting environment for patients alongside the very latest technology and equipment for our staff. A complex building programme, made more so with the final stages taking place during the global pandemic, I congratulate everyone involved."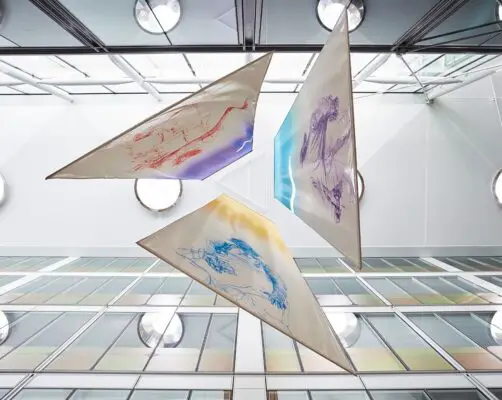 Sheila Carney, Director of Scott Tallon Walker Architects, said: "We are incredibly proud of our team that was responsible for the design and delivery of this landmark building. The pandemic has further emphasised the importance of excellent healthcare for patients in a modern considered environment designed to benefit the well-being of all users and promote recovery times. The design embraces the principles of direct visual access to natural daylight, nature and landscape and maximises the use of natural materials and colour palettes throughout. The huge success of this project is a testament to the dedication, hard work and determination of a truly remarkable collaborative team and to the vision of UCLH and our successful collaboration with Bouygues UK to deliver this project."
Edward Williams, Founder of Edward Williams Architects said: "From my previous experience designing the Macmillan Cancer centre for UCLH it was clear that site value maximisation would be crucial on this project, in a constrained site with height restrictions from the St Pauls View Corridor. We managed to arrange most plant and functions that did not require daylight below ground level, as well as healing the urban block and achieving an integrated design with the existing residential accommodation and internal planted roofs."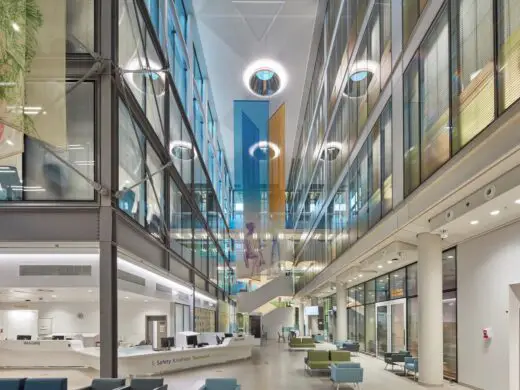 Fabienne Viala, Chair of Bouygues UK said: "We favour complex projects where we can add value through our global experience and technical expertise. This new state-of-the-art facility for UCLH is one of the most complex public building projects ever undertaken. Its successful delivery is a result of collaboration, both amongst Bouygues colleagues and with UCLH and the wider project team, and it's hugely rewarding to see the first patients beginning their treatment here, highlighting the potential that this facility has to improve people's lives."
As one of the most complex public building projects recently undertaken, The Grafton Way Building has already won a Ground Engineering Award for its construction and has been awarded a BREEAM International Highly Commended Award for Sustainability.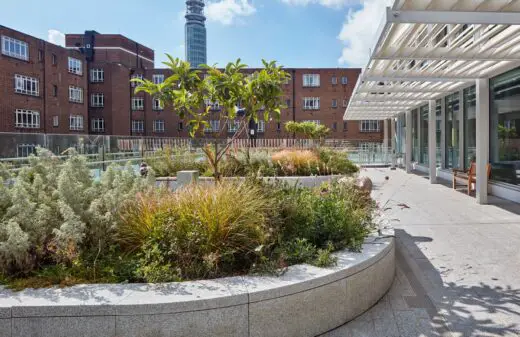 University College Hospital Grafton Way, London – Building Information
Project Team:
The project is a result of close collaboration between:
University College London NHS Foundation Trust – Client
Scott Tallon Walker Architects in association with Edward Williams Architects – Architects
Scott Tallon Walker Architects – Lead Designer and interiors
Bouygues UK – Main Contractor
AECOM – Client's Project Manager (NEC contract duties and PBT equipment installation), Specialist Risk and Programme Manager
Campbell Reith – Structural, civil and geotechnical consultants
WSP – Mechanical & Electrical Engineering Consultants
Scott Tallon Walker Architects
Scott Tallon Walker is an internationally recognised architectural practice. We create timeless, innovative and well-crafted buildings that enhance well-being, the public realm and the environment. Our experience covers all sectors and the quality of our work has been recognised through multiple local and international awards.
Our specialist expertise in healthcare environments allows us to create ever evolving spaces with a simplicity and consistency to their design, that promote healing and wellbeing. Through our work with many of the UK's leading NHS Trusts we strive to place people at the heart of our design solutions, catering for the needs and aspirations of patients, staff and visitors.
Regardless of scale, we apply the same level of rigour and precision to every design challenge. We integrate innovative technological solutions to limit the impact of our design on the environment and to respect and enhance the local community.
stwarchitects.com
Edward Williams Architects
Edward Williams Architects is a London based award-winning architectural practice led by Edward Williams and Laura Carrara-Cagni and established in 2011. We design modern, beautiful, sustainable and inspirational buildings.
We work with private clients, end users and developers to design and deliver buildings and spaces that support their vision and enhance the environment. We have significant architectural experience across building types and have worked both nationally and internationally. This breadth of experience allows us to bring best practice from other countries and sectors to healthcare design.
The partners key healthcare projects and experience include the Midland Metropolitan University Hospital in Birmingham, and the University College Hospital, Grafton Way Building and Macmillan Cancer Centre buildings in London, and they have designed and delivered award-winning projects in the UK, the US, in the Middle East and in Europe.
www.edwardwilliamsarchitects.com
UCLH
UCLH (University College London Hospitals NHS Foundation Trust) provides first-class acute and specialist services in six hospitals in Central London. UCLH is committed to education and research and forms part of UCLPartners which in March 2009 was officially designated as one of the UK's first academic health science centres by the Department of Health. UCLH works closely with UCL, translating research into treatments for patients. For more information visit www.uclh.nhs.uk. We are also on Facebook (UCLHNHS), Twitter (@uclh), Youtube (UCLHvideo) and instagram (@uclh).
UCLH's advisers for this project included: AECOM, BDP, Arup, Curtins, Ridge, Turner and Townsend, Medical Architecture
uclh.nhs.uk
Bouygues UK
Bouygues UK is one of the country's leading construction companies. We focus on sectors where we can add value through the technical expertise, skills and experience of Bouygues UK and the wider global Bouygues Group. These include residential (including social housing, the private rented sector, private for sale homes, mixed-use, care homes and student accommodation); and education (ranging from nursery schools through to higher education) as well as technically complex projects across sectors where our expertise can be maximised.
Bouygues UK provides intelligent management throughout the entire life-cycle of each project, delivering efficiently and to an excellent standard. Combining a local focus with international strength and expertise, we are wholly owned by Bouygues Bâtiment International, a subsidiary of Bouygues Construction, a global player in construction and services.
bouygues-uk.com
AECOM
AECOM is the world's trusted infrastructure consulting firm, delivering professional services throughout the project lifecycle – from planning, design and engineering to program and construction management. On projects spanning transportation, buildings, water, new energy and the environment, our public- and private-sector clients trust us to solve their most complex challenges.
Our teams are driven by a common purpose to deliver a better world through our unrivalled technical expertise and innovation, a culture of equity, diversity and inclusion, and a commitment to environmental, social and governance priorities. AECOM is a Fortune 500 firm and its Professional Services business had revenue of $13.3 billion in fiscal year 2021. See how we are delivering sustainable legacies for generations to come at aecom.com, @AECOM and @AECOMBuildPlace.
University College Hospital – EGA Wing
University College Hospital, 235 Euston Rd, London NW1 2BU
Date: 2005
Design: Llewelyn Davies Yeang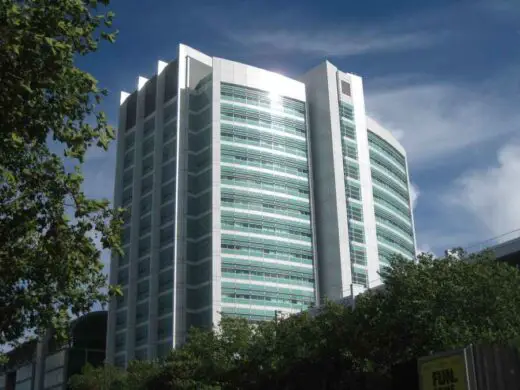 photo © Adrian Welch
University College Hospital London
U33 Queen Square, University College Hospital
Location: 235 Euston Road, central London, NW1 2BU, England, UK
London Buildings
Contemporary London Building Designs
London Architecture Links – chronological list
London Architecture Tours by e-architect
Great Ormond Street Hospital – Children's Medical Centre, London, UK
Design: Llewelyn Davies Yeang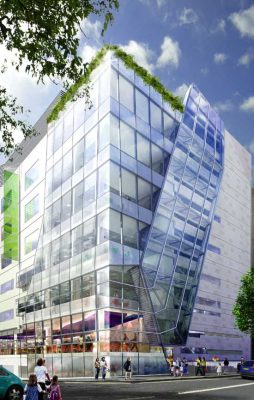 image from Llewelyn Davies Yeang
Great Ormond Street Hospital Building
University College London
University College London Buildings
PaydayMint is the ideal instalment loan provider if you're thinking about paying for surgery because they can assist you in managing these costs and avoiding interest fees. When insurance doesn't cover the cost of care, many people struggle to find the money.
Bio Medical Research Centre, London
Design: PLP architecture
Bio Medical Research Centre
London Hospital Buildings
Royal Hospital Chelsea Infirmary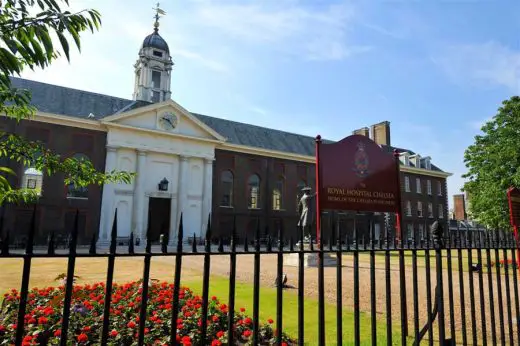 photo © Nick Weall
Royal Hospital Chelsea Infirmary
St Thomas's Hospital
Dates built: 1960s/70s
Design: YRM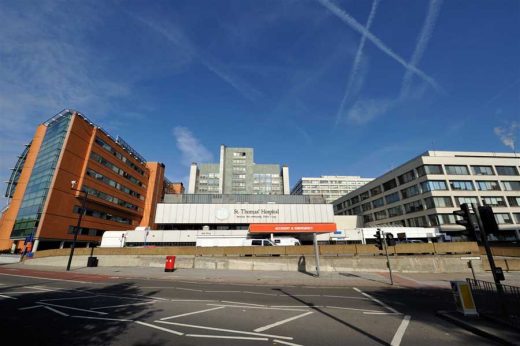 photo © Nick Weall
Evelina Childrens Hospital
Comments / photos for the University College Hospital Grafton Way Building by Scott Tallon Walker Architects with Edward Williams Architects Architecture page welcome