Westminster Hall Queen Elizabeth II Lying-in-State, London Historic Building Renovation, English Palace Architecture Images
Westminster Hall Restoration in London
post updated 16 September 2022
Queen Elizabeth II, the UK's longest-reigning monarch, died at the age of 96.
Lying-in-State of Her Majesty Queen Elizabeth II at Westminster Hall
The Lying-in-State of Her Majesty Queen Elizabeth II
The Lying-in-State of Her Majesty Queen Elizabeth II will take place in Westminster Hall at the Palace of Westminster, also known as the Houses of Parliament, report www.parliament.uk.
The Lying-in-State opens to the public 24 hours a day from 5pm on Wednesday 14 September until 6.30am on Monday 19 September. Members of the public may visit Westminster Hall to pay their respects.
If you are attending the Lying-in-State, please take a moment to read this short guide as it describes the route you will be taking through the Palace of Westminster and guidance for your visit.
Parliament welcomes those who wish to pay their respects to Her Majesty Queen Elizabeth II.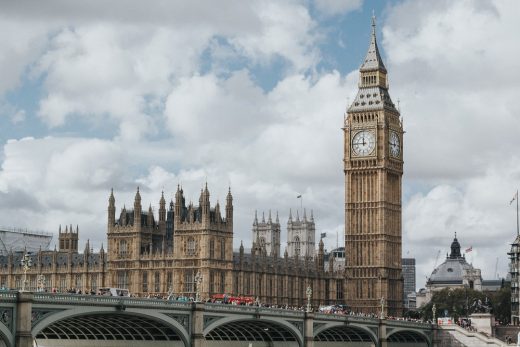 photo © Marcin Nowak
The Crown and Parliament
The UK is a constitutional monarchy, which means that our monarch holds a unique place in the UK's democratic institutions. The monarch is Head of State, but only Parliament, with the authority of the Sovereign, can make or repeal any UK law.
Because of this close relationship, and because Parliament represents every corner of the UK, the Palace of Westminster is uniquely placed to both reflect and share in the nation's deep sense of loss at this time.
Westminster Hall Steps: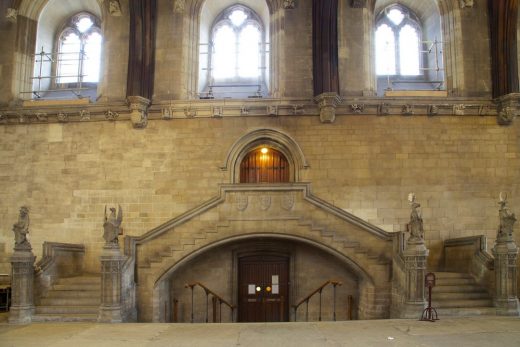 photograph © UK Parliament
Queen Elizabeth II and Parliament
Queen Elizabeth II was the longest reigning sovereign in British history. From her accession to the throne in 1952, until her death on 8 September 2022, Her Majesty visited Parliament on many occasions.
Queen Elizabeth II delivered her first Queen's Speech at the State Opening of Parliament on 4 November 1952.
Her Majesty attended all but three State Openings of Parliament during her long reign and on each of these occasions delivered the Queen's Speech in person. The exceptions were in 1959 and 1963, when she was pregnant with Prince Andrew and Prince Edward respectively, and in 2022 when Parliament was opened by the Prince of Wales and the Duke of Cambridge acting as Counsellors of State on behalf of the Queen.
As you pass in front of the Palace of Westminster, before you reach St Stephen's Entrance, you will see a tower with a large archway, the Sovereign's Entrance. This was the entrance used by The Queen when she arrived for State Openings of Parliament and its gateway was designed to be wide enough to allow the Royal Coach to drive through it. The steps leading up from the entrance are known as the Royal Staircase and are the start of the processional route taken by the monarch at State Opening.
Sovereign's Entrance is situated at the base of the Victoria Tower, the tallest tower in the Palace of Westminster, at 98.5 metres (325 feet) high.
At the opposite end of the Palace of Westminster stands the Elizabeth Tower, recognised around the world as Big Ben's Clock Tower. The Clock Tower was renamed the Elizabeth Tower in 2012 – The Queen's Diamond Jubilee year – as a tribute to Her Majesty and in recognition of her, then, 60-year reign.
You will see other Jubilee tributes to Her Majesty as you exit Westminster Hall at the end of your visit. Consisting of up to 1,500 pieces of stained glass, the Diamond Jubilee window can be seen in the three central panels of the north window in Westminster Hall. Outside Westminster Hall, in New Palace Yard, is the fountain installed in 1977 to commemorate The Queen's Silver Jubilee, and a pair of bronze sculptures of the heraldic beasts of the United Kingdom commemorating Her Majesty's Platinum Jubilee.
Westminster Hall has played a part in the life of Queen Elizabeth II as the venue for giving and receiving Addresses (formal messages) of particular importance from both Houses of Parliament. This happened most recently on 20 March 2012 to mark the occasion of Her Majesty's Diamond Jubilee.
Lying-in-State of Queen Elizabeth II
Lying-in-State describes the formal occasion in which a coffin is placed on view to allow people to pay their respects before the funeral ceremony.
You will enter the Palace of Westminster through St Stephen's Entrance which opens at the foot of a short flight of stairs.
From there you will pass into Westminster Hall by proceeding down two longer flights of stairs to ground level. If you require assistance or level access, please ask a member of staff.
During Lying-in-State, the coffin rests on a raised platform (catafalque) in the middle of Westminster Hall. Each corner of the platform is guarded around the clock by members of the Sovereign's guard of the Household Cavalry, Foot Guards and The King's Bodyguards.
Attending Lying-in-State
Prior to entering Parliament you will go through search and screening. This is for everyone's safety. To prepare for this process please place items such as mobile phones, keys, small change, belts, heavy jewellery and watches in your bag or jacket pocket. Please also note that prohibited items cannot be returned and will be disposed of in amnesty bins, this includes any liquids or drinks.
In Westminster Hall
Please be aware that filming and photography in Westminster Hall are strictly prohibited on this occasion. Out of consideration for other mourners, we must also ask that you refrain from using mobile phones or other handheld devices while you are on the parliamentary estate, and devices should remain switched off in your pocket or bag at all times. Thank you for your cooperation with this important matter.
As you enter Westminster Hall the queue will divide to pass on either side of the catafalque. You are asked to keep moving forward at all times while you are in line until you have exited into Parliament Square. This will greatly help us ensure as many people as possible are able to pay their last respects to Her Majesty.
Departure from Westminster Hall
As you leave you will exit into Parliament Square. We ask that you move away from the exit as soon as possible to help those following behind you. Please remember to collect your belongings from the designated collection point before making your onward journey.
Buckingham Palace London – the famous royal balcony off the Yellow Drawing Room: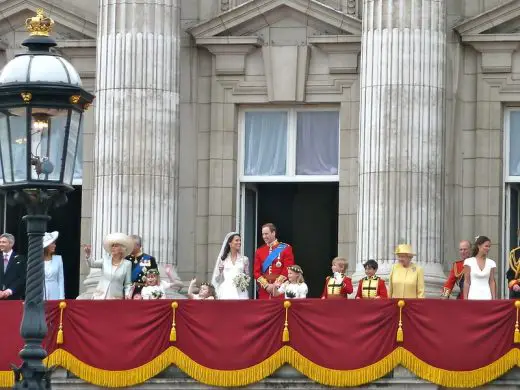 photograph © Magnus D, 2011
Palace of Westminster London Restoration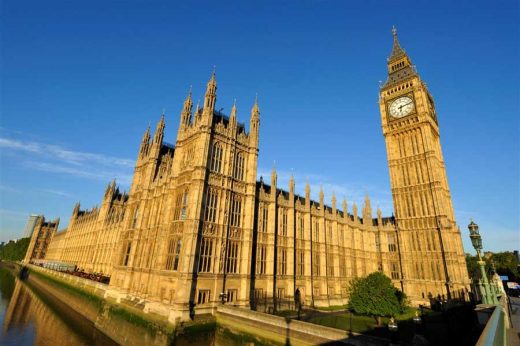 picture © Nick Weall
Palace of Westminster London Building Restoration
Previously on e-architect:
14 Jan 2021
Westminster Hall Restoration
Renovations: Perfect Circle and SCAPE
Location: Westminster, London, England, UK
After vital restoration works, the iconic Grade 1 listed Westminster Hall – the oldest part of the Palace of Westminster – has been returned to its full glory so it can be appreciated for decades to come.
Works to clean the hall's 14th century hammer-beam roof internally; carry out essential repairs to the roof timber trusses; repair and restore the lead-covered roof lantern; install fire safety equipment, including an automated fire detection and voice alarm system; and install all cabling infrastructure for a future lighting scheme have now been completed.
Built environment consultancy Pick Everard – operating under Perfect Circle's unique collaboration – provided project management services for the scheme, which was accelerated by SCAPE Consultancy, a direct award framework that drives collaboration, efficiency, time and cost savings.
Gary Buick, director at Pick Everard, which is one of Perfect Circle's shareholders and founding partners, said: "Westminster Hall is a key thoroughfare to the Palace of Westminster and used by hundreds of people daily. Over the past few years, restoration and maintenance works have been carried out to ensure the hall remains safe for public use.
"The roof lantern atop the hall has been carefully dismantled and restored using traditional craftsmanship. Hidden since 2005, the ornate timber interior of the lantern can be seen once more.
"Not only can the public experience Westminster Hall in its original glory, but the beams and lantern shouldn't require further conservation work for another hundred or so years, providing a lasting legacy for generations to come."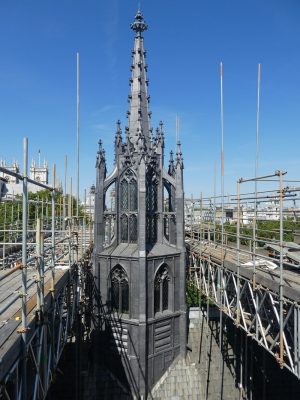 The hall – which is deemed to be the gateway to the Palace of Westminster, a UNESCO World Heritage Site – was originally built in 1097 by King William II and later remodelled to include the magnificent hammer-beam roof by Richard II in 1393. It is the only part of the palace that survives in almost its original form, despite being ravaged by a fire in October 1834 and damaged by an incendiary bomb during the Second World War.
The uses of the hall have included great state occasions, tournaments, coronation feasts, state trials and even a marketplace. Notable historical events include the trials of William Wallace and Charles I and, in more recent years, ceremonial addresses by the Queen, Nelson Mandela and Barack Obama. Today, it continues to be used as the venue for lying-in-state royals, as well as a raft of events and public displays.
After the hall was bombed in the war, the roof lantern that sits atop the roof was rebuilt in the 1950s. In 2005, a temporary crash deck was installed to ensure the structure was safe, but which obscured the view of the lantern – limiting public appreciation for more than a decade.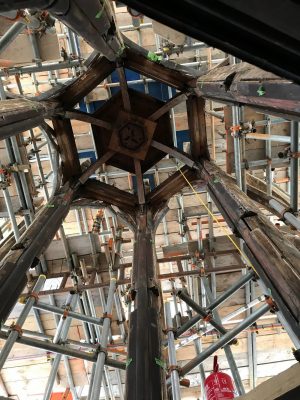 Gary said: "As the roof lantern is a timber structure with lead cladding, cast lead detailing and internal timber panels, its restoration required a lot of specialist carpentry works. For health and safety purposes, we couldn't put any additional weight on the roof so a complex, self-supporting scaffold bridge was constructed so work could be carried out.
"It was of great importance that the lantern remained true to its roots, so the original sand-cast lead was removed, melted down and re-cast using the same traditional method that was applied when it was made in the 1950s.
"Now the repair and restoration of the lantern is complete, the temporary crash deck has been removed, which has once again opened up its true magnificence to all walking through the hall."
Westminster Hall's grand roof, which was commissioned by Richard II in 1393, is the largest medieval timber roof in Northern Europe. It is home to 13 oak hammer-beams, weighing some 660 tonnes, that were largely manufactured off site and transported to Westminster by barges and horse-drawn wagons for assembly.
Gary said: "When essential repairs and cleaning were being carried out on the roof, 360 litres of dust was removed from each roof truss. A fully automated fire detection and voice-activated alarm system was also installed as part of the works. The equipment has been obscured from view – remaining sympathetic to the traditional design but updating the technology to suit modern standards and safety requirements."
Part of the project's vision was for Westminster Hall to remain open to the public throughout the construction works, subject to closures as a result of the coronavirus pandemic.
"One of the biggest challenges was to maintain health and safety and the operational requirements of the hall so the public wasn't inconvenienced by the works," said Gary.
"This involved installing large vinyl canvases that included photos of the windows before the temporary, complex scaffolding was put up. Not only did these cover up the supporting framework but, as lots of tourists visit the hall, it meant they could still experience the oldest parts of Westminster rather than seeing a construction site.
"A lot of the work was also undertaken out of hours during evenings and weekends so as not to disrupt the sitting of the House of Lords and House of Commons."
SCAPE Consultancy is fully OJEU-compliant procurement route that brings together the strongest collaborative team with value for money, while contributing substantially to local social value.
Victoria Brambini, managing director of Perfect Circle, said: "We are delighted to have been involved in such a prestigious project to restore certain elements of one of Britain's most iconic buildings, which has played a central role in our country's history."
Mark Robinson, SCAPE chief executive, added: "After almost a millennium of service, it takes extreme diligence, skill and care to give a building like Westminster Hall the restoration it deserves. The expert guidance and consultation that Perfect Circle has provided to support this high-quality project is befitting of this unique building that contains volumes of British history.
"The refurbishment of the public estate, including that at the very highest end of government, will play an important role in enabling the nation's economic recovery. This project is an outstanding example of how it can be accelerated through the use of a framework that promotes collaboration and a collective effort to deliver outstanding project results."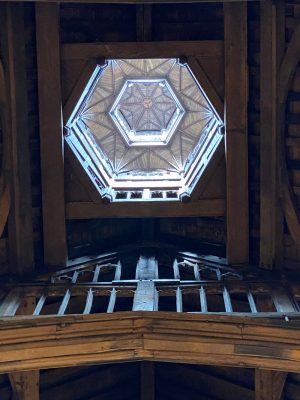 Westminster Hall Restoration Team
About Perfect Circle
Perfect Circle is a property, construction and infrastructure consultancy, delivering real value with full procurement compliance, for clients commissioning any aspect of their built environment projects.
Its vision is to be at the forefront of innovation, pioneering new ways of working to deliver collaborative and efficient solutions nationwide across the public sector; making a difference to clients, local communities, its employees and supply chain partners.
The company is jointly owned by Pick Everard, Gleeds and AECOM – leading, innovative firms with expert industry knowledge and expertise, supported by an extensive local supply chain.
Perfect Circle delivers the broadest range of consultancy services available to the public sector via SCAPE, the UK's leading public sector procurement authority, and SCAPE Consultancy, a direct award framework that drives collaboration, efficiency, time and cost savings.
About SCAPE
SCAPE is the UK's leading public sector procurement authority, dedicated to creating spaces, places and experiences that leave a sustainable legacy within the community.
Since 2006, SCAPE has accelerated over 12,000 projects across the UK with their direct award frameworks, property services and innovative architectural designs.
Working with SCAPE is all about partnership, bringing together the brightest talent from the construction industry and the local economy. SCAPE projects are collaborative, compliant and fully performance managed to ensure delivery efficiency, tax-payer value, targeted local economic enrichment and offer a direct response to the climate emergency.
SCAPE operates with a buying power of £13bn and is actively performance managing over 1,800 live projects. SCAPE is a member of the National Construction Frameworks (NACF) and in 2020, was name in 'The Sunday Times Top 100 Best Not-For-Profit Organisations to work for' in the UK.
Westminster Hall Restoration, London images / information received 140121
Location: Westminster Hall, Westminster, West London, England, UK
Palace of Westminster London Building
Palace of Westminster Renewal



photo © UK Parliament
Palace of Westminster London Renewal Architects
Palace of Westminster Building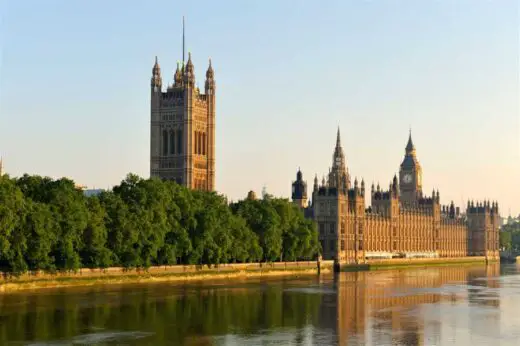 photograph © Nick Weall
Palace of Westminster London
Temporary UK Parliament Concept on the River Thames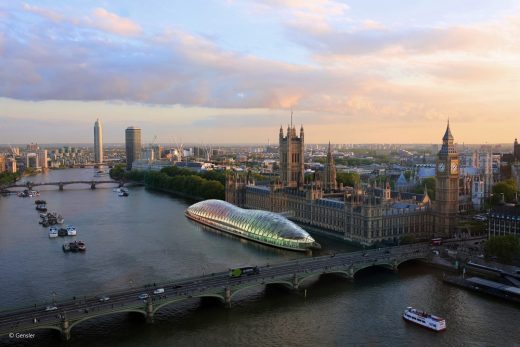 picture © Project Posiedon
Temporary UK Parliament on the River Thames in London
London Buckingham Palace Reservicing
Architecture in London
Contemporary Architecture in London
London Architecture Links – chronological list
London Architecture Tours by e-architect
Belvedere Gardens Luxury Flats, Southbank
Design: GRID Architects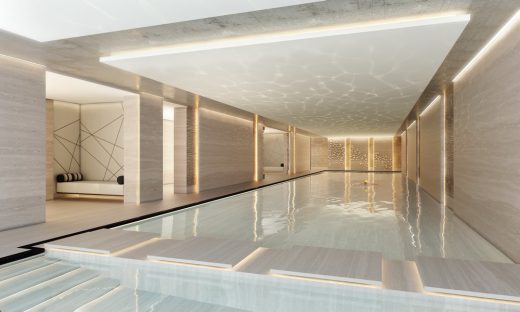 image courtesy of architects
Belvedere Gardens Luxury Flats in London
Wardian London, Canary Wharf, Isle of Dogs
Architects: Glenn Howells Architects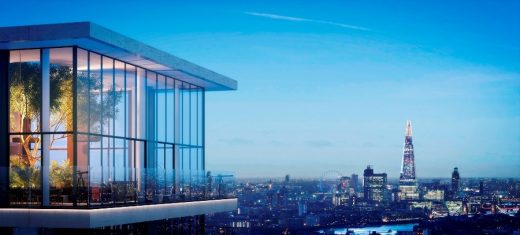 image courtesy of architects
Wardian London Rooftop Apartments
Residential Building Victoria
Design: Avery Associates Architects
Residential Building Victoria
Comments / photos for the Westminster Hall Restoration London, UK Architecture page welcome