HOK Architects Office, Buildings Photos, Architecture Images, US Studio News, Designs
HOK Architects : Buildings
Contemporary Architecture Practice News: Projects, Designs, Masterplans
28 April 2023
HOK Co-CEOs News
HOK Names Eli Hoisington and Susan Klumpp Williams as Co-CEOs
28th of April 2023, London – Global architecture practice HOK has appointed Eli Hoisington and Susan Klumpp Williams as its new co-chief executive officers, succeeding Bill Hellmuth who passed away on April 6, shortly after his scheduled retirement.
Hoisington and Klumpp Williams, who have served as interim co-CEOs since Hellmuth went on medical leave in May 2022, bring a fresh yet familiar perspective to HOK's leadership. They have previously led two of the firm's largest offices and are longstanding executive committee members.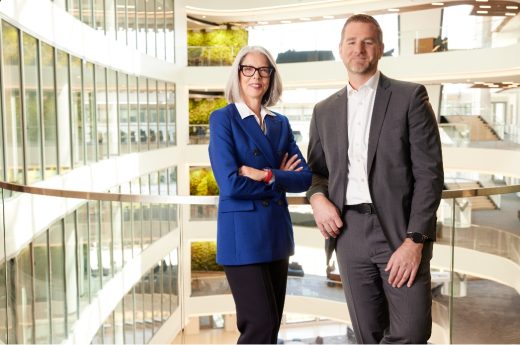 photo courtesy of architects office
Hoisington, the design principal in St. Louis, and Klumpp Williams, the managing principal in Washington, D.C., have collaborated closely with Hellmuth in the past. They will work with HOK's board to steer the firm's design vision, business strategy and operations.
Hellmuth's legacy spans 32 years with HOK, having served as CEO since 2016 and chairman since 2017. His tenure saw HOK win hundreds of design awards, strengthen its commitment to sustainable and regenerative design, open three new offices, diversify its leadership, and increase its pro-bono work and charitable giving. Under Hellmuth's guidance, HOK earned recognition as one of Time Magazine's most influential companies and consistently ranked among the world's largest and greenest architecture/engineering firms.
Hoisington, 46, and Klumpp Williams, now in her 38th year with the firm, break new ground as the youngest and first woman CEOs in HOK's 68-year history. They bring complementary skill sets and extensive experience to their new roles.
HOK President Carl Galioto praised the new co-CEOs, stating, "Combining Eli's design expertise and Susan's business acumen in this new co-CEO leadership structure will drive HOK's evolution as a more diverse, collaborative and international design firm."
Hoisington expressed his commitment to enhancing HOK's global presence as a preeminent, interdisciplinary design firm while building on Hellmuth's legacy: "Design remains our core focus, shaping everything from project opportunities and business organization to innovation, research, education, mentorship and community engagement. Above all, we will continue using design to improve lives, heal the planet and contribute to the success of our clients."
Klumpp Williams shared her experience working with Hellmuth: "Having collaborated with Bill in D.C. for 32 years, I understand how he maintained our founders' vision for a diverse, design-focused practice. Eli and I will work in a similar manner, with him concentrating on design and me continuing my focus on operations."
As the first woman CEO in HOK's history, Klumpp Williams acknowledged the significance of her role: "This is an opportunity to underscore the power of diverse leadership. It also demonstrates HOK's dedication to fostering diversity and inclusion across the firm. I'm eager to contribute to this ongoing transformation and further HOK's commitment to ensuring that all our staff have equitable experiences in their career growth."
Eli Hoisington
Eli Hoisington serves as design principal in St. Louis and is a member of HOK's executive committee and board of directors. He also leads the firm's global design board.
He joined HOK in 2005 in New York, where his projects included NewYork Presbyterian Hospital's David H. Koch Center; LaGuardia Airport's new Terminal B; LG's North American Headquarters; Canon USA's Headquarters; the University at Buffalo Jacobs School of Medicine and Biomedical Sciences; multiple projects for Roche Pharmaceuticals; and the new Chancery of the Permanent Mission of the Republic of Singapore to the United Nations. Internationally, his projects included 7 million square feet of development within the New Songdo City Development in Incheon, Korea, and the Brigade Gateway mixed-use development in Bangalore, India.
In 2014, Hoisington was promoted to design principal in HOK's St. Louis studio. In his time in St. Louis, he has focused on significant projects in and around the city. These include 4220 Duncan and multiple other projects at the Cortex Innovation Community; the St. Louis North Riverfront Stadium proposal; the modernization of Le Meridien Hotel; the Grand Flats Apartments; Centene's urban campus in Clayton; and St. Louis CITY SC's CITYPARK stadium. Outside St. Louis, his projects have included the IU Health Bloomington Regional Academic Health Campus in Bloomington, Indiana; the University of Wisconsin's Biology and Chemistry Building in Stevens Point; Tyson Foods' Emma Avenue Office in Springdale, Arkansas; the University of Colorado-Colorado Springs William Hybl Sports Medicine and Performance Center in Colorado Springs; the Mayo Bioscience Building at One Discovery Square in Rochester, Minnesota; and the Arterra Residential Tower in Kansas City.
He holds a Bachelor of Architecture from Syracuse University.
About Susan Klumpp Williams
Susan Klumpp Williams is the managing principal of HOK's offices in Washington, D.C., Atlanta, Tampa and Miami.
She is a member of HOK's executive committee, operations committee and board of directors. Additionally, she serves as the executive committee sponsor for HOK's management and managing principals boards.
In addition to her many firmwide leadership responsibilities, Klumpp Williams has overseen an array of significant projects across the world since joining HOK's Washington, D.C., office in 1985. Her projects include the Nationals Park Major League Baseball stadium and the D.C. Consolidated Forensic Laboratory in Washington, D.C.; the New Midfield Concourse B and Concourse B West Expansion at Dulles International Airport in Chantilly, Virginia; the FBI Laboratory Headquarters in Quantico, Virginia; Abu Dhabi National Oil Company (ADNOC) Headquarters in Abu Dhabi, UAE; Msheireb Downtown Doha Phase 4 in Doha, Qatar; and numerous government projects including the Moscow and Abu Dhabi U.S. embassies.
She holds a Master of Business Administration in International Business from Georgetown University and a Bachelor of Landscape Architecture from the University of Georgia.
Previously on e-architect:
HOK News
HOK Architects News
25 May 2022
HOK appoints James Leathem as its London studio Technical Principal
Leathem, who joins from Arney Fender Katsalidis and spent more than 25 years at RSH+P, specialises in detailed facade, structural and sustainable designs.
30 Apr 2018
LG Science Park, Seoul, South Korea
Architects: HOK with Gansam Architects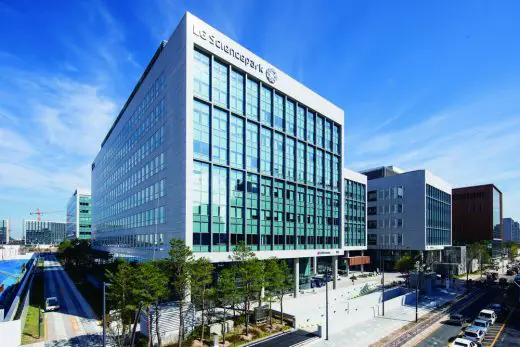 photo © GS Construction
LG Science Park Seoul
One of the world's largest corporate research campuses is now open for business. At more than 1 million square metres (the equivalent of 152 football pitches), LG Science Park in Seoul's Magok District unites staff from eight of LG's Korean businesses in the same location for the first time.
8 Jun 2017
LG Science Park, Seoul, Korea
The world's largest new corporate research campus is 75 percent complete and on target to officially open in Seoul in 2018.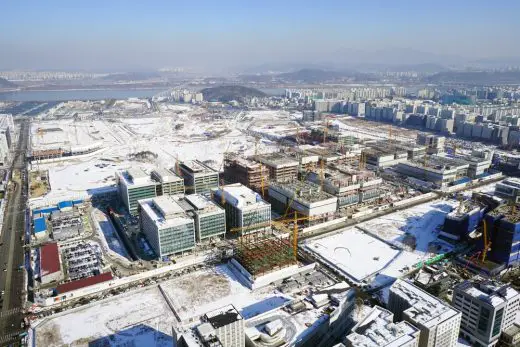 picture from architects office
11 May 2017
HOK Names Anthony Fieldman Design Principal in Canada
TORONTO—Anthony Fieldman, AIA, LEED AP, has joined HOK as senior vice president and design principal for the firm's Canadian practice. Based in Toronto, he will provide design leadership for HOK projects across Canada and throughout the world.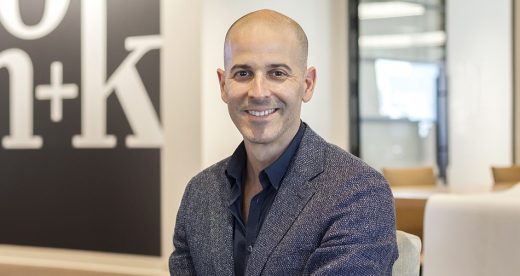 Fieldman comes to HOK from New York City-based RAFT Architects, where he was president. Prior to founding RAFT, he was a design principal in the New York office of two international design firms.
Over the past 25 years, Fieldman has led or contributed to the design of more than 100 buildings in 19 countries. His projects have won 50 design awards on three continents.
Most recently, the $656 million New York Police Academy in Queens won 2016 AIA New York COTE and SARA awards and was featured on the cover of Interior Design. His work has been exhibited internationally, including at the Venice Biennale and the National Building Museum, and he captured the top education award at the prestigious World Architecture Festival. Publications including Newsweek, Metropolis, Wallpaper and the Wall Street Journal have featured Fieldman's projects.
Throughout his career, Anthony's projects have embodied the type of high-profile, culturally important design we do at HOK," said HOK Chairman and CEO Bill Hellmuth, FAIA, LEED AP. "I have long admired the rigor and poetry he brings to his projects. And we're pleased to reunite Anthony with Cal Smith, our technical principal in Canada. They have worked together with great success in the past and have a track record of seamlessly integrating design excellence with the building sciences."
"HOK has a reputation for focusing on design and delivering high quality buildings," added Fieldman. "Those were big draws for me. But in addition to the firm's international reach and reputation, the idea of Bill, as a designer, being the chairman and CEO, was extremely appealing. I know he will value and support the ideas that are important to our designers and clients. I'm also thrilled to be back in Canada."
A native of Montreal, Quebec, Fieldman was raised in a bilingual English-French household and spent two years in Italy as a student studying photography and fresco painting. He holds bachelor's degrees in both architecture and photography from Rhode Island School of Design, and recently published a photography book titled New York Through an Architect's Lens.
Fieldman, Smith, Duncan Broyd, and Joe Pettipas will collaborate to direct HOK's projects, client relationships and operations across Canada.
HOK's Canadian practice includes offices in Toronto, Ottawa and Calgary. Current and recent projects include Rogers Place and the ICE District in Edmonton, Alberta; Cisco's Canadian Headquarters in Toronto; Rogers Communications' Sharespace Offices in Toronto and Brampton, Ontario; CBRE's Canadian Headquarters in Toronto; Sun Life Financial's Corporate Head Office in Toronto; Humber River Hospital in Toronto; Providence Care Hospital in Kingston, Ontario; Tunney's Pasture Master Plan in Ottawa, Ontario; and Memorial University of Newfoundland's New Core Science Building in St. John's, Newfoundland.
April 29, 2017
Carl Galioto Is Appointed President of HOK
NEW YORK—Carl Galioto, FAIA, managing principal of HOK's New York and Philadelphia offices and member of the firm's executive committee, has been appointed to the position of president at HOK.
Galioto also serves on HOK's board of directors and leads its technical board, which includes HOK buildingSMART, the firm's virtual design and construction initiative. In this additional role, he will work directly with chairman and CEO Bill Hellmuth, FAIA, and the other members of HOK's executive committee to lead the global design, architecture, engineering and planning firm.
Carl Galioto, FAIA, HOK President: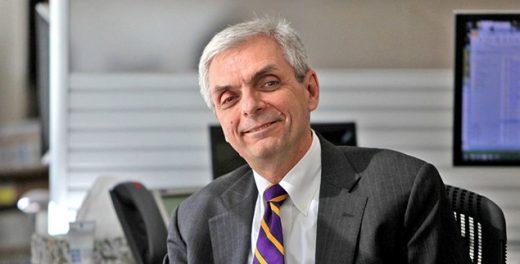 "Carl is extremely well-qualified to assume this position," said Hellmuth. "In addition to overseeing the significant growth of our practice in the Northeastern U.S., he has led HOK's buildingSMART program to improve how our buildings are conceived, designed, fabricated and built. I look forward to continuing to collaborate with him and the rest of our senior leadership team to serve our clients, employees and communities."
"I joined HOK in 2009 to be part of a design firm whose core values of sustainable design and focus on human well-being are those that I share," said Galioto. "Our teams create designs that benefit people's quality of life: new workplaces, research facilities, airports and transportation terminals, retail centers, hotels, apartments, places of worship, hospitals, museums, civic centers, sports venues and parks—all the building blocks of society. I'm honored to take on this new role and to help direct our firm's future."
A graduate of Pratt Institute, Galioto is active in civic and professional efforts in New York. A Fellow in the American Institute of Architects, he serves on the boards of the New York Building Congress and the ACE Mentor program.
HOK's New York-area projects include LaGuardia Airport Central Terminal B and master plan, the NewYork-Presbyterian David H. Koch Ambulatory Care Center, 147–151 East 86th Street mixed-use building, InterContinental New York Barclay, LG Electronics' USA Headquarters in New Jersey, White & Case Office at 1221 Avenue of the Americas and GroupM at 3 World Trade Center. Philadelphia-area projects include the Penn State University Chemical and Biomedical Engineering Building in University Park, Pennsylvania, and Nasdaq's office space in Philadelphia.
More HOK Architects News online soon
HOK Building News 2016 – 2017
HOK Architecture News, chronological:
April 21, 2017
HOK Projects in Hawaii and Singapore Selected as AIA COTE 2017 Top Ten Winners
The NOAA's Inouye Regional Center and Ng Teng Fong General Hospital were among the 10 projects honored in the industry's best-known awards program for sustainable design excellence
SAN FRANCISCO—The AIA Committee on the Environment (COTE) has announced its 2017 Top Ten Green Project award winners. Two HOK-designed projects—the National Oceanic and Atmospheric Administration (NOAA) Daniel K. Inouye Regional Center in Hawaii and Ng Teng Fong General Hospital & Jurong Community Hospital in Singapore—were named winners. This gives HOK a total of 10 AIA COTE awards, making the firm one of the most frequent winners since the program's inception in 1997.
"We are honored that the jury selected two of our projects for setting the standard in design and sustainability," said Anica Landreneau, Assoc. AIA, LEED AP BD+C, HOK's director of sustainable design. "Sustainable design has been a core value of our firm since the early 1990s. Over the years, our approach to sustainability has become more scientific. Today, we are focusing on the well-being of the people who occupy the space and to the business success of our clients, and are on track to achieve a carbon-neutral design portfolio by 2030."
Though the two AIA COTE award-winning projects are very different, each relies heavily on passive design strategies to significantly reduce energy consumption and create high-performance buildings.
Located on a national historic landmark site on Oahu's Ford Island in Hawaii, the NOAA's Inouye Regional Center features the adaptive reuse of two World War II-era airplane hangars linked by a new steel and glass building. The LEED Gold complex accommodates 800 people in a research and office campus that integrates NOAA's mission of science, service and stewardship with Hawaii's cultural traditions and ecology. Facilities include wet and dry research laboratories, a marine center, a library, administrative offices, conference and meeting areas, a dining hall and informal collaboration spaces. HOK collaborated on the design with Hawaii-based architect Ferraro Choi.
"The historic hangars and local ecology inspired beautifully simple design solutions for how the center uses air, water and light," says Paul Woolford, design principal for HOK's San Francisco office. "We looked to the local biological influences of the region—such as the cooling mechanism of the monkey pod tree—as a guide to designing the building systems."
The AIA COTE jury was impressed by the project's innovative passive downdraft system providing 100 percent fresh outside air through hybrid natural ventilation and its "excellent daylighting." They praised how the project "rejuvenated" the site through the creation of new waterfront public spaces.
Ng Teng Fong General Hospital is part of Singapore's first medical campus to combine continuing care from outpatient to post-acute care. Based on passive principles, the design supports resource efficiency, health and well-being. Seventy percent of the facility is naturally ventilated. The Green Mark Platinum building uses 38 percent less energy than a typical Singaporean hospital and 69 percent less than a typical U.S. hospital. As design and medical planning consultant, HOK collaborated with the Singapore Ministry of Health and a team that included CPG Corporation (prime architect and architect of record) and Studio 505 (design collaborator focusing on building envelope development).
"We envisioned the hospital as an oasis in the dense city of Singapore," says Bill Roger, FAIA, ACHA, regional director of Healthcare based in HOK's San Francisco studio. "The design incorporates parks, green roofs and vertical plantings throughout the campus and offers each patient an operable window with a view of the greenery. It's unique for a healthcare facility to offer so much access to greenery and natural ventilation."
"This project is an extraordinary model for hospitals to behave as healing environments, not seen in the United States," stated the AIA COTE jury. "The passive strategies demonstrated here are a model for hospitals around the world."
These are HOK's ninth and tenth AIA COTE Top Ten project awards. On its website, the AIA notes that the awards, now in their 21st year, changed for 2017. These changes include highlighting issues including "wellness, resilience and economy" to "emphasize the importance of actual performance in addition to design intent."
Past HOK AIA COTE winners include:
• King Abdullah University of Science and Technology, Thuwal, Saudi Arabia
• San Mateo County Forensics Laboratory and Coroner's Office, San Mateo, California, USA
• Edificio Malecon Office Tower, Buenos Aires, Argentina
• National Wildlife Federation Headquarters, Reston, Virginia, USA
• Nidus Center for Scientific Enterprise, St. Louis, Missouri, USA
• World Resources Institute Headquarters Office, Washington, DC, USA
• Missouri Historical Society Museum Expansion and Renovation, St. Louis, Missouri, USA
• SC Johnson Commercial Products Headquarters, Racine, Wisconsin, USA
The AIA named HOK a "high-performing firm" in a recent report describing lessons from frequent winners of the AIA COTE Top Ten Award. According to the report, these high-performance firms share traits that go beyond a commitment to sustainable architecture and ecological design. They also are leaders in areas including diversity and staff retention, and all have signed the AIA 2030 Commitment. As part of its commitment to achieve a carbon-neutral design portfolio by 2030, HOK recently announced that its target for 2017 is a 60 percent reduction in energy use intensity across its portfolio.
October 24, 2016
New HOK/CoreNet Global Report Explores Impact of Coworking on Corporate Real Estate
NEW YORK—HOK's WorkPlace practice, in partnership with the UK Chapter of CoreNet Global, has released a new report that studies the impact of coworking from a corporate real estate (CRE) perspective.
Coworking is one of the fastest-growing sectors of the commercial real estate market. The new report, Coworking: A Corporate Real Estate Perspective, examines the drivers of coworking from the demand and supply sides, the industry risks and implications for corporate real estate, as well as information about the owners, coworkers and centers.
The HOK/CoreNet Global Coworking report highlights the ideas that changing business priorities and the need to attract talented people, reduce real estate costs, improve speed to innovation and increase productivity are driving corporations to consider different workplace models, including on- and off-site coworking.
"Although coworking space makes up less than one percent of the world's office space, it represents an important workforce trend and highlights the strong desire of today's employees to have workplace choices, community and flexibility," said Kay Sargent, ASID, IIDA, CID, LEED AP, MCR.w, director of WorkPlace at HOK. "Driven by demand factors, including next-generation work styles and the desire for real estate portfolio agility, C-suite executives from human resources, operations, real estate and finance are increasingly interested in how coworking affects their work practices and policies—and how they need to design, manage and operate their workplaces."
Key findings from the Coworking report also include:
• The coworking concept is evolving to comprise accelerators, incubators and maker spaces. It reaches beyond office settings to include college campuses, retail locations, hotels and libraries.
• The impact of coworking spaces on CRE includes providing new uses for older properties and for underutilized spaces in existing facilities.
• The lowest engagement levels are found in employees who never work remotely. The highest employee engagement levels occur among those who work remotely less than 20% of the time.
• Many coworking centers emerged in a time of high unemployment and low rents. But 54% of the coworkers will leave a specific location in less than a year. The high turnover and tenant instability challenge coworking centers to maintain profitability. They are vulnerable to market conditions and new competitors.
"For corporate occupiers and other real estate professionals, the coworking trend is worth watching, exploring and testing," said Curtis Knapp, director of consulting for HOK. "It is a way to add flexibility to the portfolio and help match the ebb and flow of supply and demand. It can be one solution to the many challenges posed by the changing nature of both work and worker."
"Our workplace community is a highly interactive forum where ideas, research and results are developed and shared," added Philip Cohen, president of CoreNet Global's UK Chapter. "Our aim is to demonstrate how the workplace can influence major business issues and equip members with the knowledge to bring about change. This report is testament to our ethos and provides members of our UK Chapter with valuable industry knowledge on the latest themes and trends."
28 Sep 2016
Delos™ and HOK Partner to Accelerate Health and Well-Being in the Built Environment
HOK Building News 2006 – 2013
13 Nov 2013
Fisher Street Development, London, UK – building news



picture from architect
Fisher Street Development
The scheme borders an eight storey, Grade II listed building on Southampton Row. Its striking architecture has been carefully designed in close consultation with Camden Council and English Heritage to ensure the upper levels are set back, leaving space between the new development and the existing listed building.
7 Jun 2013
BBC New Broadcasting House, London, UK
Design: exterior – Sheppard Robson / interior – HOK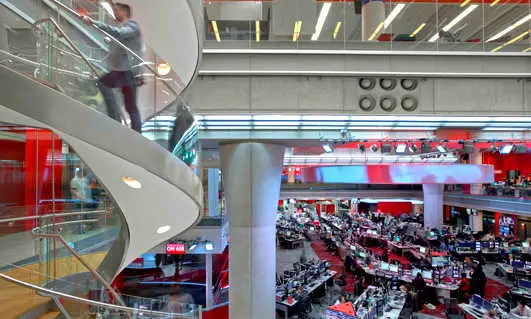 photo © Eric Laignel
BBC New Broadcasting House
HM The Queen officially opened the building: "the new state-of-the-art, multimedia broadcasting centre in the heart of London. This world-class facility is the iconic new home for the BBC's network and global services in Television, Radio, News and Online".
13 Mar 2013
New Istanbul International Financial Center Buildings, Turkey, Asia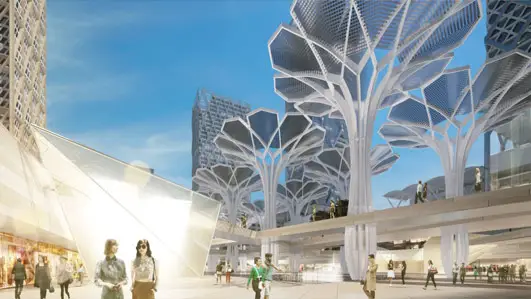 image : HOK
Istanbul International Financial Center Buildings
The Turkish government's goal for the landmark IIFC project is to establish Istanbul as a global center for finance. The IIFC will house the head offices of the country's financial market governing bodies, state-owned and private banks, and related businesses.
27 Nov 2012
HOK Team Selected to Design New Global Hub for Biomedical Research in Italy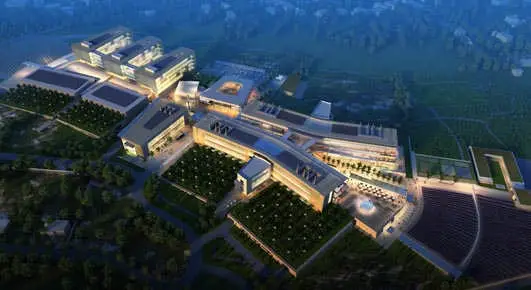 image : HOK
Ri.MED Biomedical Research and Biotechnology Center Sicily
HOK has been selected as lead architect for the Ri.MED Biomedical Research and Biotechnology Center (BRBC) near Palermo, Sicily in Southern Italy. HOK's team was selected from a field of 14 entrants in an international design competition.
Aug 14, 2012
Amtrak Announces Plans to Transform Washington's Union Station into Iconic Transportation Hub



Washington Union Station – image courtesy of Amtrak
Washington Union Station Building
Amtrak recently released a master plan, developed with HOK and Parsons Brinckerhoff, to revitalize Washington Union Station. The plan envisions a vibrant intermodal center with increased capacity and renewed commercial activity. It was developed in collaboration with developer Akridge and several regional transportation agencies.
May 17, 2012
HOK Selected to Design New World-Class Medical School on the University at Buffalo's Downtown Campus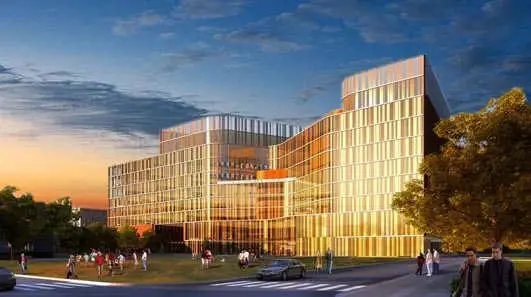 image : HOK
UB School of Medicine and Biomedical Sciences
NEW YORK – After winning a global design ideas competition, HOK has been selected to design the new University at Buffalo (UB) School of Medicine and Biomedical Sciences on its downtown campus. Competition finalists included Pelli Clarke Pelli Architects and Cannon Design, Rafael Vinoly Architects with Foit-Albert Associates, and Grimshaw and Davis Brody Bond.
15 Mar 2012
Fitzrovia Apartments, London, England, UK
HOK



image from HOK, architects
Fitzrovia Apartments
The second and final phase of 50 Bolsover Street is being topped out this week. Fitzrovia Apartments has been designed by architects HOK, with John Sisk & Son as the building contractors. The project is a joint venture between Ridgeford Properties and Manhattan Loft Corporation.
Recent Designs by HOK
Recent Designs by HOK



picture : HOK
More buildings / design projects by HOK architects online soon
Location: international
Architects Practice Information
HOK founded in 1955, formerly known as 'Hellmuth, Obata + Kassabaum'.
Offices in North America, Latin America, Europe & Asia
Buildings / photos for the HOK Architects page welcome
Website: www.hok.com