Houses of Parliament London Building Images, Architecture, Architect, Photos, Shortlist, News
Palace of Westminster London Renewal
Palace of Westminster Renewal: Neo-Gothic Building Restoration – Architects Shortlist
10 June 2022
Palace of Westminster Building Survey News 
Palace of Westminster Building Survey
22 Jul 2017
Houses of Parliament Renewal Contracts
BDP win the Lot 1 architectural contract.
CH2M win for Lot 2 management contract.
Palace of Westminster London Renewal:
Palace of Westminster Building Restoration
24 Oct 2016
Houses of Parliament Location
Rebuild UK Parliament Up North
Former First Minister of Scotland Alex Salmond has said the Houses of Parliament should be rebuilt in Liverpool or Manchester, reports Building Design.
Alex Salmond said the move was needed to "equalise" the economy so it was less dependent on London.
He said: "This place (Palace of Westminster) should become a museum. My advice would be to build a modern parliament in Manchester, Liverpool, somewhere in the north of England – obviously Scotland will be independent by then – to equalise the country.
Salmond opposed the construction of the Scottish Parliament in Holyrood, Edinburgh, when he was the SNP's then leader.
Salmond also said the architect of the Scottish Parliament, the late Enric Miralles, was "in a world of his own" during the parliament's construction and said he felt sorry for RMJM, the Edinburgh architecture practice that partnered on the scheme with the Spanish architect.
He said, "The Scottish Parliament is now obviously terribly popular…Miralles was probably the most impractical man I've ever met in my life…he had no great track record of construction, he won lots of awards and stuff – and, understandably, because he had a sweeping imagination which is evident in the building. Miralles used to change his mind about 30 times a day and fax through the changes to RMJM, the poor people who had to put them into effect."
(Ed. – Alex is correct re the faxes, they even came in after the design freeze!)
Houses of Parliament Relocation article in BD
9 Sep 2016
Houses of Parliament Renewal
Palace of Westminster Building Restoration Update
– Current 'patch and mend' maintenance approach no longer sustainable.
– Prime Minister Theresa May backs moving MPs out of the Houses of Parliament for at least 6 years.
– It will be the first time MPs have moved out since the Blitz.
– Major work to save the crumbling Grade I listed Palace of Westminster scheduled to start in 2022.
– final decision still rests on a parliamentary vote.
– MPs would relocate to the Department of Health while the House of Lords would decamp to the Queen Elizabeth II conference centre in Westminster.

Photos © UK Parliament
Palace of Westminster Building Renewal Details
Major programme of works to Palace of Westminster is essential and progress is urgent to minimise costs and risks
In a report published on 8 September 2016, the Joint Committee on the Palace of Westminster has concluded that the Palace of Westminster 'faces an impending crisis which we cannot responsibly ignore'. There is a substantial and growing risk of either a single, catastrophic event, such as a major fire, or a succession of incremental failures in essential systems which would lead to Parliament no longer being able to occupy the Palace.
Westminster Hall London building interior, oldest part of the Parliamentary Estate: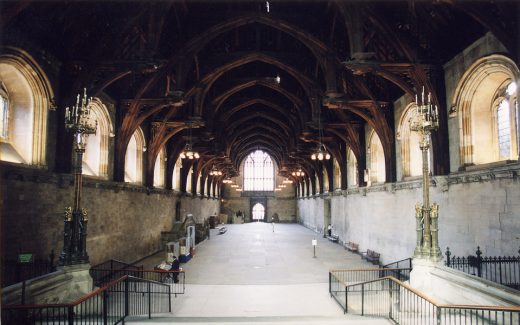 The Joint Committee of MPs and Peers has also concluded that the current 'patch and mend' approach to maintaining the Palace is no longer sustainable and recommends that a major programme of works is now essential and that Parliament must enable the next stage of urgent and vital preparatory work to go ahead so as to minimise costs and reduce further risks.
The Joint Committee, co-chaired by Chris Grayling MP and Baroness Stowell of Beeston, was appointed in July 2015 to consider a range of options and make recommendations on the best way to protect the Palace and to maintain it as a working parliament.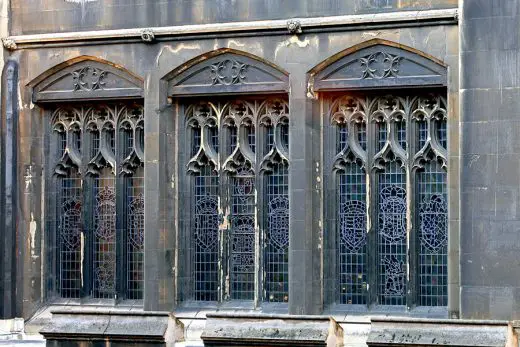 The Palace has not had a major renovation of its mechanical and electrical services since it was built in the mid-1800s, leading to a substantial and growing risk that a catastrophic event such as a major fire, or incremental system failures, will lead to the building being uninhabitable.
The Committee concluded that the lowest risk, most cost-effective and quickest option to undertake these essential works would be for all MPs, Peers, and staff to move out of the Palace temporarily in one single phase. However, the Committee recommends that, first, Parliament should establish a Delivery Authority to develop a full business case and prepare a final budget for Parliament's approval. The next, detailed preparatory stage will ensure that taxpayers, as well as Government and Parliament, can be confident the final proposal is the most cost-effective and will be deliverable before the final go-ahead is given for the works to start during the 2020 Parliament.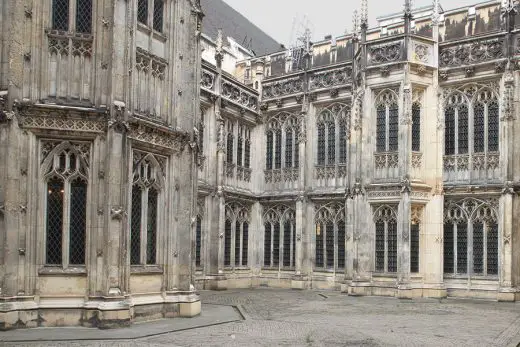 The Committee's main conclusions and recommendations are:
That a clear decision on the next steps is needed now. The report contains a draft Motion recommending that a Sponsor Board and Delivery Authority be established as soon as possible. Once established, the Delivery Authority will produce the detailed business case which will then allow the final budgets to be set.
Subject to further feasibility work, value-for-money assessments and validation by the Sponsor Board and Delivery Authority, the Committee concluded that the best decant solution for the House of Commons would be a solution based around Richmond House and the House of Commons' Northern Estate. The best decant solution for the House of Lords would be the establishment of a temporary Chamber and supporting offices in the Queen Elizabeth II Conference Centre.
The programme will present significant opportunities to engage with small and medium-sized enterprises throughout the United Kingdom, especially those with specialist skills in the heritage and conservation sector. The Sponsor Board and Delivery Authority should consider how apprenticeships and other training schemes could be delivered as part of the Restoration and Renewal Programme, in order to increase capacity in this area and to provide a lasting legacy of skills.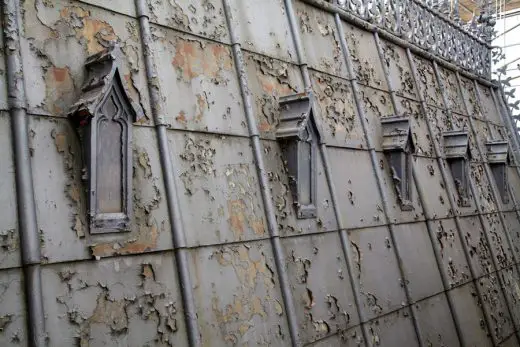 Baroness Stowell of Beeston, Co-Chairman of the Committee, said,
"We must not spend a penny more than is absolutely necessary, but this is now an increasingly urgent problem. We can't put off the decision to act any longer if we are to protect one of the most important and iconic parts of our national heritage. The next phase of work, to be conducted by the Delivery Authority, will be vital in ensuring that Parliament has a fully costed and tested plan for conducting the work, before being asked to give the final go-ahead for the works to start."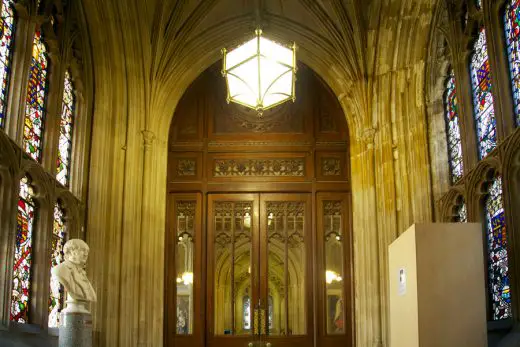 Committee member and Committee spokesperson, Chris Bryant MP, said,
"All the evidence points to having to move out of the whole Palace simultaneously. That is the lowest risk, most cost-effective and quickest option."
source: Houses of Parliament Restoration
14 Jan 2021
Westminster Hall Restoration
Renovations: Perfect Circle and SCAPE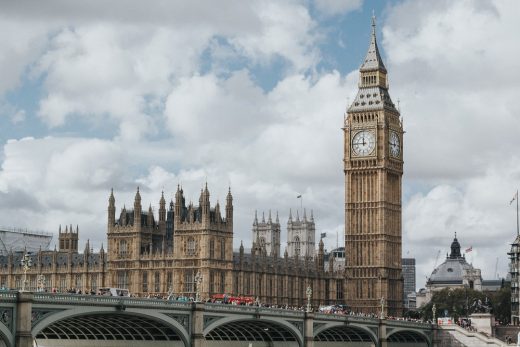 image courtesy of architects practice
Westminster Hall Restoration
3 Oct 2016
Temporary UK Parliament Concept on the River Thames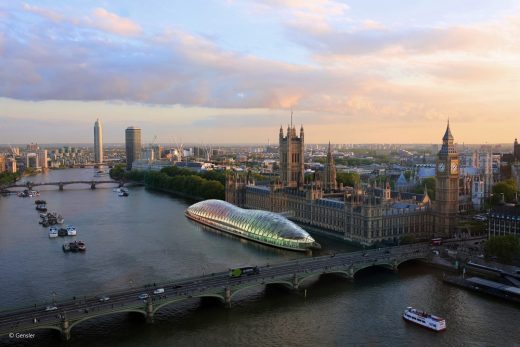 picture © Project Posiedon
Temporary UK Parliament on the River Thames in London
14 Dec 2015
Houses of Parliament Building Renewal
Foster + Partners, BDP, Allies and Morrison, HOK Shortlisted
Foster + Partners are delighted to have been short-listed for the refurbishment of the Palace of Westminster. The building is an exceptional work of living heritage, a symbol for the United Kingdom and a continuing symbol of democracy throughout the world.
The opportunity of turning the magnificent 19th century architecture into a functioning 21st century parliament building within a UNESCO heritage site is one of the most exciting challenges in Britain today.

photo courtesy of architects Foster + Partners
Foster + Partners, BDP, Allies and Morrison, and HOK are the four architecture practices shortlisted to work on the next phase of the Palace of Westminster restoration in a client advisor role.
The teams in the running to offer advice on programme and cost follow on from an independent options appraisal drawn up by HOK which suggested five main scenarios for the overhaul of Houses of Parliament building.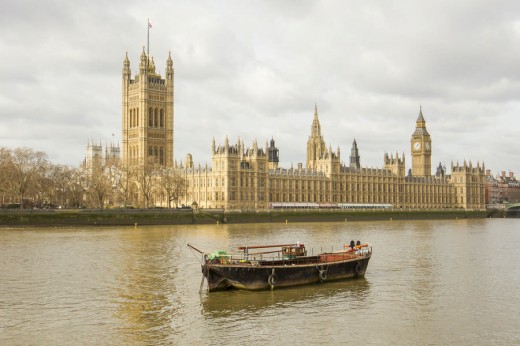 photo from architects
The options range in cost from £3.5 million to £5.7 billion. The appraisal was commissioned at a cost of £2m in 2013. The Grade I-listed Charles Barry-designed building has had no major restoration since it was built and currently has an annual repair bill in excess of £30m.
A decision is due on how the work will proceed in 2016, and construction on the project is set to start in 2020.
Lot 1. Architectural and building design services
• Allies and Morrison
• Building Design Partnership
• Foster + Partners
• HOK
Lot 2. Programme, project and cost management services
• Aecom & Mace (Joint Venture)
• Capita Property Infrastructure & Gleeds Cost Management (Joint Venture)
• CH2M Hill
• EC Harris (ARCADIS)
• Turner & Townsend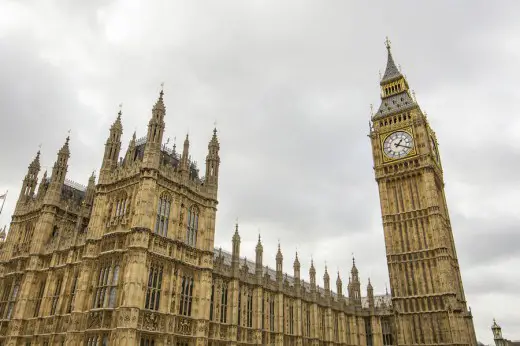 photo from architects
17 Dec 2013
Houses of Parliament Restoration & Renewal
Deloitte Real Estate and AECOM with HOK to support the Palace of Westminster's Restoration and Renewal programme
Today the House of Commons and House of Lords announced Deloitte Real Estate, AECOM and HOK as the team appointed to undertake an Independent Options Appraisal as part of the 'Palace of Westminster Restoration and Renewal Programme'.
Alex Bell, the team's programme director and a partner of Deloitte Real Estate, said: "This is a hugely complex yet fascinating programme at possibly the UK's most famous building and we are delighted to be selected to provide an independent appraisal of the options. Our team – Deloitte Real Estate, AECOM and HOK, have applied our complementary skill-sets to difficult and high-profile real estate challenges across the public sector property portfolio, including Whitehall many times in the past. However, this programme has enthused our team at another level entirely and we are excited to begin."
John Hicks, programme director and head of the government sector at AECOM, said: "AECOM is extremely proud to have been selected to be part of the team to undertake this important piece of work for Parliament, drawing on our extensive experience on complex public sector projects such as London 2012, Crossrail and work on the Pentagon in the United States, as well as our history of work across Whitehall property portfolio. Our team is committed to providing robust data to the Houses of Parliament, enabling them to make an informed decision on a preferred way forward for the restoration of the Palace of Westminster."
Andrew Barraclough, director at HOK, added: "We are delighted to have secured this important commission. Through our work in the Palace of Westminster over the last 20 years we have gained an in-depth knowledge and sensitivity towards the work of Charles Barry and Augustus Pugin; and our aim is to ensure this icon of Britishness is safe-guarded for future generations."
The study will explore a number of ways in which Parliament can remain operational whilst implementing long overdue essential works to protect this important Grade I listed building and UNESCO World Heritage site.
Deloitte Real Estate is providing programme management, report authoring and real estate advice. AECOM is the technical lead providing engineering, cost, risk, programme and construction logistics. HOK is providing architecture and heritage architecture services.
Houses of Parliament Restoration & Renewal – Background Information
The programme has been established to tackle the significant work that needs to be undertaken at the Palace of Westminster. The contract involves the detailed appraisal of three broad approaches to the work:
• continuing repairs and replacement of the fabric and systems of the Palace over an indefinite period of time;
• a defined, rolling programme of more substantial repairs and replacement over a long period, but still working around continued use of the Palace; and
• scheduling the works over a more concentrated period with parliamentary activities moved elsewhere to allow unrestricted access to the Palace for the delivery of the works.
The Palace is a Grade I listed building and, with Westminster Abbey, forms part of the Westminster UNESCO World Heritage Site. Visit the official parliament.uk website for information on the Restoration and Renewal of the Palace of Westminster.
Houses of Parliament Renewal images / information received 171213
Palace of Westminster Building
Photo © Keepclicking – added 10 Sep 2012:
St Stephen's Tower – aka 'Big Ben'

Aerial Photograph looking southeast:



photo © webbaviation
Built: 1840-68
Architects: Barry + Pugin
Large Victorian Gothic Building
Houses of Parliament and Burghers of Calais by A. Rodin







photographs © Nick Weall
Houses of Parliament Building Restoration
Location: Parliament Square, London, SW1, England, UK
London Building Designs
Contemporary London Architecture Designs
London Architecture Designs – chronological list
London Architecture Tours – tailored UK capital city walks by e-architect
Westminster Abbey



photograph © Nick Weall
Another building by one of the Houses of Parliament Architects – Pugin : Hub Edinburgh
Big Ben Photographs [2007] taken with Panasonic DMC-FX01 lumix camera;
Leica lense: 2816×2112 pixels – original photos available upon request: info(at)e-architect.com


Houses of Parliament London : image © Isabelle Lomholt
Houses of Parliament London joint architect : Charles Barry
Houses of Parliament New Zealand in Wellington
Comments / photos for the Palace of Westminster Renewal – Houses of Parliament London Architecture page welcome