Liminal Wolfgang Buttress, River Thames Artwork, London Festival of Architecture News
Liminal by Wolfgang Buttress: Thames Artwork
LFA News for London, England, UK – British Capital Architectural Events 2019
24 September 2019
Wolfgang Buttress River Thames Artwork
London Festival of Architecture and City of London Corporation reveal 'Liminal' by Wolfgang Buttress
Forming an unmissable addition to the London Festival of Architecture's ongoing season of events and installations and the City of London Corporation's outdoor arts programme, Liminal – a major new artwork next to the Thames created by Wolfgang Buttress – has been unveiled opposite the Tate Modern on the north bank of the Thames.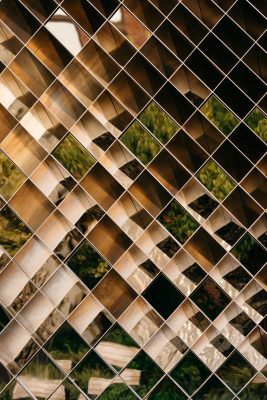 image © Sam Scales
The award-winning artist's site-specific installation is the result of a design competition organised by the London Festival of Architecture and commissioned by the City Corporation, as part of its outdoor arts programme, Fantastic Feats: the Building of London.
Drawing upon the mysteriousness of the Thames that has inspired generations of painters, from J.M.W Turner to Claude Monet, Liminal brings together art, architecture, landscape, science and sound in a unique experience that speaks to both its setting and the curiosity of visitors.
Liminal by Wolfgang Buttress: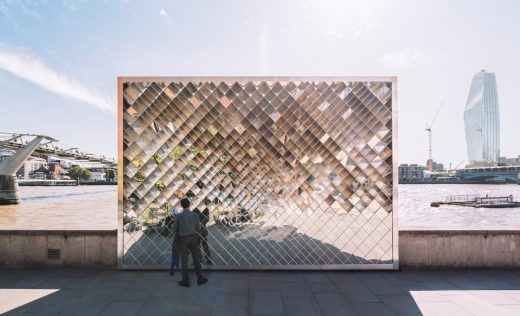 image © Sam Scales
Tapping into the Thames' ethereal qualities which are rarely seen from its surface, the artwork encourages the public to view the river through a mercurial and kaleidoscopic lens, creating an 'architectural painting' of the river and its context. With this, Liminal blurs the boundaries between 2D and 3D, using a variety of mirror, satin and matt aluminium panels to focus and alter viewers' perception and experience of the river.
The 4.5-metre-high sculptural installation delves further into the Thames' depths using sonar data, to encourage real time connections between visitors and passers-by with the water. Liminal will include a downloadable app of the same name– designed by Wolfgang Buttress in collaboration with Hoare Lea – which will be connected to a sonar buoy. This will express the real time movement of river life and currents, sourced directly in front of the sculpture, as light and sound.

image © Sam Scales
Shaping an emotionally engaging experience of the water, the fascinating artwork encourages greater public interaction with what many see as London's biggest physical boundary, the Thames, as it inspires people to pause, reflect and experience the power and beauty of the river.
Having been brought to the capital by barge, Liminal will now be enjoyed by a huge public audience as part of the Festival's growing, year-long presence. The installation is also a key viewing point for Illuminated River, the world's longest public art commission, the first phase of which was launched this summer across London, Cannon Street, Southwark and Millennium bridges. Fantastic Feats: the Building of London, the City Corporation's six-month programme of public events (31 May – 1 December), includes Liminal in its celebration of London's long-standing history of architectural and engineering firsts, which will examine how these innovations have contributed to improving the lives of Londoners over the centuries.
Tamsie Thomson, director of the London Festival of Architecture, said:
"A truly fascinating and imaginative take on the mysterious depths of the river, we're delighted to see Wolfgang Buttress' immersive installation sitting pride of place on the bank of the Thames, reconnecting visitors with arguably one of London's largest boundaries. At the London Festival of Architecture, we strive to champion new perceptions of the familiar, and it's been brilliant to see how Liminal does just this, capturing the river's life, activity and secrets through a whole new lens."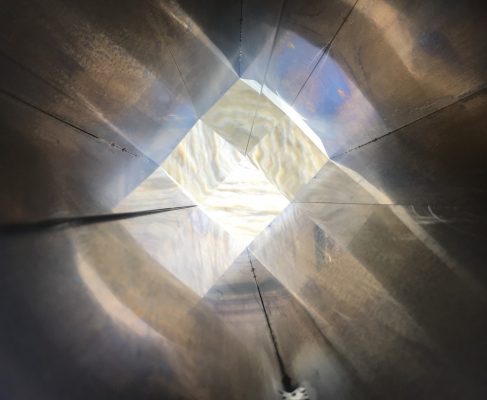 image © Wolfgang Buttress
Wolfgang Buttress, said:
"Liminal expresses my first impressions of the river and suggests the life, mystery and activity that lies beneath it."
Alastair Moss, Chairman of the Planning and Transportation Committee at the City of London Corporation, said:
"I'm delighted to see the fantastic Liminal has been unveiled. It's exciting to have such a magnificent artistic installation on the Thames Riverside Walkway, connecting people to our capital's iconic river. The City has evolved for nearly two thousand years so upgrading our public realm offer has always been an ongoing priority. We want to encourage creative uses of space that can be enjoyed by workers, residents and tourists across the Square Mile."
Sarah Gaventa, Director of the Illuminated River Foundation said:
"One of our aims for Illuminated River was to open up the riverside and create more engaging areas for public use. This installation by Wolfgang Buttress is an excellent extension of this thinking and will help to define the riverscape as a renewed civic space"
Project Data
Artist: Wolfgang Buttress
Soundscape: BE
Sound Design: Hoare Lea
Application Development: Hoare Lea
Graphics: Wolfgang Buttress
Structural Engineers: Price and Myers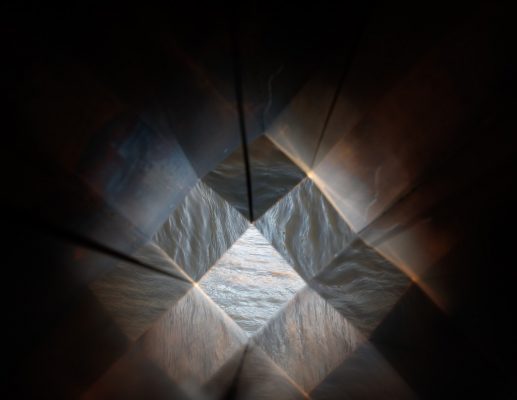 image © Luke O'Donovan
The accompanying Liminal app will be available for download from the App Store or from Google Play from Monday 30 September.
Wolfgang Buttress creates multi-sensory artworks that draw inspiration from our evolving relationship with the 'natural' world. He explores and interprets scientific discoveries, collaborating with architects, landscape architects, scientists and musicians to create human-centred experiences. Wolfgang has produced artworks on four continents including Europe, Australia, Japan and the U.S.
He is well known for the UK Pavilion (Milan EXPO 2015) and The Hive, a collaboration with physicist Dr Martin Bencsik, BDP, Hoare Lea and Simmonds Studio which expresses the life of a bee hive in real time through form, sound and light. The Hive is now permanently installed at Royal Botanic Gardens, Kew, London, England, the project has won 27 national and international awards including gold medal for best in show at World EXPO 2015. Current projects include sculptures in Taiwan, U.S, Australia and United Kingdom.
Twitter: @WButtress
Instagram: @wolfgangbuttress
www.wolfgangbuttress.com
The City of London Corporation is the governing body of the Square Mile, dedicated to a vibrant and thriving City and supporting a diverse and sustainable London within a globally-successful UK. www.cityoflondon.gov.uk
Fantastic Feats: the building of London
A six-month season of events achievements (and failures) of architecture, engineering and invention in the City of London. www.cityoflondon.gov.uk/fantasticfeats
Twitter: @visitthecity
Instagram: @visitthecity
www.cityoflondon.gov.uk
www.visitthecity.co.uk
The London Festival of Architecture (LFA) is the world's largest annual architecture festival, with a mission to support London's architectural and design talent, enthuse and engage with the public, and find new ways to look at familiar places. Every June it celebrates innovation and design through a public programme that showcases London as a global architectural hub and promotes positive change to its public realm. The theme for the 2019 event – boundaries – inspired over 600 events across the capital, attracting over 800,000 visitors and a global audience of 138 million. A year-round programme of design competitions, design charrettes, campaigns and other activities also champions London as the best place in the world to practice and enjoy architecture.
Twitter: @LFArchitecture
Instagram: @LondonFestivalofArchitecture
www.londonfestivalofarchitecture.org
Illuminated River is a free public art project on an unprecedented scale: a scheme to light 15 of central London's bridges along the River Thames with a unified, kinetic LED artwork by artist Leo Villareal, Lifschutz Davidson Sandilands and Signify. The project is being run by the Illuminated River Foundation, a charity set up to administer and fundraise for the scheme. The first four bridges – London, Cannon Street, Southwark and Millennium – were illuminated in July 2019. The second phase of the scheme – including Blackfriars road, Waterloo, Golden Jubilee, Westminster and Lambeth – are due to be completed in Autumn 2020.
Twitter: @IlluminatedRiv
Facebook and Instagram: @illuminatedriver
www.illuminatedriver.london
Previously on e-architect:
6 Jun 2019
London Festival of Architecture City Parklets 2019
Flanders Architecture Institute Exhibition in London
London Festival of Architecture graphic design competition
www.londonfestivalofarchitecture.org
London Bridge Public Realm Competition Shortlist News
London Festival of Architecture 2017
London Festival of Architecture Installations 2016
London Festival of Architecture Installation by Wilkinson Eyre
Festival of Architecture London
London Festival of Architecture
Location: 26 Store St, Fitzrovia, London WC1E 7BT, UK
London Architecture
London Architecture Links – chronological list
London Architectural Walking Tours by e-architect
Coal Drops Yard
Architects: Heatherwick Studio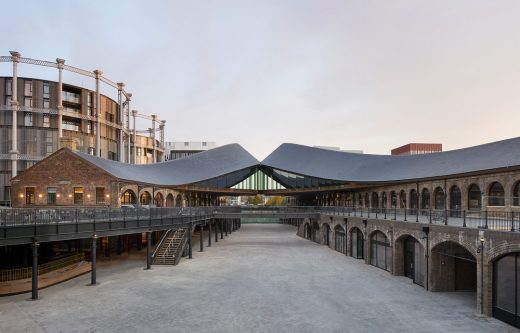 photo © Hufton+Crow
Coal Drops Yard
Bloomberg HQ London – 2018 Stirling Prize Winner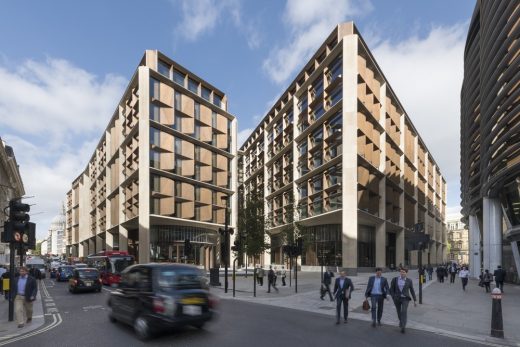 photo © Nigel Young / Foster + Partners
Bloomberg European Headquarters in London Building
London Garden Bridge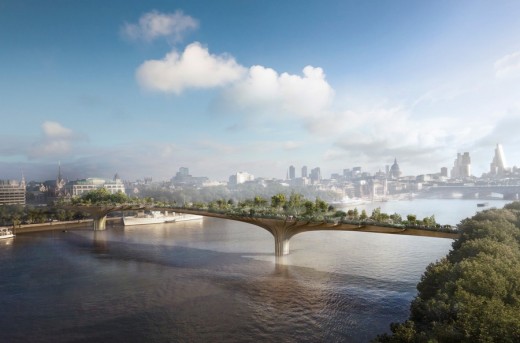 image courtesy of architects
Garden Bridge across the River Thames
Dukes Meadows Bridge, under Barnes Railway Bridge, Chiswick, West London
Moxon Architects / CampbellReith consulting engineers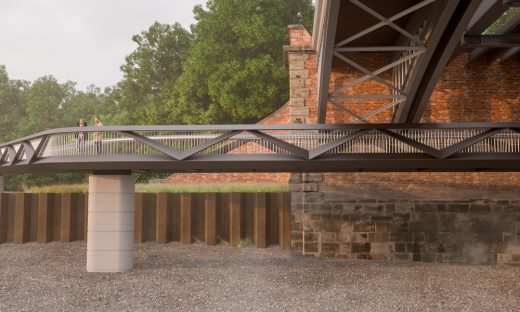 render © Moxon Architects
Dukes Meadows Bridge in West London
Comments / photos for the Liminal by Wolfgang Buttress: Thames Artwork page welcome