London Festival of Architecture 2020, Theme, Covid-19 News, Design Events, LFA Architectural Festival
London Festival of Architecture 2020
LFA News, England, UK – British Capital Architectural Events + Design Contest Shortlist
London Festival of Architecture 2021
25 June 2020
Reimagining Butler's Wharf LFA 2020
Reimagining Butler's Wharf
The London Festival of Architecture and Butler's Wharf Riverside Trust launch a new design competition inviting architects, landscape architects, designers and artists to enhance the riverside promenade at Butler's Wharf.
The competition seeks design solutions that will encourage visitors and residents to use and cherish one of London's most popular riverside spaces. The winning design will be an imaginative response to the site, connecting users to the space, its surrounding river and buildings, and to the site's rich maritime and industrial heritage.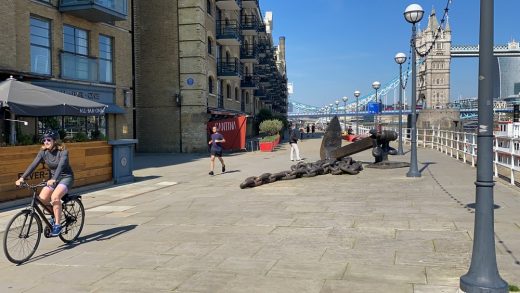 photo © Steven Ehrlich
Reimagining Butler's Wharf LFA 2020
25 Mar 2020
London Festival of Architecture 2020 Covid-19 Update
Delivering the LFA in changing circumstances
The London Festival of Architecture core public events programme for 2020 – due to take place in June – will now be taking place later in the year.
The LFA team is absolutely determined that, as soon as it is possible, the London Festival of Architecture once again fills London's streets and spaces with a celebration of architects and architecture. In the meantime the festival's year-round work – celebrating London and supporting the city's architecture and design sector through competitions and public realm installations – continues.
Tamsie Thomson, director of the London Festival of Architecture said:
"We don't know when the current crisis will be over – but we know that it will be. Until then we're still here, championing London's architecture sector and determined to deliver a fantastic festival as soon as we can. When it's over, we'll be there– even more determined to let Londoners and the world celebrate and explore our wonderful city.
"The London Festival of Architecture is a collective endeavour – delivered every year thanks to the energy, dedication and passion of over 300 organisations from small practices to major cultural institutions. This gives us the resilience and flexibility required to see the current crisis through, and to come through the other end ready to give London and the world another fantastic festival.
"The London Festival of Architecture has changed over the years. We were initially a biennale. Then annual, then a two-week festival, then a month-long celebration. We have always been flexible, and this year we will be something else again.
"We're not going to second guess a global pandemic so cannot commit ourselves to dates at this point. But subject to Government advice, we would hope that the core public programme will take place towards the end of the summer or early autumn. The London Festival of Architecture 2020 will certainly be different but meanwhile, as ever, we're still here, still supporting and still championing amazing architecture in an amazing city."
Any further decisions on the dates and extent of the LFA 2020 core public events programme will be subject to Government guidance and further discussions with key partners. Meanwhile, the LFA team has taken the following actions:
• Late event entry fees have been removed from the LFA website, in order to allow new and existing organisers to continue to suggest new or innovative events for free, without any fixed deadlines or costs.
• The second curation panel has been cancelled (thereby removing an earlier fixed deadline for event proposals). This enables all event organisers to edit and update their events as their plans change and the wider situation becomes clearer.
• The Festival is enhancing its already powerful online and social media presence, and is developing new audio, video and written content through streams such as the LFA Views section on the LFA website, the Architecture Masters podcast, and the Building Sounds Architecture Audio Guide. A new LFA Weekly podcast is now live, engaging people working from home and sustaining the spirit of the festival.
Coal Drops Yard
Architects: Heatherwick Studio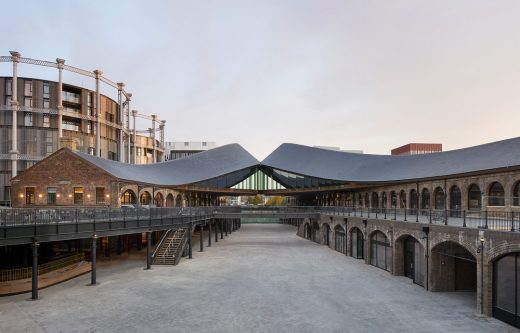 photo © Hufton+Crow
Coal Drops Yard
18 Mar 2020
London Festival of Architecture 2020 Update
Update from the London Festival of Architecture Team
18th of March 2020 – Ever since the London Festival of Architecture started in 2004, LFA have been a champion of the architecture and the architects of our great city. The weeks and months ahead are clearly going to be challenging times for everyone. Come June we think our role in championing the sector will be more critical than ever before.
If at all possible, we still want the festival to take place, perhaps across a longer period over the summer, to celebrate the amazing work that our community has done and continues to do. With lots of us increasingly confined to our buildings, we are all going to be even more receptive to the power and importance of good design.
We recognise however that there may need to be some changes to the way the festival is delivered this year. We are currently listening to our major sponsors –the people and organisations without whom the festival could not financially happen. Please don't hesitate to send us your thoughts too. We will then be in touch with a fuller update.
In the meantime, we are increasing flexibility for all LFA event organisers. We have postponed our Curation Panel that was scheduled for 25th March. All events currently in the system will shortly be editable to allow you to make any changes to your events as the situation develops. We are also removing the late entry fee meaning new events can be submitted for free if you develop new ideas.
We hope this means that event organisers can maintain a degree of flexibility in their festival events. We will provide more information and support in good time to allow people to finalise their events before publication.
We firmly believe in our role in supporting our industry and allowing visitors and Londoners to celebrate, enjoy and engage with architecture and the city, and we will continue to champion, support and celebrate.
Our competitions also continue and we're looking forward to unveiling many exciting installations by some of London's best creative talent over the summer. We also have a number of exciting competitions coming up – keep an eye on our website.
In the meantime, you can keep engaged in the festival through our Views pieces, podcasts, twitter and instagram.
Bloomberg HQ London – 2018 Stirling Prize Winner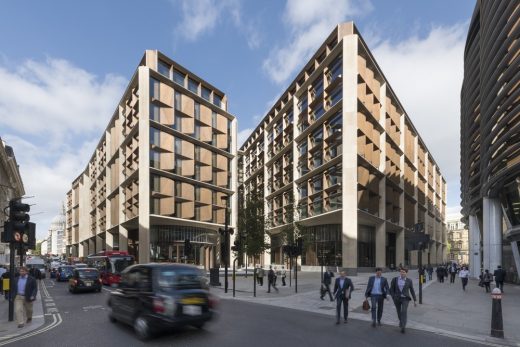 photo © Nigel Young / Foster + Partners
Bloomberg European Headquarters in London Building
26 Sep 2019
2020 London Festival of Architecture News
London Festival of Architecture announces 2020 theme
The London Festival of Architecture (LFA) has announced that 'Power' will be the theme of the next festival, taking place across London from 1 -30 June 2020.
26 September 2019 – The London Festival of Architecture is the world's largest annual architecture event and celebrates London as a global hub of architectural experimentation, practice and debate.
The programme is delivered by architecture and design practices and practitioners, cultural and academic institutions, artists and many others. The festival appeals to a huge public audience: in 2019 a vibrant programme of 566 events attracted over 800,000 people and reached a global audience of 138 million people, making the London Festival of Architecture one of the most important events in the cultural calendar.
Every year the London Festival of Architecture takes a different theme to inspire its programme of public events, and in 2020 will examine power from multiple perspectives. The London Festival of Architecture will open its call for entries in October, inviting anyone with an interest in London and its built environment to respond with ideas for events – from serious academic debate to activities for children, and everything in between.
Tamsie Thomson, director of the London Festival of Architecture, said:
"Today, the order of power is being destabilised, there is a sense that the general public are no longer just captivated by power, but instead, they want some of it for themselves. The power of protest is returning to the foreground of civic life, alongside a rise in populist movements.
"How can we better understand how the balance of power affects the built environment? Firstly perhaps, we need to question; who actually holds the power amongst the web of stakeholders? Does it lie with regulators, planners, landowners, designers or, is the public in ultimate control? Delving deeper we can also question, what is the driving force behind these stakeholders? Where are they taking influence from? And what do they actually want?
"London is one of the best examples of a global city, and it has a scale to match. As we continue build taller is there any truth in the maxim that skyscrapers are just phallic symbols, erected by men with a power complex – or are they a pragmatic answer to planning problems? The UK Government declared a 'Climate Emergency' in May 2019, is there room for imposing symbols of wealth and power in our new sustainable future?
"The theme of 'Power' opens questions about how we can better fuel our buildings. From fuel cells in basements to solar cells on roofs – where does our power come from and who's going to be supplying it? Research points to the fact that the construction, operation and maintenance of buildings accounts for 45% of total UK carbon emissions. For architects, reducing the impact on the environment and biodiversity should be a priority, but are they paying lip-service to their concerns rather than taking in real action? Is there a willingness to make the tough decisions required to change direction or are architects sitting on their hands while our window of opportunity becomes smaller and smaller?
"As a society we've long been fascinated by the power and the melodrama of those who have it and those who want it. Perhaps still the greatest guide to power in the modern world, Niccolò Machiavelli's 'The Prince', tells those in power that it is better to be feared than loved. Have architects lost their power because they want to be loved?
"Historically, those who have held power have made it as visible as possible. Leaders of all kinds – whether religious, regal, political or military – have often demonstrated their power by creating moments of disruption, and moments of awe within the urban realm. A walk through London tells a story of shifting power through its built form: the growth of commerce and the decline of historic power structures. In places that story becomes ambiguous: The Houses of Parliament for example, created as an embodiment of the British Constitution, are shrouded in scaffolding and can be seen as a metaphor for our uncertain and unstable times.
"In the workplace we have also seen power shifts, with companies paying closer attention to the way power is distributed along lines of class, gender and race. The LFA's own Elephant Campaign has drawn attention to how an imbalance of power is a cause of the discrimination and poor behaviours that continue to blight the built environment professions. Despite these moves, throughout society there is still a lot of work to do to challenge preconceptions that still exist about who deserves to hold power, and the importance of feeling empowered.
"The London Festival of Architecture exists to democratise the discussion about architecture and our city. We hope this year will be our biggest conversation yet. If you've got an idea for an event for the 2020 London Festival of Architecture, then we want to hear from you. You have it, and we want it!"
Twitter: @LFArchitecture
Instagram: @LondonFestivalofArchitecture
www.londonfestivalofarchitecture.org
London Festival of Architecture, 26 Store St, Fitzrovia, London WC1E 7BT, United Kingdom
Previously on e-architect:
London Festival of Architecture
Liminal by Wolfgang Buttress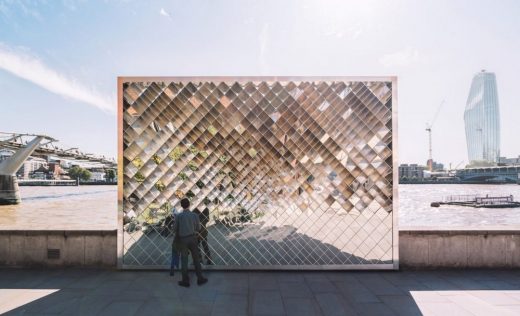 image © Sam Scales
London Festival of Architecture City Parklets 2019
Flanders Architecture Institute Exhibition in London
LFA Thessaly Road Railway Bridge Contest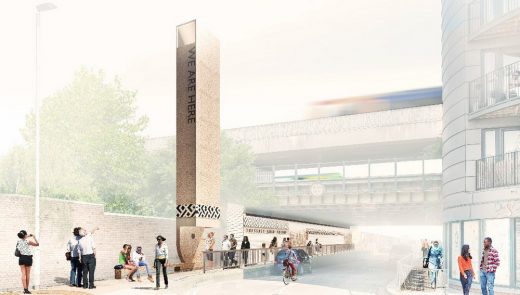 LFA London Bridge Public Realm Competition Shortlist
London Bridge Public Realm Competition Shortlist News
London Festival of Architecture Dulwich Pavilion Shortlist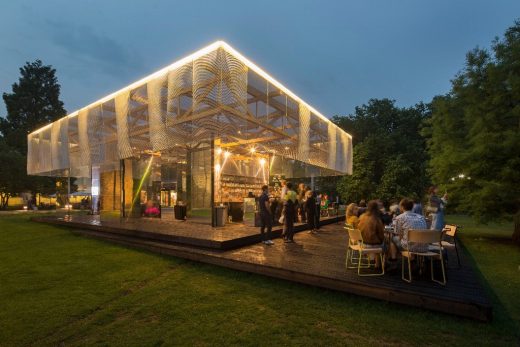 photo courtesy of LFA
Dulwich Pavilion 2019
London Festival of Architecture 2017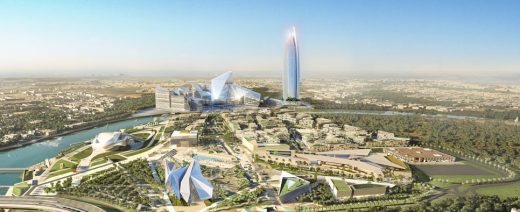 image courtesy of LFA
London Festival of Architecture 2017
London Festival of Architecture Installations 2016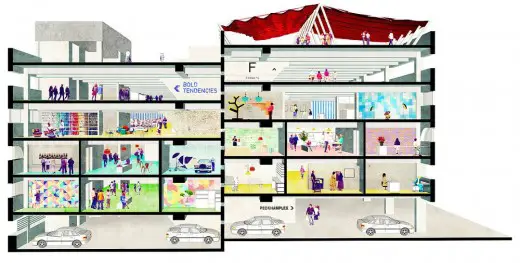 image from RIBA
London Festival of Architecture Installation in Clerkenwell
London Festival of Architecture Installation by Wilkinson Eyre
Festival of Architecture London
London Festival of Architecture
Location: 26 Store St, Fitzrovia, London WC1E 7BT, UK
London Architecture
London Architecture Links – chronological list
London Architectural Walking Tours by e-architect
Universal Works Store , Coal Drops Yard, London N1
Architects: Studio MUTT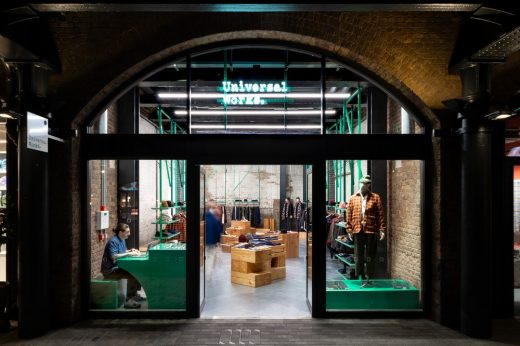 photography : MUTT © FRENCH + TYE
Universal Works x Coal Drops Yard in King's Cross
Agar Grove Homes, Camden, North London
Architects: Hawkins\Brown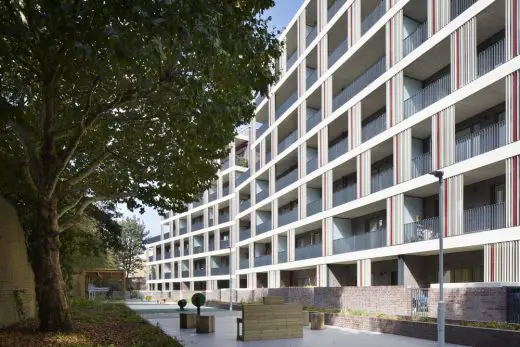 photograph © Jack Hobhouse
Agar Grove Homes
Comments / photos for the London Festival of Architecture 2020 page welcome