Most Beautiful New Casino Buildings in Las Vegas, Nevada Gaming Resorts, US Gambling
Most Beautiful New Casino Buildings in Las Vegas
July 17, 2020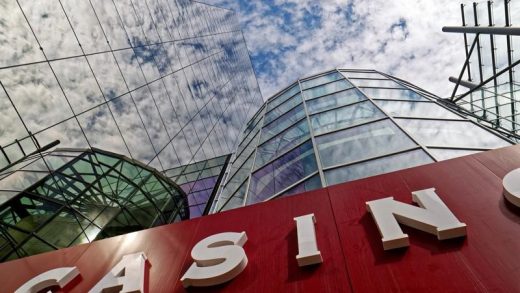 Introduction
Las Vegas is considered to be a city full of glam and a paradise for Punters from all around the world. This city has an array of regional names like "sin city", "city of lights", "America's playground", etc. Many people from all around the world come here to get entertained, spend some quality vacation, and to try their luck in various table games or slots in gambling.
In the year 1931 gambling was legalized by the Nevada state officials. Later in that year, the construction of the Hoover dam had attracted the workers to play there. Later in the 20th century, various businessmen laid their eyes on Las Vegas, as a probable place for attracting tourists. Las Vegas, which once had a limping economy now had started to flourish with the advent of attractive casino buildings.
Various casinos specialize in various fields in means of attracting people-some excel in offering varieties of slot games, some provide excellent food, whereas some casinos have a warm and welcoming gesture that attracts the crowd. However, it is now considered to be one of the most prominent and engaging places for gambling.
In recent times, the boom associated with free casino games no download offered across various online casinos has been remarkable. Most of the leading land-based casinos have made arrangements to leverage the massive range of online customers playing at online gambling markets.
List Of Most Beautiful Casinos in Las Vegas
Some of the most prominent and magnificent casinos in Las Vegas are:
Bellagio Hotel and Casino
It is created by Steve Wynn and is currently owned by The Blackstone Group; this is considered to be one of the most expensive casinos in the world. The architecture has been inspired by the Lake Como resort in Italy. It has a total of 3,950 rooms and a gaming area of 116,000 sq ft. The 8-acre lake and the fountains of Bellagio are few of the most noticeable features of the building.
The high table limits in the poker room encourage the punters in trying their hands at the game. The spacious room has an allotment of 40 table games like Roulette, Card Poker, Baccarat, Caribbean Stud, etc. Some of the slot machines in Bellagio include Wheel of Fortune, Elvis, Megabucks, Anchor's Wheel of Gold, etc. The highest stake games are played in Bobby's Room, named after Bobby Baldwin(winner of world series of Poker Main Event, 1978).
The Cosmopolitan of Las Vegas
Built in the year 2010 and owned by The Blackstone Group this is a magnificent building that is a hotel as well as a casino. The two beautiful towers that rise side by side are called the Boulevard Tower and the Chelsea tower, both of which stand 603 feet tall.
With a total of over 3,000 rooms, 3 pools, 61 floors and a gaming area of 110,000 sq ft The Cosmopolitan is one of the most impressive casinos in town. It also consists of a number of fitness clubs, nightclubs, shops, private terrace, restaurants, etc. The Cosmopolitan of Las Vegas is said to be the paradise for foodies as it has a wide chain of restaurants that serve a variety of dishes. It is a modern-day glass sculpted architectural building that has abstract forms, folding glass prisms, etc.
It has a high limit slot lounge that has 65 latest slot machines. The featured games that they offer are The Vault, Golden Egypt Grand, Buffalo Diamond, Pinball, etc.
Aria Resort and Casino
Constructed in the year 2009 it is located exactly in the middle of City Center. It is the tallest building there with 60 floors and about 4,000 rooms. It has a total of 380,000 sq ft complex that includes several arched corridors, pools, spa, salons, high limit slot rooms, etc. Designed by Peter Marino, this modern architecture that has a layered and three-dimensional structure based building is made of steel and glass.
It has the largest slot machine in Las Vegas. The games that this casino provides are slots like Anchorman, The Simpsons, The Walking Dead II, poker, table games, etc., they also provide race and sportsbooks.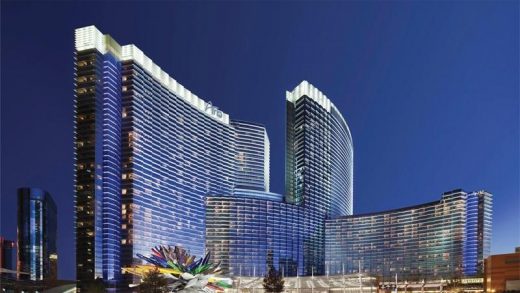 Venetian Casino and The Palazzo
This luxurious casino is the world's second-largest hotel with a 120,000 sq ft casino located in Paradise, Nevada. The sister casino is called The Venetian Macao and is the largest casino in the world. The hotel has been designed by Kling Stubbins who used Venice and its architectural icons like Rialto bridge, Campanile, and the Doge's Palace as a source of inspiration for its architecture.
Many people consider Venetian and The Palazzo to be different casinos, but they are connected by the same gaming license and The Canyon Ranch SpaClub. This casino is best known for 60 high limit table games like Baccarat, Roulette, Blackjack, etc.
Other than that other means of entertainment and various wellness services like yoga pilates, massage, and facials are also provided. They also furnish the facilities of a Finnish Sauna, steam room, a salon, and various other things.
Cromwell Hotel and Casino
This luxury boutique hotel and casino have been established in the year 2013 on the Las Vegas strip in Paradise. It is currently owned by Caesars Entertainment Corporation. With as many as 188 rooms and vintage based elegantly styled interiors, Cromwell is one of the most beautiful casinos in Las Vegas.
The casino has a large gaming area of 40,010 sq ft. It offers a high limit slot area, it features 31 latest slot machines. Some of the slots offered are 3/2 Double Deck Blackjack, Single Zero Roulette, 100X Odds on Craps, etc. The additional means of enjoyment in Cromwell includes cocktail lounges, shops, a pool, restaurants, etc.
Red Rock Casino, Resort and Spa
Constructed in the year 2006, this beautiful building is located in Summerlin South in Nevada. Owned by Station Casinos, it is frequented by the locals. With about 20 floors and 796 guest rooms, it features luxurious suites, 12 meeting rooms, casinos, shopping malls, a pool, a hot bath, etc. The gaming space in the casino is about 118,309 sq ft with modern gambling technologies. The beautiful architecture of the casino has a theme of desert modernism, designed by Portland-based Architropolis, Las Vegas-based The Friedmutter Group, and SADI.
This glistening, ruby-red casino was the second one to be established in Summerlin. It has over 2,500 machines, offers high limit slots, over 60 amazing table games, etc. It is a paradise for punters from all around the world. Some of the table games that it offers are Baccarat, Craps, Pai Gow Poker, Blackjack, and many more.
MGM Grand Casino
Having 32 floors and over 6,500 rooms, this is one of the largest single hotels in America. It consists of various pools, waterfalls, shops, nightclubs, restaurants, etc. This casino is founded by Kirk Kerkorian. This building that was finally made had a theme of the "Wizard of Oz" including the Green Emerald City (the green colour of the building). This hotel and casino are owned by MGM Growth Properties and The Blackstone Group.
This is one of the most beautiful and best casinos in Las Vegas. It offers vast table games like Baccarat, Blackjack, Pai Gow Tiles, Single Zero Roulette, etc. The gaming area in this casino is 171,500 sq ft – the largest in Las Vegas.
Caesar's Palace
Having a Roman architecture this casino is one of the most beautiful ones in Las Vegas. It has been established by Jay Sarno. This 14 story building with about 4,000 rooms and a 15,580 sq ft gaming area is an impressive piece of art. It has over 150 shops, a luxurious mall, fountains, Roman statues(including a 20-foot statue of Augustus Caesar), columns, etc.
It is a paradise for sports betting and table games like blackjack, roulette, craps, etc. It has a 4,500 sq ft 24-hour poker room and has 140 sports seats. The best of the casino's features include a 20 by 50 inch LED board that consists of huge sized foot screens, 12 by 15-foot plasma screens, and various other facilities.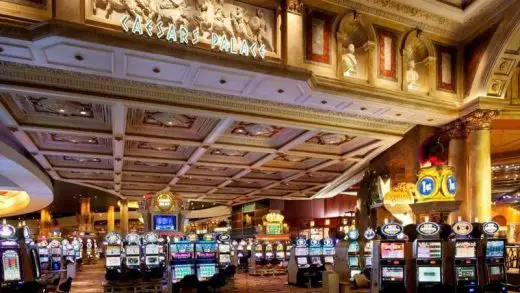 On An Ending Note
There is no shortage of variety of casinos in Las Vegas, Nevada. There is an availability of many casinos in this city depending on one's preferences based on budget, ambience, variety of games offered in different casinos, etc. This city has been undergoing a lot of changes and is in a constant state of evolving from something good to better in terms of casinos.
A lot of new projects and ideas on newer casinos have been coming up in the recent past. Therefore, a lot of beautiful hotels and casinos have been built over the past few years.
However, a lot of new projects have been held up recently due to the unfortunate outbreak of the pandemic, but declarations of new casinos like The Drew Las Vegas, Resorts World Vegas, Circa Resort and Casino have already been made.
Comments on this Most Beautiful New Casino Buildings in Las Vegas article are welcome
Las Vegas Buildings
Las Vegas Buildings
The Luxor Las Vegas:



photo © Joe Lekas
Vdara Hotel Las Vegas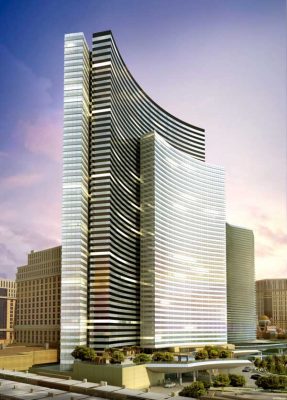 image : CityCenter Land, LLC
Comments / photos for the Most Beautiful New Casino Buildings in Las Vegas page welcome