Kuwait architecture news 2023, New Gulf building images, Middle East construction design photos
Kuwait Building News
Gulf Architectural Photographs, Built Environment Pictures: Architecture Images
post updated 29 August 2023
Kuwaiti Architecture Designs – chronological list
Kuwait Architectural News in 2023
29 August 2023
Coastal Tent House, Al Khiran, Kuwait City
Design: TAEP/AAP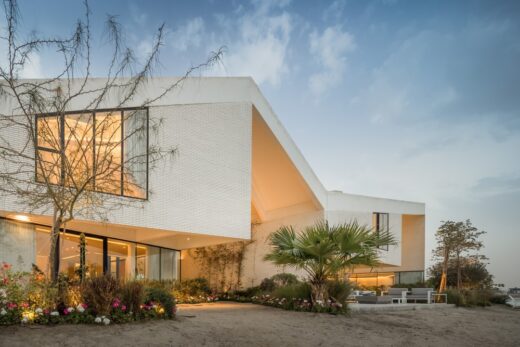 photo : Fernando Guerra, FG + SG
Coastal Tent House in Al Khiran
Inhabitants of the Arabian Peninsula have a long-standing tradition of leaving the cities on holidays often traveling to the seaside or to the desert to set up temporary infrastructures and spend quality time with their families.
11 May 2023
Khaleejia Square
Architects: pad10 architects + designers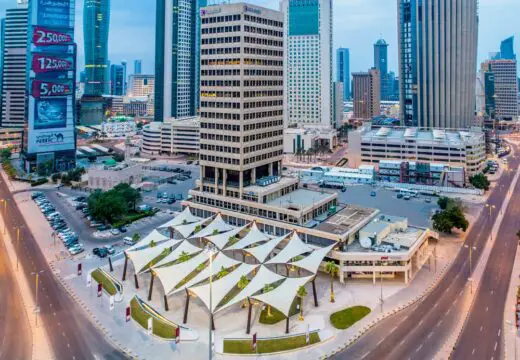 photo : pad10 architects + designers
Khaleejia Square
Khaleejia Square, an alternative beginning of the green belt to the hermetic Shaheed Park, buffers Kuwait skyline from the residential suburbs. A landscape, criss-crossed by multiple paths, connects the site with its city. Inscribed by concrete pathways, hexagonal pods of cobble stones and lawn intertwine to serve multiple users.
10 Jan 2023
Venue V56 Golf
Architects: SHED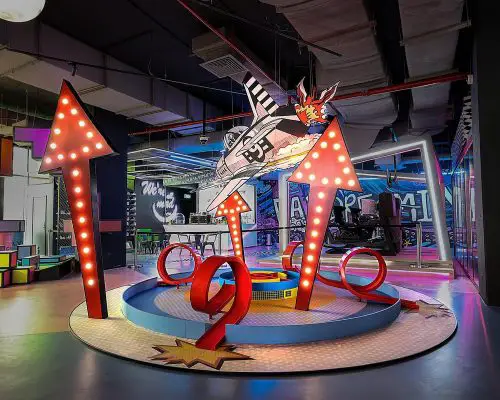 photo : SHED
Venue V56 Golf
Taking inspiration from Hollywood movies, pop art and old school arcade games, Shed has designed Venue 56 Golf to be truly iconic and a stable on the burgeoning Kuwaiti hospitality scene.
Kuwait Architecture News
Kuwait Architectural News in 2022
6 July 2022
National Bank of Kuwait Headquarters
Design: Foster + Partners, Architects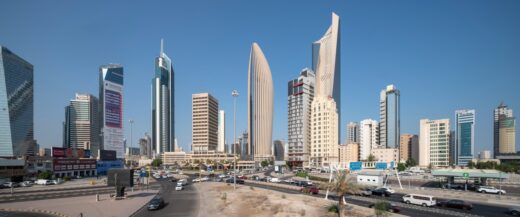 photo © Nigel Young / Foster + Partners
National Bank of Kuwait headquarters building
Foster + Partners has recently completed the new headquarters for the National Bank of Kuwait. Located on a prominent site in Kuwait City, the 300-meter skyscraper has a distinctive presence among the buildings of Sharq, the city's growing financial district.
4 July 2022
Tamdeen Square, Mesillah, Kuwait City
Design: AGi architects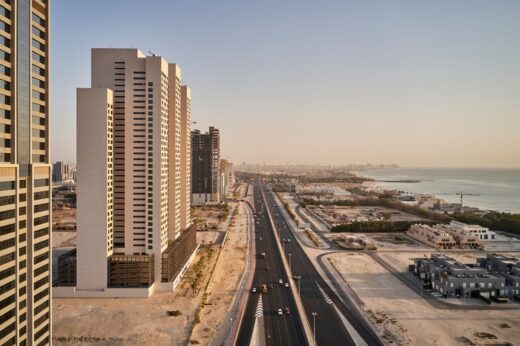 photo : Mohammad Taqi Ashkananis
Tamdeen Square – Mesillah Housing
The plot is situated within a new urban development in the south of Kuwait City, off the Fahaheel highway that runs southward along the seashore all the way to the Arabian border. This is a mix-use area combining low-to-medium-rise residential and retail complexes at its core, as well as a high-rise building line at its eastern limit, overlooking the beachfront beyond the motorway.
2 June 2022
Wafra Wind Tower by AGi architects, among the 20 shortlisted projects for the 2022 Aga Khan Award for Architecture
Design: AGi architects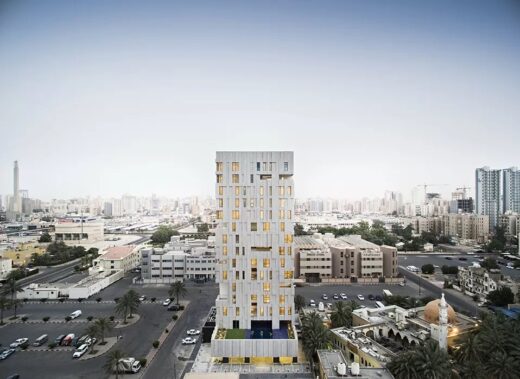 photo from AGi architects
Wafra Wind Tower by AGi architects
The residential building designed by AGi architects in Kuwait, Wafra Wind Tower, is one of the 20 finalists for the Aga Khan Award for Architecture 2022, as announced by the organization today.
9 May 2022
Pearl-Marzouq Complex
Design: pad10 architects + designers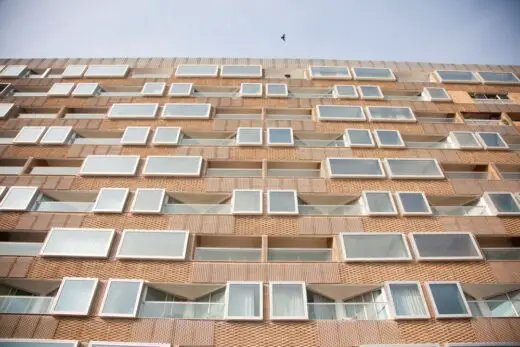 photo : pad10 architects + designers
Pearl-Marzouq Complex
Of resemblance to the social housing typology, Pearl-Marzouq Complex, 'Lou'lou'at Al-Marzouq', embodied the complete opposite; a private housing for the affluent. Built in the early 1970s on al-Ras, a peninsula-like landform; with remoteness from the city center, al-Deira, yet at a distance close enough to be gazed at.
14 Dec 2021
From Mud – Artist Studio
Design: Rawan Muqaddas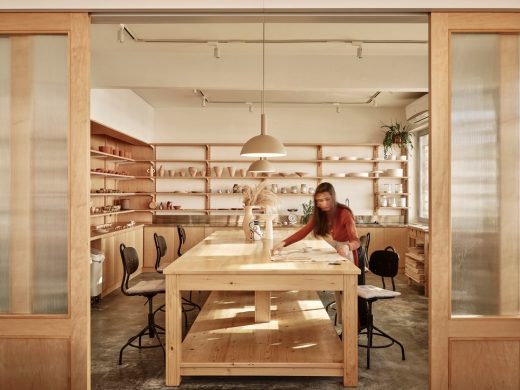 photo : Mohammed Taqi Ashkanani
From Mud, Kuwait City Artist Studio Design
Sitting comfortably on the first floor of a 1967 Modernist building in Kuwait City's textile market, the zen workspace draws inspiration and texture from the beautiful craft of clay and its simplicity. The studio's holistic approach is conveyed through clean lines and a soothing palette that reflects the binding theory behind the studio's own ethos.
More Kuwait Architectural News on e-architect soon
Kuwait Architecture News 2021
25 Nov 2021
Wafra Living, high-rise private residences
Design: AGi architects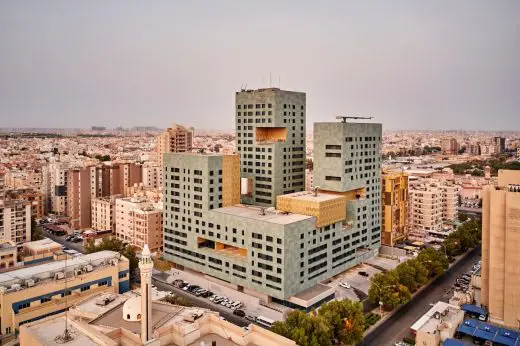 photo : Mohammad Taqi Ashkanani
Wafra Living Jabriya Residential Building
Wafra Living's design by AGi architects proposes an innovative housing organization in Kuwait, a new type of multi-family living as a social response to housing needs in the country. The design is guided by the requirements contemporary life while balancing traditional norms, and reintroduces urban life to the building level.
6 Aug 2021
DUNAS Desert Hotel
Architects: Jasper Architects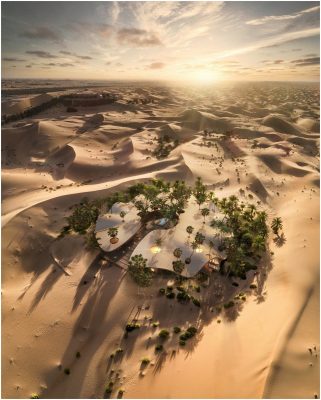 image © Jasper Architects
DUNAS Desert Hotel
Jasper Architects announced winning an international design competition for a hotel located in Kuwait, a country of 4.2 million people that is largely a desert.
More contemporary Kuwait Building News on e-architect soon
Kuwaiti Architecture Updates 2020
2 Jun 2020
Shift Lagree Studio
27 Jan 2020
Three Gardens House, Messila, Southeast Kuwait City
Design: AGi architects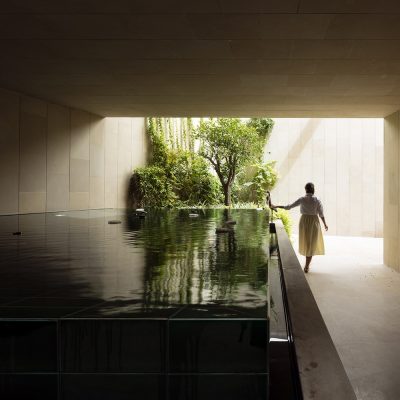 Photograph : Fernando Guerra FG+SG
Three Gardens House
It all started with a question: Are you able to design an outside space that can be used 365 days a year? For moderate climates such as the Spanish it seems quite simple, but in the case of an extreme weather like that of Kuwait it was necessary to think about new strategies.
17 Jan 2020
Mishref Home for Two Brothers in Kuwait City
7 Jan 2020
Tru3 Yoga Studio Ras Salmiyah
More new Kuwait Building News on e-architect soon
Kuwait Building News 2019
21 Oct 2019
Wafra Tower, Hessa Al Mubarak District
Architects: OMA and Pace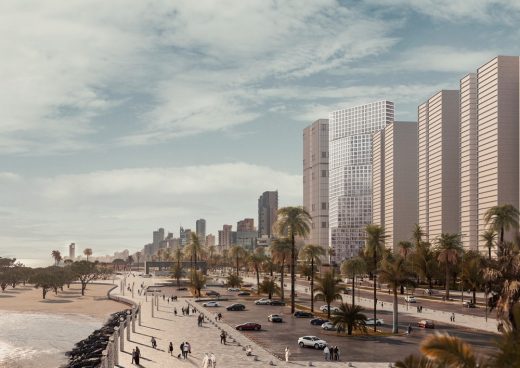 image courtesy of OMA
Wafra Tower
OMA / Iyad Alsaka and Reinier de Graaf, in collaboration with Kuwait-based consultant Pace as a local partner, have revealed their design for the Wafra Tower, a residential tower in the Hessa Al Mubarak District along the Kuwait City waterfront.
5 Oct 2019
Invisible Kuwait Lecture
Rafael S. Portillo is to give a lecture about his work "Invisible Kuwait" for a RIBA symposium in Kuwait, on October 14.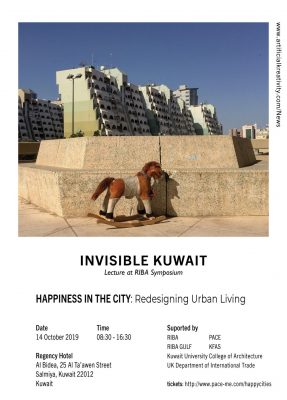 The event is called Happiness in the City: Redesigning Urban Living and takes place at the Regency Hotel in Salmiya.
More information can be found here: www.artificialkreativity.com
Rafael S. Portillo is participating along with KFAS, Kuwait University College of Architecture, PACE, RIBA, OMA, and 12 other speakers during this day long event.
Tickets and event information can be found here: http://www.pace-me.com/happycities
More modern Kuwait Building News online here soon
Kuwait Building News 2018
10 Oct 2018
Rock House, Abdulla Al Salem
Design: AGi architects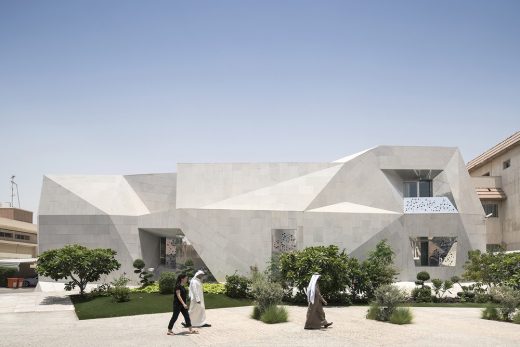 photography : Nelson Garrido
New Home in Abdulla Al Salem
The concept stems from a controversial duality imposed by the clients need for complete privacy as well as the desire for distinguishing the house into an iconic building from within the neighborhood.
30 Jun 2018
Wind Tower Salmiya Shortlisted at World Architecture Festival 2018 Awards
Wind Tower in Salmiya is one of 536 shortlisted entries across 81 countries:
World Architecture Festival Awards 2018 Shortlist
12 Mar 2018
Areia Homes, Sabah Alahmed Alsabah Maritime City, Al Khiran, southern Kuwait
Design: AAP Associated Architects Partnership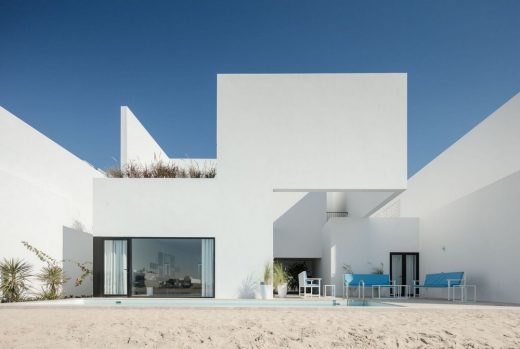 photography : João Morgado
New Homes in Al Khiran
This residential project expands the length of available shoreline, bringing the sea into the desert. The five new residences face the new inner canals overlooking the sea. The series of canals are 'anchored' by docks and marinas and activated by many other recreational activities.
13 Feb 2018
Nirvana Home, Mesillah, south east Kuwait
Design: AGi architects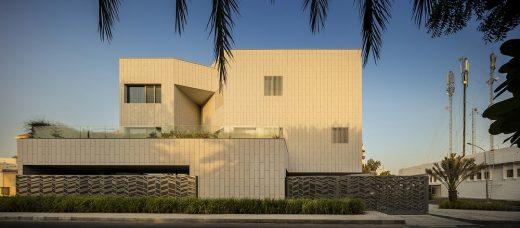 photography : Fernando Guerra FG+SG
New Home in Mesillah
Another large luxurious home on The Gulf coast by this Spanish – Kuwaiti architecture studio. This home has a whole ground floor dedicated to socialising, for the gathering of family and friends. Elegant spaces detach from the surroundings and interconnect through a series of courtyards.
10 Feb 2018
Al Hamra Tower Building Photos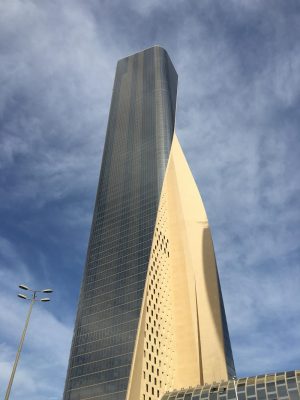 photograph © Adrian Welch, architect
Al Hamra Tower and NBK Tower
5th International Green Roof Congress, Al Shaheed Park, Kuwait City
17th and 18th February 2018
This event will focus on successful solutions for sustainable urban development.
Kuwait Building News 2017
28 Nov + 29 Jul 2017
Wind Tower Salmiya, Kuwait City
Design: AGi architects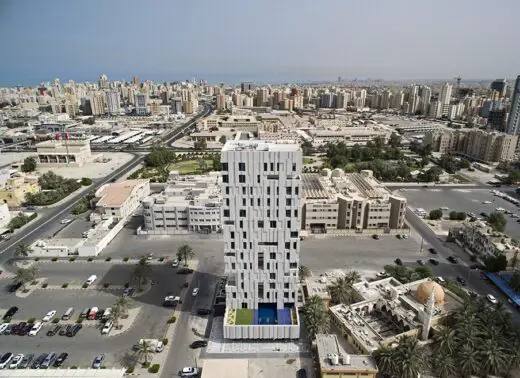 image courtesy of architects
Wind Tower Salmiya
Wafra Vertical Housing introduces a new concept to urban living that adapts to the evolving lifestyle of 21st Century contemporary Kuwait. Considering the increasing demand for land in the city, the transformation of single family dwelling typologies becomes a must, where tenants should be able to enjoy privacy as well as benefit from vertical solution amenities and prime location.
30 Nov 2017
Sheikh Abdullah Al Salem Cultural Centre Building, Arabian Gulf Street, Salmiya, Kuwait City
Architects: SSH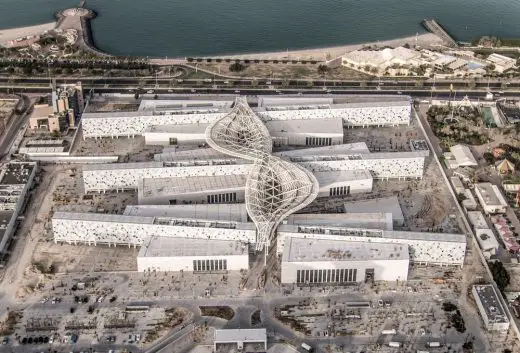 photography : SSH
Sheikh Abdullah Al Salem Cultural Centre Building
The upcoming Kuwaiti museum complex, the Sheikh Abdullah Al Salem Cultural Centre (ASCC), was named Public Building of the Year at the prestigious ABB LEAF Awards 2017.
30 Oct 2017
Mise-en-Scene
Architects: Designlab Experience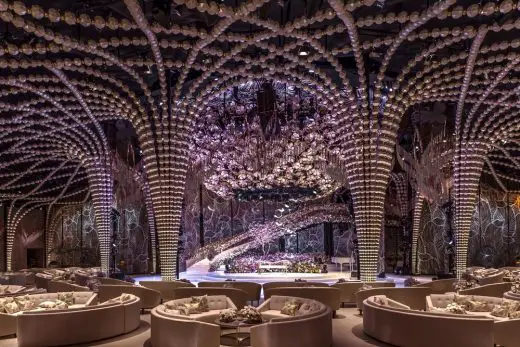 photo : Roberto Conte
Mise-en-Scene Kuwait
The latest in a series of spectacular events designed and produced by Dubai-based Designlab Experience (DLE), took place in Kuwait. The creative starting point for the production – a private wedding celebration – was the ambience and energy of a Broadway show, in which the guests would feel that they were participants. This determined the staging of the event 'in the round', with the bride's kosha (dais) at the centre, doubling as a stage for the entertainment, which was woven seamlessly into the evening's programme.
13 Aug 2017
Crystal Tower, Kuwait City
Design: HOK, Architects
This 52-storey building features a "delicate balance of sharp, angular forms of glass and metal", according to the architects, rises from the city skyline in the Al Sharq district of Kuwait City.
This is one of the most interesting new skyscrapers in the city, mainly due to the unusual open-air sky atrium at mid-tower height. The effect is mesmerizing, a slender skyscraper with a huge hole in its middle! The only similar building I can think of is Arquitectonica's famous Miami apartment block, but the proportions here are very different.
"The design contrasts with the solidity and sweeping contours of the HOK-designed InterContinental Mixed-Use Tower several blocks away. Composed of sloped glass and metal panel curtain wall, the tower features elegant, slender proportions and a compact floor plate."
The Crystal Tower building includes 45 stories of office space, with a multi-level stone and glass podium at the ground level housing a three-story entrance atrium, retail spaces, building services and two levels of underground parking.
A 20-m-tall steel truss spire atop the tower emphasizes the building's dynamic asymmetrical composition.
22 May 2017
Kuwait University, Central Administration Facilities, Shadadiyah
Design: SOM / Pace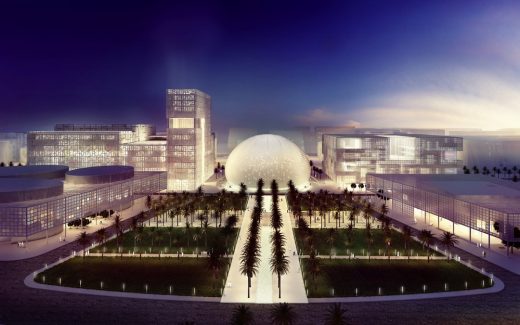 image courtesy of Pace
Kuwait University, Central Administration Facilities
This building design employs a unique shading system to overcome extreme heat. The architectural design ensures each building retains an original and culturally appropriate identity.
19 Apr 2017
Central Bank of Kuwait Building
Dates built: 2005-17
Design: HOK (London) with Pace (Kuwait)
This 240m-high building has become a new landmark on Kuwait City's skyline, acting as a symbol of the country's significant economic power and contribution to the region.
Central Bank of Kuwait Building
10 Mar 2017
Al- Sawaber Complex Demolition News
Inner City Megastructure by Canadian architect and urban planner Arthur Erickson
Final warning to Sawaber residents in Modernist Housing Complex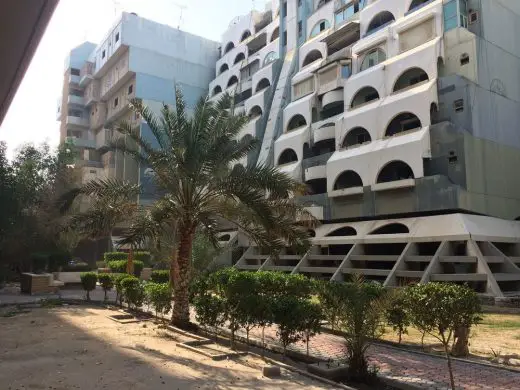 The State property department announced that Al- Sawaber complex must be evacuated starting next week under the administrative evacuation law, reports the Friday Times today.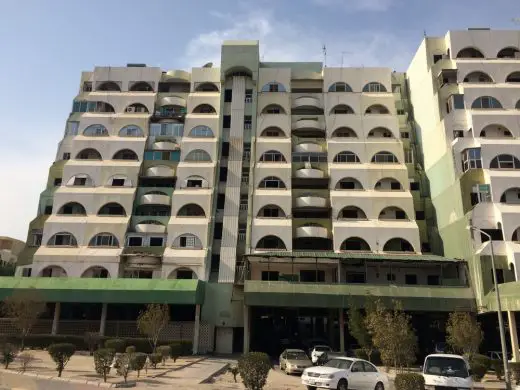 State property department gave residents of 15 flats, whose owners are refusing to hand over three days to process transactions related to reclaiming and receive their financial dues.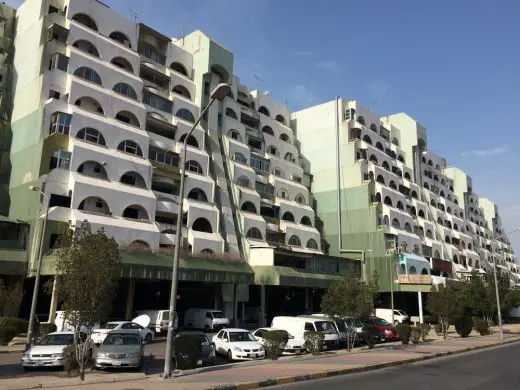 For years, the government has sought means of emptying the complex of residents in order to have it demolished.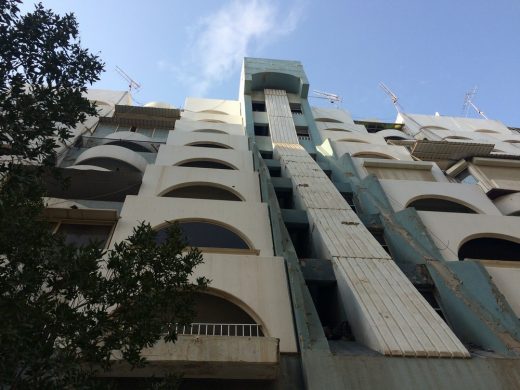 The Cabinet issued a decree for the removal of all remaining residents by March 31, 2016.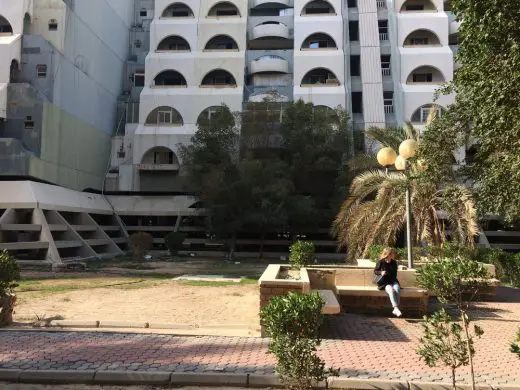 Built in 1981 with designs by famed Canadian architect and urban planner Arthur Erickson, Al-Sawaber represents a distinct architectural, economic and cultural period in Kuwaiti history.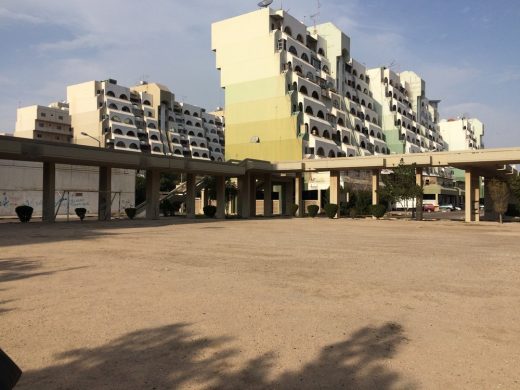 The residential building complex is one of the first high density complexes in the country.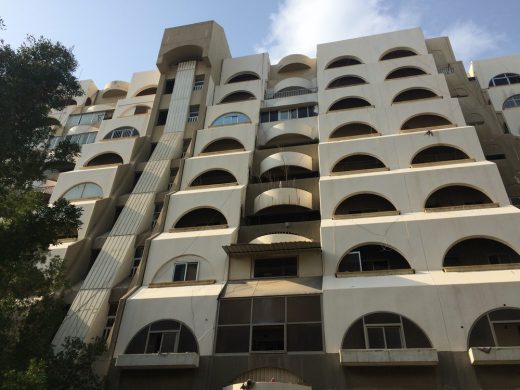 The low-cost homes are located on approximately 245,000 square meters of prime real estate property in the heart of Kuwait's financial district.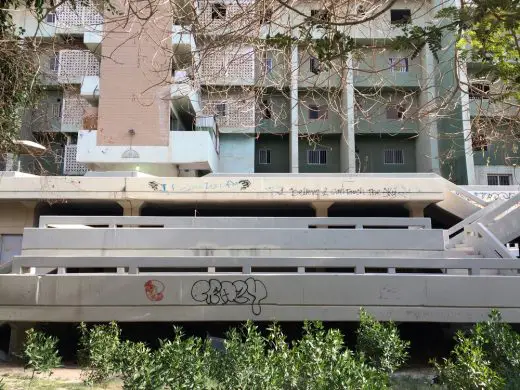 The complex includes 33 buildings and over 520 residential apartments.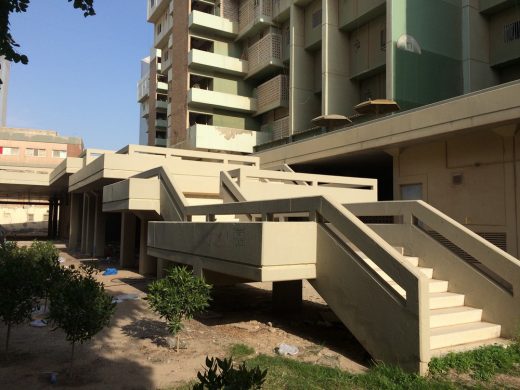 Arthur Erickson designed many large concrete buildings. For me the one that stands out as a megastructure is his University of Lethbridge in Alberta, Canada.
Megastructures were popular building types in the 1960s and 1970s. On e-architect we have posts on buildings in Cumbernauld (Scotland), Beer Sheba (Israel) and Hulme, Manchester (England).
Le Corbusier designed a number of megastructures in Marseille, Berlin and Paris.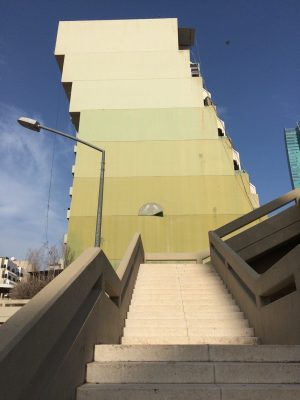 source: http://news.kuwaittimes.net/website/final-warning-sawaber-residents/
Another major building designed by Arthur Erickson in the Middle East is the Etisalat Tower, Baniyas Road, Dubai, UAE (1986), the so-called 'golf ball tower'.
Another major 20th Century building in the city centre:
The Kuwait National Assembly Building, designed by Danish architect Jørn Utzon in 1972: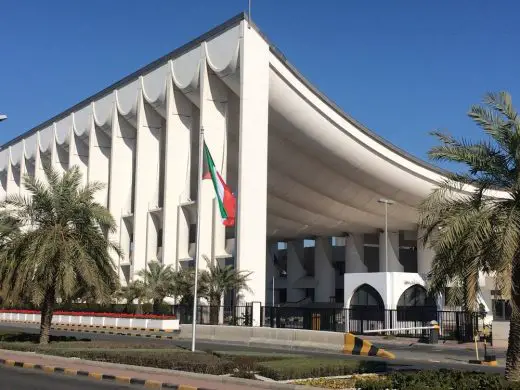 10 Mar 2017
Kuwait International Airport Building News
Design: Foster + Partners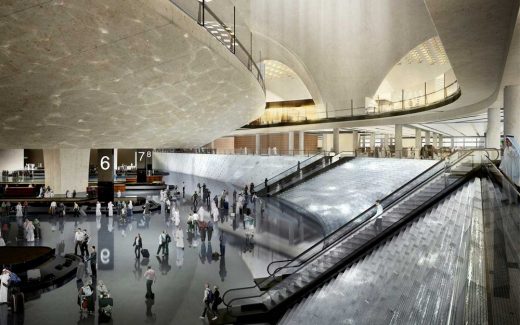 image : Foster + Partners
Kuwait International Airport
A project to build a new terminal in Kuwait International Airport will now be completed in four years.
2 Mar 2017
Three Gardens House, Messila, Southeast Kuwait City
Design: AGi architects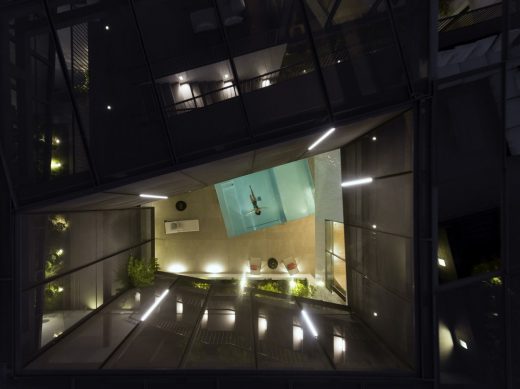 photograph : Fernando Guerra FG+SG
Luxury Kuwaiti Residence
Kuwait Building News Archive
Kuwait Architecture Photos
Kuwait Skyscraper Building Photos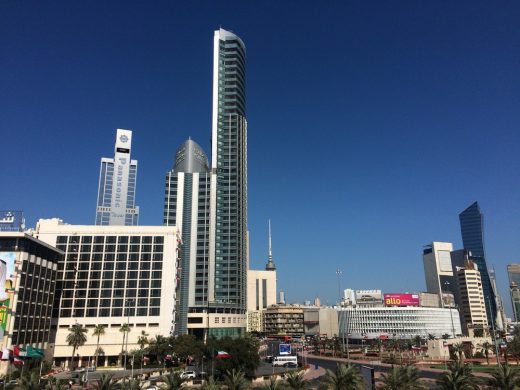 Sheikh Jaber Al-Ahmad Cultural Center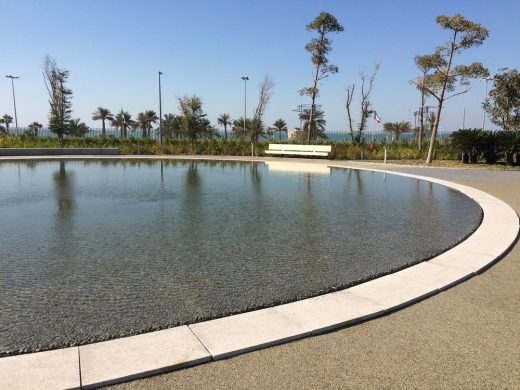 Al Shaheed Park in the evening, with Al Tijaria Tower beyond: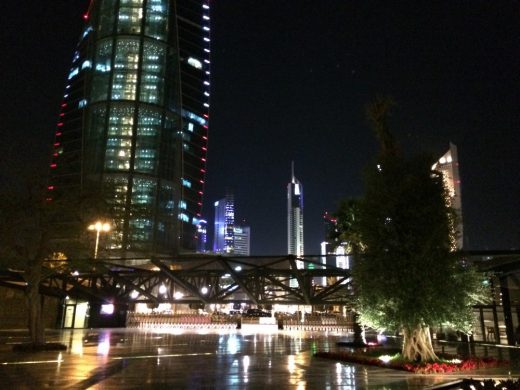 Al Shaheed Park in Kuwait
Kuwait City skyscraper buildings: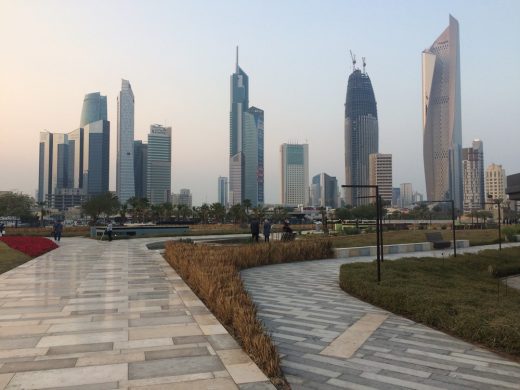 Kuwait Skyscarper Building Photos
Nogra Complex – Hawally shopping centre interior: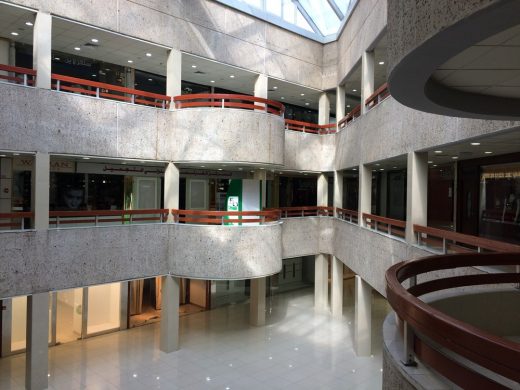 Modern building in Hawally: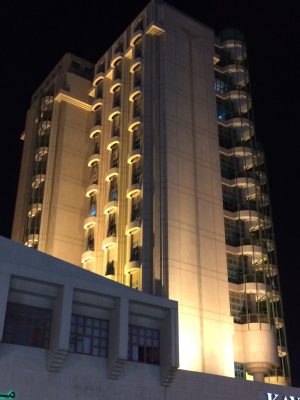 Building on Oman Street: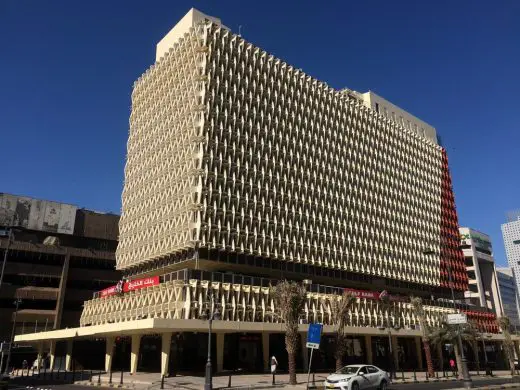 Elegant pared down styling at Kuwait police office building on Soor Street: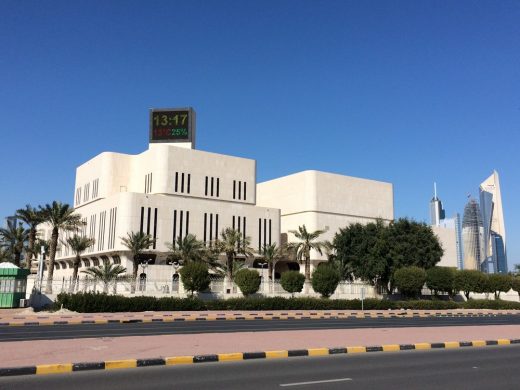 Modernist building in Hawally: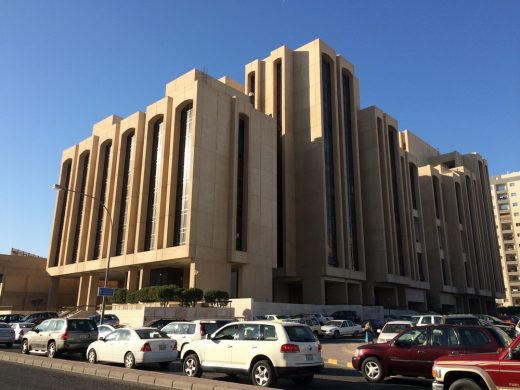 Sheikh Jaber Al-Ahmad Cultural Center Kuwait: JACC News
6 Feb 2017
KUNA report that Kuwait Fire Service Directorate (KFSD)'s teams have put out the fire that broke out earlier in Sheikh Jaber Al-Ahmad Cultural Center in Kuwait city on Monday, without human losses or injuries. Five departments of the directorate took part in controlling the blaze at JACC that caused only material damage in the area.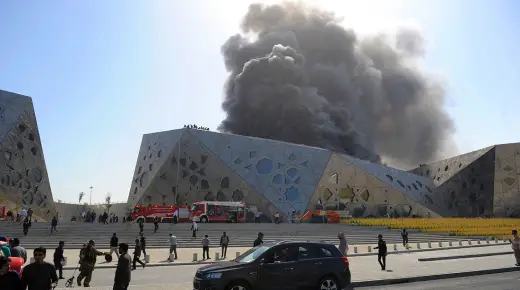 Kuwait Architectural Photos
16 Jan 2017
A selection of architectural images from this Middle Eastern country at the top of The Gulf:
Liberation Tower: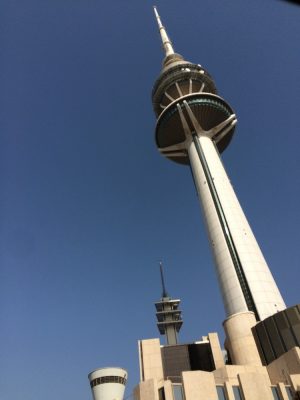 Kuwaiti Architecture Updates 2016
8 Dec 2016
A revisit to this elegant Jabriya residential building in a Modern style: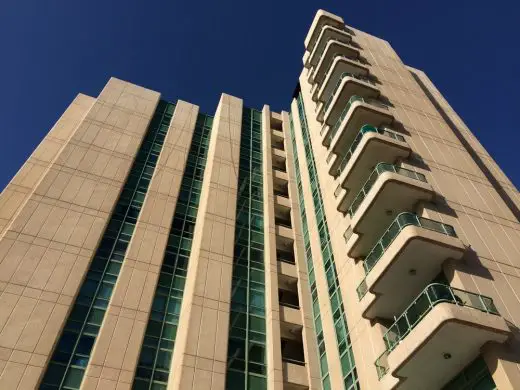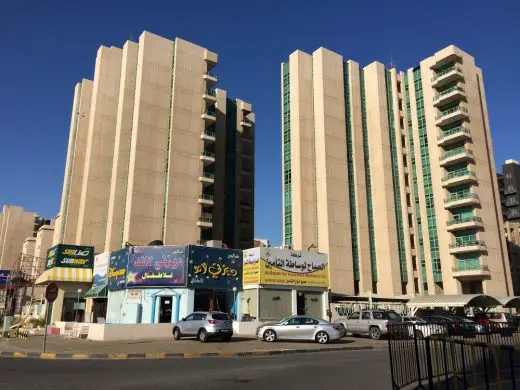 4 Dec 2016
Kuwait City Architecture Photos
Olympia Mall in north east Salmiya: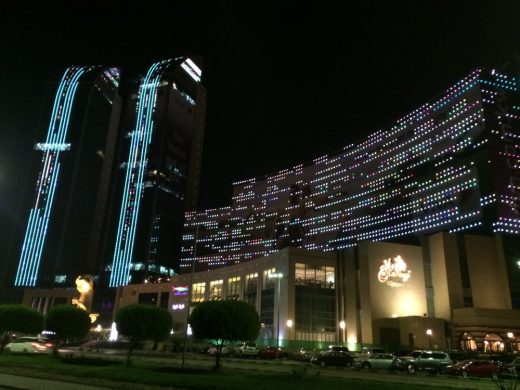 Stylish new office building in Jabriya: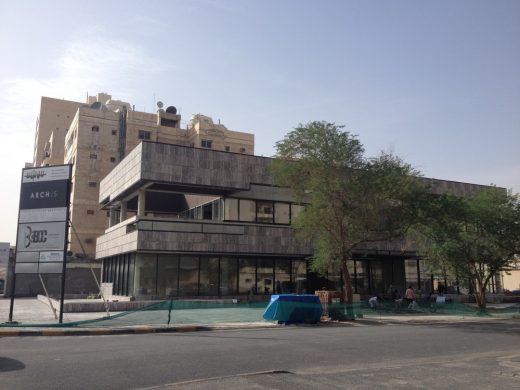 New building on Amr Bin Al Aas St in Salmiya: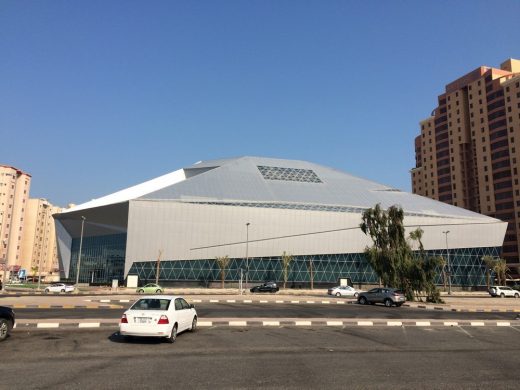 Nogra complex in Hawally: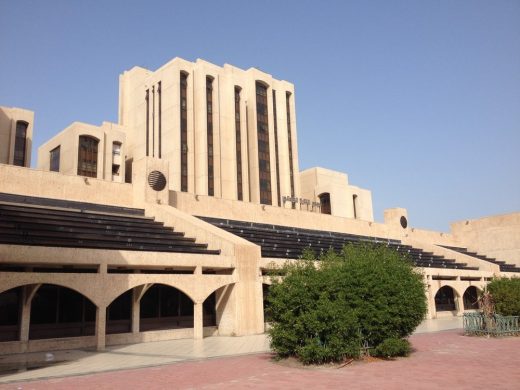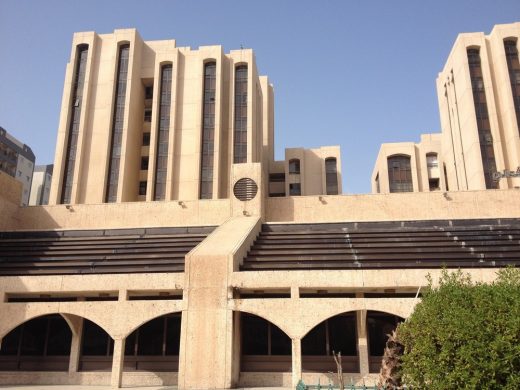 Location: Kuwait City, Kuwait
Kuwaiti Architecture
Kuwaiti Buildings – Selection
Al Hamra Firdous Tower project, Kuwait City
Design: SOM Architects
Kuwait City Tower
Al Sharq Tower Building
Architects: Atkins
Al Sharq Tower
Website: Kuwait
City of Silk, Subbiya, Kuwait Bay
Design: Eric Kuhne & Associates
City of Silk
Dubai Architecture Designs – chronological list
Comments / photos for the Kuwait Architecture News page welcome