Hungary architecture news 2023, Hungarian building projects, Construction design, Property images
Hungary Architecture News
Hungarian Architectural Development – Central Europe Built Environment Updates
post updated 16 November 2023
Hungarian Architecture Designs – chronological list
Hungary Building News
Hungary Architectural News + Key New Property Designs, alphabetical:
18 June 2023
National Athletics Center, southern Budapest
Design: NAPUR Architect Ltd.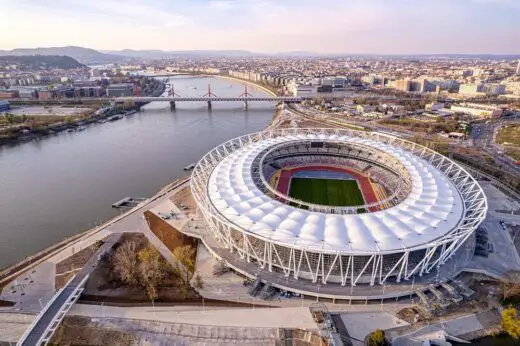 photo : György Palkó
National Athletics Center
13 June 2023
Garden of Communities, Veszprém
Architecture: Hello Wood Zrt.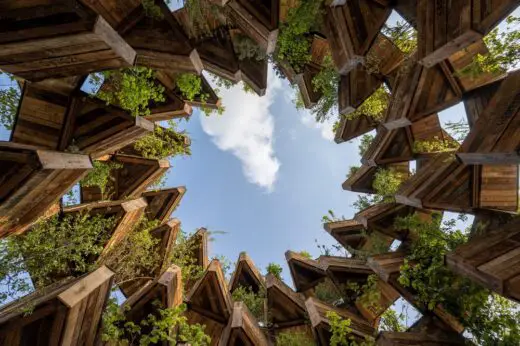 photo : György Palkó
Garden of Communities, Veszprém
Architectural firm, Hello Wood – known for its unique cabin houses and builder festivals – has again designed a spectacular public installation. Placed in the centre of the Factory'ard in Veszprém, The Garden of Communities is an artwork that celebrates the rich culture of the Veszprém-Balaton region.
9 Aug 2022
Rocks on the High Plains – Treehouses Kapolcs, Balaton Uplands
Architecture: Hello Wood Zrt.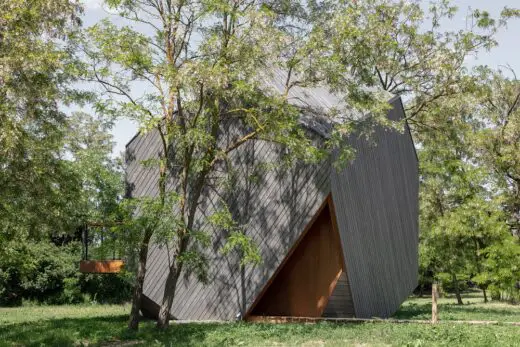 photo : Bujnovszky Tamas
Rocks Cabins, Balaton Uplands
The design cabins of Hello Wood and TreeHouses were built in a hidden corner of the Balaton Uplands. Resolving the problems of the shrinking, ageing population of villages with few job opportunities is one of the challenges Hungary needs to tackle.
29 Jun 2021
Szegzárd Lodge, Tolna
Design: építész stúdió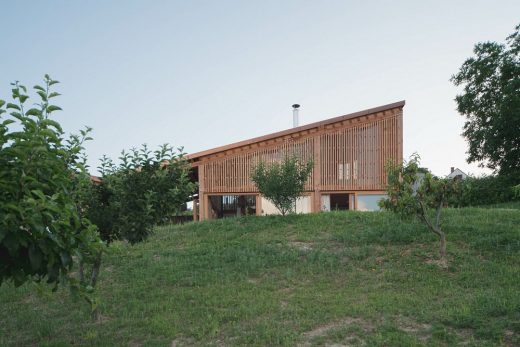 photo : Gergely Kenéz
Szegzárd Lodge
The guesthouses have been built in the area called Bartina of Szekszárd, Hungary located south of Szekszárd-Séd, next to family cellars and wine houses. The units of the building complex are scattered on the 9,000 square meters of the plots.
19 Jan 2021
House of Hungarian Music, Budapest
Design: Sou Fujimoto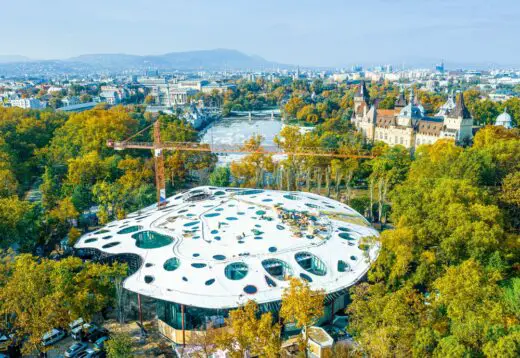 Szigetköz Fotó: Mohai Balázs ; photograph : Liget Budapest Project
House of Hungarian Music
More Hungary Architecture News on e-architect soon
Hungary Architecture News 2020
30 Oct 2020
Saint Gellért Hall Budapest Building
15 Oct 2020
Hatvan Multifunctional Sport and Event Hall, Hatvan
Design: Napur Architect Kft.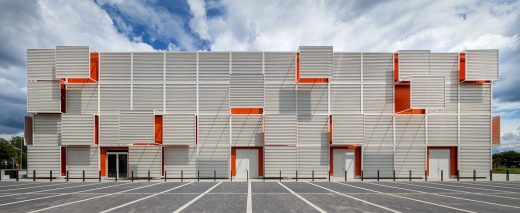 photo : Tamas Bujnovszky
Hatvan Multifunctional Sport and Event Hall
Thoughts and lines assembled into a system – or quite the opposite: disintegrated structure bursted by inner impulses, that is held together by its own gravity? Either solution we choose, the new Hatvan Handball Hall designed by Architects Marcel Ferencz és György Détári is standing in front of us as a moment captured during a course of a process.
post updated 1 Sep 2020
Sauflon Centre of Innovation, Gyal, Pest County
Design: Foldes Architects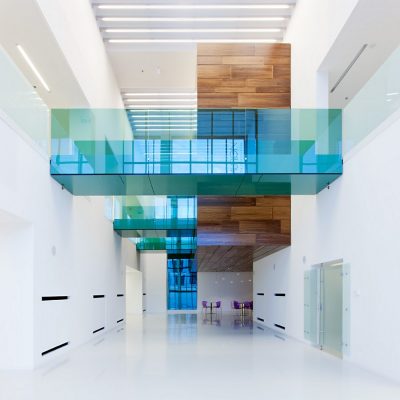 photo : Tamas Bujnovszky
Sauflon Centre of Innovation
The ethereal centre of innovation project, unveiled in Hungary, stands for the mutual inspiration of science, technology and art. A twenty four-meter passage surrounded by the reflections of reflections. Foldes Architects involved a glass sculptor to compose the illusion effects engaging the visual notion of all visitors.
27 Aug 2020
Amplio Automation, Székesfehérvár
Design: T2a Architects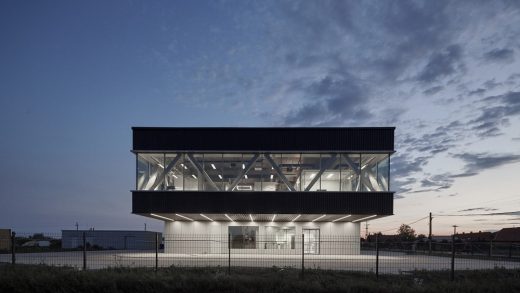 photo : Zsolt Batár
Amplio Automation Building in Székesfehérvár
This building is a rapidly growing "smart manufacturing" automation firm's headquarters designed for the future, now, and tomorrow. Amplio Headquarters is the sort of technologically driven space that a high-tech firm needs, capable of functioning as an office, development lab and factory while running entirely on automation.
18 Jun 2020
Workstation Cabin in Budapest
27 Jan 2020
Textúra Restaurant, Budapest
Design: Hello Wood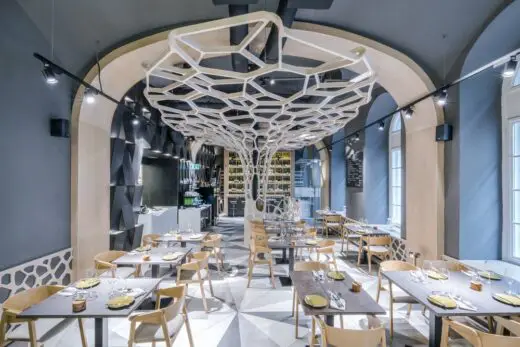 photo : Máté Lakos
Textúra Restaurant Interior in Budapest
Hello Wood uses parametric design elements to bring life to Textúra Restaurant. Fine dining doesn't typically conjure up the words "intimate" and "informal", and yet this was always the goal with Textúra.
8 Jan 2020
The Grand Cabin Club, Csóromfölde
Design: Hello Wood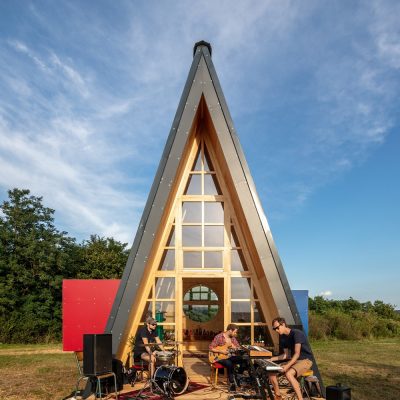 photo : Tamás Bujnovszky
Grand A-Frame Cabin in Csóromfölde
How can you create space for lots of people in a small wooden cabin? The Grand Cabin Club is not a lonely retreat, but a place nestled in the forest which is perfect for socialising, dinners with friends or even house parties.
7 Jan 2020
Art Shield, Vörösmarty square, Budapest
Design: Hello Wood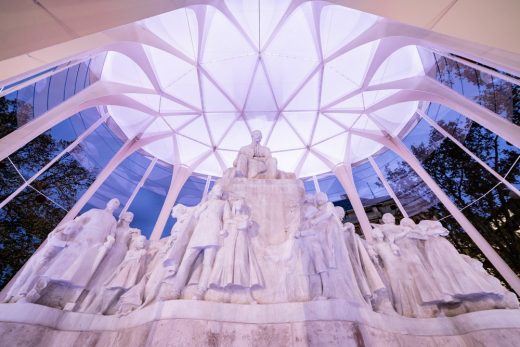 photo : Zsuzsa Darab
Art Shield – Vörösmarty Pavilion
Known for its innovative temporary installations, the Budapest-based Hello Wood Studio has approached the winterization of the monument in Vörösmarty square in Budapest with a fresh, contemporary view. One of the most frequented squares of the city has just emerged refreshed from renovation works, and the monument commemorating the rouser of the nation now also stands renewed.
More contemporary Hungary Architecture News online here at e-architect soon
Hungary Architecture News 2019
10 Dec 2019
Jazz Loft Apartment Building, Budapest
Design: T2a Architects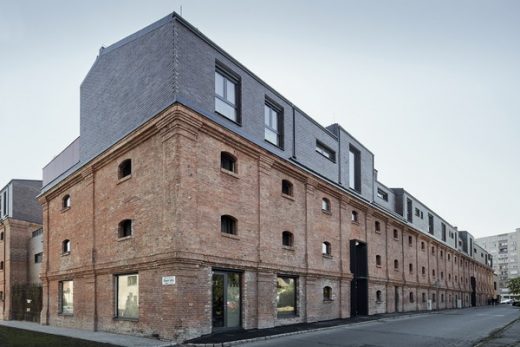 photo © Zsolt Batár
Jazz Loft Apartment Building
Smart and flexible rental housing built near old socialist apartment blocks. It always takes time to make something great, but what surprised T2.a architects about its Jazz Loft Apartment Building project was how a forced break unexpectedly managed to lead to a more refined and rewarding building in the long run.
9 Dec 2019
Pannónia Apartment Building, Budapest
Architects: építész stúdió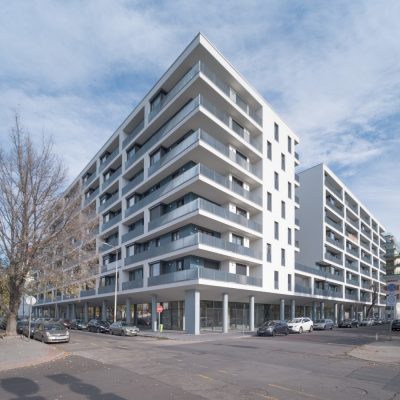 photo © Gergely Kenéz
Pannónia Apartment Building
The Pannónia Apartment Building project is a residential housing development, that fills in a block in the 13th district of Budapest. Above the ground floor, which is occupied by commercial and parking areas, the apartments are clad in simple white plaster on the outside.
22 Oct 2019
Hotel Tokaj
Design: NAPUR Architect Ltd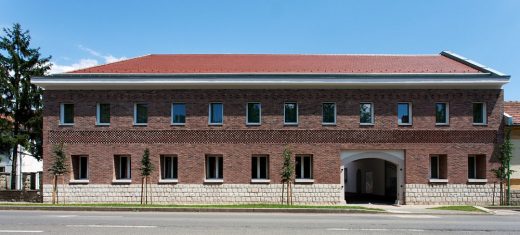 photo © Tamás Bujnovszky
Hotel Tokaj in Northeastern Hungary
During the conversion and expansion of this building the original horseshoe-like construction of the building remained intact. On the eastern side, the building got completed with an additional unit, which lent the structure of the hotel a closed square shape. The resulting framed construction follows the ancient construction of a courtyard house type that fits into the traditional settlement structure.
19 Sep 2019
Bold House, Pest County, central Hungary
Design: B13 architect Ltd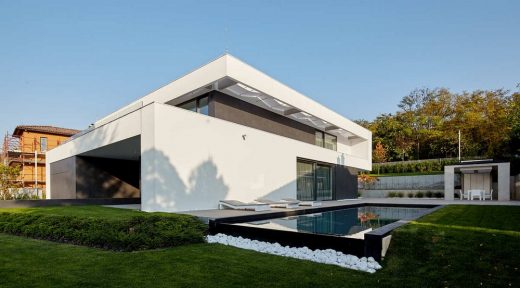 photo : Zsolt Batár
Bold House in Pest County
The word 'luxury' can have quite a breadth of meaning behind it, with each person's understanding of what constitutes something as luxurious being specific to their own tastes.
13 Aug 2019
Hello Wood 10th International Summer University and Festival, Vigántpetend, Csórompuszta
Design: Students from 70 countries & 50 universities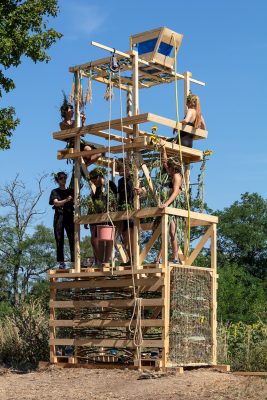 photo © Tamás Bujnovszky
Hello Wood International Summer University and Festival 2019
Hello Wood celebrated its 10th Summer School and Festival with 'new tribe' of international architects and 20 projects.
28 Feb 2019
Veres Residence, Budapest
Design: István Bényei – B13 architect Ltd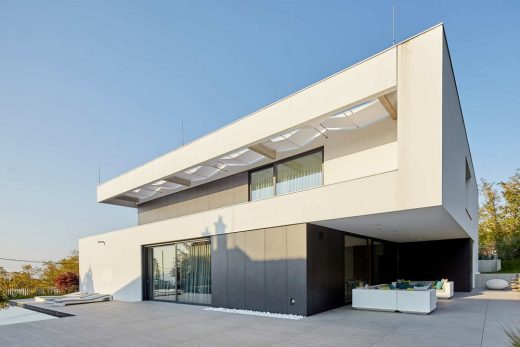 photo : Zsolt Batár
Veres Residence
This new luxury house and garden is suitable for a family of two children, is on a suburban lot with beautiful western-facing panoramic views.
17 Aug 2018
Hello Wood International Summer University and Festival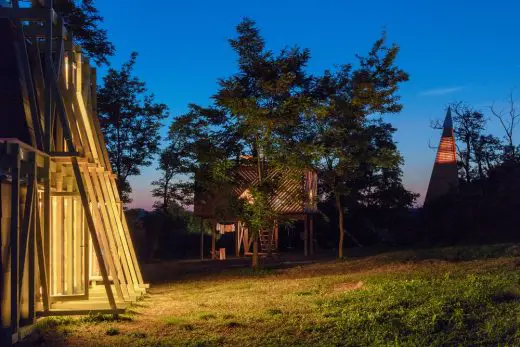 photo © Tamás Bujnovszky
Hello Wood International Summer University and Festival in Hungary
At this year's Hello Wood International Summer University and Festival students got the chance to build seven contemporary cabins. The seven tiny houses built in a week's time under the theme Cabin Fever, include a wool-lined single cabin retreat, a party clubhouse for your friends, and a cabin on stilts.
9 Jun 2018
Algyő House in the Great Hungarian Plain
Design: András Varsányi, Péter Pozsár, Norbert Vas, Architects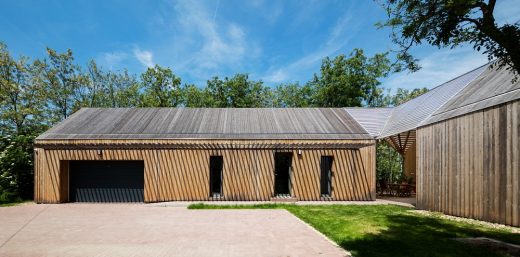 photo © Tamás Bujnovszky
House in the Great Hungarian Plain
Hungarian architects build on the past with this inventive design for a house built in the Great Hungarian Plain, working the important values of folk lifestyles into the structure for a modern rethinking of a familiar concept.
10 May 2018
Central European University – Phase 1, Budapest
Design: O'Donnell + Tuomey, Ireland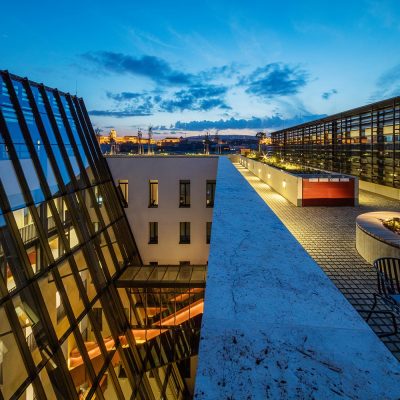 photo © Tamás Bujnovszky
RIBA Awards for International Excellence 2018
A part-new, part-refurbished university campus connecting two of four buildings on the site. The design diagram draws upon Budapest's vernacular and sits neatly within the city's sensitive historical context to knit together several buildings in an internal sequence of spaces and routes.
22 Jan 2017
A Table is a Parliament, Csorompuszta
Design: Martial Marquet, Nicolas Polaert & Vojta Nemec, Architects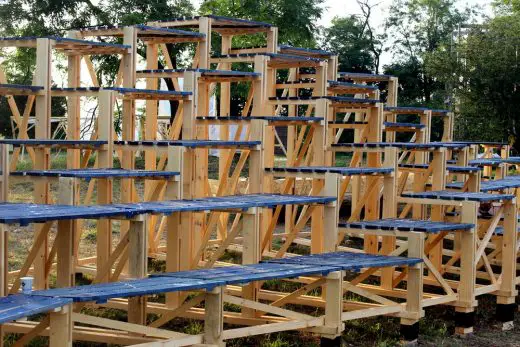 image : Jesus Sanchez
A Table is a Parliament, Hungary
You can sit down by the table at the lower level of the arena structure, share food with others and welcome visitors. It fosters inclusivity, diversity and demonstrates the ritual of welcoming. Here everyone is welcome at the table and welcome to join in the debate. The project aims to rethink the archetypal amphitheatre space.
8 Aug 2016
Campus in Kecskemét, Bács-Kiskun, central Hungary
Design: Lima Design – Zoltan Madosfalvi, Ördög Alíz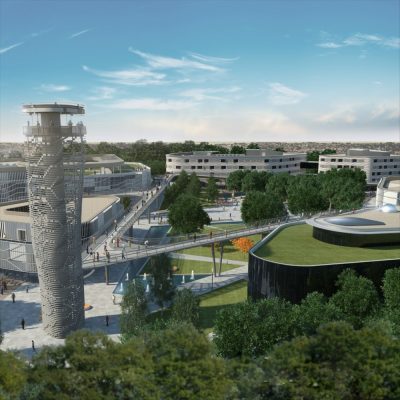 image : Zoltan Madosfalvi, Ördög Alíz
Campus in Kecskemet, Hungary
This Campus is innovative, with lot of new technology. The shape of the buildings is in a modern organic form, including the special blind system, that connects into the intelligent electrical system. That's why the facade of the buildings is always different depending on the sun.
17 Apr 2015
Floating Blocks House in Budapest
Design: Tóth Project Architect Office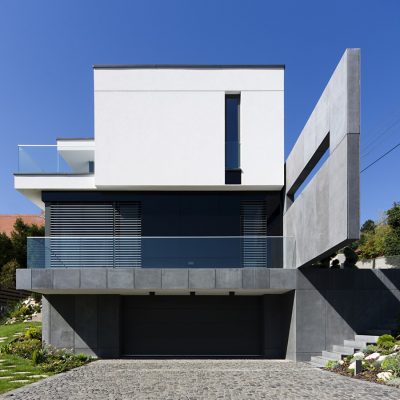 photograph : Tamás Bujnovszky
Floating Blocks House in Budapest
One-family houses, cottages as a style mean a serious challenge for the customer families and the authorized architects as well. The ground-plan layout and the functional connections should get special attention since they should reflect the habits of the family members as their living spaces. After them the other aspects like façade, design should be considered.
16 Apr 2015
Holiday Cottage in Kapuvár
Design: Tóth Project Architect Office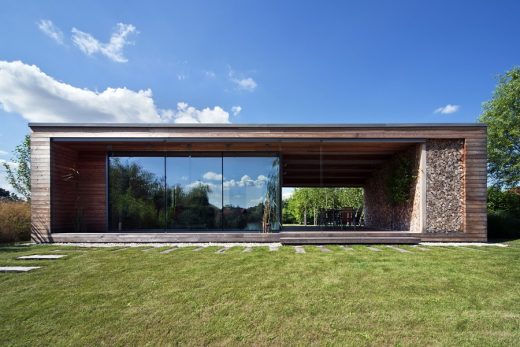 photograph : Tamás Bujnovszky
Holiday Cottage in Kapuvár
The architects imagined a house which is an organic part of its environment, soundly communicating with it. It has a simple form, ground-plan, materials. Indeed, the building is a matchbox standing on one side of it which is pierced through in the middle.
28 Aug 2014
Long Brick House, Pilisborosjeno, Pest County
Design: Foldes Architects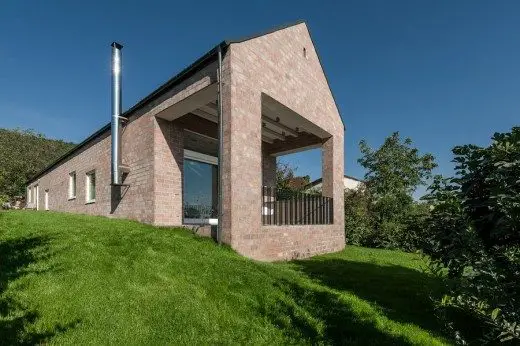 photo : Levente Sirokai
Long Brick House in Hungary
The project initiated by an intellectual couple with a large book collection. The owners of the site had found the best location to retire from work and the noise of Budapest in a rich natural environment, at the side of the Big-Proud Peak.
13 Sep 2013
Kemenes Volcanopark Visitor Center, Celldomolk, Vas County
Design: Foldes Architects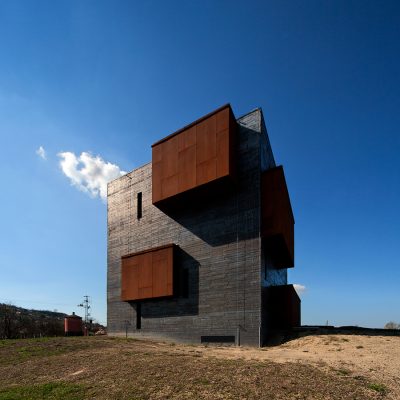 photo : Tamas Bujnovszky
Kemenes Volcanopark Visitor Center Building
Though Hungary, located in Central Eastern Europe, is not rich in active volcanos, a large expanse of the country used to be volcanic some 5 million years ago. However, this does help ensure good quality soil for high level wine production, one of Hungary's largest export products.
5 Jul 2013
Sóskút Residence
Design: Budapesti Mühely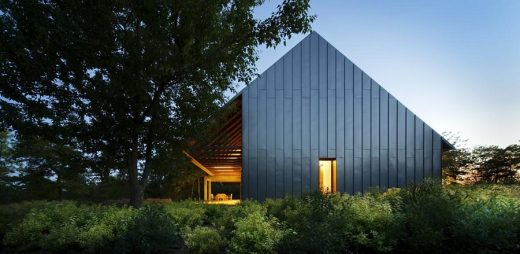 photo : Tamas Bujnovszky
H House
The 3 hectare-site is located 20 km from Budapest at the end of a small village. The 196 sqm building stands on the edge of the flat part of the land facing to the forest on the sloping part.
4 Jul 2013
Weekend House, Kovagoszolos
Design: Borsos Ágnes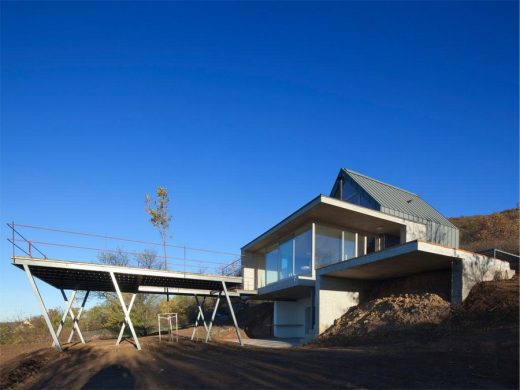 photo : Akos Matetelki
Weekend House in Hungary
Kovágószolos has been identified as the part of the most ancient opened up settlement in the Pécs region so far. A 4000 year-old soil-built Celtic castle proves that it has been a popular settlement among inhabitants since ancient times.
4 Apr 2013
New Generation Headquarters, Zanka, western Hungary (north shore of Lake Balaton)
Design: Modum Építésziroda KFT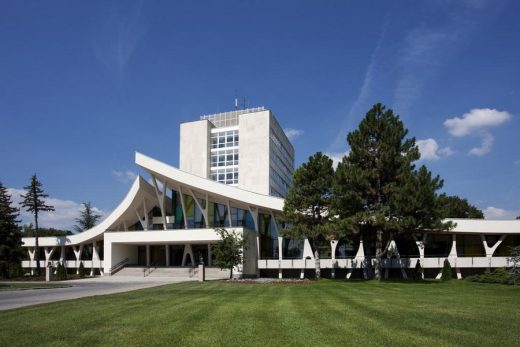 photos : Tamas Bujnovszky
New Generation Centre Building in Zanka
The main building of Zanka's New Generation Headquarters was originally built in the 1970s. Its 7-storey high tower represents a Modernist approach and was built in the Internationalist style typical of the period. The simple, limestone-covered cube was a dominant item of the seasonally changing region of Balaton-Highlands.
21 May 2012
Free Form Buildings 03, Nagykovácsi
Design: Portik Adorján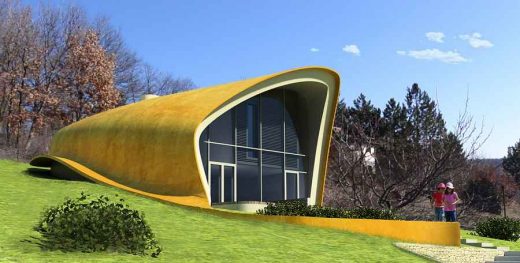 image from architects
Hungarian House Design
It contains – next to the living area – four bedrooms, two bathrooms and the atelier. The internal spaces are arranged in the living area in a high ground-floor – above which is positioned the restaurateur atelier – the bedrooms and the service areas arranged on two levels, divided by generations.
11 Apr 2011
Villa in Szentendre
Architect: Lajos Kuknyó / Architema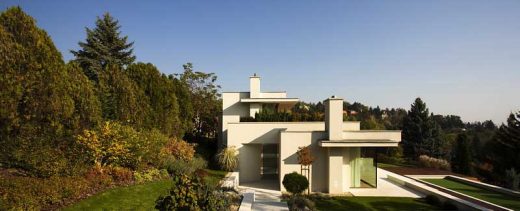 photos : Tamas Bujnovszky
Villa in Szentendre
Set some way outside the urban agglomeration of Budapest, 20 km from the capital, sits the villa in its semi-rural context. The slightly sloping site has a south-easterly aspect, lying at the foot of the Szarvas-hegy (meaning Deer-hill). Its fabulous panorama is crowned by the view of the river Danube.
23 Nov 2010
Pannonhalma Visitors Center Hungary, Győr-Moson-Sopron county, western Hungary
Architect: RS | Roeleveld – Sikkes Architects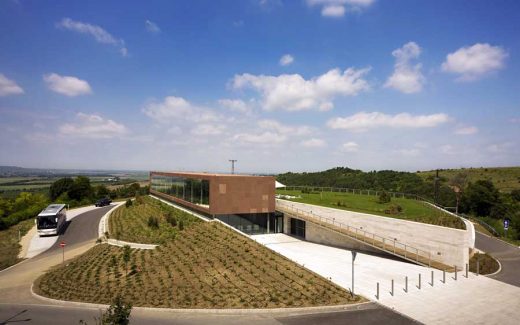 photographs : Tamás Bujnovszky, János Szentiváni, Hans Molenkamp
Pannonhalma Visitors Center
The award-winning design of RS | Roeleveld-Sikkes Architects, based in Budapest and The Hague, emphasizes on improving the union between the various buildings of the monastery. The Pannonhalma monastery has been a beacon for culture and crafts for over a thousand years.
30 Jul 2010
Hotel Balneum, Tiszafüred
Architect: Ferdinand and Ferdinand Architects



image Courtesy architecture office
Hotel Balneum
The idea of the architect was to endow the building with a modern and aesthetic appearance using traditional local materials. That's why light plaster was selected together with ceramic roof tiles and plenty of wood – for terraces, for pergolas and for shields. Thanks to the flood forests – in this part of the country wood has always been available for building village houses.
More Hungarian Architecture News online soon
Budapest Architecture Designs – chronological list
Location: Hungary, Central Eastern Europe
Hungarian Architectural Designs
Hungary Architectural Designs
Hungarian Architect – design firm listings
30 Jul 2010
UNIQA Budapest
Architect: Ferdinand and Ferdinand Architects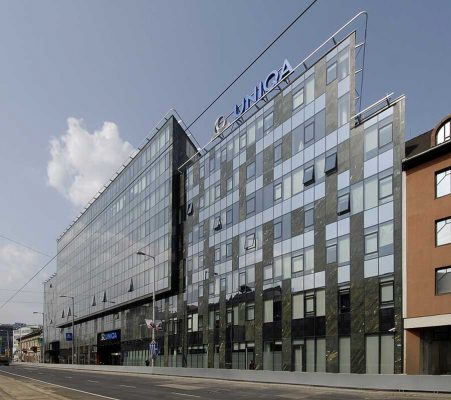 photograph : Istvan Oravecz
UNIQA Budapest
The new head office is located close to the previous one at the junction of two important traffic arteries in District XIII, Lehel út and Róbert Károly körút. The office building was constructed by property developer Raiffeisen Evolution in 22 months.
Comments / photos for the Hungary Architecture News page welcome