Hello Wood Summer Festival 2019, Small Hungarian Building Installations, Photos
Hello Wood International Summer University and Festival
Architectural Installations in Hungary – collaborative wooden architecture
13 Aug 2019
Hello Wood International Summer University and Festival 2019
Design: Students from 70 countries and 50 universities
Location: Vigántpetend, Csórompuszta, Hungary
Hello Wood 10th International Summer University and Festival
Unleashing the superpower of the architect
Hello Wood celebrated its 10th Summer School and Festival with 'new tribe' of international architects and 20 projects
The Hello Wood Summer School and Festival has expanded over the years to build up a lot of recognition internationally within the architecture community, with previous years having more than 1000 participants from across 70 countries and over 50 universities take part in Hello Wood's educational event.
Brugga: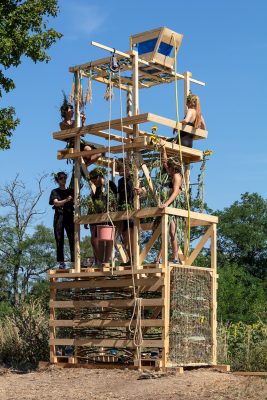 photograph : Tamás Bujnovszky
By looking to the future and adopting an attitude of rebirth, a large part of the tenth anniversary of the festival was about criticism of the stereotypical role of the architect – one that is constrained by expectations and deadlines – while searching for the true superpower of those that want to make a change with a free spirit. Twenty workshops led by a truly global group of professionals helped to celebrate the decennial with their unique takes on the transformation of the architect. As a result of a series of rites and ceremonies that included the building of 20 installations, the week aimed at setting participants free to follow their dreams.
Ludus: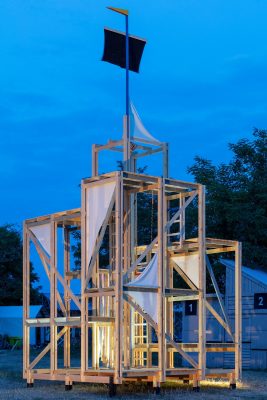 photograph : Tamás Bujnovszky
"When we choose to become an architect, we choose creativity, dreams of making a change, colors, humor and a little bit of craziness. In spite of these desires, we end up in an uncomfortable black turtleneck, desperately trying to meet deadlines and expectations, full of self-doubt about our talent and abilities," says Peter Pozsar, co-founder of Hello Wood who leads the organisation jointly with András Huszar, David Raday and Krisztian Toth. "This year, we decided to reverse this and liberate the participants through the framing of a carnival for architects to find their way back to their superpower."
Manifesto Of Architectural Autonomy: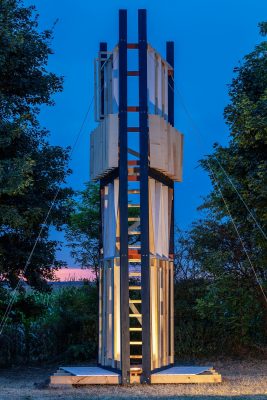 photograph : Tamás Bujnovszky
To achieve this goal, this year's Summer School and Festival started with an initiation ceremony so participants could free themselves from the stereotypes and some of the dated concepts of an architect and architecture. To symbolise getting rid of these shackles, attendees were asked to bring a black turtleneck, a metaphor of the tight constraints and styles that are so commonplace among architects.
Each attendee was asked to remove their turtleneck and attach it to a large wooden frame – located symbolically far from the main action of the week – where they were all displayed for the whole week as a deterrent of the typical attitudes and frustrations that architects must endure daily. This act was symbolic of the creation of a new 'tribe' of architects withdrawn from their misplaced and disguised identities, resisting anxiety and embracing the present wholeheartedly, creating an open state of mind where participants could freely create architectural structures.
Mjölk: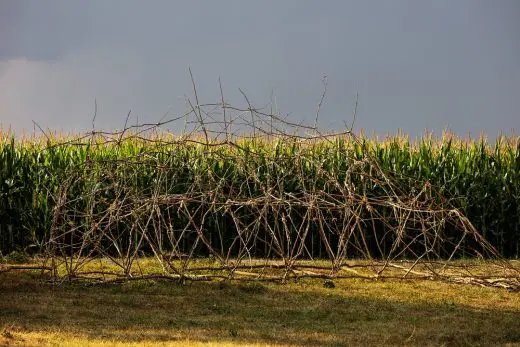 photograph : Tamás Bujnovszky
After the initiation rite, the gathering of students and architects worked over the course of a week on their installations. The construction process was the means for everyone to find their way out of their masked personality as a professional. While searching for the essence of their profession, their approach was twofold: some adopted the strategy of rephrasing a sort of architectural manifesto, others decided to approach the task spiritually and turned towards the world of our ancestors.
The latter typically created tribal projects, for instance building a tower of witchcraft using rituals of nature, a portable and communal thatched roof, or a plastered furnace. Others turned towards sacrality, such as a temple devoted to partying or a portable confessional booth built like a sedan chair and a neo-postmodern pantheon where anyone can be the object of worship.
Pacha K'anchai: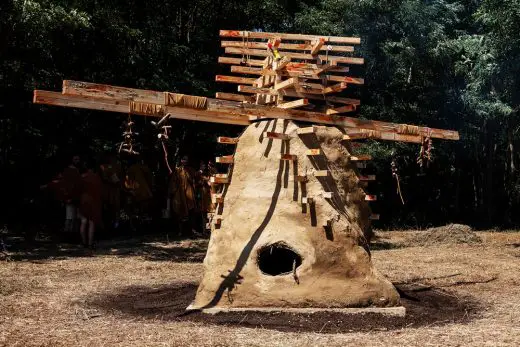 photograph : Tamás Bujnovszky
Many of the installations are portable, allowing them to be used as part of a Carnival that took place on the final day. This performative aspect played a large part in the design of the installations, which were often transformative in their nature and in some cases doubled as costumes for the parade.
Party Temple: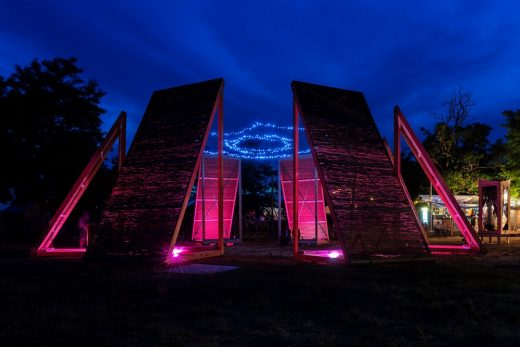 photograph : Tamás Bujnovszky
The festival ended with a communal performance using Hello Wood's own installation, which had over 100 individual wooden, arched beams held upright by the whole camp. The resulting structure resembled a temple, but one that symbolises what the festival is about.
Everyone received a badge depicting a nail, the simplest element of what holds a structure together. People participating also made an oath and committed to the community of free spirits that had formed during the event. "We meant to create the gift of an experience, inviting everyone from the past ten years. It's a direct symbol of how we could build something together, how important all the people that are participating are," say the Hello Wood leaders.
Photo Booth Pantheon: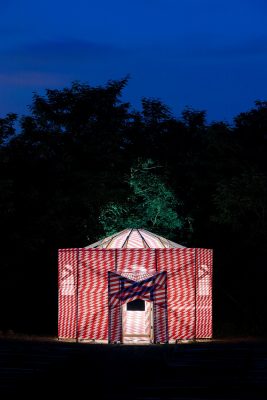 photograph : Tamás Bujnovszky
In much the same way that a period of Carnival symbolises the end of winter and the start of spring, Hello Wood also envisioned the tenth anniversary of its international summer school and festival as a sort of rebirth for its community. Alongside the development of its permanent plot of land devoted to the festival, Hello Wood is also looking towards the future with its Builder Society concept, which it hopes will grow into a foundation of like-minded individuals wanting to put their energy into doing something for society and the world.
In much the same way that Hello Wood and its Summer School and Festival has grown into something far bigger and more impactful than first it began life as, Hello Wood hopes to help the Builder Society to grow into a collective of champions driven by the desire to do something great for the benefit of humankind.
The Lubolos: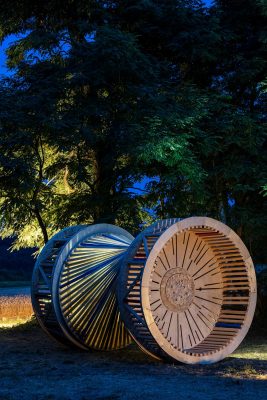 photograph : Tamás Bujnovszky
To help understand the values that will power this fledgling community into an ecosystem of devoted warriors and determined do-gooders, Hello Wood proudly presents the Manifesto of Builder Society and has made it publicly available here.
Ice Cream Truck: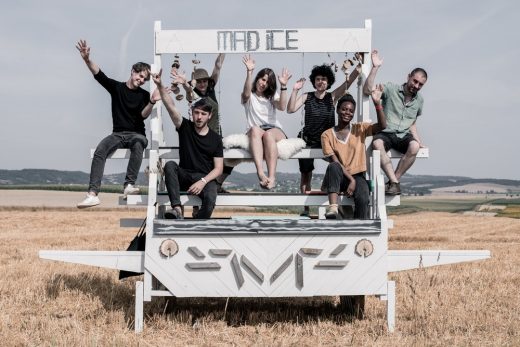 photograph : Zsuzsa Darab
Further information on the Hello Wood Summer School and Festival:
Each year, Hello Wood organises the Summer School and Festival designed to promote the concept of learning through making, the intention being to provide the education and experience that students can gain through the process of conceiving, designing and building a project from start to finish over the course of a week. Over the last few years, Hello Wood has hosted the festival at a plot of open land in the middle of the Hungarian countryside that it acquired purposefully for its international summer schools. In addition to this hands-on approach to education, the festival also hosts daily workshop sessions covering interesting and thought-provoking topics that help to shed light on particular aspects of design and architecture.
WeMask: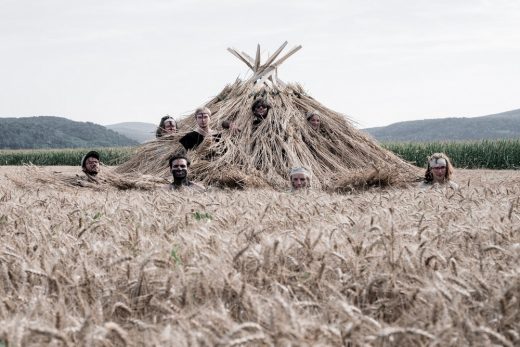 photograph : Zsuzsa Darab
Hello Wood Co-owners: András Huszár, Péter Pozsár, Dávid Ráday, Krisztián Tóth
Curator: Péter Pozsár
Project Leaders: Rita Szerencsés, Orsi Janota
Project Coordinator:
Lili Almássy
Project Architect:
Nóra Fekete
Co–curator:
Márton Pintér
Graphic Design:
Marko Mrkobrad, Gergely Szőke
General Coordinators:
Anita Farkas, Andrea Cselovszki,
Lili Rozek,
Carnival Crew:
Ádám Bajtai, Théo Combe, Áron Fekete, Rebeka Horváth, Attila Jung,
Fruzsina Karig, Gergely Kruppa, Levi Kruppa, Balázs Lakatos, Dominique Langer, Maria Latorre, András Marton, Máté Nagy, Attila Ort, Nikolett Papp, Christina Sándor, Áron Sütheő, Dása Szántó, Ádám Tóth, Kristóf Tóth
Photo / Video Crew:
Tamás Bujnovszky (Photo), Ciaran Jackson (Video),
Balázs Glódi (Photo), Zsuzsa Darab (Photo)
SPECIAL SPONSOR
Leier – Durisol,
Layher
Egger
Remmers
SPONSOR
Rothoblaas
Makita
Asahi
Teqball
PARTNER
Prospero Food, Janus, Zerocom, Valley Of Art Festival, Hungarina Cultural Fund (NKA), Dominique Vintage Design, Bird&Bird, Zeroplus Danceworks, Equinox Trekking Club, Mei Kawa, András Dés
Hello Wood International Summer University and Festival 2019 images / information received 130819
Previously on e-architect:
17 Aug 2018
Hello Wood International Summer University and Festival 2018
Design: Students from 30 countries and 65 universities
Hello Wood International Summer University and Festival 2018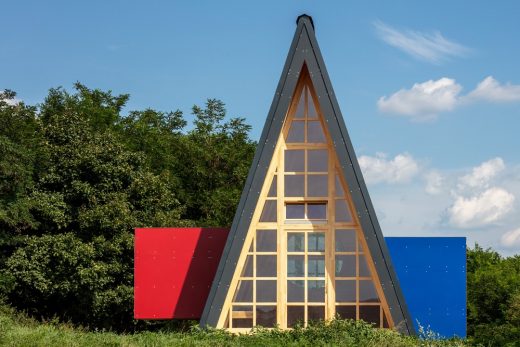 photo : Tamás Bujnovszky
Location: Vigántpetend, Csórompuszta, Hungary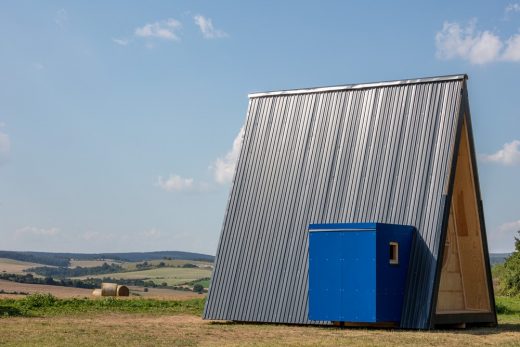 photo : Tamás Bujnovszky
Hello Wood's summer camp is in Csóromfölde: https://goo.gl/maps/ZkbzEi2Gj9n
Address: Vigántpetend, Csórompuszta, 8294 Hungary, Central Eastern Europe
Hungary Architecture Designs
Hungarian Architecture Design – chronological list
Hello Wood Pop Up Park in Downtown Budapest
Central European University – Phase 1, Budapest
Design: O'Donnell + Tuomey, Ireland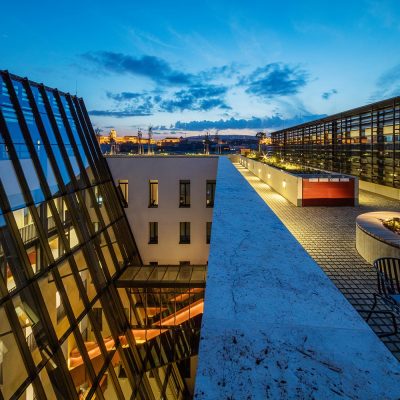 photo © Tamás Bujnovszky
RIBA Awards for International Excellence 2018
A Table is a Parliament, Csorompuszta
Design: Martial Marquet, Nicolas Polaert & Vojta Nemec, Architects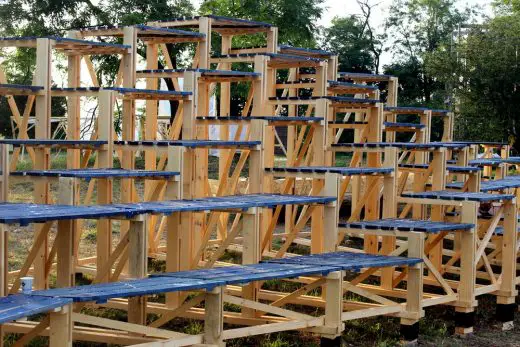 image : Jesus Sanchez
A Table is a Parliament, Hungary
Campus in Kecskemét, Bács-Kiskun, central Hungary
Design: Lima Design – Zoltan Madosfalvi, Ördög Alíz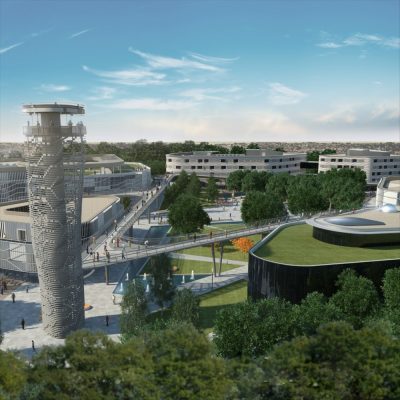 images : Zoltan Madosfalvi, Ördög Alíz
Campus in Kecskemet, Hungary
Floating Blocks House in Budapest
Design: Tóth Project Architect Office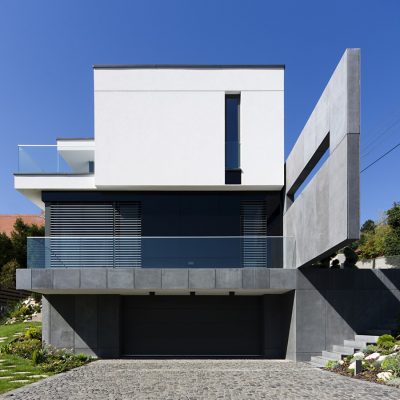 photograph : Tamás Bujnovszky
Floating Blocks House in Budapest
Comments / photos for the Hello Wood International Summer University and Festival page welcome