Yale School of Architecture Centennial Exhibition, YSOA Event, New Haven Connecticut, City of 7 Billion
Yale School of Architecture Exhibition
YSOA Gallery, Paul Rudolph Hall, 180 York Street, New Haven, Connecticut, USA
Apr 17, 2016
Yale School of Architecture Centennial Exhibition
Yale School of Architecture Centennial Exhibition
While the Yale School of Architecture is one of the leading architectural education programs in the country, it is—probably to the surprise of many—much younger than similar programs at universities with whom it shares top billing. MIT, Cornell, Columbia, the University of Pennsylvania, and Harvard, in that order, began to teach architecture in the latter part of the 19th Century, reports the Architectural Record. Yale did not offer an architecture degree until 1916.
Pedagogy and Place: Celebrating 100 Years of Architecture Education at Yale, looks back on the evolution of Yale's unique approach, beginning with an early Beaux-Arts influence to mid-century leadership under Paul Rudolph (who acted as both architect and client for his Art and Architecture Building at Yale). Documentation for the exhibit, which is on view until May 8, was collected over the course of two years of current Dean Robert A.M. Stern's seminar "Pedagogy and Place."
As the Yale School of Architecture celebrates its centennial, it also prepares to welcome its first new dean in nearly twenty years when Deborah Berke succeeds Stern this summer.
Website: Yale School of Architecture Centennial Exhibition
18 + 17 Aug 2015
Yale School of Architecture Exhibition in 2015
Yale architecture exhibition takes on global problem: Envisioning the 'City of 7 billion'
Sep 3 – Nov 14, 2015
August 2015 – New Haven, Conn.— A new exhibition at the Yale School of Architecture (YSoA) will consider the impact of population growth and resource consumption by examining the entire world as a single urban entity. On view Sept. 3 through Nov. 14, "City of 7 Billion: A Constructed World" includes models, drawings, and animations that reframe the world as one city.
City of 7 Billion: A Constructed World presents new models, drawings, and animations that reframe the world as one city: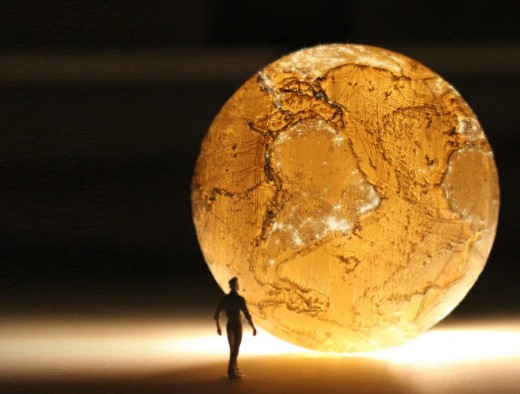 The exhibition is free and open to the public at the YSoA Gallery, 180 York St., Monday–Friday, 9 a.m. –5 p.m. and Saturday 10 a.m.–5 p.m.
In 2011, the world population reached 7 billion people. It is expected to increase by another 2 billion by 2050. The demands of this population growth have created a completely interconnected and urbanized world, note the exhibit organizers: No part remains unaffected by the cumulative impact of human activity.
"The world has become the most important design problem of our time. The city is a medium to address this problem," say researchers and the exhibition curators Joyce Hsiang '99, '03 M.Arch., principal of Plan B Architecture and Urbanism and critic at YSoA, and Bimal Mendis '98, '02 M.Arch., YSoA's assistant dean and director of undergraduate studies. "As crises and opportunities transcend city and national borders, the necessity for architects and designers to operate at the scale of the world has never been more urgent."
The supercontinent of 7 billion people (a model of population growth and physical topography):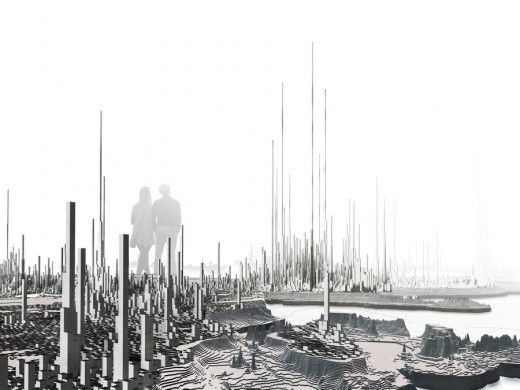 "City of 7 Billion: A Constructed World" explores humanity as a geological force. Drawing on contemporary discussions of the Anthropocene — the proposed epoch in which human activity is permanently transforming the world — the exhibition models the phenomenon of global development.
"The show brings together abstract information from across scientific, engineering, and architectural communities, and makes it accessible," said Hsiang. "It makes the invisible visible, so it can be understood."
The exhibition features original models and drawings, including a 14-foot spherical model of the material infrastructures that physically shape and connect the world; a 52-foot-long city topography model that analyzes the implication of population growth over time; a 255-foot-long panorama that explores the edges of urbanization across air, land, and water; and 14 sectional core samples of the world that examine the depths of human activity. In addition to these models, a series of drawings, animations, and curated historical content will illuminate the spatial implications of these global processes.
The urban envelope from the depths of the ocean to outer space (a 14-foot spherical model of material infrastructures and survey data):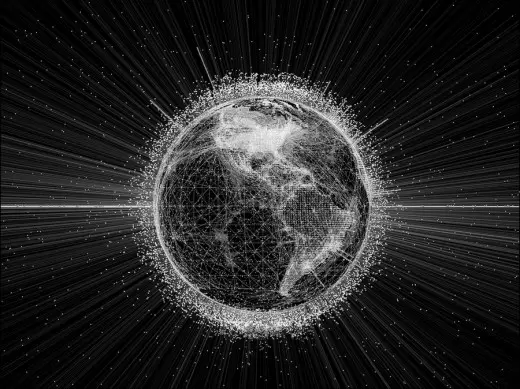 A related symposium, "A Constructed World," will gather leading experts from architecture, anthropology, economics, geography, and philosophy to address how humankind is playing a decisive role in shaping the world. Speakers will include Peter Sloterdijk, professor of philosophy and media theory at the Karlsruhe University of Arts and Design; Kathryn Sullivan, administrator at the National Oceanic and Atmospheric Administration and the first American woman to walk in space; William Nordhaus, Sterling Professor of Economics at Yale; Hashim Sarkis, dean of the School of Architecture and Planning at MIT; and Liam Young, director of the Unknown Fields Division at the Architectural Association in the United Kingdom.
The symposium, supported by the J. Irwin Miller Fund, will take place from Oct. 1 to Oct. 3 in Hastings Hall, 180 York St. The event is free and open to the public; registration is required.
The exhibition, "City of 7 Billion: A Constructed World," will include work from the symposium participants, who are among a constellation of contemporary thinkers operating on a global scale.
"City of 7 Billion: A Constructed World" is the culmination of a two-year project that builds on previous research on issues of global urbanization and sustainability. In 2013, Hsiang and Mendis received the American Institute of Architects College of Fellows Latrobe Prize, which funds research that leads to advances in architecture. The research project has also received additional funding from the Hines Research Grant for Advanced Sustainability. The exhibition is supported in part by the Yale School of Architecture's exhibition program.
The vertical footprints of human activity (14 model core samples):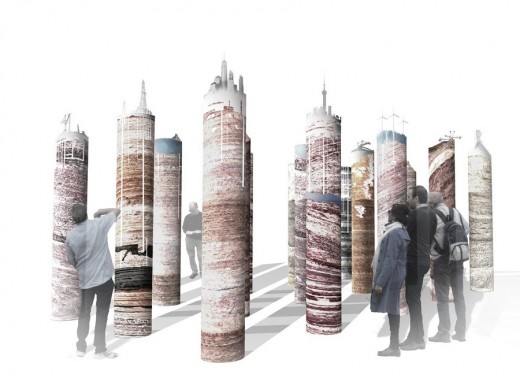 The project and exhibition team is led by Hsiang and Mendis, and includes Robert Cannavino '14 M.Arch., Andrew Ruff '15 M.E.D., Brent Sturlaugson '15 M.E.D., and Miroslava Brooks '13 M.Arch. The YSoA exhibition team includes Alfie Koetter '11 M.Arch., director of exhibitions, and Alison Walsh, exhibition coordinator.
Photos courtesy Plan B Architecture & Urbanism, New Haven, Connecticut
Aug 19, 2014
Yale School of Architecture Exhibition in 2014
Architecture exhibition looks at the future of design in North American megaregion
Aug 25 – Nov 20, 2014
Address: Yale School of Architecture Gallery, , 180 York St, New Haven, CT 06511, Connecticut, United States
Phone: +1 203-432-2291
"Infra Eco Logi Urbanism"
A new exhibition opening this summer at the Yale School of Architecture brings together research and design work by the experimental Canadian architecture practice RVTR to explore possible urban and architectural futures in a post-metropolitan world. Opening Aug. 25, "Infra Eco Logi Urbanism" looks at the Great Lakes Megaregion of North America (GLM) to envision the kinds of systems that could best serve a cluster of cities in an age of renewable energy, new mobility, and urban growth.
The Detroit-Windsor Crossing: The Centre for Great Lakes Governance where collective regional issues
such as infrastructure, environment, resources and labor are debated: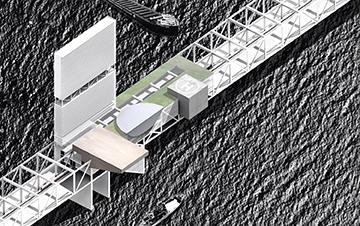 drawing © RVTR 2012
Dec 20, 2013
Yale School of Architecture 2014 Exhibition
YSOA exhibition highlights pioneers of digital architecture
December 19, 2013, New Haven, Conn. – This February, the Yale School of Architecture (YSOA) will launch its 2014 exhibition program with "Archaeology of the Digital," a look at the foundations of digital architecture in the late 1980s and early 1990s.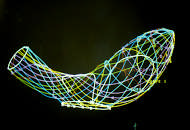 Yale School of Architecture – Rudolph Hall, 180 York Street
Feb 15, 2012
Yale School of Architecture Event – Symposium on Architectural Drawing
Is Drawing Dead?
If the hundreds of attendants at the Yale School of Architecture's recent symposium, Is Drawing Dead?, are any indication, drawing thrives, inspiring enormous—if diverse—passion. Spilling well beyond the capacity of the School's Hastings Hall Auditorium, the symposium audience was treated to a rich mix of presentations and debates regarding the historic significance of drawing; its visceral effect on author and viewer; its potential to make unimagined realms of experience accessible; and even its neuropsychological underpinnings.
1. Architects Greg Lynn, Yale University + Preston Scott Cohen, Harvard University
2. Architect Michael Graves




photos © Yale School of Architecture, photo by Erik Herrmann
1. Architect and Assistant Dean Mark Foster Gage, Yale University
2. Architect Patrik Schumacher of Zaha Hadid Architects




photos © Yale School of Architecture, photo by Susan Surface
Massimo Scolari, The Pilot of the Labyrinth, 1978,
watercolor on cardboard, 18 x 13 cm (ca. 7 x 5 in.):



image from JC&A
Yale School of Architecture Events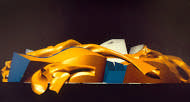 Location: YSOA Gallery, Paul Rudolph Hall, 180 York Street, New Haven, Connecticut, USA
Yale School of Architecture – Buildings
Yale Arts Complex – Paul Rudolph Hall renovation, Yale University
Design: Gwathmey Siegel & Associates Architects



photo : Peter Aaron
Paul Rudolph Hall
Yale Center for British Art, New Haven
Design: Louis Kahn architect
Yale University Art Gallery, New Haven
Design: Louis Kahn / Polshek Partnership Architects, LLP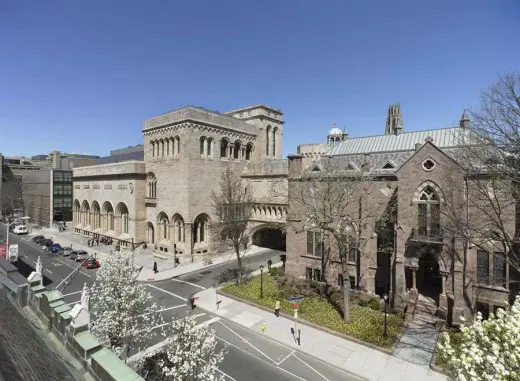 photo of Yale University Art Gallery
Yale University Art Gallery
Yale Art and Architecture Building
Design: Paul Rudolph
New Yale School of Management Campus, Whitney Avenue, New Haven
Design: Foster & Partners
Beinecke Library, Yale University, New Haven
Design: Skidmore Owings Merrill Architects
Kroon Building, Yale University School of Forestry & Environmental Studies, New Haven
Design: Hopkins Architects
Connecticut Buildings – Selection
Canterbury School Aquatic Center, Milford
Design: Butler Rogers Baskett Architects



picture from architect
Canterbury School Aquatic Center
Residential Playhouse, Greenwich
Design: Austin Patterson Disston Architects



photo : David Sundberg/ESTO
Connecticut house: Greenwich
Whitney Water Purification Facility and Park, New Haven
Design: Steven Holl Architects



photo courtesy Steven Holl Architects
New Haven Project
American Architecture Events
UB School of Architecture & Planning Buffalo Event, New York State
MIT School of Architecture Events, Massachusetts
Center for Architecture in New York Events, New York City
Cooper Union Architecture Event, New York City
PSU Department of Architecture Events, Portland, Oregon
SCI-Arc Architecture Events, Los Angeles
AIA San Francisco Events, California
Rice Design Alliance Events, Texas
Comments / photos for the Yale School of Architecture Exhibition, New Haven, Connecticut – YSOA Gallery News page welcome
Website: https://www.architecture.yale.edu/