Visionary Crazy Golf Trafalgar Square London, LDF Crowd-funding Architecture, Images, Design
Trafalgar Square Crazy Golf Course
Crowd-funding Intervention for Key Civic Space in England – Public Realm UK: British Built Environment
27 Apr 2016
Trafalgar Square Crazy Golf Course London
London Trafalgar Square Crazy Golf Course Design
A "futuristic" crazy golf course could be brought to London's Trafalgar Square after a crowd-funding campaign.
Not an April Fool's Day joke….London Design Festival is hoping to raise £120,000 for the Visionary Crazy Golf, which has been dreamed up by artists and designers, including the late Dame Zaha Hadid. Paul Smith is the curator and ambassador of the project.
Designer Paul Smith has come up with a colourful design for a hole on Trafalgar Square's steps: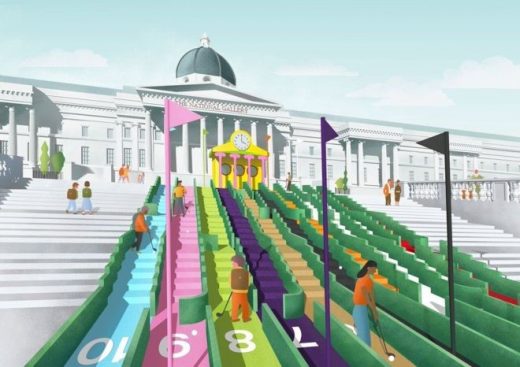 image © London Design Festival
Festival organisers say it will be "futuristic, functional, fun and free for the public to play".
Funding permitted, the golf course will run from 16-22 September.
The dates coincide with the London Design Festival.
The ball will travel through the bird's gut on one hole designed by Ordinary Architecture: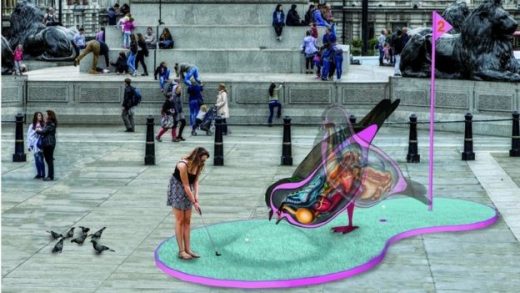 image © London Design Festival
Members of the public who pledge funds, from £5 up to £5,000, will receive rewards, including clothes and mugs, by one of the designers.
Organisers have until 6 June to raise the money.
The design teams involved include Mark Wallinger, Tom Dixon, Camille Walala, Ordinary Architecture, HAT Projects, Neon Studio, and Atelier Bow-Wow.
Each will create a miniature art installation, as part of the golf course, with each one making a statement about the future of architecture.
Dame Zaha Hadid's undulating course is intended to trace the shadows of Nelson's Column: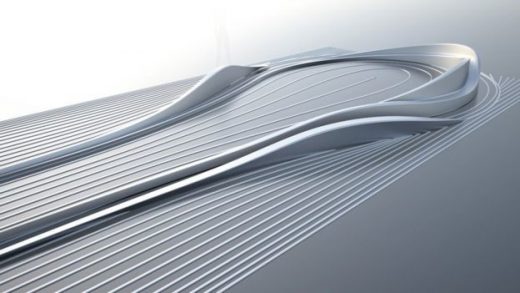 image © London Design Festival
Holes include Tom Dixon's, with its funnel and nest of pneumatic tubes through which golf balls will hurtle; a circuitous maze by Mark Wallinger; and a netted driving range by the Japanese studio Atelier Bow-Wow.
The mayor's office has given permission for the scheme if funding is secured.
Organisers say the event will fill the square "with Pop Art colours and avant-garde forms":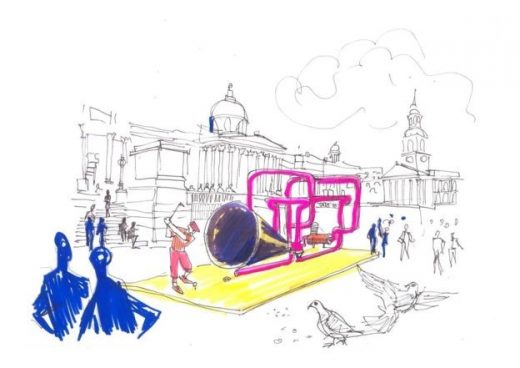 image © London Design Festival
"For 1 week we want to take over Trafalgar Square, home to Nelson's Column and the epicentre of London, transforming it into a crazy golf course designed by some of the world's most renowned architects, artists and designers. It will be futuristic, functional, fun and free for the public to play.
Paul Smith, curator and ambassador for the project, will transform the steps from the National Gallery into a riot of different coloured stripes, topped by a neo-classical clubhouse that echoes the museum, but has a turf roof and putters for columns. The late Zaha Hadid designed an undulating course with two levels that traces the shadow of Nelson's Column."
Website: Trafalgar Square Crazy Golf Course
Website: Trafalgar Square Crazy Golf Course in London – BBC article
updated 5 Jan 2016 ; 31 Dec 2015
Palmyra Arch for Trafalgar Square
The Palmyra arch that survived an attack by ISIL is to be replicated in London and New York.
Copies of Temple of Bel entrance in Syria is to be built in Trafalgar Square and Times Square in 'gesture of defiance', reports The Guardian.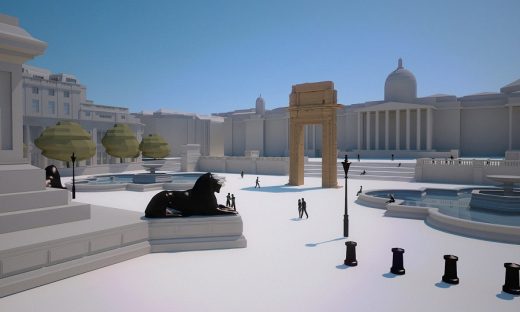 image : Institute for Digital Archaeology
Replicas of an ancient monument in Palmyra that has apparently survived attempts by Islamic State to demolish it are to be erected in London and New York City.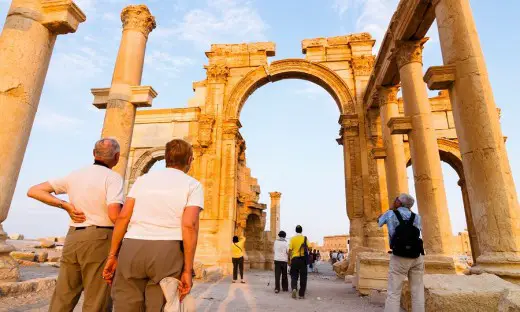 photograph : Alamy
Read the article at Palmyra Arch for Trafalgar Square
Trafalgar Square
central London
1841
Contains Nelson's Column, 170 ft high


photograph © Adrian Welch
Aerial photograph looking south:



photo © webbaviation
Olympic Games Information Pavilion Contest, England
Launch : 25 Mar 2011
Olympic Games Information Pavilion Competition
Nelson's Column, looking south towards Whitehall



photograph © Nick Weall
Buildings around Trafalgar Square
National Gallery
1838
Design: William Wilkins architect



photograph © Adrian Welch
National Gallery
Sainsbury Wing – National Gallery Extension
1991
Design: Venturi, Scott Brown & Associates architects



photograph © Adrian Welch
St Martin-in-the-Fields Church
1726
Design: James Gibbs Architect



photo © Timothy Soar
St Martin-in-the-Fields church building
Nelson's Column




photographs © Adrian Welch
The name of this major public space in the centre of the British capital commemorates the Battle of Trafalgar, a British naval victory of the Napoleonic Wars over France and Spain which took place in 1805 off the coast of Cape Trafalgar, Cadiz, Spain.
Website: London Design Festival
Location: Trafalgar Square, London, England, UK
London Building Designs
Contemporary London Architecture Designs
London Architecture Designs – chronological list
London Architecture Tours – tailored UK capital city walks by e-architect
Trafalgar Square Context
National Portrait Gallery



photograph © Adrian Welch
National Portrait Gallery
South Africa House



image © Nick Weall
National Gallery – RIBA Awards 2006: West London
Admiralty Arch, at the southwest corner of Trafalgar Square, on The Mall:



photo © Nick Weall
Canada House, on the west side of Trafalgar Square



photo © Nick Weall
Trafalgar Square Crazy Golf Course Designers
Trafalgar Square Crazy Golf Course Designers
Paul Smith is Britain's foremost designer and a tastemaker – a leader of British and international design trends. Famous for its clothing and accessories collections, Paul Smith specialises in an inventive use of traditional craftsmanship and cutting-edge design to create beautifully made, desirable, modern pieces.
Tom Dixon is an internationally renowned British Designer, Creative Director of eponymous brand Tom Dixon. His works are included in permanent collections of the world's most prestigious museums, including the V&A and the MoMA. Tom Dixon has built his universe through intensely diverse experiences, from music, contemporary lighting, furniture and accessories to high-profile projects including the Restaurant at The Royal Academy in London, Jamie Oliver's restaurant, Barbecoa as well as Shoreditch House.
Zaha Hadid, founder of Zaha Hadid Architects, passed away on the 31 March 2016. She was awarded the Pritzker Architecture Prize in 2004, the RIBA Stirling Prize in 2010 and 2011, and the Royal Gold Medal in 2016. The London Aquatics Centre for the 2012 Olympics and the Heydar Aliyev Centre in Baku are built manifestos of Hadid's quest for fluid space. Her pioneering vision redefined architecture for the 21st Century and captured imaginations around the world.
Camille Walala began her design career in textiles, and now specialises in transforming objects and spaces with her signature blend of vibrant patterns, bold primary colours and optical illusion. Her designs can be found adorning buildings across London, Sydney, New York and beyond.
Atelier Bow-Wow is a Tokyo-based firm founded by Yoshiharu Tsukamoto and Momoyo Kaijima, interested in architectural design, urban research and the creation of public artworks. The practice has designed and built houses, public and commercial buildings mainly in Tokyo, as well as Europe and the USA.
HAT Projects is an award-winning architecture practice led by Hana Loftus and Tom Grieve, with a particular focus on cultural and community projects. HAT's notable previous projects include the RIBA Award-winning Jerwood Gallery in Hastings, Gasworks gallery in South London, and High House Artists' Studios in Essex. For Visionary Crazy Golf, HAT Projects are collaborating with London based engineer and artist Tim Hunkin, who is welll known for his large-scale and theatrical sculptural projects.
Mark Wallinger is one of the UK's leading contemporary artists. He was nominated for the Turner Prize in 1995, and won it in 2007 for his installation State Britain. His artwork Ecce Homo (1999-2000) was the first to occupy the empty Fourth Plinth in Trafalgar Square.
NEON, the award-winning London based studio, is directed by architect Mark Nixon. The studio explores the intersection between architecture, design and art. NEON's work is often designed to initiate an emotional response, to stop people in their tracks and to break the monotony of the everyday.
Ordinary Architecture is a London-based design practice run by Charles Holland and Elly Ward. The practice's name refers to an interest in popular culture and an architecture that draws inspiration from the ordinary and the everyday. Current projects include new rural housing in Wiltshire, an exhibition for the V&A at the Venice Biennale and public art projects in the UK and LA.
Comments / photos for the Trafalgar Square Crazy Golf Course London Architecture page welcome
Website: Trafalgar Square Central London