UK Government Summer Statement Response, Chancellor's Economic Update, New British Homes
UK Summer Statement Response News
28 July 2020
Help to Buy scheme to be extended?
Commenting the UK government drawing up an extension to the Help to Buy scheme, Tom Brown, Managing Director of Real Estate at Ingenious, said: "Despite the extension to the Help to Buy scheme remaining at the proposed stage, there has been speculation across the industry for some time that the original transitional timelines might need to be changed to reflect the closedown in the market through lockdown and the related challenges in building and construction, which have seen delays in the delivery of projects across all sectors.
"We know there has been support for these proposals from Homes England and the Ministry of Housing, Communities & Local Government, however the final decision rests with HM Treasury and ultimately the Chancellor, Rishi Sunak. They face unprecedented challenges across the whole economy and will be engaged in a very delicate game of give and take. We would expect the final announcement to be a short extension to the existing scheme and not anything more structural, however this will of course be subject to change down the line."
8 July 2020
UK Chancellor's Economic Update
Construction Industry Reaction To The Chancellor's Summer Economic Update
Commenting on the Chancellor's statement, earlier today, regarding the UK's economic recovery from COVID-19, Clive Docwra, Managing Director of leading property and construction consultancy McBains, said:
"The Chancellor is right: we need to instil confidence in our economy and get it moving again following the COVID-19 pandemic.
However, in the case of construction, its simply not possible to just "turn on the taps" and "get Britain building". There's lead time, which, in many cases, is considerable – with smaller developers, in particular, still struggling with supply chain blockages, staff shortages, and provisions around social distancing.
As a sector that has operated on tight margins, now, for some time, the long-term outlook is not great, despite the Chancellor's promises and upbeat tone. Many developers are hesitant about committing to new projects against a backdrop of coronavirus, and its likely the Government will need to provide ongoing support for some time to come – or, at the very least, until an effective treatment or vaccine is found.
That being said, some of the proposals announced today – such as the job retention bonus, the new "kickstart" and traineeship support schemes, and the stamp duty holiday – will provide a much-needed boost to the sector and give developers confidence that returning to full operational capacity may well be a risk worth taking."
8 July 2020
RIBA reacts to Chancellor's 'Plan for Jobs'
"The RIBA has long advocated for a 'green' post-COVID recovery, so I welcome the Chancellor's efforts to put sustainability front and centre of today's announcements."
Read more at RIBA UK News
8 July 2020
Green Homes Grant to stimulate the heat pump market
Viessmann has welcomed today's announcement of a new Green Homes Grant by the Chancellor of the Exchequer, Rishi Sunak. The government will issue vouchers of up to £5,000 per household and up to £10,000 for low income households, to cover two-thirds of the cost of home improvements such as loft, wall and floor insulation, eco-friendly boilers, heat pumps, double or triple-glazed windows, low-energy lighting and energy-efficient doors.
"We know the government wants UK homeowners to switch from fossil-fuelled boilers to renewable technologies such as heat pumps, to achieve carbon reduction targets," says Darren McMahon, Viessmann marketing director. "Yet many properties require significant investment in home improvements, such as insulation, before low temperature heating systems can provide expected levels of comfort while running in an energy-efficient way.
"The Green Homes Grant addresses both challenges and caters for all types of property. It promotes a 'fabric first' approach, acknowledging that the best way to save energy in the home is to reduce heat loss, and it also contributes to, or covers, the cost of the heat pump to ensure overall heating system efficiency. We believe that vouchers of up to £5,000 per household will positively impact consumer behaviour and stimulate heat pump sales that have not been forthcoming for financial reasons.
"We also welcome the initiatives designed to improve the energy efficiency of public sector buildings and the decarbonisation of social housing," concludes Darren McMahon.
Last year, the government announced that fossil-fuel heating systems, such as gas boilers, would no longer be permitted in homes built after 2025.
Viessmann has recently introduced a new Vitocal 100-A air source heat pump. The compact and affordable monobloc unit is ideal for the replacement of gas and oil boilers. Its A+++ rated energy efficiency will benefit end-users with low running costs.
8 July 2020
Chancellor's 'mini budget' for green jobs misses mark on transport and housing, says to CPRE
Commenting on the Chancellors 'mini budget', Tom Fyans, campaigns and policy director at CPRE, the countryside charity, said:
'While we have seen promising starts on energy efficiency and shoring up rural hospitality businesses, the Chancellor has missed major opportunities to begin building back better when it comes to transport and housing investment.'
On existing homes:
'The £3bn announced on energy efficiency is a good start but must be swiftly followed by a National Retrofit Strategy that CPRE has been calling for in our new report Greener, better, faster and a plan for longer term investment. Decarbonising our homes and buildings is essential to preventing runaway climate change. We expect to see further investment in reducing emissions from our existing homes via the £9bn for energy efficiency schemes promised by Boris Johnson in the Conservative Party's general election manifesto at the end of last year.'
On new homes:
'We understand the Chancellor wants to reboot the construction sector but he's pulling the wrong lever with a stamp duty holiday. By investing in social and genuinely affordable housing instead, he could drive up build rates and provide the homes that are so desperately needed, especially in rural areas. We cannot accept that private rentals in nine out of ten rural areas are unaffordable for care workers. We urge the government to begin investing in homes for our heroes and tackling the housing crisis.'
On transport:
'Any serious claims to a green recovery are being completely undermined by the out of touch £27bn road building plans that will drive up emissions and will likely not be needed with homeworking on the rise. In the mini budget we did not hear one mention of public transport, the low carbon alternative to the private car that is so desperately needed, especially in disconnected rural areas.
We are urging the government to scrap the planned road spending and put this money to much better use. Diverting some of this funding to a dedicated rural transport fund would have a dramatic impact connecting up towns and villages with affordable, convenient and low carbon public transport.
On rural economies:
'The Chancellor was absolutely right to highlight hard hit rural businesses in the hospitality industry and we welcome the 'eat out to help out' vouchers. We can all play our part in supporting local businesses as we emerge from lockdown. Our hope is that these vouchers will help get small rural restaurants, pubs and cafes back on their feet as lockdown eases and holiday season begins, with many of us choosing to go on a staycation here in the UK rather than venturing abroad.'
8 July 2020
UK Stamp Duty Cuts
Comments from award-winning, London-based practice, Assael Architecture responding to the chancellor's summer statement:
Stamp duty:
• permanent stamp duty cuts for 'last-time buyers' would help kickstart the housing market and help older people to downsize into purpose-built homes
Zero carbon:
• a clear roadmap for property companies is essential to achieve net-zero greenhouse gas emissions
• action needed to measure the 'in-use' emissions from buildings, rather than relying on theoretical models of energy efficiency
Pete Ladhams, managing director of Assael Architecture, said:
"Rishi Sunak's stamp duty holiday is a welcome break for buyers and will help to speed up the UK's post-Coronavirus economic recovery. But to keep this momentum going for the housing market, we will need to long-term policy change that survives the proposed tax break.
"By permanently reforming stamp duty charges for 'last-time buyers', retirees who want to downsize will be encouraged to do so, opening up family homes for younger people. It will also help to support the development of much needed purpose-built homes for our older population that will help end the housing crisis and ensure the housing market provide all demographic groups with the opportunity to live in a home that is right for them."
Rory O'Hagan, director at Assael Architecture, said:
"Reducing greenhouse gas emissions from the built environment is key to reaching the UK's net zero target by 2050. Retro-fitting public sector buildings and social housing is a welcome first step, but to achieve the scale and pace of change that we need will require a cohesive policy change that survives Rishi Sunak's funding plan and encourages stable, high-quality practice across the board.
"The property industry is committed to playing its part but needs a clear roadmap from government setting out a timeframe for achieving the cuts in greenhouse gas emissions that will be required. It will also need greater emphasis on measuring the amount of energy that buildings actually use – the Committee on Climate Change estimates that new homes lose 50% more heat than design estimates expect – some form of accountability for the 'in-use' performance of buildings would lead to better design and construction standards."
8 July 2020
Response to £3bn green investment package in UK Summer Statement
Richard Hyams, former Foster + Partners architect and founder of award-winning practice astudio, comments:
"The government's pledge of a £3bn green investment package to decarbonise public buildings and minimise emissions from homes in the UK is a welcome step, we must use this incentive as a stepping stone to go further if we are to meet the UK's net zero emissions goals by 2050.
"Buildings and construction together account for over a third of global energy use, and nearly 40% of all CO2 emissions in the UK. To ensure a green and socially responsible recovery from this pandemic, we need to fundamentally change how we look at these buildings. We think of buildings as absorbers of energy, but they should become generators. Beyond introducing new insulation for public buildings, we should be assessing its carbon footprint, omitting the use of fossil fuels and retrofitting buildings with innovative materials, such as smart glass or "living walls" lined with algae compounds that can generate biofuels.
"New insulation is vital in tackling fuel poverty as well as increasing the sustainability and affordability of existing homes, but we must also remember we face another crisis in affordable housing, with a third of local authorities missing their housebuilding targets even before the pandemic. The government and everyone in the sector must look to more efficient and affordable ways of delivering truly sustainable and accessible homes, and use this and other funded incentives to innovate and change the current broken housing model, technologies such as offsite manufacturing to reduce project timelines, lower carbon and waste production, while sacrificing neither the quality of our buildings nor the safety of the workforce."
8 July 2020
UK Stamp Duty Changes
View from Metropolitan Thames Valley Housing on the stamp duty changes:
Kush Rawal, Director of Residential Investment from Metropolitan Thames Valley Housing comments: "We welcome the Chancellor's stamp duty holiday, which makes shared ownership homes an even more attractive option for people looking to own their own home. Removing stamp duty from almost all initial share purchases means that key workers will be able to buy a shared ownership home with as little as two months of rent as their deposit."
8 July 2020
Twenty7Tec comment on Rishi Sunak Speech
Phil Bailey, Sales Director for mortgage tech provider Twenty7Tec says:
"We hope that the housing market will get the stimulus it needs from the Chancellor's announcement on stamp duty. For us to have a housing-led recovery, we need first time buyers in the market and this measure will go some way to helping alleviate the level of funding that they need to get onto the property ladder. However, it's not a perfect solution.
There's a lack of mortgage products in the market in the 90%+ LTV range as lenders have adjusted for their risks and their own lending capacity. This means that deposit levels have, effectively, gone from 5% to 15%. Previously, this gap has been filled by the bank of mum and dad, but the last few months have eaten away at their savings and possibly their attitude to taking on new investments. There's also less housing stock on the market, which means it's a seller's market.
"Unfortunately, this stamp duty holiday won't really help with any of these points. In our view, it'll drive a surge in demand, but it's more than likely going to support people to buy bigger than helping those who are struggling to get onto the property ladder. The additional demand caused by this could push house prices up or see them stay the same and not drop as expected later this year.
"Speaking to lenders and intermediaries this week, there were two real worries in the market about this stamp duty announcement. First, that it has previously been mooted and not happened so people were questioning if it would happen this time. Second that it might be delayed until later in the year, which would induce an unnecessary halt in a housing-led recovery. Thankfully, the current Chancellor is someone who seems capable of getting things done and at pace. We'll see what the data says about a continued recovery over the next few days and weeks."
8 July 2020
Interserve welcomes Chancellor's commitment to employment in construction sector
Interserve Construction has welcomed Chancellor Rishi Sunak's commitment to support job creation in the construction sector and the UK Government's investment in 'greening up' public buildings including schools and hospitals.
Paul Gandy, Managing Director, Interserve Construction, said: "As one of the country's leading education and healthcare contractors we welcome the Chancellor's announcement regarding the Government's green building agenda for schools and hospitals, his investment in traineeships for 18- to-24-year-olds and apprenticeships.
"As the country emerges from the coronavirus crisis and construction activity resumes, job protection and job creation must form part of the economic recovery and the new funding for traineeships and apprenticeships will ensure that the UK construction sector can revamp its skills systems to support the Government's vision.
"Following the Prime Minister Boris Johnson's announcement on the Government's transformative £5bn rebuilding programme for schools and hospitals across England, the Chancellor has delivered a further stimulus to the economy where the construction sector will play a pivotal role."
Previously on e-architect:
New UK Housing: Housebuilding News
6 July 2020
Is 'build build build' best for England's planning system?
Alister Scott, Professor of Environmental Geography and an expert in urban planning and infrastructure, writes for The Conversation on proposals to change the UK's planning system.
18 Jun 2020
Timber Frame: Accommodating The Differential
With sales of timber homes and buildings heading towards £1bn in the next 12 months*, Andy Swift, sales and operations manager, UK & ROI for ISO-Chemie, considers sealant tapes for timber frame structures and accommodating differential movement:
3 Jun 2020
UK Architects welcome landmark ARCO Report
We post comments from Mark Rowe, principal at Penoyre & Prasad and Félicie Krikler, director at Assael Architecture in support of ARCO's landmark report launched earlier today:
Too little, Too late? Housing for an ageing population
UK Housing Links
English Architecture:
English Architecture Designs – chronological list
Location: UK
Contemporary British Homes
Recent British Home Designs
Black House, Kent, Southeast England
Architect: AR Design Studio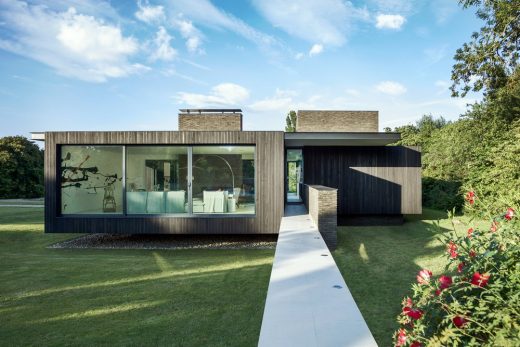 image courtesy of architects
Black House in Kent
A House for Essex, Essex, Southeast England
Design: FAT Architecture and Grayson Perry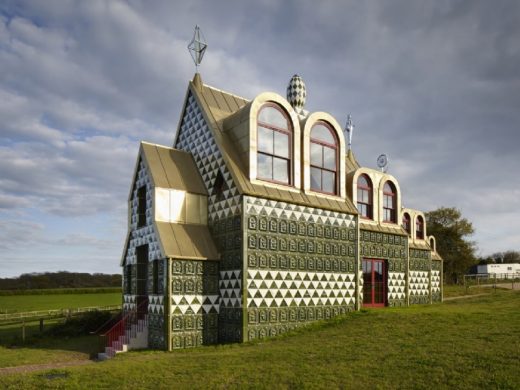 photograph : Jack Hobhouse
A House for Essex
Balancing Barn, Suffolk, Southeast England
Design: MVRDV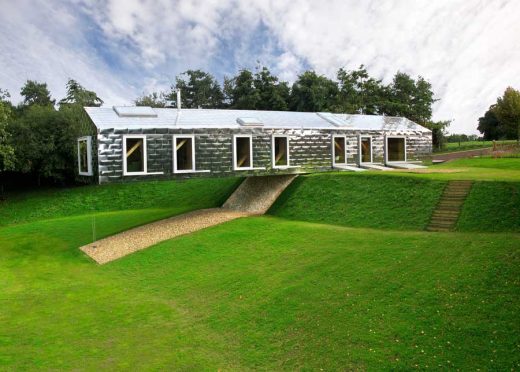 photo : Living Architecture
Balancing Barn Suffolk
Hurst House, Buckinghamshire, Southern England
Design: John Pardey Architects with Ström Architects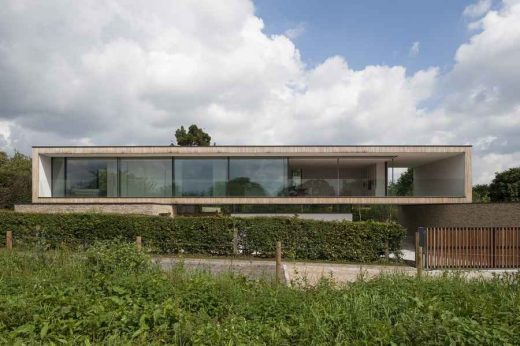 photo : Andy Matthews
Buckinghamshire Property
Comments / photos for the UK Summer Statement Response – British Property & Construction Sector Review page welcome