Assael Architects London, British Building Projects, Pete Ladhams, Office, Images, Studio News
Assael Architecture : Architects
Employee Ownership Trust (EOT) News – Contemporary British Architects Practice, UK
post updated on 6 April 2022
Assael Architecture News
Assael Architecture News
6 Apr 2022
101 on Cleveland, Fitzrovia, London, England, UK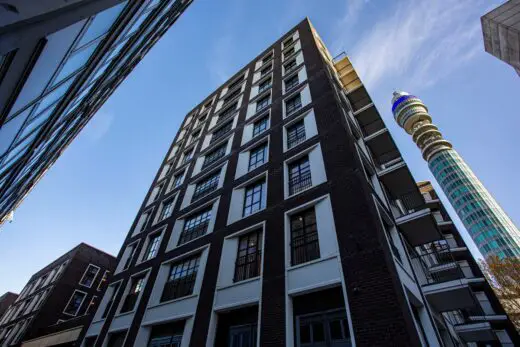 photo © Tom Sullam
101 on Cleveland
Located on Cleveland Street, the one-acre triangular island site – created by the intersection of Marylebone and Fitzrovia – is surrounded by streets on all three sides and was previously occupied by a two-storey building comprising a number of redundant uses, including a petrol station.
23 Feb 2022
Elmsleigh Road Homes, Staines-upon-Thames, Southwest London, England, UK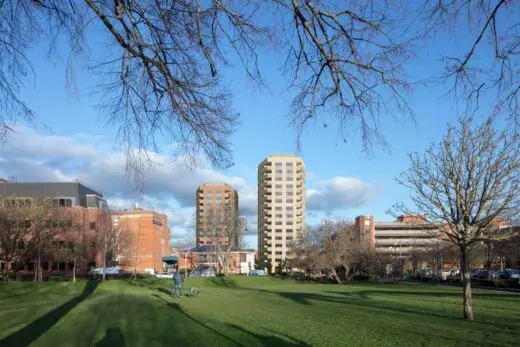 image courtesy of architects
Elmsleigh Road Homes in Staines-upon-Thames
On behalf of their client Inland Homes, Assael Architecture has won the appeal for a residential planning application for Elmsleigh Road, in Staines-upon-Thames, Spelthorne, following a previous rejection in June 2021. Working closely with Inland Homes, an established specialist in brownfield regeneration, the £30 m project will transform the currently unused site into a vibrant and well-connected destination of high-quality homes alongside dedicated amenity space and enhanced public realm.
22 Feb 2021
Assael launches design studio in Australia as capital targeting BTR gains momentum
• Assael is a leader in BTR design having delivered pioneering UK schemes for Grainger, Legal & General and Essential Living
• A wall of capital is ready to invest in new purpose-designed BTR opportunities in Australia
• Design studio based in Sydney will cover states across Australia and will focus on co-location mixed-use projects and Build to Rent opportunities
• Head of studio Loren Thanyakittikul appointed to NSW residential council at Property Council of Australia
Global, Feb 2021 – Leading UK architectural practice Assael has launched an Australian design studio to bring its strong Build to Rent (BTR) design expertise to development opportunities in the country.
Based in Sydney, the studio will provide design consultancy services for residentially-led, mixed use developments and co-location projects across Australia based on extensive experience in Europe. The focus will be on BTR and Co-Living sectors, areas Assael has helped pioneer in the UK.
Australia is tipped as the next location for a BTR boom with investors lining up to find opportunities that, until recently, have been hard to come by. For example, Greystar has recently raised 1.3bn to spend on BTR projects across Australia. Assael has a deep understanding of the sector and has helped pioneer the positioning of BTR as an aspirational asset class in the UK. The practice's portfolio of work has led to its reputation as a go-to design consultant for UK private and institutional investors, including Grainger plc and Legal & General.
Director Loren Thanyakittikul, head of Assael's new Australian studio, has also recently been appointed to the New South Wales Residential Committee for the Property Council of Australia. Loren will work with the government and broader industry to develop solutions for residential development.
Assael is renowned for high-quality design, tailored to the unique characteristics and context of a site. The company has worked on a flagship BTR project in London for L&G which has become the first BTR development to be awarded the Home Quality Mark by BRE Global. The project transformed a former industrial estate on the edge of a reservoir into an environmentally-sensitive scheme of over 450 homes designed specifically for rent.
One of the first completed modular BTR projects in London was designed by Assael and won Best Community Living project at the Sunday Times British Home Awards in 2020. It was the UK's first private rented building specifically for families, creating almost 250 homes. The project was used as a case study across the industry and cited in the UK government's housing White Paper.
Although Assael already has a strong track record of working on schemes globally for several international companies, the launch of its Australian studio is motivated by the genuine opportunity to contribute to the burgeoning BTR sector in Australia.
The studio will also bring its considerable expertise in BTR co-locational schemes to Sydney. The UK is seeing a growth in co-location developments and Assael has been working with Transport for London and Grainger, the UK's largest listed landlord, on its Connected Living portfolio, where new homes will be located alongside other land uses such as light industry, transport or retail at key locations such as Nine Elms in Central London – one of the largest infrastructure and regeneration sites in the UK.
The BTR model, inspired by the US multi-family sector, has been around for decades. The aim is to take the stress and hassle out of renting by offering longer tenancies, no agents fees, smaller deposits, and apartments with utilities that are ready as you move in.
The apartments are designed specifically for rent with a variety of shared social spaces, such as residents' lounges, co-working areas, fitness centres, yoga studios and communal gardens. These amenity spaces create genuine communities within the buildings and cater to today's increasingly social and active lifestyles generating a work, live and play culture.
Loren Thanyakittikul, director, Assael, said: "I am excited to be opening our new studio in Sydney. There is an excellent opportunity for this rental model to take off in the Australian market and I'm excited to use knowledge and lessons that we've learned from the UK's BTR boom to deliver designs that reflect the growing demand for rented homes that also offer a lifestyle experience with high-quality services, managed operations and communal spaces.
"I am also looking forward to working with the Property Council of Australia. BTR is still a relatively new asset class, and so there needs to be an emphasis on collaboration, both across the industry and with the government to help drive changes needed to support the future growth of the sector."
Russell Pedley, director and co-founder of Assael, said: "I am thrilled that Assael is launching its new studio in Australia. While we have worked on several international projects over the years, this is a very real opportunity to help drive and shape the nascent but rapidly growing BTR sector in Australia. With over 15 years' experience in conceptualising and delivering residential schemes, and her considerable expertise in the BTR sector, Loren is well placed to help lead this new chapter for Assael with the full depth and breadth of the practice in the UK behind her to tap into."
Paul Winstanley, Head of BTR for Australia and New Zealand at JLL, said: "It is very encouraging for the BTR sector in Australia that Loren and Assael have taken the decision to open up a design studio out of New South Wales. Assael have been one of the UK's leading BTR design firms since the early days of the sector's emergence. They have specialised in Build to Rent schemes and have contributed significantly to the development of an institutional grade sector. From JLL's perspective, it is important to learn as much as we can from overseas experience of creating a fully functional investment sector – and fit for purpose BTR design will be critical to success. By taking international learnings into account as we develop our own bespoke domestic BTR offer in Australia we have the opportunity to shorten the speed to market for quality assets."
The team at Assael worked together with Paul Winstanley to shape and co-author the UK ULI's Build to Rent Best Practice Guide.
11 Dec 2020
Colney Hatch Lane homes, Barnet, North London, England, UK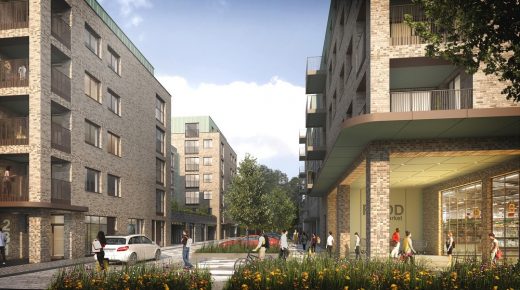 image courtesy of architects
Colney Hatch Lane homes
Montreaux and Assael have been given the go-ahead by the London Borough of Barnet for 204 new homes and a new community foodstore at Colney Hatch Lane, Barnet. Assael's design draws on the neighbouring wood and aims to marry the different land uses surrounding the site. The development will significantly boost the local ecology by providing new wildlife habitats.
9 Dec 2020
Clayton Road canalside homes development, Hayes, west London, UK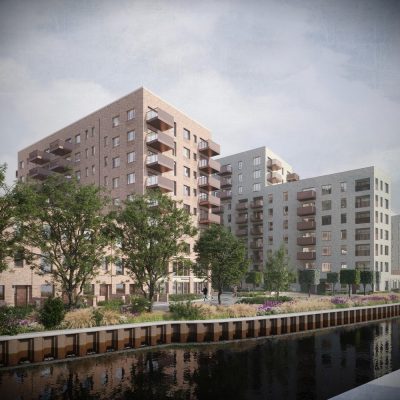 image courtesy of architects
Clayton Road Housing
A2Dominion secure planning consent for 400 canalside homes at Clayton Road, close to Hayes Town Centre. The proposals respond to the borough's local plan and the council's aspirations to open the Grand Union Canal up to the public
31 Oct 2020
Doddington Estate Housing, Nantwich, Cheshire, north west England, UK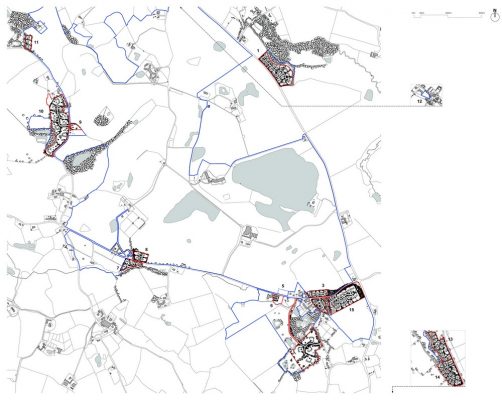 image courtesy of architects
Doddington Estate Housing
The Doddington Estate and Assael Architecture have successfully won the appeal to develop multiple rural housing sites around the Grade I listed Doddington Hall in Nantwich, Cheshire.
22 Oct 2020
Rightsizer, Enfield, north London, UK
Assael wins Meridian Water sustainable design contest
Assael Architecture has won a design competition to create a retirement community and care hub for the second phase of Enfield's major masterplan of 10,000 new homes.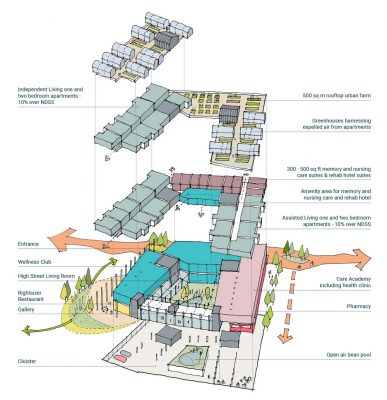 Rightsizer is a community-focused concept which embraces integrated and intergenerational community through the provision of a range of accessible amenities positioned around a central ground-floor hub open to the local community.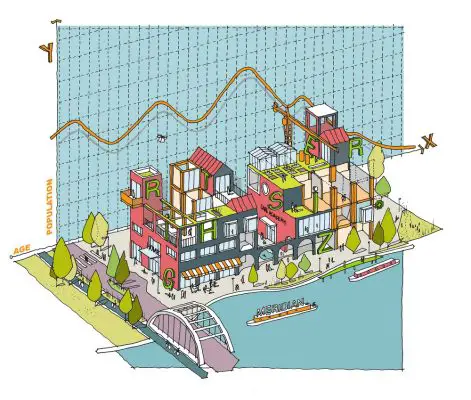 This includes a 'reminiscence museum' that celebrates the history of the local community whilst assisting residents with memory loss and dementia.

The architecture firm has been working closely global infrastructure consultancy AECOM to design innovative sustainable systems which include low carbon re-usable superstructure, reducing the scheme's embedded carbon footprint.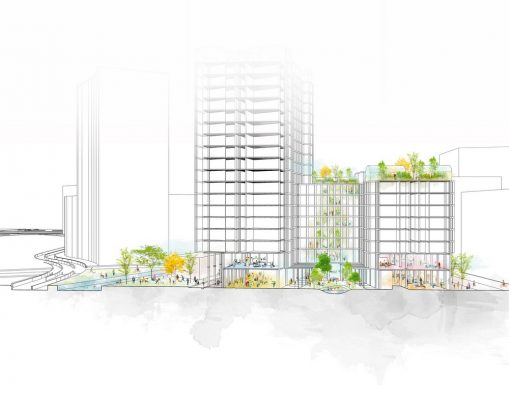 Seven architecture practices were shortlisted in the zero-carbon Meridian Water contest in May 2020. The finalists are Assael Architecture, Bell Phillips Architects, HHBR, Marks Barfield Architects, Allies and Morrison, PRP, and Netherlands-based landscape firm OKRA.
19 Oct 2020
Nineyards, Kingston, London, UK
Design: Assael Architecture
Viewranks Estates' debut into co-living given go-ahead at 'Nineyards' in Kingston Town Centre, launching an art deco inspired development designed by Assael Architecture.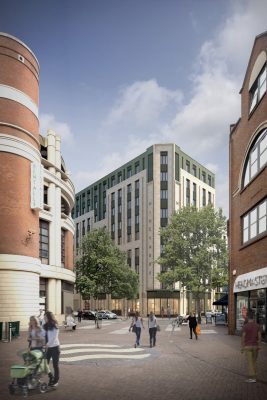 The proposals respond to the borough's strategy 'Re-imagining Kingston Town Centre's Streets and Spaces' to ensure the injection of public life, footfall and activity into the town centre.
Assael's design draws on the site's history as a cinema and public forum with an art deco inspired architectural language and the reprovision of a community hub for residents and the wider public, including a new co-working base, 'field-to-fork' restaurant and additional amenities for residents.
Assael builds upon past experience and insight from the design of their other co-living schemes
Privately owned, SW London-based Viewranks Estates and award-winning architecture practice Assael Architecture have been given the green light for a 200-room co-living development in the commercial heart of Kingston Town Centre.
The £60m scheme will be fully managed by Nineyards Living, a new forward-thinking brand focused on providing a boutique co-living experience tailored towards the environment in which it sits. Kingston is the first of three co-living schemes Nineyards is bringing forward across the Capital. The vision is to deliver this flagship concept for Kingston with high-quality, flexible co-living rooms and a welcoming development for the wider community.
The proposals respond to three key areas identified in the Royal Borough of Kingston's strategy, Re-imagining Kingston; the adaptability of retail on the high street; ensuring the injection of public life, footfall and activity into the town centre, including reviving a night-time economy; and providing opportunities to keep young professionals in the borough, who are currently under catered for and/or priced out of the area.
The design of Nineyards Kingston therefore reimagines the traditional high street and brings in a mix of uses and flexibility to ensure resilience in today's struggling retail and town centres. The ground floor space seeks to welcome the surrounding community into the building with an open plan, adaptable working and events space and adjoining 'field-to-fork' restaurant, which will be open from breakfast through to dinner for residents and the public.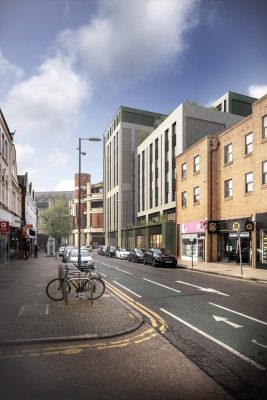 The internal arrangement is designed to offer a variety of co-living rooms, each with an en-suite, kitchenette, plentiful storage, and flexible furniture arrangements that can seamlessly transform the room between day and night. These rooms are complemented by a suite of amenities, including a gym and yoga studio, screening room, lounge and large 'MasterChef-style' catering kitchen, that have been curated to offer a diverse range of activities for residents and to foster a community within the building.
The site, currently occupied by PC World and Sports Direct, once housed the Royal County Theatre and Super Cinema, which operated from 1917-1940. The architectural language of the proposal references this art deco past, whilst also taking inspiration from the current properties locally. A palette of buff brickwork, metalwork and glossy green terracotta references the branding on the adjacent listed Bentall Centre, with fluted terracotta detailing that echoes the stonework details of the former Royal County Theatre amongst other buildings along Fife Road. The form of the building is staggered to create a series of external gardens and roof terraces for residents with the massing of the building climbing in scale towards the Bentall Centre to the west.
Planning officers consider the proposed development, including public realm enhancements that include resurfacing the adjacent pavements, tree planting and new cycle stands, to be of high quality that would raise the standard of built development in the area. The scheme is also targeting BREEAM Excellent design, which even includes reharvesting the heat from waste shower water back into the building.
Tim Chapman-Cavanagh, Director at Assael Architecture and former Kingston resident of 15 years says: "Up and down the country, we're seeing the decline of the traditional high street, and although we designed Nineyards pre-Covid, the past seven months has only accelerated this trend. The design principles for Nineyards Kingston are therefore more relevant than ever.
"Having lived in the borough for over 15 years, our vision from the outset has been to keep the vibrancy we're all used to in the town centre. The development not only offers new homes to help retain talent in the borough, but also brings in people and activity, alongside increasingly important co-working and homeworking opportunities that enables residents and the local community to easily separate home life from work without the need to travel to the office.
"Building on our experience in the design of other co-living developments and our expertise in Build to Rent, we've ensured that the internal configuration is functional and efficient to operate for Nineyards, while also providing high-quality and community-focused spaces for future residents."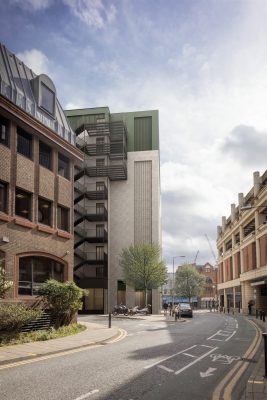 Richard Beim, Managing Director of Viewranks Estates says: "We're delighted that our first and flagship development for Nineyards Living has been given the green light. Our company invests in high growth areas of London, and Kingston is the first of three sites where we are looking to deliver high-quality co-living accommodation.
"We have found the Kingston authorities to be forward-looking in recognising the need for the town to adapt to a less retail and consumption-led economy and have been supportive to projects that provide greater social value with a more sustainable design.
"With new headquarter offices in the pipeline for Unilever PLC and Lidl, significant high-quality residential schemes plus continued investment into sustainable transport, we believe Kingston will be a great place to live long into the future."
About Viewranks and Nineyards:
Established in 1950, Viewranks has always been a family-owned business. Over time, the company moved from manufacturing and engineering into full time property investment, focusing on growth areas of central London and the surrounding boroughs. Being a generational business, the family takes a long-term view when making investment decisions and has a keen interest in how their properties interact with their location and the local community. The company philosophy is to look forwards, adapt and reinvest so that assets and their surroundings remain relevant for the next 50 years.
Nineyards was borne out of this vision; to provide high-quality, sustainable and innovative co-living developments. The ethos of Nineyards is to actively build a sense of community, both within the building and in the local area. Their aim is to provide affordable and desirable places to live that are founded on considered building design and a robust technological infrastructure, elevated by intrinsic levels of service, and focused on delivering an exceptional experience to their residents.
For more information please visit: viewranks.com / nineyardsliving.co.uk
17 Sep 2020
Empire House, Chiswick High Road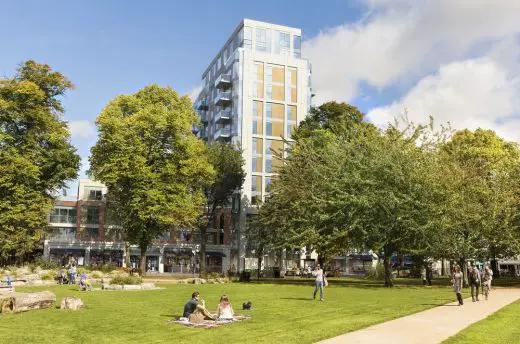 image from architect
Empire House, Chiswick High Road
137 homes delivered, providing a range of apartment types and townhouses.
18 Aug 2020
Architecture practice reacts to ONS Report
Following the Office of National Statistics' report today that revealed depression in British adults doubled during the coronavirus crisis, please see a comment below from Ben Channon, head of wellbeing at  Assael Architecture, on the role of quality architecture and design in supporting mental health.
Assael Architecture is a London-based practice who are dedicated to creating homes with wellbeing-led design, with notable projects such as build-to-rent scheme Union Wharf with Essential Living, and Blackhorse Mills with Legal & General.
In April, Assael conducted a survey on the impact of home design on those working from home and found that two-thirds of homeworkers said the lockdown was harming their mental health.
Ben Channon, head of wellbeing at Assael Architecture:
"There is no quick fix to depression or poor mental health, but architecture and design can go a long way to reducing stress and providing support to our busy lives, as research has undeniably proven. As a country we need to commit to designing in quality to our spaces, by maximising light, connections to nature, control over our environments, and comfort through our furniture choices. Architects and designers also need to enforce this, by aligning to standards such as WELL or Fitwel, and encouraging project teams to consider wellbeing from the inception of their design right through to post-occupancy."
13 Feb 2020
Architecture practice reacts to cabinet reshuffle
Félicie Krikler, director at Assael Architecture, said:
"There is a total incompatibility between the political cycles and the long-term aspects of housing, and appointing the tenth housing minister in the last ten years makes a complete mockery of the role. The industry needs stability to make progress on the housing front and bring forward policies that clarify questions over design, quality and delivery methods concerning the homes we build.
Understanding and addressing the issues troubling the market takes time and effort, and while another minister gets to grips with the role, we have high streets in need of reform and high-quality homes in need of building. I hope whoever steps in to fill McVey's place will be able to quickly adapt and contribute to the UK's housing needs."
2 Oct 2019
Assael Architecture becomes first UK architectural practice to join the UN Climate Neutral Now initiative to hit net-zero
Award-winning practice becomes signatory of UN-backed climate change mitigation programme
The pledge binds the practice to net-zero status immediately, making it the first UK architectural practice to join the UN initiative
Latest move in a series of practice-wide initiatives to help curb Assael Architecture's impact on the environment
Legal & General's Blackhorse Mills Build to Rent project in Walthamstow, which overlooks Waltham Forest and was designed with a special façade so not to disrupt the rare birds that mate on the protected wetlands: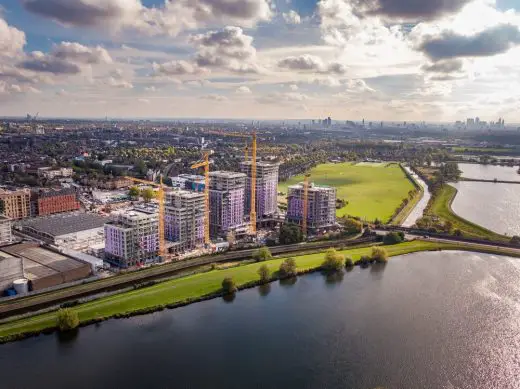 image courtesy of architects
Award-winning architecture practice Assael Architecture has become the first UK architectural practice to sign up to the UN Climate Neutral Now initiative, binding the studio to measure, reduce and offset greenhouse gas emissions now, not in the future.
As a signatory of the UN-backed initiative, Assael Architecture must calculate and disclose the current carbon footprint of the practice, including international air travel, and show a clear pathway to reducing it year on year.
The current carbon emissions of the practice are then offset financially using UN certified emission reductions (CERs), where Assael Architecture can choose specific projects to support. The offsetting project that Assael has pledged to support through the CERs programme is the creation of a hydroelectric power station in Chile, South America.
Meadowside, a project containing nine zero-carbon homes planned for Hampshire: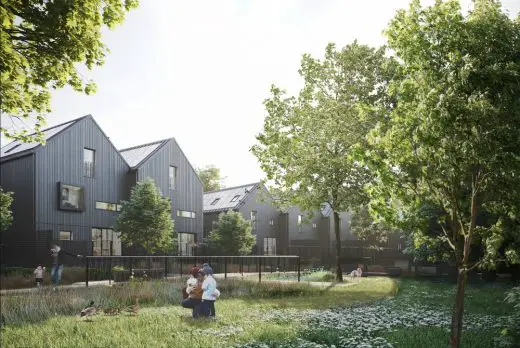 image courtesy of architects
The UN certified CERs are carbon credits generated by climate-friendly projects vetted by the UN following rules approved at intergovernmental level and with international oversight, providing a high level of credibility to the offsetting regime.
To help bolster the practice's fight against climate change domestically, Assael has been rolling out a range of initiatives internally to help curb their emissions. These include achieving and maintaining the IS014001 certification, sourcing their food and drink locally to reduce food miles, supporting staff cycling schemes, experimenting with the roll out of vegan and vegetarian meals, encouraging international video conferencing over international flights and extending the audience of their annual Green Week, where industry leaders gather at the Assael offices to discuss sustainability.
In light of the race to net-zero, the practice's Sustainability Working Group, launched back in 2016, is constantly looking for new ways the practice can reduce and offset its carbon footprint, domestically and abroad, with an eye on ensuring the practice is operationally carbon neutral from late 2019.
Rory O'Hagan, director of Assael Architecture, said: 
"Climate change is here and it's now. The effects and implications of our carbon emissions are clear to see, with many parts of the world already feeling the full force of climate breakdown. And as the social tide begins to change in support for more radical climate action, it's our duty as a business to set an example to our staff and the communities we operate within. We want our clients to know that our activities will not contribute to their carbon footprint and that sustainability is embedded into everything we do as a practice, including design, and not bolted on as an afterthought.
"By making the UN Climate Neutral pledge, we are committed to being a Net-Zero Carbon organisation now, not in the future. As a practice, we understand the urgency of action required to tackle climate breakdown and will continue to push ahead of the UK's legislated targets, providing a clear path for other businesses to follow."
Niclas Svenningsen, Manager, Global Climate Action, UN Climate Change, said:
"Climate action is urgent. We are facing a civilization-ending threat. If we are going to succeed against this challenge, we need to incorporate sustainability into everything we do. That includes the design of the buildings we live in, the public spaces that we use and any other built environment. That is why we are glad to have Assael Architecture joining the Climate Neutral Now initiative. We invite them and every other designer around the world, regardless of their field of expertise, to prepare their proposals with full consideration to the climate and sustainability requirements to help our society succeed."
5 Feb 2019
Assael Architecture Associate Director
Assael Architecture promote Tom Banfield to associate director after record profits
Award-winning architecture practice, Assael Architecture, have added to their senior management team with the promotion of Tom Banfield to associate director following the practice's most profitable year on record.
Tom joined Assael back in 2011 as an architectural assistant, after gaining a wealth of experience across a range of sectors and tenures within the industry, working on both small-scale residential schemes and large infrastructure plans.
Since joining the practice, Tom has become an essential member of the Assael team and is heavily involved in some of the practice's key Built to Rent and regeneration projects throughout the world. For instance, Tom worked directly on Hortensia Road in Kensington and Chelsea, a Build to Rent project for the UK's largest listed residential landlord. Grainger plc.
Tom also played a pivotal role in the design and delivery of North Wharf Gardens in Paddington. This development will deliver 485 new homes and places a particular emphasis on creating a new neighbourhood in Westminster, with a park and communal spaces at the heart of the project.
In this new role as associate director, Tom will work across all RIBA stages at Assael, leading a team on various projects, from delivering residential developments in Barnet, Brentford and Chelsea, to designing large-scale Build to Rent schemes and masterplans in the Middle East.
As well as being an outstanding architect, Tom is a keen sportsman. He founded Assael's tag rugby team, plays for the football and softball teams, and has twice won Assael's charity pool tournament.
This promotion comes at a time of continued growth for Assael Architecture, having just enjoyed its most profitable year on record and scooping Building's Good Employer Award in November last year.
Tom Banfield, associate director at Assael Architecture, said:
"It's a huge honour to be given this promotion at a time when the practice continues to go from strength to strength. I am incredibly excited to take on a more wide ranging leadership role on some of Assael's landmark Build to Rent and masterplan projects, both in the UK and beyond."
John Assael, chairman of Assael Architecture, said:
"Tom has grown as both an architect and a person since joining us in 2011. He plays an instrumental role in the day-to-day operation here at Assael, delivering design excellence time after time for our clients. Tom has demonstrated he is a team player both in the office and on the sports field!"
3 Feb 2019
Assael Architecture Restructuring
Assael Architecture hands over the reins with ownership restructuring and appointment of Pete Ladhams as managing director
• Assael Architecture has become an Employee Ownership Trust (EOT), making staff beneficiaries and giving them a say in the company's future
• Pete Ladhams has become managing director to drive the company through a new exciting chapter
• Restructuring is part of the practice's mission to continue being one of the industry's best employers
Following its most profitable year on record, Assael Architecture has become an Employee Owned Trust which has made staff beneficiaries of the business and appointed Pete Ladhams as managing director.
The transformation to an EOT is the latest move by Assael to reward their staff for their hard work and loyalty and maintain their recognition as one of the industry's top employers.
Assael's 99 employees will soon elect two new Trustees, selected from any level of the practice, to be their voice, enabling every individual to have a say in Assael's evolution and success. An external independent Chair will also be appointed, joining co-founders John Assael and Russell Pedley as Trustees.
John Assael, chairman and co-founder of Assael Architecture, said:
"Since founding Assael Architecture in 1994, Russell and I have seen the business grow into a renowned and respected architecture practice. After much consideration – and an awful lot of consulting – we took the collective decision to turn the practice into an Employee Ownership Trust in order to put the future of the business firmly in the hands of those that have built it – our staff. We're also delighted to announce Pete as MD; having started here as a young student, he is testament to our commitment to our staff's development and he'll continue to be an inspiration to the growing team."
Russell Pedley, director and co-founder, said:
"Our staff have been integral to every success of Assael and therefore John and I believed it was only right that they're rewarded for their loyalty. With new opportunities arising for the future, this is the perfect time for staff to engage in and have a say in our vision."
Pete Ladhams, Assael's new managing director, vows to continue with the staff-centric approach with an ultimate responsibility for the company's performance, including personnel, resources and recruitment.
Ladhams joined the practice as a student in 2001, and has worked on many of Assael's significant and award-winning projects including Clockhouse and Access House in Bromley-by-Bow, Macaulay Walk in Clapham and Ham Mill in Stroud. Pete will continue to promote design excellence and drive the aspirations of the company's development, including growth into exciting new sectors, services and locations.
Pete Ladhams, managing director of Assael Architecture, said:
"It is an honour to represent Assael as managing director. Assael is built around its talented staff and understands how integral they are to its success. We have something very special here and by becoming an EOT we hope to maintain this culture and ambition by allowing all employees to influence the new exciting chapter at Assael."
Assael joins 16 other AJ100 architects in becoming an EOT, according to figures from the Employee Ownership Association.
11 Dec 2018
New Homes in Abbey Wood, west London, England, UK
Mayor gives go ahead to 'called in' 272-home scheme in Abbey Wood
Eynsham Drive will create nearly new 300 homes and rehouse the PDSA pet hospital currently on the site
London Mayor Sadiq Khan 'called in' the proposed scheme earlier this year, overruling the council's decision to block the development close to Abbey Wood Crossrail station
Solar panels, a wilderness garden and green communal spaces make the development environmentally friendly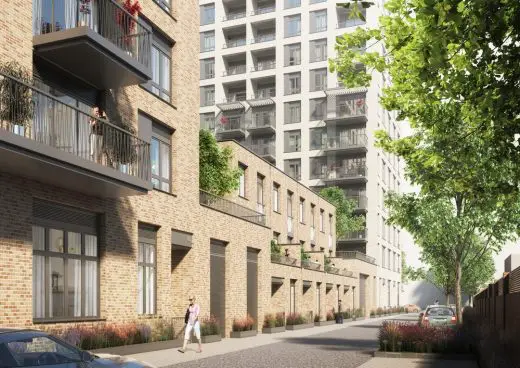 rendering courtesy of architecture office
The Mayor of London, Sadiq Khan, has given the go ahead to Eynsham Drive in Abbey Wood development, a mixed-use residential development that will create 272 new homes close to the new Crossrail station.
Designed by award-winning architecture practice Assael Architecture, and developed by Definition Capital, the Mayor 'called in' the Eynsham Drive project after the council deferred and then rejected the proposed plans earlier in the year. The Mayor 'called in' the project because he felt the scheme would "make an important contribution to affordable housing supply in response to London Plan policies."
Assael Architecture and Definition Capital worked closely with the Greater London Authority (GLA) to make a number of amendments to the scheme, such as creating additional children's playspace, increasing the amount of trees and adding more townhouses to the ground floor to create a greater sense of activity throughout the scheme.
Eynsham Drive is set to transform the site, which currently hosts a car wash facility and a PDSA pet hospital, creating an active frontage around the ground floor. The commercial space on the ground floor has been designed for use as either offices or retail, and will also rehouse the PDSA pet hospital in improved facilities, helping them expand their charitable work in the area.
The mixed-use development, located opposite the western edge of the Thamesmead estate at the junction of Harrow Manorway and Eynsham Drive, will also offer a variety of homes at different price points. 35 percent of the total housing provided will be affordable, made up of 28 shared ownership units and 67 social rent apartments, in line with the Mayor of London's affordability targets.
The homes will be spread over three buildings ranging from seven to 17 storeys in height, and be a mix of studios, one and two-bedroom apartments, as well as three-bedroom family townhouses. To build a genuine community, all entrances will be tenure-blind, meaning no 'poor doors', while 10 percent of the homes will have full disability access.
Future residents of Eynsham Drive will also benefit from being only minutes away from Abbey Wood rail station, which will be part of the Crossrail network launching next year. Trains from Abbey Wood will be able to reach Liverpool Street in just 17 minutes and Heathrow Airport in 51 minutes.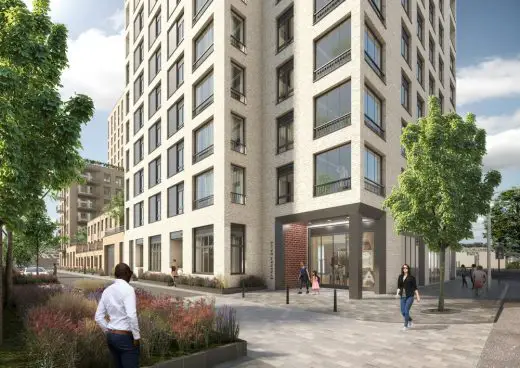 image courtesy of architecture office
Assael's design has prioritised the long-term sustainability of the scheme, adding to biodiversity efforts in the area. By bringing substantial greenery to the public realm, incorporating solar panels on each building and creating gardens for both residents and the wider public, the project will make a significant contribution to the area, while minimising the development's environmental footprint.
At the heart of the scheme is a podium wilderness garden, designed in collaboration with Spacehub, which will provide children's play spaces and specifically chosen flora.
Complementary to this, Assael's design has also aimed to improve the pedestrian access through the site, providing paths and cycle lands for the public. In addition, the scheme will provide visitor and staff parking for the PDSA pet facility.
Felicie Krikler, director at Assael Architecture, said:
"Eynsham Drive is set to be a great addition to Abbey Wood, an area undergoing astonishing change. The contribution of the scheme to the local community is significant, creating a wealth of green spaces, sustainable energy, job opportunities and improving the pedestrian experience through the site.
"Our design has sought to create an environmentally friendly development that brings nature and greenery into the area in a playful, interactive way. By opening up the site with luscious green spaces, we hope that residents and the public can interact and grow together as a community."
4 Aug 2018
New Homes in Southall, Borough of Ealing., west London, England, UK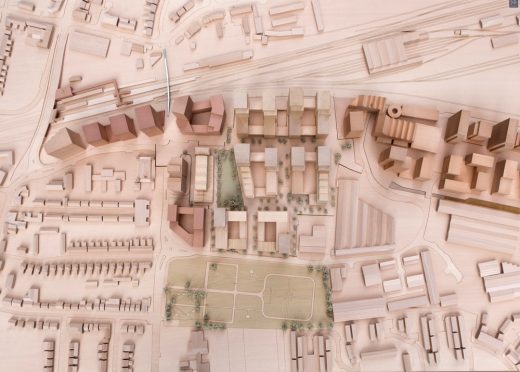 image courtesy of architecture office
New Homes in Southall
Southall set for major regeneration as Assael Architecture and Montreaux submits masterplan for over 2,000 homes in Ealing.
29 Jun 2018
Old Brewery Gardens Development, Manchester, Northwest England, UK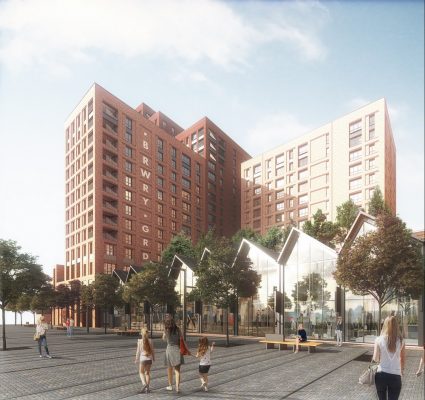 image courtesy of architecture office
Old Brewery Gardens
Prosperity Capital Partners and Assael Architecture have successfully secured planning for a £175m regeneration development in the centre of Manchester.
22 May 2018
Charter Square, Staines-upon-Thames, Southwest London, England, UK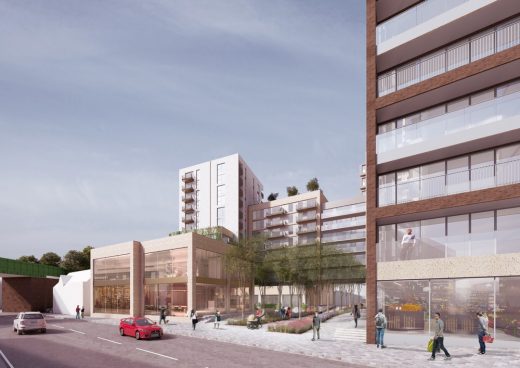 image courtesy of architects
Charter Square, Staines-upon-Thames
Award-winning developer London Square has secured planning permission for the second phase of its £120m town centre scheme – extending the scope for the transformation already under way at the heart of Staines-upon-Thames.
3 May 2018
HBF Housing Pipeline Report Comment
Comment by Dipa Joshi, director of Assael Architecture for the HBF Housing Pipeline Report.
Dipa Joshi, director at Assael Architecture, said:
"The Housing Pipeline report encapsulates the changing approach to affordable housing, with approvals on social housing units up 27% on the previous year and an increase in the number of affordable projects given approval also up. Fixing the UK's housing market requires a significant increase in the number of affordable units on the market and this report shows that initiatives like shared ownership, discount market rent along with the growing strength of housing associations, and private sector joint ventures are having a palpable effect on the market. There is still a long way to go, but this feels like a breakthrough moment in the years following the housing white paper."
30 Apr 2018
New Housing Minister comment
Russell Pedley, director at Assael Architecture, said:
"Once again, we have seen a change at the Ministry of Housing, Communities and Local Government. The point of changing DCLG to MHCLG was to highlight the major issues we have within the housing market at the moment. However, the Government's actions here show that, once again, other departments take a priority over housing. If we are serious about fixing the broken housing market, delivering affordable homes at high volume and transforming the outdated delivery model, then we need consistent leadership at the top."
27 Apr 2018
Public investment in AI
We post a comment below from Rory O'Hagan, director of Assael Architecture, on the recent annoucement of more public investment in artificial intelligence.
Rory O'Hagan, director at Assael Architecture, said:
"Genuine Artificial Intelligence will have deep and dramatic effects on the fabric of the built environment. While some may fear its advent, it will undoubtedly play a major role in future economies. Artificial Intelligence within the profession of architecture – combined with the already impressive advancements in BIM – will change the way we approach the design and delivery of buildings.
At a practical level, many of the formulaic parts of the design process could be automated and rigorously modelled, freeing up time for the more creative, problem solving side of the job. The profession need not fear the imminent arrival of robot architects and should make sure we embrace the exponential benefits of cutting-edge technologies. After all, we don't want to be left behind."
14 Feb 2012
Dreamland Margate, Kent, England, UK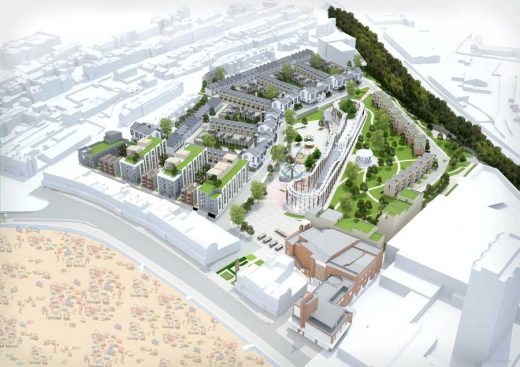 image from architects
Dreamland Margate
Assael Architecture has unveiled its vision for the Dreamland Margate site at a public enquiry into whether Thanet District Council will be allowed to compulsorily purchase the former fun park. Assael is the fifth architectural practice to be appointed and the only one to protect and reuse the Grade II* Cinema and Scenic Railway as part of a low density housing scheme designed to attract inward investment.
Assael Architecture – Key Projects
Major Developments by Assael Architects, alphabetical:
Century Buildings, central Manchester, England
–
Cleveland Street, London W1
2004-
Offices for City of Westminster Corporate Property Department
Great Northern Tower, central Manchester, northern England
1999-
Manchester building
Angled residential tower near G-Mex Centre
257 apartments
£33m approx.
For George Wimpey City
Farm Lane, residential square in Fulham, south west London
2012-
40 houses on the site of a former garages, retaining an Edwardian arched entrance.
Great West Quarter, Brentford, west London, UK
2003-
Mixed-use development for Barratt West London
Green Bank, Leeds
2004-
Mixed-use residential
For Harrow Estates Plc
833 apartments, offices, retail, restaurants
£80m
Payne's & Borthwick Wharves, southeast London
2001-
Mixed-use development for George Wimpey Central London
Regency Apartments, southwest London
1997-2003
Residential property – 204 apartments for Barratt West London
£30m
Tachbrook Triangle, southwest London
2003-
Mixed-use development by Assael Architects for Barratt West London / Acton Housing Association
More Assael Architects buildings online soon
Location: 50 Carnwath Road London, SW6 3EG, UK
Architecture Practice Information
Assael – architect office based in England
Assael Architecture Limited is led by John Assael, Managing Director, shareholder & co-founder
DiplArch GradDip(Consv)AA MSc RIBA FRSA
Education:
Post Graduate Diploma in Building Conservation
Architectural Association School of Architecture
Masters Degree in Economics (Urban Regional Planning)
University of London
Diploma in Architecture
Oxford Polytechnic School of Architecture
London Architecture : news + key projects
Assael is an award-winning, London-based practice that offers a cohesive suite of architecture, interior design and landscape architecture services to a range of developers, investors and local authorities. Established in 1994, Assael has over 25 years of experience in the design and delivery of successful residentially-led mixed-use schemes.
They have become one of the leaders in the design of Build to Rent communities and have recently been using this expertise in the design of many co-living developments across London. Notable buildings designed by Assael include Queen's Wharf and Riverside Studios in Hammersmith, 21 Young Street in Kensington and Chelsea, Union Wharf in Greenwich, and Garratt Mills in Wandsworth.
Comments / photos for the Assael Architects page welcome
Website: www.assael.co.uk