Cyprus architecture news 2023, Cypriot building projects, Nicosia construction design, Property images
Cyprus Architecture News
Cypriot Architectural Designs – Southeast Europe Built Environment Updates
post updated 25 August 2023
Cypriot Architecture Designs – chronological list
Cyprus Building News
Cypriot Architecture News, chronological:
7 Dec 2022
House with Courtyards, Nicosia
Design: christos pavlou architecture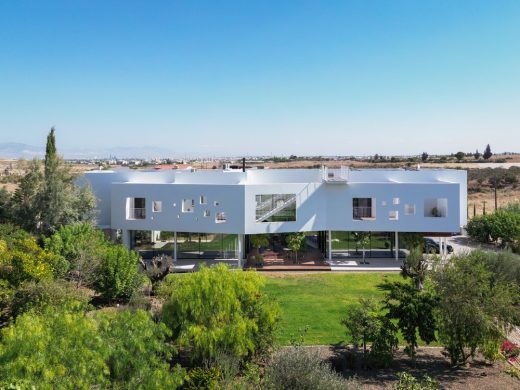 photo : Unseen Views
House with Courtyards, Nicosia
House with Courtyards sits on a large piece of land located on the borders of the village of Deftera and a few kilometers outside of Nicosia, in an inhospitable and desolate landscape, the owners decide to build their "shelter".
14 Dec 2021
Eleftheria Square, Nicosia
Architect: Zaha Hadid Architects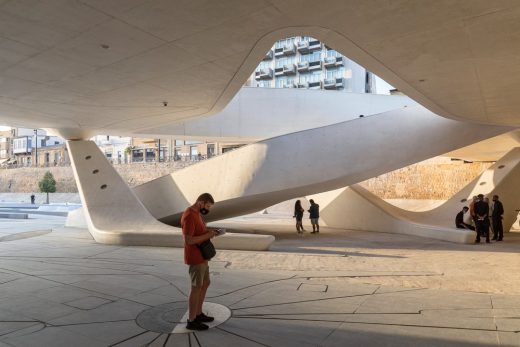 picture from architecture studio
Eleftheria Square, Nicosia
Establishing Eleftheria Square as the city's primary gathering space, Zaha Hadid Architects' (ZHA) design creates new connections intended to unite a divided capital. Nicosia's massive Venetian fortifications separate the old city from its modern districts, while the city's 'Green Line' divides the capital into two disparate communities.
1 Sep 2021
Limassol Terminal, East Pier, Limassol Port
Design: Irwinkritioti Architecture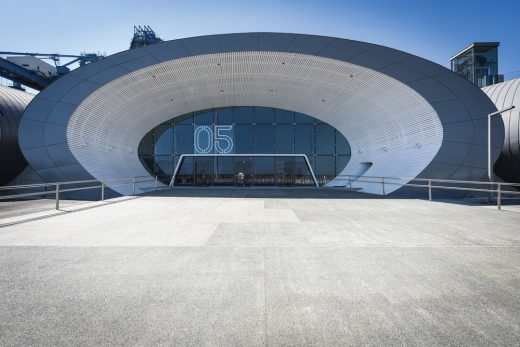 picture from architecture studio
Cyprus Cruise Terminal Limassol Building
The new Limassol Terminal is the first purpose-built building for cruise ships on the island of Cyprus. Stretching 350m down the east pier as a series of elliptical shells, it replaces the old industrial shed which had provided basic services for many years.
17 Aug 2021
Limassol Greens, Limassol
Design: HKS Architects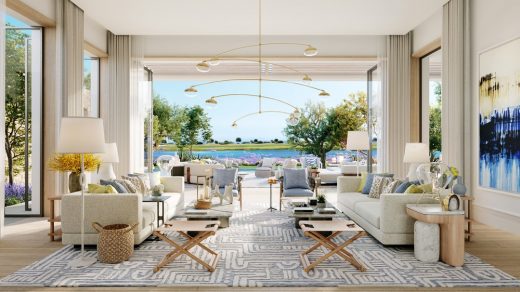 Limassol Greens Resort, Cyprus
Global architecture and design firm HKS has seamlessly blended nature with nurture in a stunning first for the Mediterranean island of Cyprus. Working closely with Lanitis Golf Public Co Ltd, HKS is set to deliver high spec architectural and landscape design for Limassol Greens, a new golf resort and residential development in the city of Limassol.
18 Dec 2020
Nominated by e-architect for Buildings of 2020:
6 Aug 2020
The Garden House in the City, Nicosia
Design: Christos Pavlou Architecture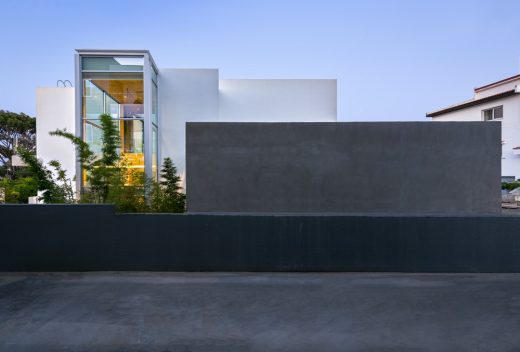 photo from architects office
The Garden House in the City
Bringing nature back to the city although not a new idea it is a growing imperative especially for cities like Nicosia which has failed to make greenery and communal public areas a priority in its urban planning.
10 Mar 2020
The Linear House, Limassol
Design: christos pavlou architecture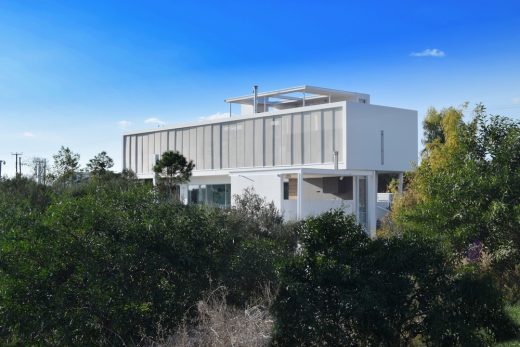 photo : Creative Photo Room
Contemporary Limassol Residence
The linear house designed by Christos Pavlou Architecture has been awarded the ''German Design Award 2020- winner'' by the German Design Council in the category ''Excellent Architecture''.
12 Sep 2017
New Cyprus Museum Proposal, Nicosia
Architect: Paul Kaloustian Studio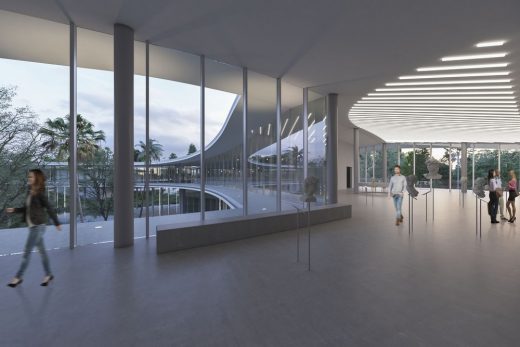 image Courtesy architecture office
New Cyprus Museum Proposal in Nicosia
Museums are not just buildings. They are a series of experiences where humans find sanctuary. They hold in them unfathomable wisdom as they showcase and tell stories about the human kind.
4 Jan 2017
Art School & Residence 1306 Akaki
Design: Marios Christodoulides Christos Christodoulou simpraxis, Architects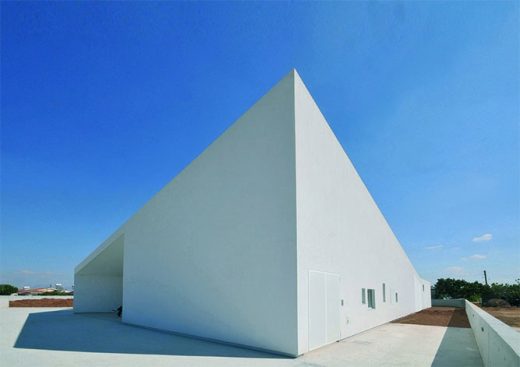 photo © Marios Christodoulides
Art School & Residence 1306, Akaki
The program called for an Art School and a Residence for an Art Instructor and her family. The small Art School and modest House had to be located within the same plot and had to function independently with separate access from the street. Nevertheless, there had to be direct and safe access from one to the other.
23 Dec 2016
New Residential Tower, Limassol
Design: Orange Architects



image Courtesy architecture office
Terra Project Residential Tower in Limassol
Orange Architects wins the closed competition for Terra Project; An exclusive residential tower at the beach in Limassol, Cyprus – commissioned by Masharii & The Land.
18 Nov 2016
Ayia Napa Marina, Ayia Napa
Design: SmithGroupJJR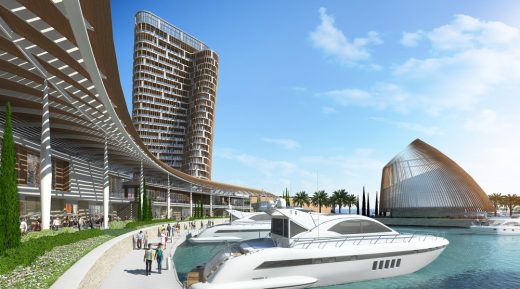 image Courtesy architecture office
Ayia Napa Marina in Cyprus
With the laying of the first cornerstone today, the Ayia Napa Marina development has officially started construction. The £190 m mixed-use residential and commercial project is scheduled to be completed in 2021 and will boast 190 spacious and deluxe apartments in two iconic twisting towers, 29 luxury villas, a 600 berth full-service marina and boatyard, and a collection of elegant retail, waterfront dining and premium lifestyle amenities for residents and visitors.
11 Nov 2016
Contemporary Nicosia Residence, Nicosia
Design: christos pavlou architecture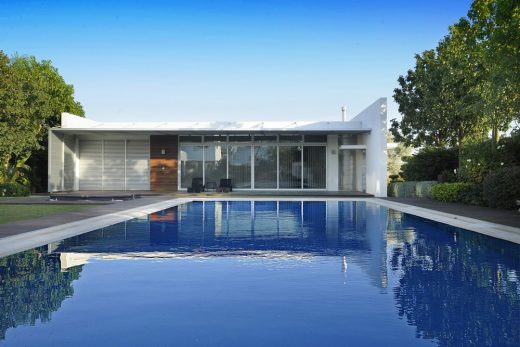 photos : Louca Studios, Christos Pavlou
Pool House in Nicosia
This contemporary Cypriot property was conceived as a place of entertainment, play and hosting guests this pool house resting in the garden acts as an extension to a main house which together they form a large L-shape configuration embracing an internal courtyard with gardens and a large swimming pool.
2 Oct 2016
Art Collector's House & Gallery, outskirts of Nicosia
Design: Vakis Associates – Vakis Hadjikyriacou Architect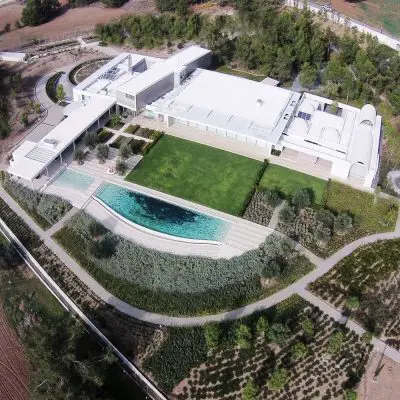 image Courtesy architecture office
Art Collector's House & Art Gallery in Nicosia
The design and concept of this house was inspired by the surrounding landscape and topography of the dense forest area of Stavrovouni and the challenge of combining two briefs, a home and an art gallery (with an extensive varied collection). The client's vast collection of art work almost became the main inhabitant for the interior design of the house and gallery.
4 Jul 2016
Natuzzi Store Limassol
Design: christos pavlou architecture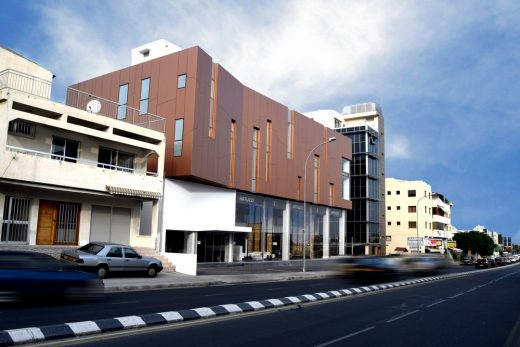 photograph : Christos Pavlou
Furniture Showroom in Limassol
The building is located in one of the longest commercial streets of the country spanning 6.5km in length with heavy and speedy traffic most of the times. It is inserted between an old existing two storey house and a new 6th floor block of offices.
29 Mar 2016
L-House, Nicosia
Design: christos pavlou architecture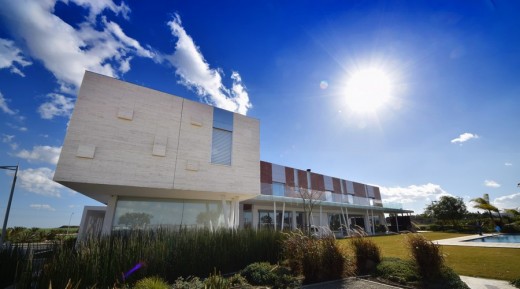 image from architect
Nicosia Residential Building
This Cypriot home is designed in the form of a large "L'' configuration embracing thus the garden, the swimming pool but also taking advantage of the south-west orientation of the site. The building has two contrasting sides, one facing north-west and the other south-west.
8 Oct 2015
Apostle Peter and St Helen the Martyr Chapel, Pafos
Design: Parametric Design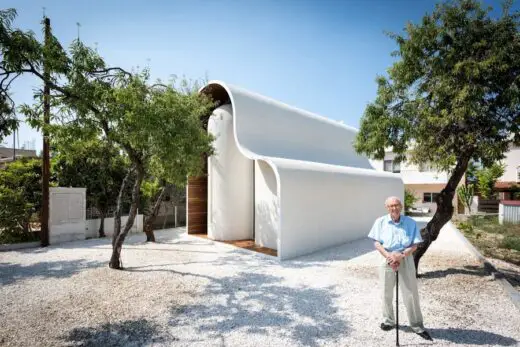 photograph : Charis Solomou (http://500px.com/charisarch)
Apostle Peter and St Helen the Martyr Chapel in Pafos
The Greek Orthodox chapel commemorating Apostle Peter and St. Helen the Martyr is situated on Kerkiras Street, in St. Theodoros area in Pafos, Cyprus. The founding stone was placed by the Bishop of Pafos, Georgios IV, on 7th December 2013 and the project was completed on 19th July 2015.
28 Mar 2015
Germanina Agriculture Farm
Design: sparch Sakellaridou/ Papanikolaou Architects & Ch. Marathovouniotis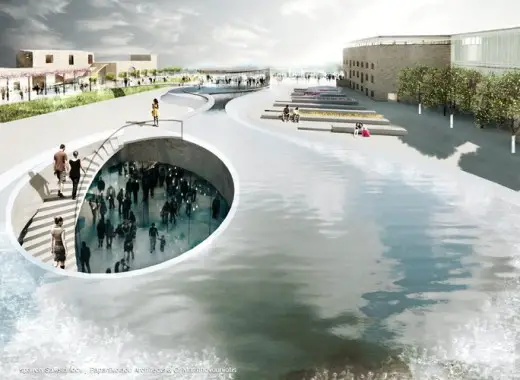 image Courtesy architecture office
Germanina Agriculture Farm
A site, an old farm, for which we were asked to propose a business and architectural approach as well as to form a complete philosophy of hospitality.
11 Nov 2014
DiamantECO Skyscraper Building, Nicosia
Design: Studio Concepto Architects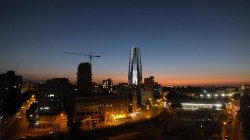 image Courtesy architecture office
DiamantECO Skyscraper Building
This project is considered being a smart building. Having the ability to transform according to the main environment characteristics at a specific moment or period but also according to the habitats needs or habits.
5 Jan 2014
Let them eat CAKE cafe, Pafos
Design: LK Architects – Lambrianou Koutsolambros Architects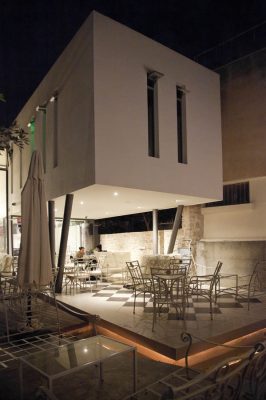 photograph : Maria Efthymiou
Cafe & Patisserie in Pafos
The cafe enriches a neighbourhood of cafes and restaurants in the Pafos centre. A conversion of an abandoned kebab house, it is the first of its kind, a combination of cafe and patisserie.
17 Sep 2013
ARC University of Nicosia, Nicosia
Design: Yiorgos Hadjichristou, Architects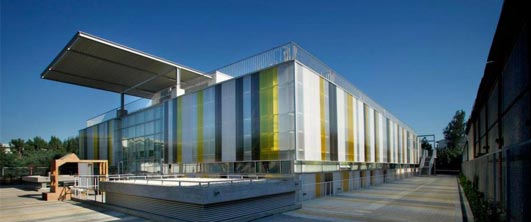 photograph : Agisilaou and Spyrou
Architecture Research Center Nicosia
Conversion of a shoe factory building in the Engomi industrial area into the ARC – Architecture Research Center, University of Nicosia. The university's decision efficiently addresses the strategy of reuse, sustainable strategy and regeneration of the derelict site. It also reflects the sensible and explorative identity of the ARC.
5 Sep 2012
The funnel house, Pafos
Design: LK Architects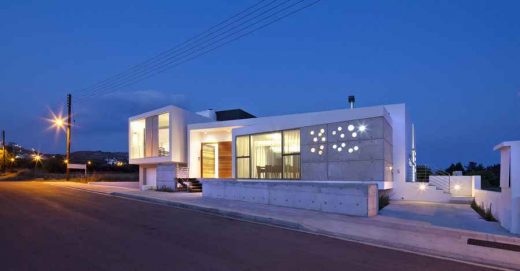 photograph : M. Efthymiou
Pafos Property
The residence was built on a flat plot in the village of Agia Marinouda, Pafos. The shape was determined by the views and climatic factors such as the sun movement and prevailing winds.
More Cyprus Architecture News online soon
Location: Republic of Cyprus, southeast Europe
Southeast European Buildings
Bosnia and Herzegovina Buildings
Comments / photos for the Cyprus Architecture News Information page welcome