Ayia Napa Marina property, Cyprus mixed-use resort, Cypriot residential buildings, Architectural images
Ayia Napa Marina Cyprus Resort
Luxury Resort and Residences design by SmithGroupJJR
18 Nov 2016
Design: SmithGroupJJR
Location: Ayia Napa, Cyprus
A new era in modern beachfront living begins as Ayia Napa Marina begins construction in Cyprus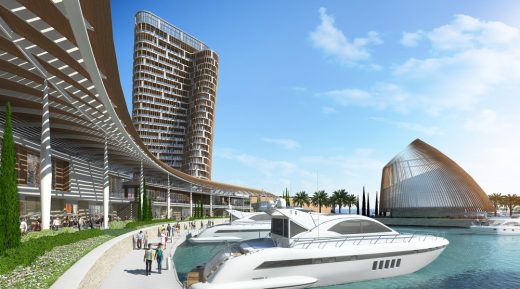 Ayia Napa Marina Property
• An exclusive integrated development offering luxurious residences, world-class yachting facilities, a variety of retail boutiques, waterfront fine dining options, recreational and nightlife experiences
• A design that includes 190 spacious one-four-bedroom apartments, penthouses on the top two floors, 11 luxury beach villas and 18 peninsula marina and Island Villas directly overlooking the marina and featuring walk-out access to private berths.
• Highlight is 600 berth marina which can accommodate yachts of up to 60m in length.
• Prices start from £430,000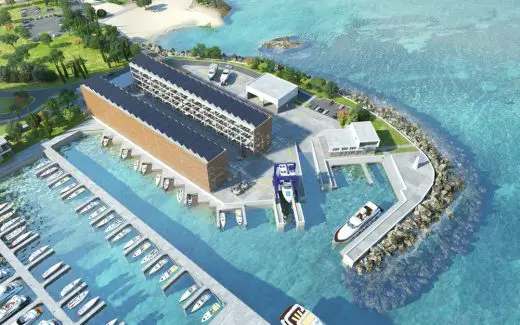 AYA NAPA, CYPRUS – With the laying of the first cornerstone today, the Ayia Napa Marina development has officially started construction. The £190 million mixed-use residential and commercial project is scheduled to be completed in 2021 and will boast 190 spacious and deluxe apartments in two iconic twisting towers, 29 luxury villas, a 600 berth full-service marina and boatyard, and a collection of elegant retail, waterfront dining and premium lifestyle amenities for residents and visitors.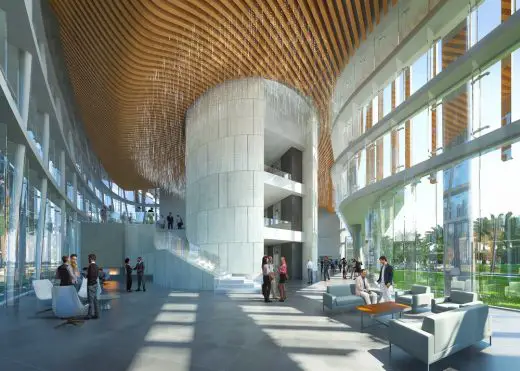 Ayia Napa Marina is located on the Southeast coast of Cyprus, in the Ayia Napa district. The development is the realisation of the dream and vision of the project's partners; Cypriot entrepreneur Gerasimos Caramondanis and Egyptian investor Naguib Sawiris. The pair joined forces to implement a long-term strategic plan aiming to set a new standard for luxurious sea-front marina living.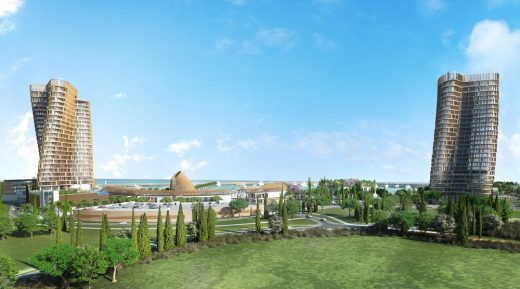 Naguib Sawiris, Project Partner, said: "We're not just building a place to live – we're launching a new era in modern beachfront living. Each luxury residence will feature uninterrupted panoramic views of the Mediterranean paired with comfortable, spacious living space. We will exceed the expectations of our residents and our guests and not only transform the Cyprus skyline, but change the way you think about Cyprus."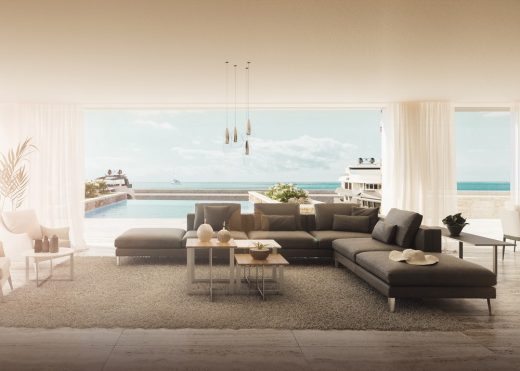 Stavros Caramondanis, Ayia Napa Marina CEO, said: "Cyprus is a safe haven blessed by beautiful nature, year-round sunshine, modern infrastructure, a high standard of living and a genuine culture of warmth and hospitality, strategically located in the eastern Mediterranean at the crossroads of three continents – Europe, Asia and Africa. Its modern legal system, based on English Common Law, is widely recognised as being effective and business-friendly. The modern, competitive and simple business environment coupled with a high quality of life make Cyprus an ideal place for both visitors and investors."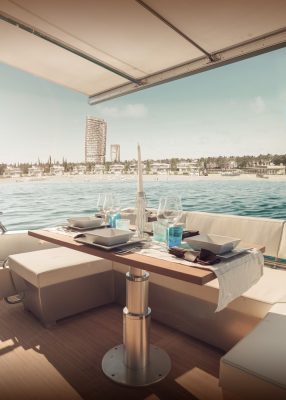 The project was designed by SmithGroupJJR, a US-based architecture, engineering and planning firm internationally recognised as experts in waterfront design.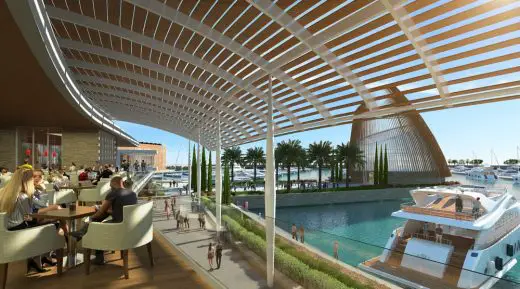 The Residences
Rising high above the marina are two iconic towers, visible from both land and sea. Over 100 metres tall, the towers stand out in splendor welcoming seafarers, residents and visitors. The towers' twisting forms are inspired by the caryatids and sculptures found at archaeological sites throughout Cyprus and their facades are articulated with a latticework suggestive of the woodcraft and detail of ship-building.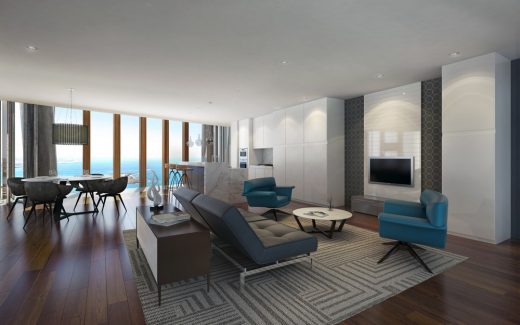 Both towers have T-shaped plans that twist approximately 1.6 degrees per floor, rotating west to east as they ascend to take full advantage of the breath-taking panoramic views of the Mediterranean, the marina and coastlines stretching in either direction. The highest floors are oriented towards the east, overlooking spectacular beaches.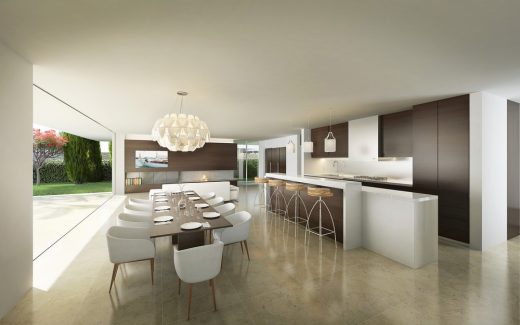 The two towers have a total of 190 luxury apartments between them, ranging from a mix of one, two, three or four-bedroom residences, to full-floor penthouse apartments at the top two levels of each tower. The penthouse apartments feature 360-degree panoramic views while the three radiused-end apartments enjoy 180-degree views. Taking full advantage of one of the most beautiful stretches of coastline in the Mediterranean, the apartments are uniquely shaped to ensure that all living spaces, including bedrooms, are oriented towards the water and beaches; while the concept of modern, open plan designs maximise daylight.
Exterior walls are predominantly 2.8-metre-high glass, with covered verandas outside all living spaces. Bedrooms have large floor-to-ceiling sliding glass doors, while living rooms have full-height folding glass doors that when opened create an extension of the living area out onto the veranda.
Each tower will feature a premium penthouse accommodation with taller ceilings than the rest of the apartments and offer an exterior glass facade approximately 3.5 metres high. As well as an entire private "family wing" of bedrooms including a master suite, the penthouses provide an additional room that can be used as an office, recreation or home entertainment room.
29 luxury villas are located along privately maintained and secured roads on the marina island and the peninsula. Each lot includes significant space for landscaped gardens. 11 of the villas fan out around a beautiful crescent-shaped man-made beach of fine-grained sand; while the other 18 Peninsula Marina and Island Villas directly overlook the marina and feature walk-out access to secure docks.
The villa architecture is a contemporary expression of new and old, combining locally quarried stone around the base, with sleek plaster volumes cantilevered above. Large expanses of glass are optimally placed to promote the breath-taking views around the villas. European façade panels are used to introduce warm but modern contrasting colours.
All villas are designed with a modern, open-plan concept, with primary spaces oriented towards the sea. Each lot includes a private plunge pool with infinity edge. The upper floor bedroom level also features full-height sliding glass doors that open onto wood-decked covered verandas, allowing in the Mediterranean breeze and views. Lower levels open out into private sunken gardens and courtyards.
11 fully-detached three, four and five-bedroom beach villas will be located on the west end of the peninsula, offering residents a classy and modern environment for living with comfortable interiors, lush gardens and spectacular unobstructed views of the Mediterranean Sea. Each villa has spacious open-plan living areas, finished with the finest materials, fittings and fixtures.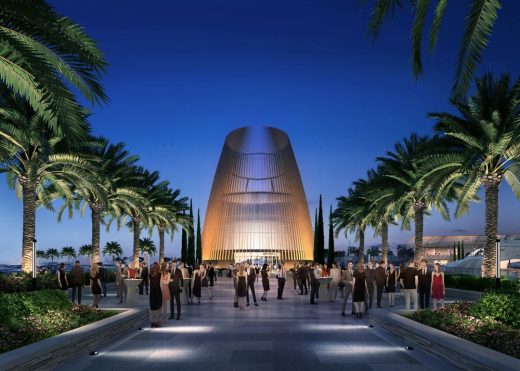 12 villas will be built on a man-made island inside the marina area and six additional villas are located on the peninsula directly behind the beach villas. Built to the highest standards with thoughtfully designed interiors, these 18 exclusive villas are finished with the finest materials, fittings and fixtures. With floor-to-ceiling windows offering natural light and stunning views of the marina, these refined and elegant homes effortlessly combine comfortable indoor and outdoor living.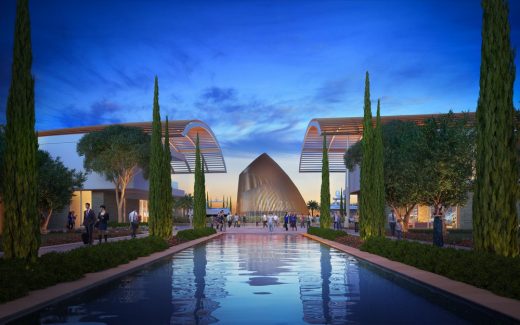 The Marina
The marina hosts approximately 600 yachts in wet and dry slips. Wet slips can accommodate yachts up to 60 metres in length and up to 80 metres by advance arrangement, while a dry stack storage facility is available for boats up to 10m in length. For the dry stack facility, a premium valet service is provided with complete provisioning and pre-launching of boats offering a hassle free experience.
The unique aspect of the marina is the finger style berthing for yachts of 30 metres or less while floating docks assure comfortable access in all conditions. The marina basin has depths of 3.5 to 6.5 metres to accommodate the deep drafts of sailing boats and super yachts. The specially engineered wave absorbing breakwater minimises harbour chop and storm wave agitation assuring safe and comfortable berthing at all times.
Amenities offered include conveniently located comfort stations with showers and WC, internet access, a dedicated crew lounge, a yacht club and beach club. A supermarket, shopping and dining experiences are located just steps away in the Pyare Village.
The adjacent boat yard offers an extensive range of high-level professional marine services such as hauling, launching, and boat maintenance operations.
More information about Ayia Napa Marina, including floor plans, specific amenities and purchasing information can be found at MarinaAyiaNapa.com.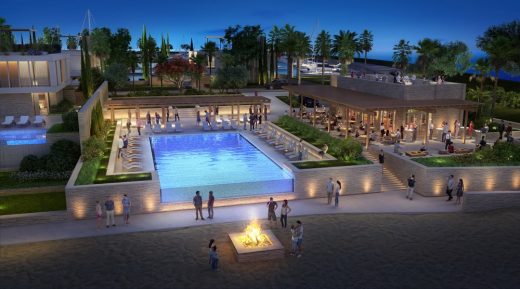 Ayia Napa Marina in Cyprus – Building Information
Ayia Napa Marina is a mixed-use residential, commercial and entertainment development in the Ayia Napa district of Cyprus featuring luxurious residences, world-class yachting facilities, a variety of retail boutiques, recreational facilities and waterfront fine-dining options.
Number of Towers: Two, each rising more than 100 meters above the ground
Number of Apartments: 190 spacious and deluxe 1-4 bedroom units with panoramic views of the Mediterranean Sea
Number of Penthouses: 4 (two in each tower)
Number of Villas: 29 in total
11 luxury beach villas
6 peninsula marina villas, each with walk-out access to private berths
12 island villas, each with walk-out access to private berths
Number of berths: Space for 600 yachts in wet and dry slips capable of accommodating yachts up to 60m in length (or up to 85m with prior arrangement)
Price: Starting from €500,000
Construction began: 30 September 2016
Construction completion: 2021
Construction cost: €220 Million
Jobs created: An estimated 800 temporary construction jobs over the next 5 years
200 estimated full-time jobs upon project completion
Design firm: US-based SmithGroupJJR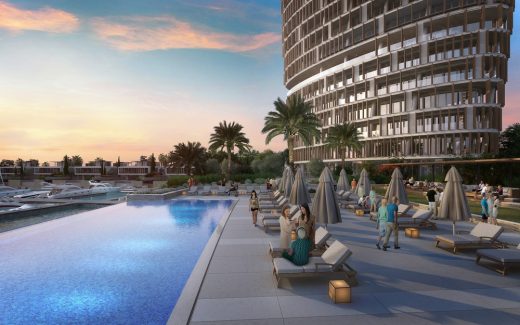 Ayia Napa Marina in Cyprus images / information received 181116
Location: Ayia Napa, Cyprus
Cyprus Architecture
Cypriot Architecture Design – chronological list
House with Courtyards, Nicosia
Design: christos pavlou architecture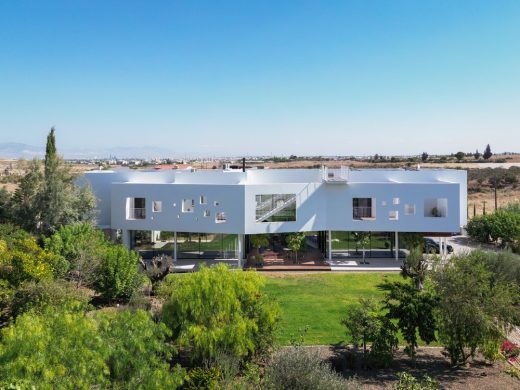 photo : Unseen Views
House with Courtyards, Nicosia
Eleftheria Square, Nicosia
Architect: Zaha Hadid Architects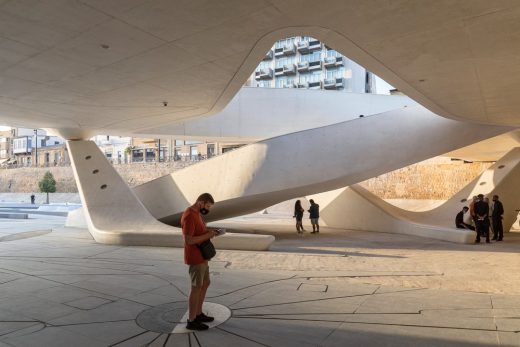 picture from architecture studio
Eleftheria Square, Nicosia
Cyprus Buildings
Limassol Terminal, East Pier, Limassol Port
Design: Irwinkritioti Architecture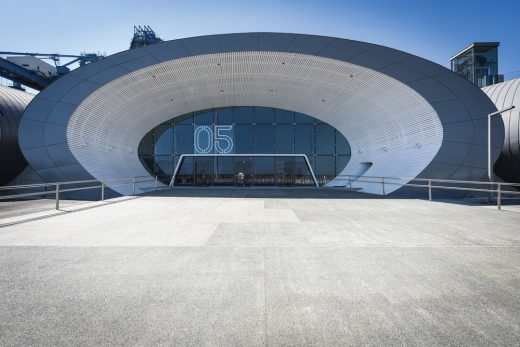 picture from architecture studio
Cyprus Cruise Terminal Limassol Building
Limassol Greens, Limassol
Design: HKS Architects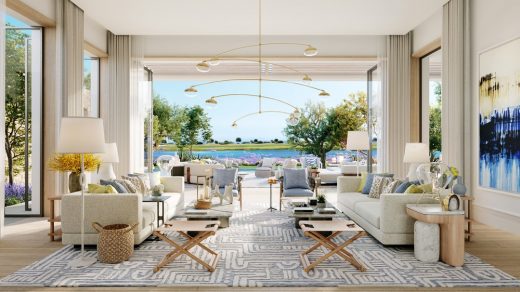 Limassol Greens Resort, Cyprus
Cypriot Buildings
Nicosia Residence
Design: Polytia Architects
Nicosia Residence
Gladstonos 22, Nicosia
Design: Theo David Architects
Nicosia Residential Building
Riviera Development Nicosia
Design: ESA / Capita Symonds
Riviera Nicosia
University of Cyprus Campus, Nicosia
Design: BM3 Architecture
University of Cyprus Building
Developments in countries close to Cyprus
Architecture in Southeast European Countries
A recent Cypriot building by christos pavlou architecture on e-architect:
Natuzzi Store Limassol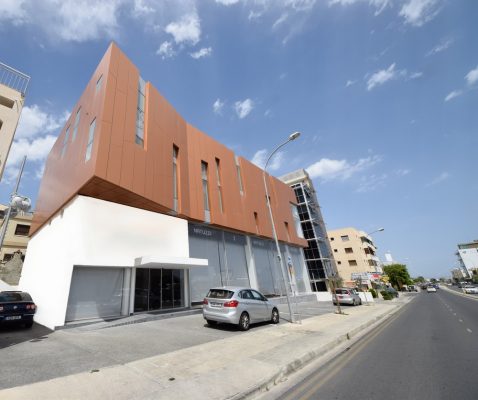 image from architect
Limassol Building
Comments / photos for Ayia Napa Marina in Cyprus Building design by SmithGroupJJR page welcome
Website: SmithGroupJJR