Taste Jiangnan Restaurant, Nanjing Interior Design, Jiangsu Province Dining Space, New Chinese Architecture Photos
Taste Jiangnan Restaurant, Nanjing
27 May 2022
Tasting closely links with simmering in terms of delicacy.
Architects: LDH Design
Location: 50th floor of Golden Eagle International Hotel, Nanjing, Jiangsu, China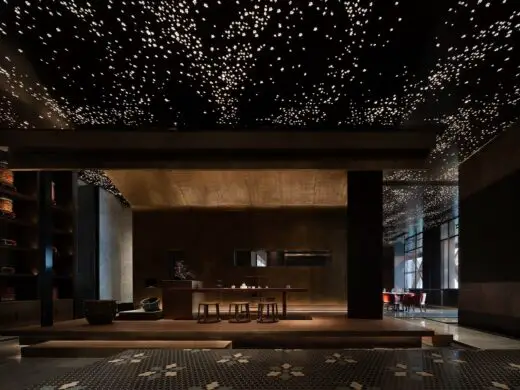 Photos by Lu Haha
Taste Jiangnan Restaurant, Golden Eagle International Hotel, Nanjing
Simmering means making delicacies with small firepower in a slow way to stimulate beautiful experience from food, and tasting means enjoying delicacies from good simmering practice. They mutually have a relationship of cause and effect. Taste Jiangnan not only is about the meaning of words, but also contains the life style, life pace and food culture in Jiangnan. The Chinese restaurant "Taste Jiangnan" was named for this reason.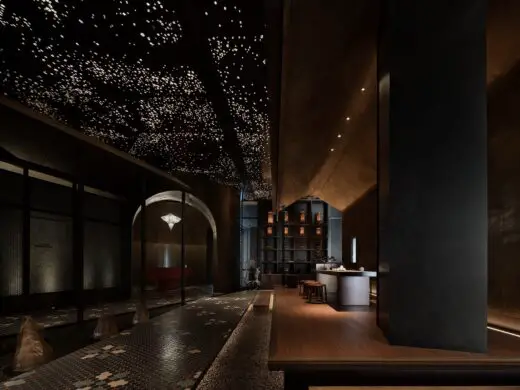 Taste Jiangnan is located on the 50th floor of Nanjing Golden Eagle Hotel, so that guests can overlook Nanjing at this quiet but commanding environment here. Based on the water town scenery in Jiangnan, Designer Liu Daohua realized a cross-dimensional dialogue between traditional Jiangnan and modern aesthetics by transforming traditional architecture, rural settlements and Huaiyang cuisine into his design language, to pay tribute to the graceful water towns as described in the poem sentence "The ladies selling wine in restaurants are very beautiful in Jiangnan. Their arms are as white as snow when they lift their sleeves".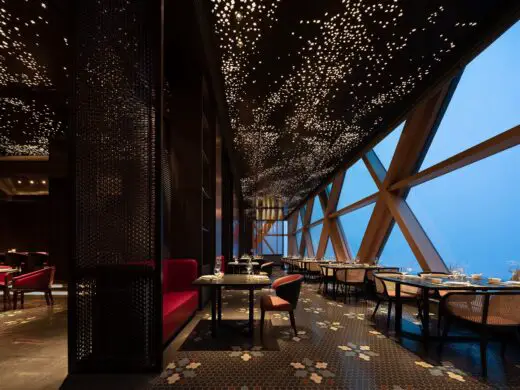 Liu Daohua is famous for his design of restaurants, cafes and the like. He is good at transforming natural life and cultural characteristics into elements in the space, combining practicability and artistic expression, and using architectural techniques to reshape the originally single space and explore the purest diet and life.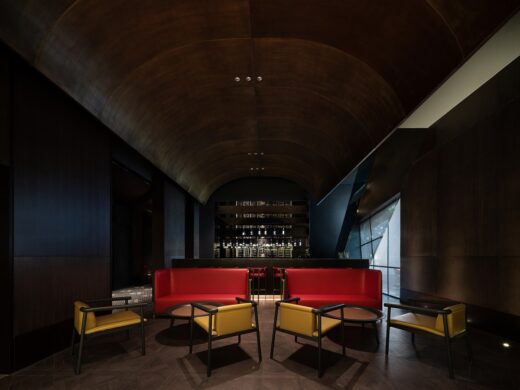 Just entering the restaurant, guests will be attracted to a teahouse area. As a core area and first impression at the entrance, such teahouse area was designed with practices different from conventional ones and integrates the concept of a traditional garden. After passing through a "forest path", a winding one as a spatial movement line, guests come to a place for appreciation, communication and leisure which is enclosed under the eaves of modern deconstruction. Several seating scenarios were set up to satisfy the diverse needs of different customer groups. Furniture was designed in a simple but advanced manner, and their red brown, burlywood and black overlap into different color levels to show elegance.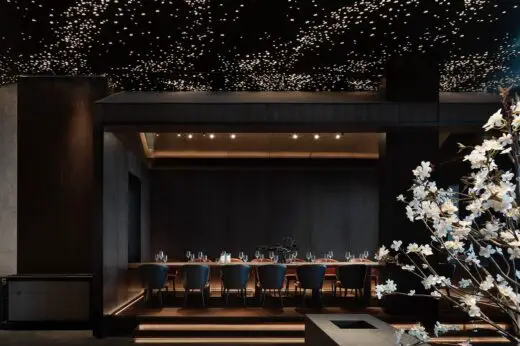 In Taste Jiangnan, its indoor decoration deems dark brown as the fundamental key on the whole, and is embellished with deep or shallow brass with the texture of log, which forms a bright color line jumping out of profound colors. With a sense of Jiangnan architecture, the space creates a delicate sense of layers with these scattered colors and shadows, thus providing guests with an elegant and quality dining experience.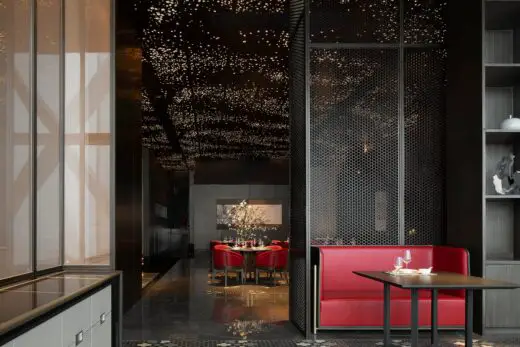 As the highest restaurant in Nanjing, Taste Jiangnan is connected with the outside with the large-scale French windows, so that guests can overlook the scenery of Nanjing with an excellent vision, including the graceful Qinhuai River and Zhongshan Mount. The designer specially set up private boxes with the architectural style of Jiangnan water towns, which are independent each other but connected mutually, and quiet in sufficient ritual feeling.
Plum blossom, the top of the 24 major flowers, is the city flower of Nanjing. It not only has the elegant appearance of flowers, but also auspiciously implies "five blessings in plum blossoms" with its five petals. With "plum blossom" as a theme concept element, the designer deduced it in different details of the space and formed a theme design for the whole space, as if fragrant plum blossom drifts freely under the sunshine. These staggered petals form both the mark of life and majestic beauty.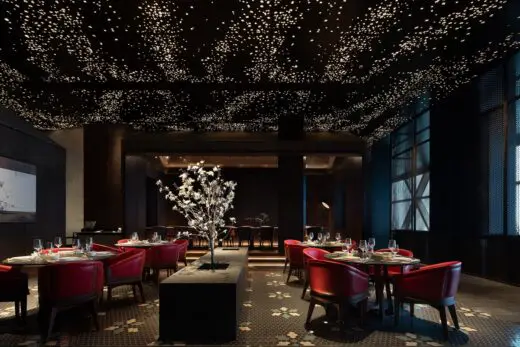 The designer created a unique artistic ceiling for Taste Jiangnan by retaining the most classic silhouette of plum blossom based on its extracted shape. The patterns of the ceramic tiles customized for Taste Jiangnan also correspond to the theme of plum blossom, and countless petal elements together constitute the blooming trend of Taste Jiangnan.
There is a saying in the Wei Chi Hexagram of the I Ching (Yi · Weiji), "Each shall live in a square place, so that all have their steady residences.", which means that square can domicile people in a peaceful and pleasing manner. With the perspective of inheritance, acceptance and recovery, the modern space was highlighted with some local characteristics in Taste Jiangnan. Sometimes, space design must surpass the requirements of pure functions and combine with traditional architectural culture, so as to realize the spiritual meaning of space and trigger the spiritual resonance of people.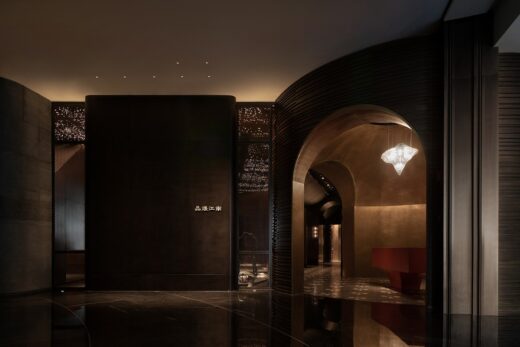 Taste Jiangnan Restaurant, Golden Eagle International Hotel, Nanjing – Building Information
Project Name: Taste Jiangnan Restaurant
Project Location: Golden Eagle International Hotel, Nanjing, Jiangsu, China
Project Area: 800㎡
Design Firm: LDH Design – www.ldhdesign.cn
Chief Designer: Liu Daohua
品煨江南
项目名称:品煨江南
项目地点:江苏省南京市金鹰国际酒店
项目面积:800㎡
设计公司:LDH刘道华建筑设计事务所设计 (www.ldhdesign.cn)
主创设计师:刘道华
品煨江南
"品煨"与"品味"谐音又同义。
煨者,小火慢炖也,煨而出味,好味则传煨,互为因果。讲的是文字意趣,内含的是江南水乡不瘟不火的生活情调、节奏以及饮食文化。
"品煨江南"以此为名。这座位于南京金鹰酒店50层的中餐厅,城市秘境般的姿态眺望秦淮。设计师刘道华以江南水乡为依托,将传统建筑、乡村聚落以及淮扬菜系脉络转化为设计语言,实现一场传统江南与现代美学的跨维对话,致敬那"垆边人似月"的曼妙水乡。
刘道华因餐饮设计而闻名,他擅长将自然生活与人文特色转化为空间中的元素,强调在地性与艺术手法的结合,以建筑手法,重塑原本单一的空间,探求最纯粹的饮食与人生。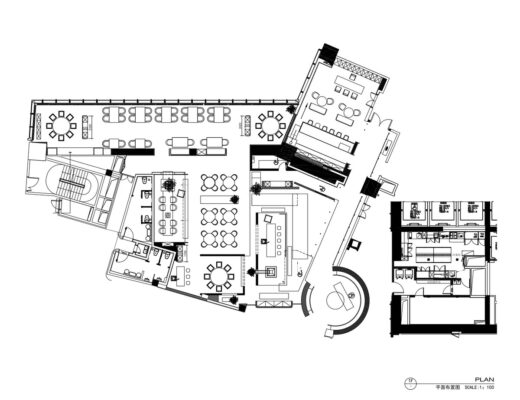 刚进入餐厅,便被茶座区吸引视线。作为入口处的焦点区域和第一印象,它的设计区别于常规的做法,融入了传统园林的构想。顾客随着空间动线曲径通幽,经过一条"林间小道",现代解构的屋檐下围合出一处可供品鉴、交流、休闲的场所,设计师构设了多种就座情境,匹配不同人群的多元需求。家具款式简单而不失高级感,红棕色、原木与黑色,叠合出不同的色彩层次,尽显典雅。
"品煨江南"室内整体以深棕为基调,点缀深浅相搭的原木质感黄铜,沉稳的色彩倏尔跳脱出一抹亮色。极具江南建筑感的空间因色彩与光影的错落,产生细腻的层次感,进而为食客营造优雅与品质感的用餐体验。
作为南京"海拔"最高的餐厅,"品煨江南"以超大尺度的落地窗与外部接洽,食客以绝佳的视野俯瞰南京城市景观,品味秦淮婀娜,遥观钟山风雨。设计师专门设置的江南水乡建筑风格的包厢,彼此独立却又在相互连接,幽静之中饱含仪式感。
梅花,居二十四番花信之首,是南京市市花,不仅花貌疏影清雅,五片花瓣更有"梅开五福"的吉祥之意。设计师将"梅花"作为主题概念元素,演绎在空间的不同细节中,形成贯穿整个空间的主题式设计。如同日光照射下,梅花暗香飘荡洒落,这些交错的花瓣是生命的印记,亦形成了一种磅礴的美。
设计师提取花型,保留其最经典的剪影,为餐厅打造独具特色的艺术天花吊顶。地面定制的瓷砖图案也呼应了梅花主题,无数的花瓣元素共同构成品煨江南的绽放之势。
《易·未济》有云:"各居其方,使皆得安其所。"这寓意着——以方能安居,居得其所。以传承、接受、焕古的视角,让现代的空间增添了几分地方特色。有时候,空间设计必须超越纯粹的功能的诉求,结合传统建筑文化,实现空间的精神意义,触发人们心灵深处的灵魂共鸣。
Photography: Lu Haha
Liu Daohua, LDH Design, China: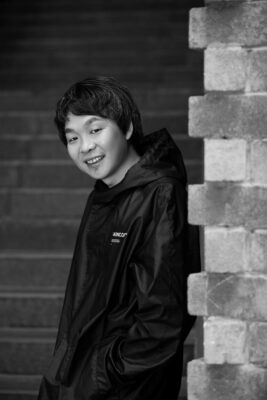 LDH Design
Life aesthetic space builder
With an international perspective and a unique perspective on the value of space,
Create new projects by combining experiences with global ideas.
Space works are all over the world,
In recent years, he has been focusing on the domestic and international design fields, and has won several heavyweight awards and honors.
Hundreds of media around the world have extensively reported on LDH DESIGN's design works.
LDH DESIGN accurately implements the space design with the concept of "making valuable design".
Integrating the logical system between aesthetics, business, culture, design and space, he is good at using architectural space thinking to promote the practice of "deconstructed form" conceptualization. Create works that are aesthetic, functional, and economical.He is also the first mover in China to put space experience first.
Design Purpose
Use architecture to build a space where value and experience come first.
As the "wind vane" in the high-end catering space design industry, the preferred catering space design agency for "Michelin, Black Pearl" restaurants , LDH Design is continuously contributing to the development of the space design industry.
Providing international architectural, interior and other overall space environment design, including: high-end dining spaces, commercial spaces, boutique hotels, club spaces, luxury residences and art consultants.
LDH DESIGN communicates with people through nature and space, and believes that through good design, artistic emotion can be injected into commercial iterative construction, providing its own thinking, intention and value, and creating infinite possibilities of various spaces.
 
关于我们
LDH DESIGN 刘道华建筑设计事务所
生活美学空间建构者;
拥有国际化视野和对空间价值独特视角,
以全球化的观念结合体验来创造新的范例。
空间作品遍及全球,
近年来在国内、国际设计领域备受专注,先后斩获数项重量级奖项及荣誉。
全球范围内上百家媒体对 LDH DESIGN 的设计作品进行广泛报道。
LDH DESIGN 以"做有价值的设计"理念,将空间设计精准落地。
整合美学、商业、文化、设计与空间之间的逻辑系统,擅长运用建筑空间思维,推动"解构形式"概念化的实践。创造出美学、实用、经济共生的作品。更是国内首先提出空间体验为上的先行者。
设计宗旨
用建筑构建价值体验至上的空间。
作为高端餐饮空间设计界的"风向标""米其林、黑珍珠"餐厅首选餐饮空间设计机构,为空间设计行业不断发展助力。
提供国际化的建筑、室内等整体空间环境设计,这其中包括:高端餐饮空间、商业空间、精品酒店、会所空间、豪华住宅及艺术顾问等。
LDH DESIGN 通过自然、空间与人对话,认为通过好的设计,将艺术情感注入在商业迭代建设中,提供自己的思考、意图和价值,创造各种空间的无限可能性。
Taste Jiangnan Restaurant, Golden Eagle International Hotel, Nanjing images / information received 260522 from LDH Design
Location: Nanjing City, Jiangsu Province, China
Nanjing Building Designs
Nanjing Architecture
Nanjing Zendai Himalayas Center
Design: MAD Architects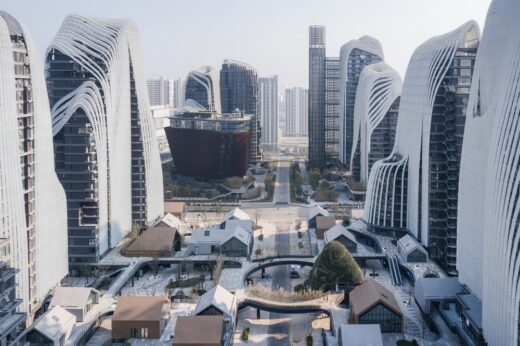 image : CreatAR Images, MAD Architects
Nanjing Zendai Himalayas Center Building
Nanjing International Youth Cultural Centre, Jiangsu
Design: Zaha Hadid Architects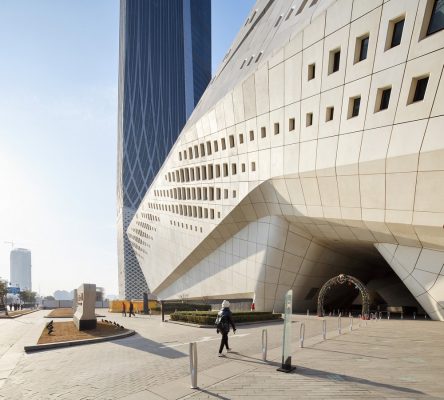 photo © Hufton+Crow
2nd Nanjing Youth Olympic Games International Convention Center
Dexing Lou
Architects: Office ZHU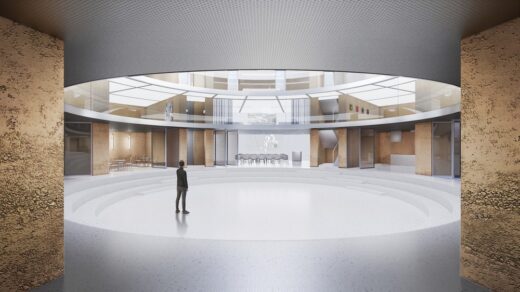 photo : Office ZHU
Dexing Lou, Nanjing Tulou Renovation
Radisson Collection Resort
Design: LWK + PARTNERS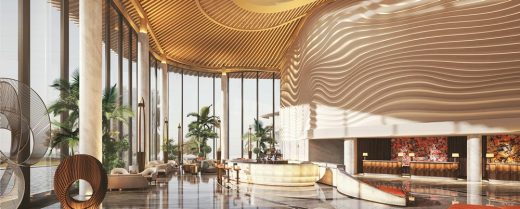 image courtesy of architects firm
Radisson Collection Resort, Nanjing
Chinese Architecture
Contemporary Architecture in China
Hong Kong Architecture Designs – chronological list
Comments / photos for the Taste Jiangnan Restaurant, Golden Eagle International Hotel, Nanjing designed by LDH Design page welcome