Brazil Building News 2019, Brazilian Architecture Projects, Construction Design, New Property Images
Brazilian Building News
Contemporary South America Building Designs – Current Brasil Built Environment Updates
post updated 13 December 2022
Brazilian Building News Archive
Brazilian Architecture Designs – chronological list
Brazilian Architecture News – current page with latest property posts
Rio de Janeiro Architecture Walking Tours, Brasil, by e-architect
New Brazilian Architecture News – latest additions to this page, arranged chronologically:
Brazil Architectural Updates 2019
5 Nov 2019
The Coffee Prudente, Curitiba, Paraná
Design: Studio Boscardin.Corsi Arquitetura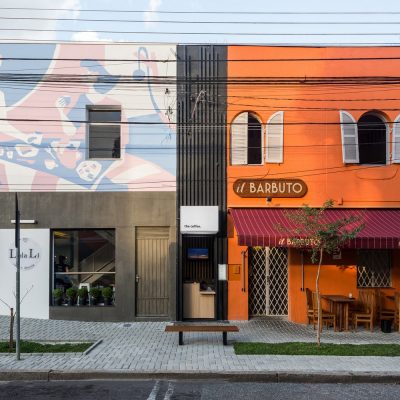 photograph : Eduardo Macarios
The Coffee Prudente
Transform small urban fragments, expand consolidated centers, raise awareness, bring a new concept and also change the routine of people.
29 Oct 2019
The Coffee Comendador, Curitiba, Paraná
Design: Studio Boscardin.Corsi Arquitetura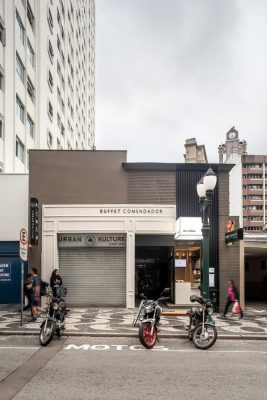 photograph : Eduardo Macarios
The Coffee Comendador in Curitiba
This Brazilian building was inspired by simplicity and Japanese minimalism, the coffee reinvents the downtown area, changes people's routine and opens up new possibilities. The downtown Curitiba coffee shop was incorporated into the entrance of a restaurant, embedded as a piece in a puzzle.
24 Oct 2019
Kite Apartment, Curitiba, Paraná
Design: Giuliano Marchiorato Arquitetos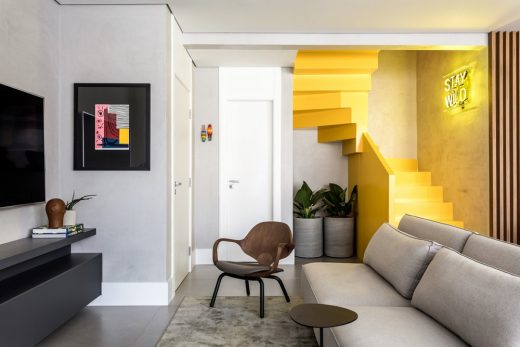 photo : Eduardo Macarios
Kite Apartment in Curitiba
This Brazilian property is composed of an armed wooden structure that supports a paper plane.
19 Oct 2019
Pampulha Church in Belo Horizonte
27 Sep 2019
Vitória Eurico de Aguiar Salles Airport (VIX) – Airportia
16 Sep 2019
Agora Tech Park, Perini Business Park
29 May 2019
Toca do Urso, Ribeirão Preto: Brazilian Colorado Brewery
8 Oct 2018
Marília Fit Cafe, Belo Horizonte, Brasil
Design: David Guerra Arquitetura e Interiores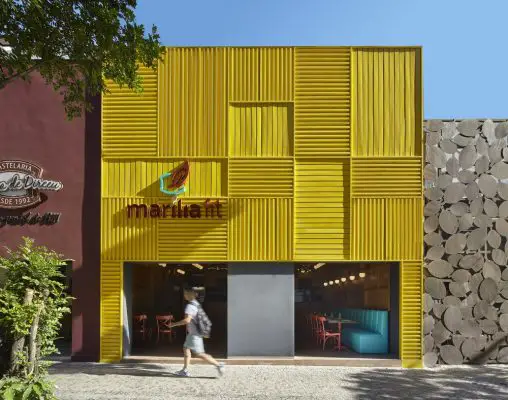 photograph : Jomar Bragança
New Cafe in Belo Horizonte
The walls are filled by a structure of rectagular wooden boxes, in differente sizes and permeabilities, which are responsible to compose the interior of the store, in a clear reference to the public market and all it's smells and flavours. The same concept is verified on the facade in yellow aluminum.
6 Aug 2018
New Manaus Hotel Building, Amazonas, North Region of Brasil
Design: AMZ Arquitetos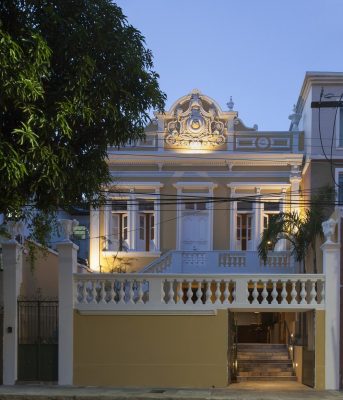 photograph : Maíra Acayaba
Manaus Hotel Building
The hotel is located near Amazonas Theater in the historic city center of Manaus, a renovation of an old house from the early 20th Century and the construction of a new attached building in the center of the block.
31 Jul 2018
Sense Bike Headquarters, Belo Horizonte, Brasil
Design: BCMF Arquitetos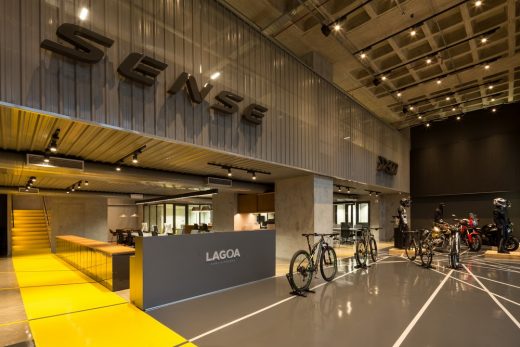 photograph : Gabriel Castro
Sense Bike Headquarters Building
"Sense Bike" is a Brazilian manufacturer of high performance bicycles, willing to compete in quality and beauty with the big global brands. The company is part of a larger business group, and demanded its own headquarters closer to the growing Belo Horizonte market, including a showroom attached to its corporate office.
10 May 2018
A Mata Atlântica Forest, São Paulo
Design: Balmori Associates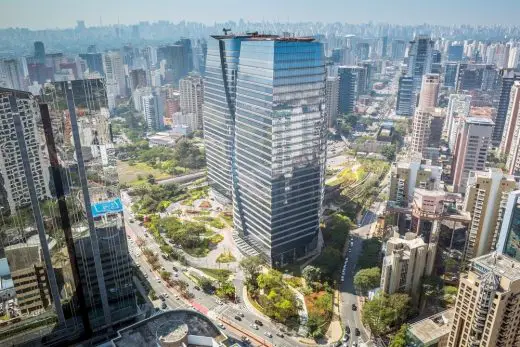 image courtesy of Eduardo Lazzarini
A Mata Atlântica Forest in São Paulo
26 Apr 2018
Goose Island Brewhouse, Largo da Batata, São Paulo
Design: SuperLimão (Brazil) + Mckinley Bukkart Architects (Canada)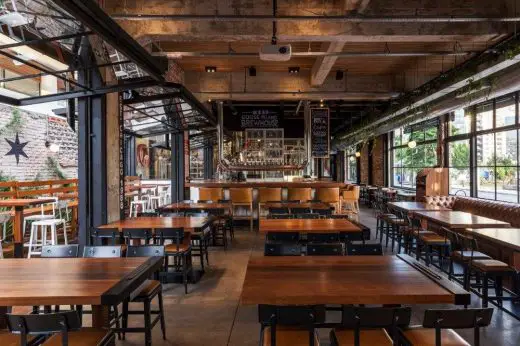 photograph : Maíra Acayaba
Goose Island Brewhouse
21 Mar 2018
New International Airport of Belo Horizonte, Belo Horizonte
Design: Bacco Associated Architects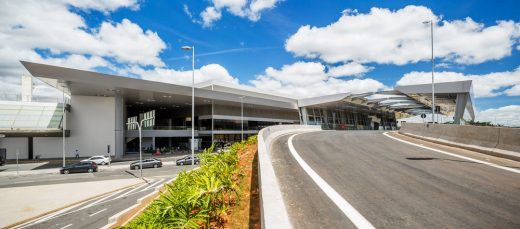 photograph : Ana Mello
New International Airport of Belo Horizonte
BACCO Arquitetos is the office that signs the project of the New International Airport of Belo Horizonte, inaugurated last year.
21 Feb 2018
IESB University Building, Brasília
Architects: Pei Cobb Freed & Partners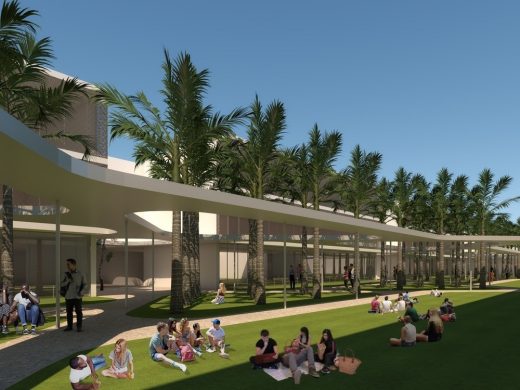 rendering : Pei Cobb Freed & Partners
IESB University Building in Brasilia
IESB's inward-focused existing campus will be transformed by an L-shaped complex featuring a new academic allée and a generous entry precinct with facilities that serve both the university and the public.
29 Aug 2017
Bráz Elettrica, São Paulo
Design: SuperLimão Studio, Atelier Marko Brajovic and Estúdio Guto Requena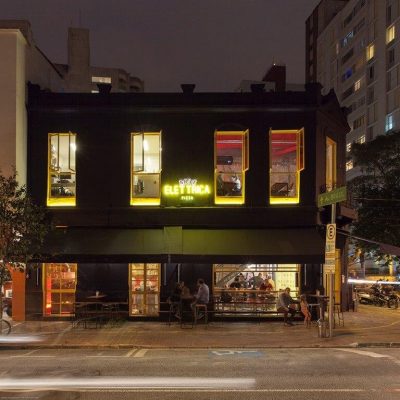 photo courtesy of architects office
São Paulo Pizza Restaurant
14 Apr 2017
Skt.Mafia, Vila Velha, Espírito Santo
Design: ANGATU Arquitetos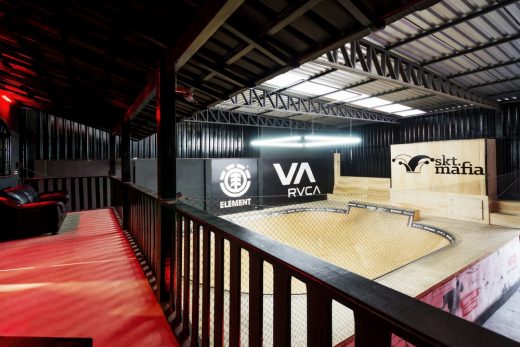 photography : Camila Santos
Skt.Mafia, Vila Velha
This design serves diverse uses: a skate park, store, event space and bar. The proposal's idea is to create the ideal atmosphere for the skater and enhance the sensory experience.
25 Oct 2016
Iguaçu Housing, Porto Alegre, Rio Grande do Sul, Southern Brazil
Design: Smart! and Heloisa Crocco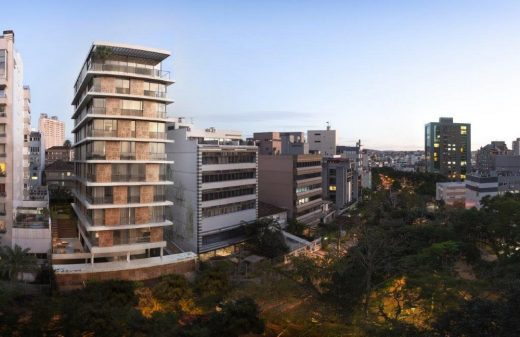 image : Neorama (www.neorama.com)
Iguaçu Housing in Porto Alegre
This residential building in the south of Brasil has metal blades forming louvers and the ground panel, drawn from the research of the artist Heloisa Crocco. Views of the street, the slides highlight the building of its neighbors.
17 Oct 2016
Bar-Pool-Gallery, near Belo Horizonte, Nova Lima, MG
Design: BCMF Architects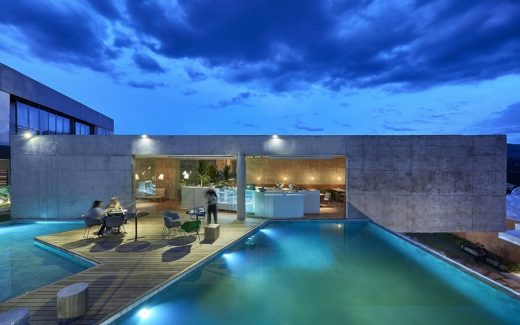 image : Jomar Bragança
Bar-Pool-Gallery by Belo Horizonte
Designed and built over just three months, this building was planned for the Casa Cor MG 2014 as a kind of a hilltop belvedere.
8 Oct 2016
Alameda dos Ipês Housing Development, Itajaí, Santa Caterina, south east Brasil
Design: OOIIO Architecture + Terra + Abramar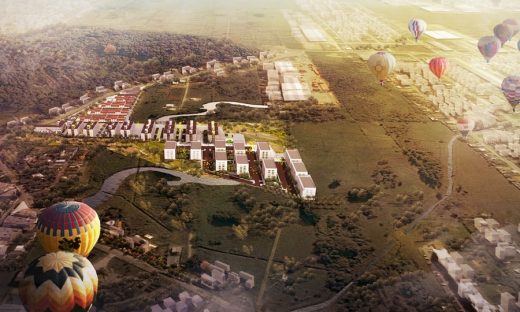 image from architects
Alameda dos Ipes Housing in Santa Caterina
This development comprises 430 social housing units within a new sustainable neighborhood in Itajai. The properties are designed to satisfy all requirements of the Brazilian social housing program "Minha Casa, Minha Vida", intended to make the necessary standards to design houses for medium-low social classes.
14 Sep 2016
Riba in Leblon, Leblon, Rio de Janeiro
Design: SuperLimão Studio + André Piva Arquitetura with Laika Design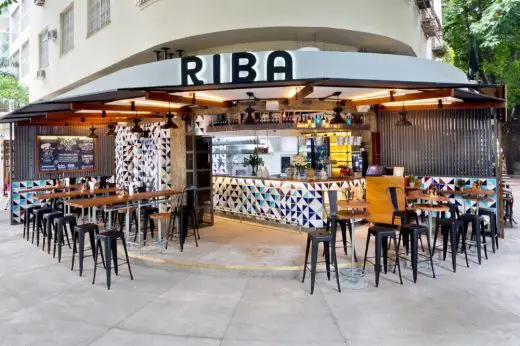 photograph : Anna Fischer
Rio de Janeiro Bar Design
9 Aug 2016
Casa Italia for the 2016 Olympics, Rio de Janeiro
Interior design: Claudia Pignatale / Secondome with Edra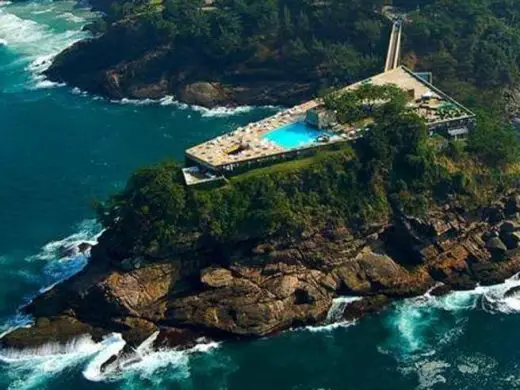 image from architects office
Casa Italia 2016 Olympics
Edra is pleased to announce its partnership with Casa Italia for the 2016 Olympics to be held this summer in Brazil, in Rio de Janeiro, between August 3 and August 21.
15 Jul 2016
Duetto Vitória Building
Design: ANGATU Arquitetos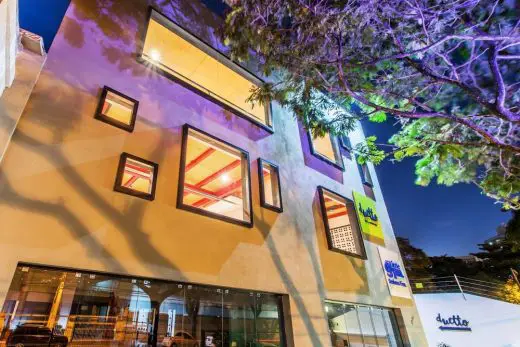 photo from architect
Vitória Building
2 Aug 2016
New Leblon Offices in Brazil
Design: Richard Meier & Partners Architects LLP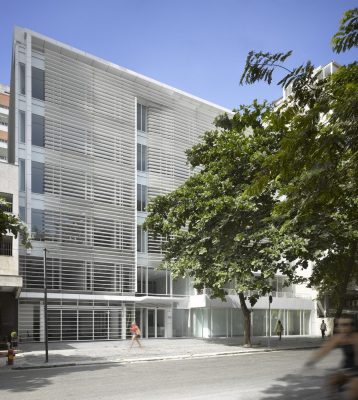 photograph : Roland Halbe
New Leblon Offices Building
27 Jul 2016
Structural Archaeology, Moeda, Minas Gerais
Design: Carlos M. Teixeira – Vazio S/A, architects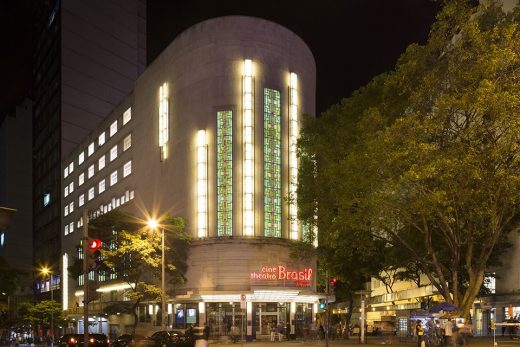 image from architects
Structural Archaeology in Belo Horizonte
page updated 2 Oct 2016
Urca Penthouse, Rio de Janeiro
Architect: Studio Arthur Casas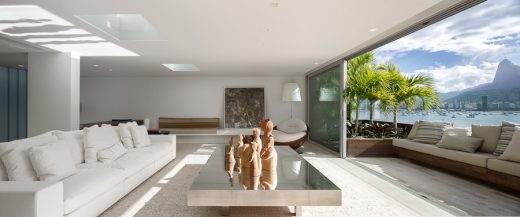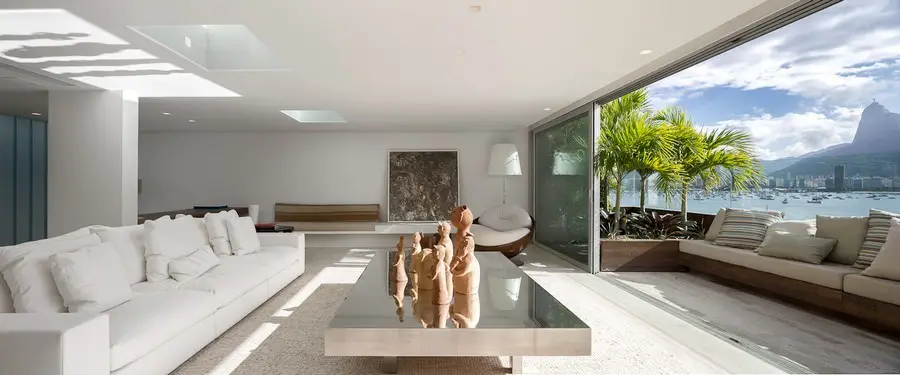 photograph : Fernando Guerra
New Penthouse in Rio de Janeiro
A remarkable location between two carioca landmarks: the Sugar Loaf Mountains and the Guanabara Bay. The client bought an apartment in dire conditions but seized its extraordinary potential.
page updated 17 Oct 2016
Cais das Artes Project
Design: Paulo Mendes da Rocha and Metro Arquitetos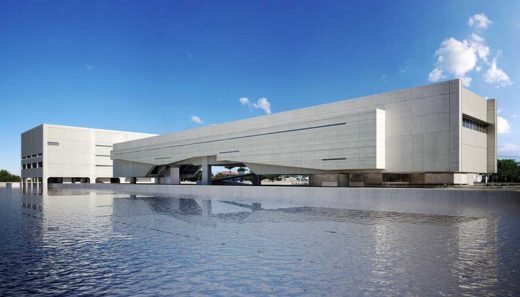 image from architects
Cais das Artes Brasil Building
The project "Cais das Artes", a partnership between the Pritzker Prize winner Paulo Mendes da Rocha and Metro Arquitetos office.
18 Dec 2015
Museum of Tomorrow
Design: Santiago Calatrava architect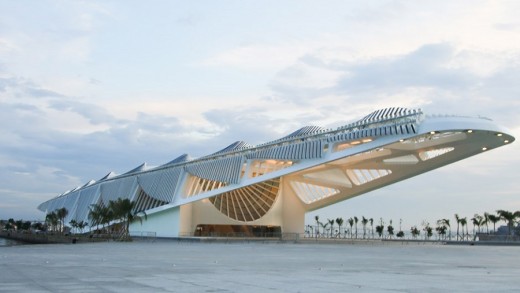 image from architect
Museum of Tomorrow Rio de Janeiro
The $55 m Rio building was designed by Spanish architect Santiago Calatrava and is the centerpiece of a renovation of Rio's derelict port area.
More Brazilian Architectural News online soon
Belo Horizonte Architecture News
Location: Brazil, South America
Architecture in Brasil
Additions for the Brazilian Building News page welcome