Belo Horizonte Architecture News, Brazilian Buildings, Minas Gerais Construction Design, Property
Belo Horizonte Architecture News
Architectural Developments in Minas Gerais Estado, Southeastern Brazil Built Environment Updates
post updated 31 January 2023
Belo Horizonte Architectural News – Brazil Built Environment Updates, chronological:
Belo Horizonte Building News
28 Jan 2023
Marinho da Serra House
Design: Vazio S/A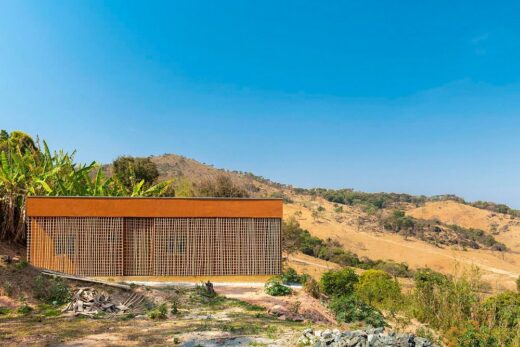 photography : Studio Pixel / Daniel Mansur
Marinho da Serra House
Marinho da Serra (MS) house is located in a rural area of Serra da Moeda, a natural monument listed by the state heritage of Minas Gerais. The site belongs to a peasant family that has lived in the region since the 19th century, and has an orchard with banana trees, mango trees and bamboo groves.
Belo Horizonte Architecture News: in 2022
31 July 2022
Casamirador Savassi
Design: Gisele Borges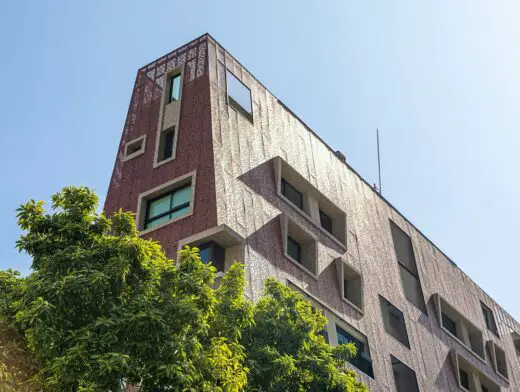 photo : Pablo Gomide
Casamirador Apartment Building
The Casamirador Savassi residential building, completed in 2021, is located in Belo Horizonte, Minas Gerais, Brazil, and features boldly designed architecture that stands out in the local landscape. The building has 14 lofts and 24 studios, and is spread over nine floors in a construction located on a narrow lot, with a width of 12.7 meters.
18 Jun 2020
CBM + BMPI Offices
Architects: Vazio S/A + Helena T Rios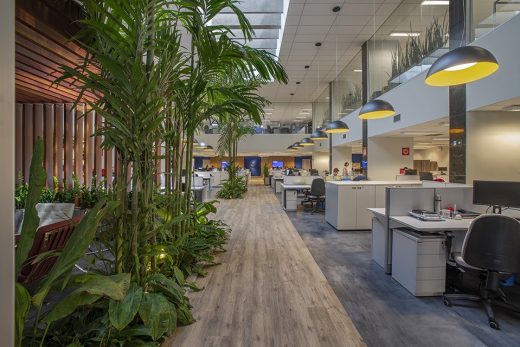 photo © Daniel Mansur (Studio Pixel)
CBM + BMPI Offices in Belo Horizonte
Palm trees, cyclanthus, and philodendrons constrict and demarcate continuous workspaces, artificial light is balanced with daylight, and living areas are defined by green volumes.
8 Oct 2018
Marília Fit Cafe
Design: David Guerra Arquitetura e Interiores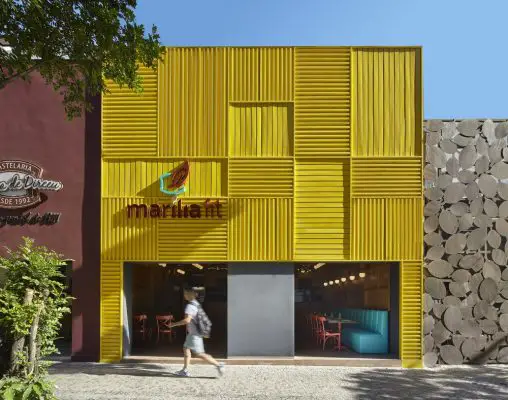 photograph : Jomar Bragança
New Cafe in Belo Horizonte
The walls are filled by a structure of rectagular wooden boxes, in differente sizes and permeabilities, which are responsible to compose the interior of the store, in a clear reference to the public market and all it's smells and flavours. The same concept is verified on the facade in yellow aluminum.
21 Mar 2018
New International Airport of Belo Horizonte
Design: Bacco Associated Architects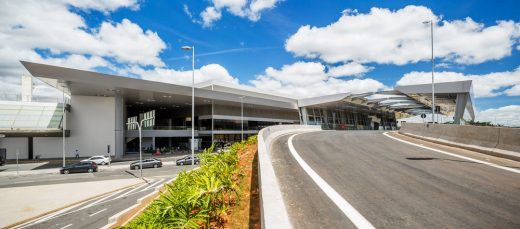 photo : Ana Mellot
New International Airport of Belo Horizonte
The renovation of the existing passenger terminal and the architectural design of the new Terminal, which proposed the installation of several commercial areas in the departure lounge, a concept already used in other airports in the world.
17 Oct 2016
Bar-Pool-Gallery, Nova Lima, MG, Brazil
Design: BCMF Architects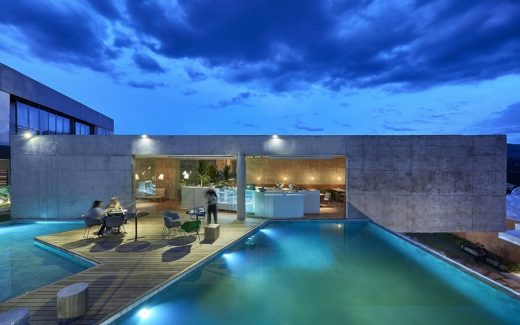 image : Jomar Bragança
Bar-Pool-Gallery by Belo Horizonte
Designed and built over just three months, the Bar-Pool-Gallery was planned for the Casa Cor MG 2014 as a kind of a hilltop belvedere.
27 Jul 2016
Structural Archaeology, Moeda, Minas Gerais
Design: Carlos M. Teixeira – Vazio S/A, architects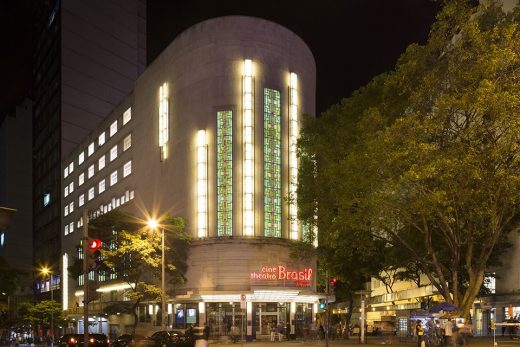 image from architects
Structural Archaeology in Belo Horizonte
Considered for a time Brazil's largest cinema, Cine Theatro Brasil was built in 1932 at an important intersection in downtown Belo Horizonte. At once heavy and elegant, its Art Déco volume was one of the largest buildings in the city. It was followed in the 1950s by two other iconic constructions raised at the same intersection: Banco Lavoura (Álvaro Vital Brazil, 1950) and Banco Mineiro (Oscar Niemeyer, 1953).
VDA Residential Building in Belo Horizonte
Design: Vazio S/A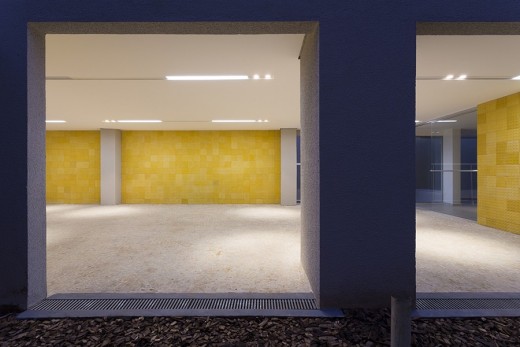 photograph : Gabriel Castro
VDA Residential Building in Belo Horizonte
VDA is a residential building whose apartments make up a carved and irregular volume. More than an architectural project, the building is part of the office attitude both practical and experimental, which was possible thanks to our dual responsibility as architects and developers.
28 Nov 2012
Santa Lucia Favela
Design: Horizontes Arquitetura



images from architecture office
Santa Lucia Favela: Belo Horizonte Housing
The Santa Lucia favela is located in the central-south of Belo Horizonte, a very dense and neighborhood of 10,000 people on a hill that neighbors some of the most expensive addresses in Belo Horizonte.
24 Nov 2011
H3O Park + Sao Vicente Alleyway
Design: M3 Arquitetura, Vazio S/A, MAch, Ana Assis, Silvio Todeschi, Alexandre Campos



photos : Eduardo Eckenfels, Leonardo Finotti, Marcio Gibram, Pedro Meyer, Flavio Agostini, Carlos Teixeira
H3O Park, Favela da Serra, Third Water Park
H3O Park, a slum upgrading in Belo Horizonte, Brazil, was awarded best institutional building in the award 'The Best of Architecture 2011', sponsored by Brazilian magazine (Arquitetura & Construção). The favela da Serra is one of the most populous of Belo Horizonte, Brazil, and occupies an area of 1.5 million m2. The cluster is home to about 50,000 housed in 15,000 dwellings.
10 Jul 2011
285 Montevideo, Montevideo Street
Design: Vazio S/A Arquitetura e Urbanismo



photos : Leonardo Finotti, Carlos Teixeirae
285 Montevideo – Belo Horizonte Residential Building
285 Montevideo has an atypical storey with larger windows, split levels, planting boxes and an 8-feet ceiling height, what was possible thanks to the maximum utilization of the height allowed by local building regulations.
4 Feb 2011
FP House
Design: Joao Diniz, architect



photos : Leonardo Finotti
Contemporary Belo Horizonte Property
The Pampulha lagoon in Belo Horizonte is full of architectural significance and to build on its margins means to be close to the modernist legacy. This building considers that recent history but also expresses its modern urban spirit with rural balconies and breezes. The land slope dialogues with the building and proposes fittings and suspensions.
29 Oct 2011
Casa Cor Bar in Belo Horizonte
Design: BCMF Arquitetos



photo © Jomar Braganca
Casa Cor Bar, Belo Horizonte Interior
The architects explored the formal possibilities of applying a very simple and inexpensive construction system: the light steel frame. Industrialized resistant high quality materials (stainless steel plate, mirror finishing on the outside and matte on the inside) clad this custom designed object built in just 3 weeks, to be portable and usable in various ways.
page updated 30 Jul 2016 ; 4 Feb 2010
Topographical Amnesias I
Design: Vazio S/A Arquitetura e Urbanismo ; co-author, Louise Ganz



image from architects practice
Topographical Amnesias
Enormous concrete piles that structure some residential buildings in Belo Horizonte were converted into substance for urban inquiries. These monumental voids, totally under-used, were then connected to the city as a theater stage for Armatrux, a street theater company.
Roxy / Josefine Belo Horizonte
Design: Fred Mafra, architect



photograph : Jomar Bragança Estudio
Roxy / Josefine Belo Horizonte
Lagoa Seca Mining Belo Horizonte
Design: Vazio S/A Arquitetura e Urbanismo



picture from architect firm
Lagoa Seca Mining Belo Horizonte
Favelas Buildings Belo Horizonte
More contemporary Belo Horizonte Architecture News online soon
Location: Belo Horizonte, Minas Gerais state, southeastern Brazil, South America
Architecture in Brasil
Major New São Paulo Architectural Projects
São Paulo Architecture Walking Tours by e-architect
New Brazilian Architecture
Comments / photos for the Belo Horizonte Building News page welcome