2021 Brick Awards Winners, UK Architecture Awards News, Buildings Photos, Architects Shortlist
Brick Awards 2021 Winners
Architectural Winners: UK Built Environment Prize – Winning Designs + Designers
post updated 31 March 2022 + 26 + 24 + 11 November 2021
Celebrating the best in brick
Brick Awards 2021 Winning Building
The annex to Lambeth Palace Library was crowned best public building and supreme winner at this year's Brick Awards.
Lambeth Palace Library building design by Wright & Wright Architects: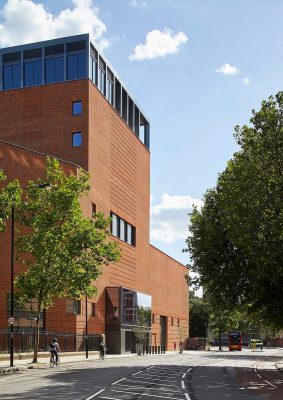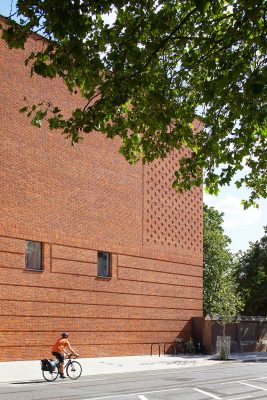 photos courtesy of Brick Awards / architects
Designed by Wright & Wright Architects, this contemporary building is home to the Church of England's library and national archive which includes historic documents including the death warrant for Mary, Queen of Scots, signed by Elizabeth I.

The winning design features a nine-storey central tower, crowned by a viewing platform and flanked by four- and five-storey wings all of which are clad in handmade Ibstock bricks.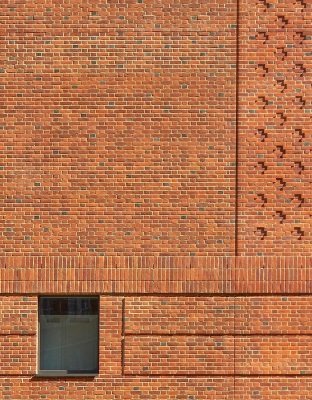 The annex to Lambeth Palace Library is one of 17 winners in this year's Brick Awards, which recognise and celebrate the best use of brick in the built environment.
Lambeth Palace Library Building
Brick Awards 2021 Shortlist
Other 2021 Brick Award winners include:
Architect Alma-nac's design for the aptly named House-within-a-House, which won the Individual House category with its design for a modern home created by shrouding an existing 1950's house in a new three-storey brick structure.
This is an inspired, economical and sustainable means of extending the house, which simultaneously resulted in a thermally efficient, contemporary dwelling. Now, wrapped in its new exterior skin, replete with a new pitched roof, the house once again references its Victorian neighbour while its contemporary, asymmetrical street elevation successfully reinstates the rhythm of the street.
In contrast to the urban location of House-within-a-House, Haverstock Architect's scheme for a new Crematorium for West Lindsey District Council is located in parkland.
This scheme won the Architects' Choice category. It uses a combination of brick and timber to create an elegant building designed to connect with the landscape to enhance the overall feeling of tranquility. The judges described it as a very striking building on a very limited budget.
de Metz Forbes Knight Architects' scheme for an extension to a 1980s office building in Kings Cross uses brick innovatively to form a lattice curtain around the new highly-glazed structure. This scheme's perforated brick facade won the Innovation Category for transforming what could have been a very average-looking office block into something architecturally delightful and visually interesting. The judges said the building's striking appearance "contributes to the streetscape of this rather dull stretch of road".
All of the category winners at this year's Brick Awards show what can be achieved with well-considered design, robust brick detailing and careful delivery.
2021 Brick Awards Winners
Full list of winners for the 2021 Brick Awards:
Supreme Winner and best Public Building
Project: Lambeth Palace Library
Architect: Wright & Wright
Bricks: Ibstock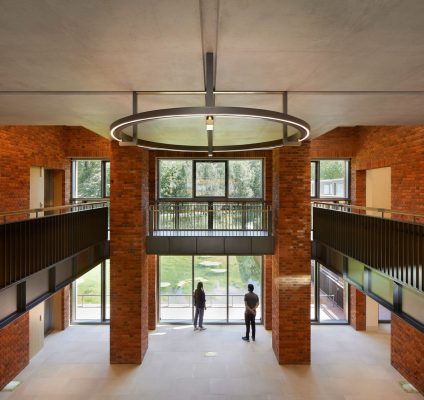 Judges comments:
Excellent, courageous and rigorous in its use of brick as a primary cladding material for this important building. The choice and detail of the brickwork is integral to the success of the building, in terms of its relationship and dialogue with Lambeth Palace. The careful mixing and batching of three subtly different shades of red brick, combined with the restrained use of textured panels and careful proportions of the openings all soften the unapologetically massive volume and give the whole an understated elegance.
Individual House
Project: House-within-a-House
Architect: alma-nac
Bricks: Michelmersh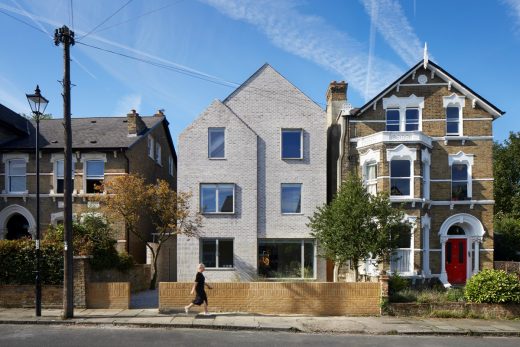 Housing Development SMALL
Project: Pump House
Architect: Common Ground Architecture
Bricks: Ibstock and Wienerberger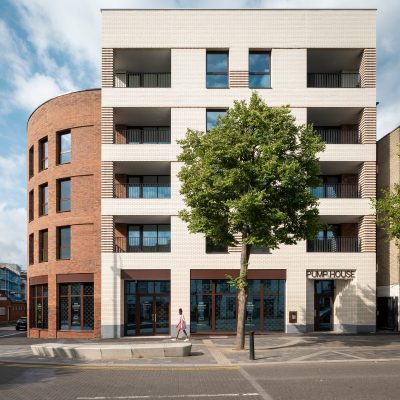 photo © Jim Stephenson 2020
Housing Development MEDIUM
Project: The Officers' House Royal Arsenal
Architect: Allford Hall Monaghan Morris
Bricks: Ibstock
The Officers' House Royal Arsenal
Housing Development LARGE
Project: Excelsior Works
Architect: Tim Groom Architects
Bricks: Michelmersh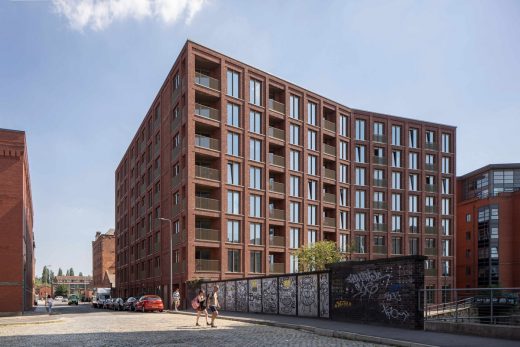 Judges comments:
A calm contextual response – Manchester would benefit from more new 'background' buildings like this.
Urban Regeneration
Project: Hackney New Primary School
Architect: Henley Halebrown
Bricks: Wienberberger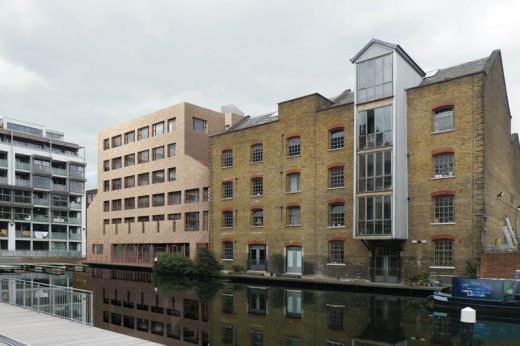 photo courtesy of architects office
Judges comments:
Definitely a masterclass in the unlikely marriage of an inner city school and block of flats!
The complex master-planning of the tight urban corner site to house an inner city school for small kids along with with a tower of luxury flats was handled very well in design. Play-spaces and rooftops were wonderfully maximized where possible. A lot of thought and care have been given to the design and how things come together and how each element work with the operation of the school. Very impressive!
House Builder
Project: Redrow Homes
Bricks: Ibstock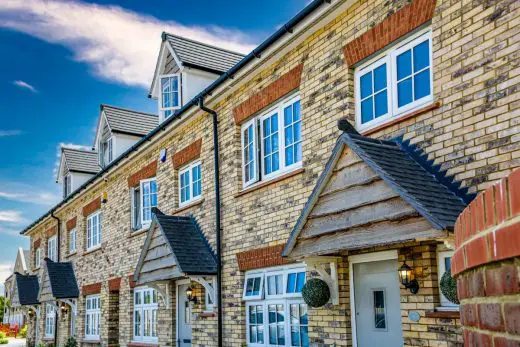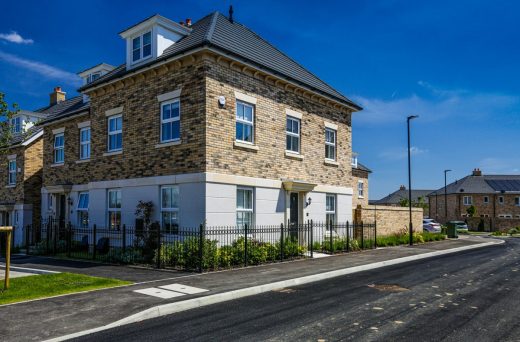 Judges comments:
Good use of urban design and master planning together with use of materials, detailing and layout. The choice of bricks and wider materials fitted in well with the surroundings and helped to secure the outcome of a successful design process.
Commercial Building
Project: i9 Wolverhampton Interchange
Architect: Glenn Howells Architects
Bricks: Ibstock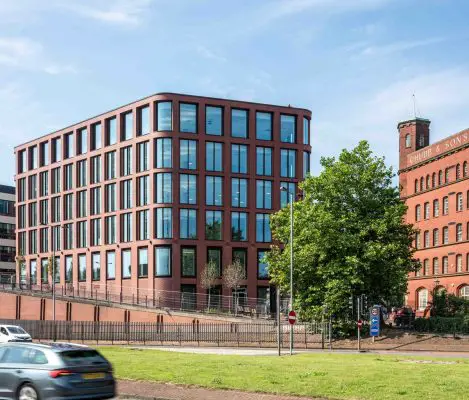 Educational Building
Project: Catherine Hughes Building
Architect: Niall McLaughlin Architects
Bricks: Ibstock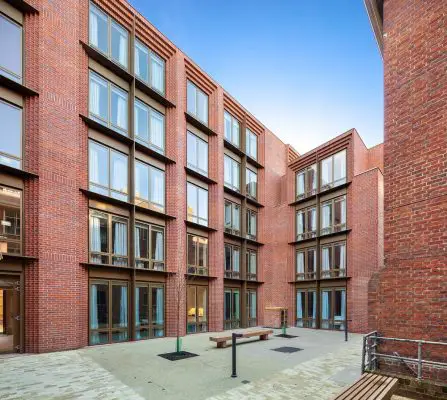 Catherine Hughes Building Somerville College Oxford
Judges comments:
The west elevation sets the style for the whole building with the side elevations, facing north and south, continuing the theme. Stepped reveals frame the recessed full height fenestration, their lightness and articulation contrasting with the solidity of the flanking monolithic brick towers.
Refurbishment
Project: John Morden Centre, Morden College, Blackheath, south east London
Architect: Mae
Bricks: Ibstock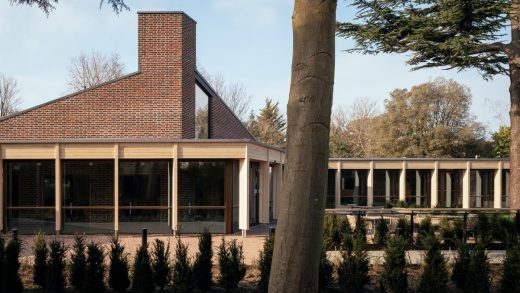 Outdoor Space
Project: The Newt in Somerset
Architect: benjamin + beauchamp architects
Bricks: Northcot Brick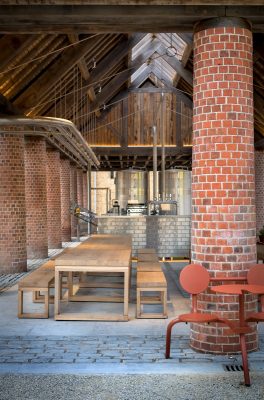 The Newt in Somerset Buildings and Landscape
Innovation
Project: York House, Kings Cross
Architect: deMetz Forbes Knight Architects
Bricks: Forterra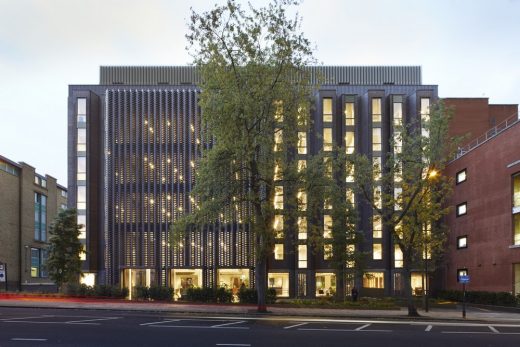 photo © Jack Hobhouse
Judges comments:
An innovative use of brick executed perfectly, a great example of refurbishment and extension to a 1980 building which could have been demolished otherwise. It's striking appearance contributes to the streetscape of this rather dull stretch of road.
Craftsmanship
Project: Wolverton Hall Folly
Architect: Quinlan Terry Architects
Bricks: Michelmersh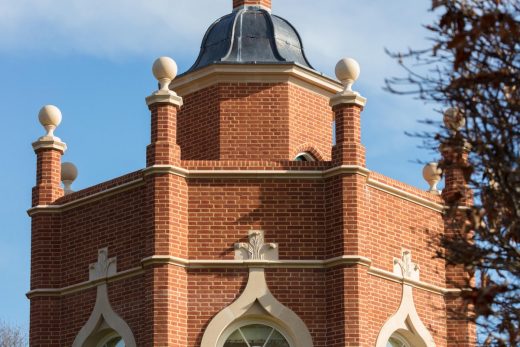 image courtesy of architects practice
Specialist Brickwork Contractor
Swift Brickwork Contractors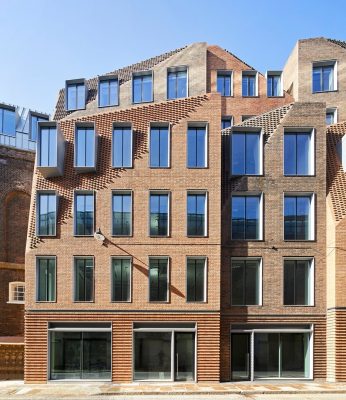 Description:
The company has been at the forefront of innovation within our industry for many years and have developed new processes and skills that will ensure brick is a material of choice for architects, for generations to come. Some of the most iconic buildings in the capital have used processes developed by Swift Brickwork.
Worldwide
Project: Tangzhuang Village Community Centre, Yunlong County, Yunnan Province, China
Architect: SHEN yue
Bricks: Reclaimed (provenance unknown)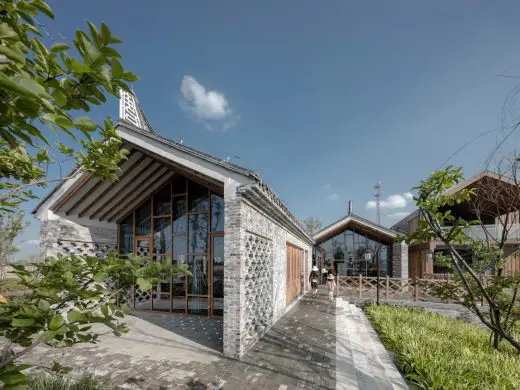 Tangzhuang Village Community Centre
Architects Choice
Project: Lea Fields Crematorium, Gainsborough Road, Lea, Gainsborough DN21 5PL, England, United Kingdom
Architect: Haverstock
Bricks: Forterra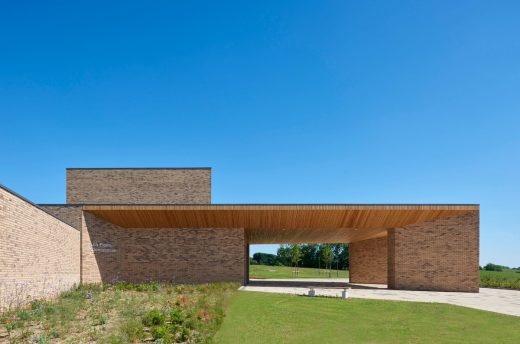 Contractors Choice
Project: Chelsea Barracks Phase 3a, London, England, UK
Architect: PDP London
Bricks: Wienerberger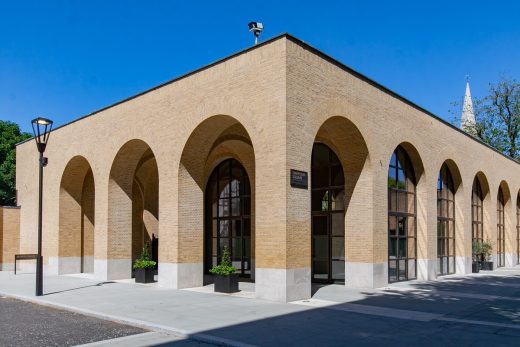 Previously on e-architect:
Brick Awards 2019
2019 Brick Awards shortlist revealed from record number of entries
349 entries – including these shortlisted building designs:
The Interlock, London by Bureau de Change Architects: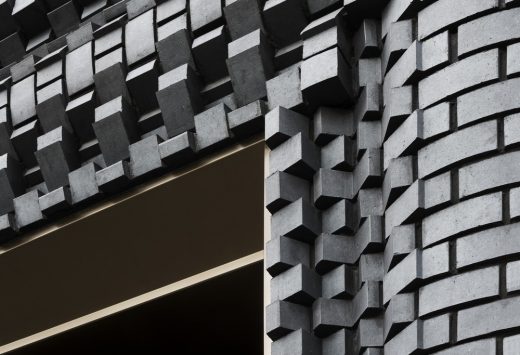 photos courtesy of Brick Awards / architects
Cambridge Central Mosque by Marks Barfield Architects: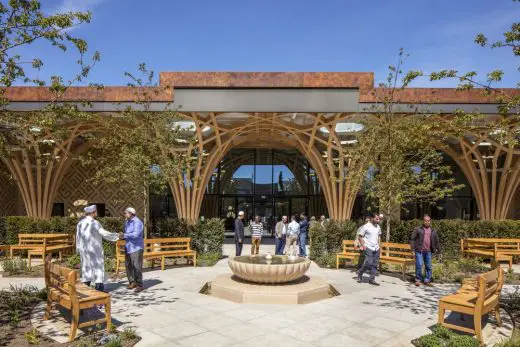 The Old Printworks, Edinburgh, by jmarchitects: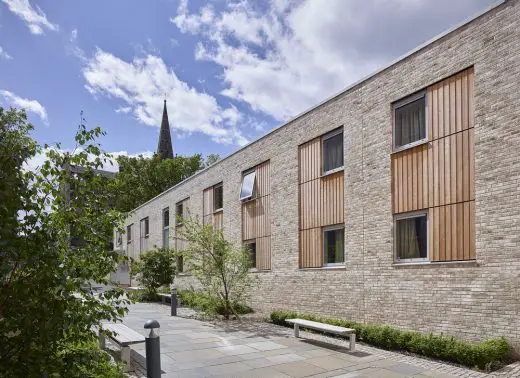 Ten Oaks Zero-Carbon house in the Chilterns: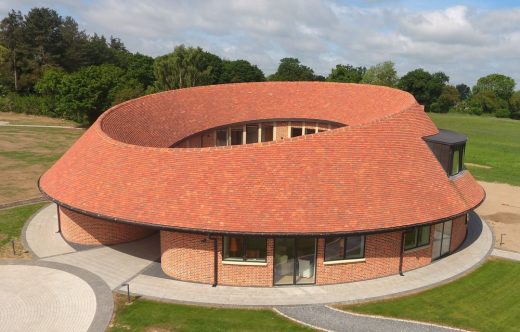 The Old Bakery in Deptford, by Lipton Plant Architects: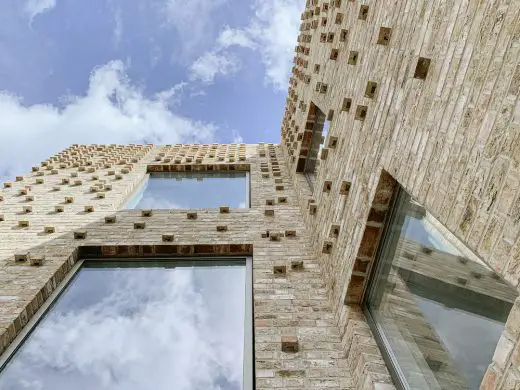 Another Brick Awards post on e-architect:
Brick in Architecture Awards 2020
Brick in Architecture Awards 2021
Brick in Architecture Awards 2020
London Architecture
London Architecture Design – chronological list
Comments / photos for the Brick Awards 2021 Winners page welcome
Website: https://brick.org.uk/brick-awards/