Australian Interior Design Awards 2017 Winners, Architects News, Architecture
Australian Interior Design Awards Winners 2017
Delivered in partnership with Design Institute of Australia (DIA) + Architecture Media's Artichoke magazine
25 Mar 2020
2020 Australian Interior Design Awards Shortlist
14 + 10 Jun 2017
2017 Australian Interior Design Awards Winners
Australian Interior Design Awards Winners in 2017
BEST OF THE BEST IN INTERIOR DESIGN REVEALED
An ambitious, sculptural and dramatic residence has taken out the Premier Award at the 2017 Australian Interior Design Awards. With inventive workspaces, distinguished public exhibits and state-of-the-art facilities amongst the awarded projects, the future of Australian interior design is in safe hands.
Premier Award winner – Indigo Slam NSW house: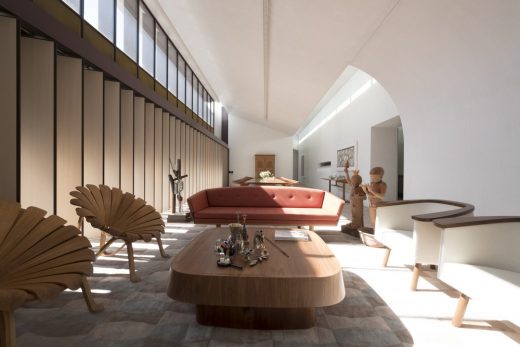 photos : David Roche
Delivered through a partnership between the Design Institute of Australia and Architecture Media's Artichoke magazine, the Australian Interior Design Awards is Australia's foremost awards program for the sector.
On Friday 9 June, the 14th annual Australian Interior Design Awards were presented at a gala celebration in Melbourne, which was attended by more than 500 of our most esteemed interior design and architecture practitioners and professionals.
Indigo Slam, NSW, by Smart Design Studio: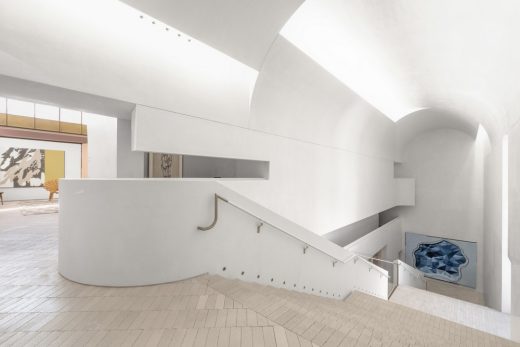 photo : David Roche
A project that is as unique as it is expertly designed, Smart Design Studio's Indigo Slam received the Premier Award for Australian Interior Design, with the jury 'unable to find fault' with the home's impeccable composition. 'This project is a private residence, but also hosts events for the client's art gallery, celebrating unconventional domesticity through dual functionality,' said the jury. The home is 'defined as much by a sense of a thoughtful restraint, as it is by immaculate detailing.' Indigo Slam was also awarded for Residential Design, making it the only project to collect multiple national gongs.
The prestigious Award for Interior Design Impact celebrates the transformative effect that design can have on organisational outcomes. This year's jury recognised two projects that confound the conventional expectations of their typologies; the museum exhibit and the serviced office. Woods Bagot was awarded for Paramount by The Office Space, an exemplar design that forms 'the kind of private nest that knowledge workers dream about,' while The First Peoples exhibition, by Museums Victoria Design Studio, elevates 'a permanent exhibit into the magic and theatre… of a biennale pavilion.'
Indigo Slam by Smart Design Studio: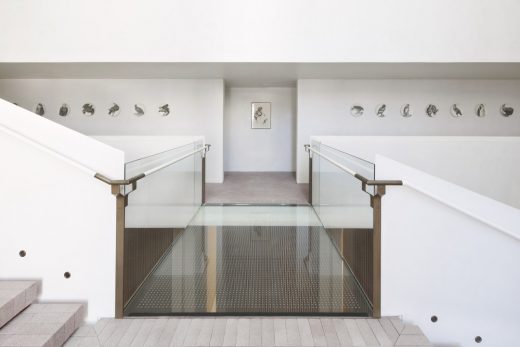 photo : David Roche
The award for Workplace Design was shared by two projects, the EDG Forum by Archer Office and Frasers Property Australia by BVN. Both projects feature 'third spaces' – areas that the jury noted 'eschew a traditional workstation arrangement in favour of a configuration that promotes serendipitous interaction.'
A mere two years old, Brad Swartz Architects is one to watch, having received the 2017 award for Emerging Interior Design Practice. The jury praised Brad for his 'passion for small footprint living, which responds to Australia's housing affordability crisis and in doing so, actively offers solutions.'
Australian Interior Design Awards Winners List
Australian Interior Design Awards + Commendations
Premier Award for Australian Interior Design
– Smart Design Studio for Indigo Slam, NSW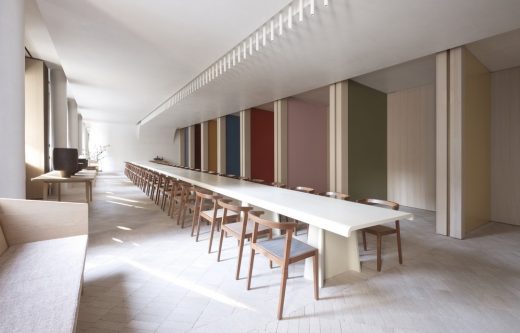 photo : David Roche
Interior Design Impact Awards
– Woods Bagot for Paramount by The Office Space, NSW
– Museums Victoria Design Studio for First Peoples, VIC
Sustainability Advancement Award
– Cox Architecture for University of Queensland Oral Health Centre, QLD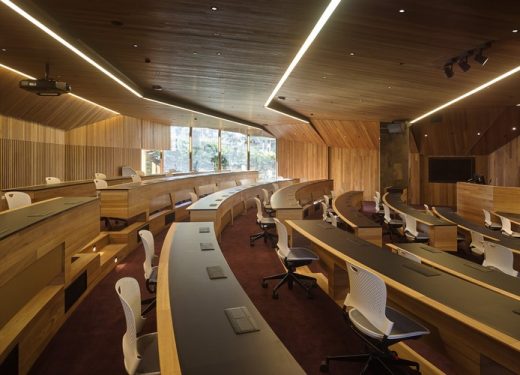 photograph : Christopher Frederick Jones
Emerging Interior Design Practice – Award
– Brad Swartz Architects, NSW
Commendations:
– Amber Road, NSW
– BoardGrove Architects , VIC
– Adam Kane Architects, VIC
Residential Design – Award
– Smart Design Studio for Indigo Slam, NSW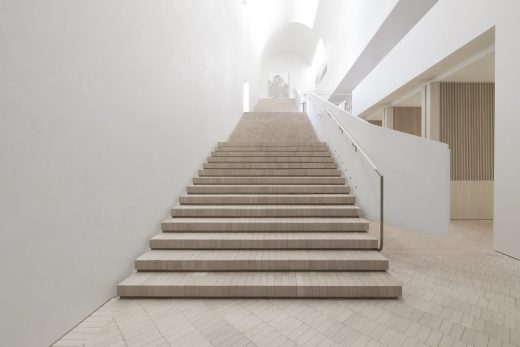 photo : David Roche
Commendations:
– Brad Swartz Architects for Darling Point Apartment, NSW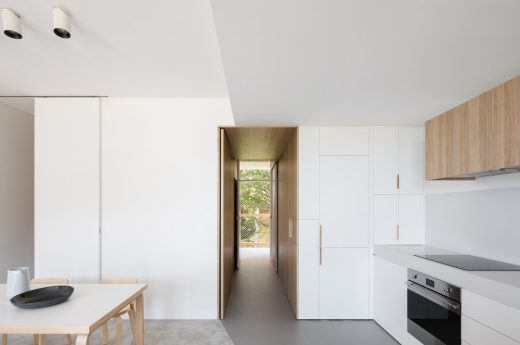 photo : Katherine Lu
– Eugene Cheah Architecture for Henry Street House, VIC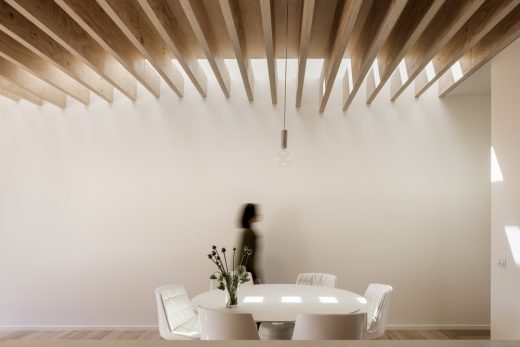 photo : Trevor Mein
– Doherty Design Studio in collaboration with Inarc Architects for Fitzroy Residence, VIC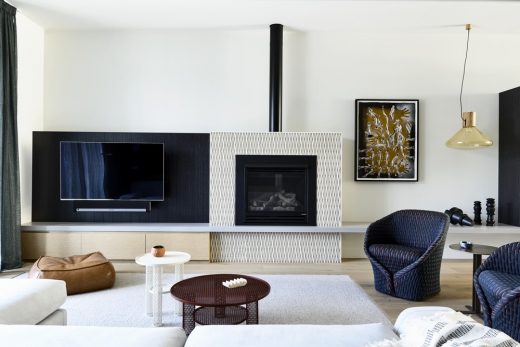 photo : Derek Swalwell
– SJB Architects for A Private Residence, NSW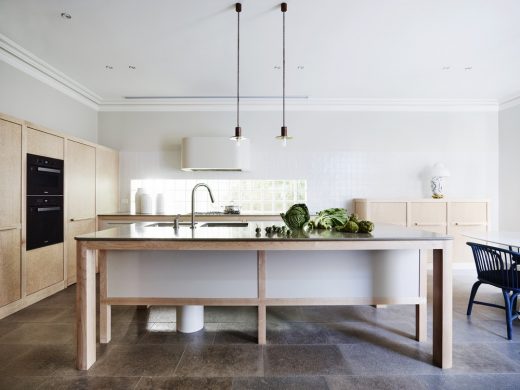 photo : Anson Smart
– SJB Architects for Redfern Terrace, NSW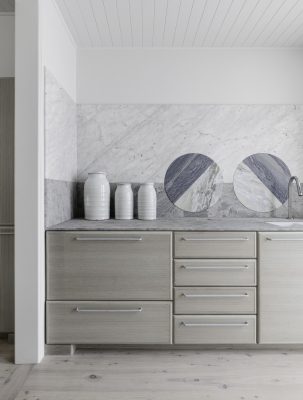 photo : Felix Forest
– John Wardle Architects for Freshwater Apartment, VIC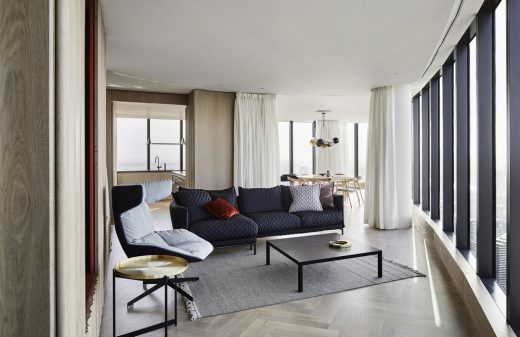 photo : Sharyn Cairns
– Architects EAT for Moving House, VIC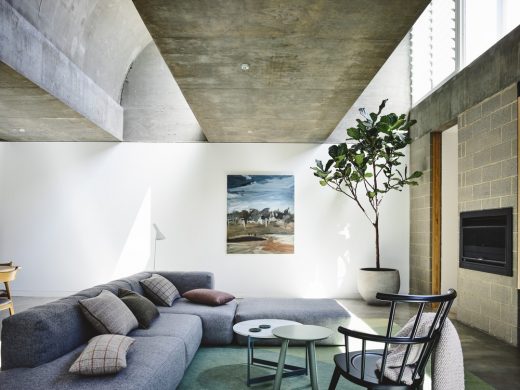 photo : Derek Swalwell
Residential Decoration – Award
– SJB for A Private Residence, NSW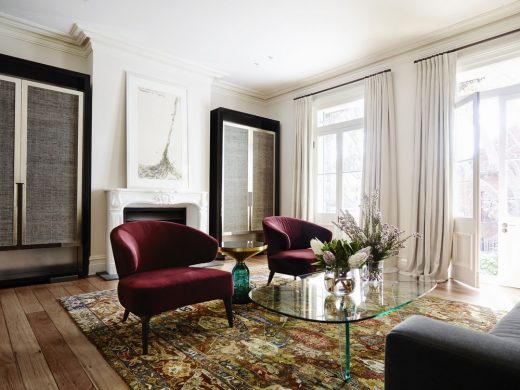 photo : Anson Smart
Commendations:
– Templeton Architecture for Little Parndon, VIC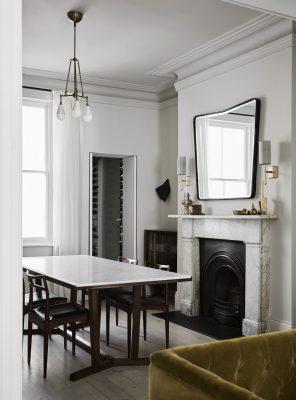 photograpg : Sharyn Cairns
– Doherty Design Studio for Fitzroy Residence, VIC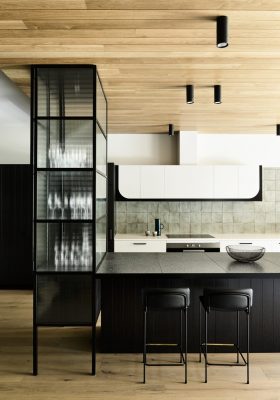 photo : Derek Swalwell
– Carole Whiting and Steven Whiting for Hotham, VIC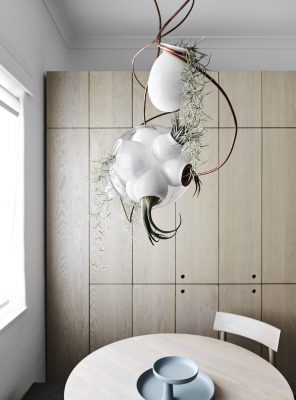 photo : Sharyn Cairns
Hospitality Design – Award
– DesignOffice for Higher Ground, VIC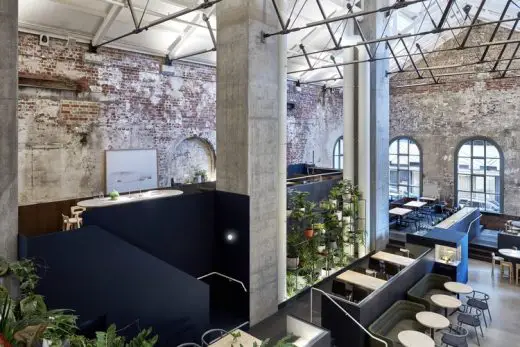 photo : Sean Fennessy
Commendations:
– Genesin Studio for Antica Pizzeria e Cucina, SA Flack Studio for Caravan, Seoul, KOREA
– George Livissianis for The Dolphin Hotel, NSW
– Ritz&Ghougassian for Morris and Heath, VIC
– DesignOffice for Handpicked Wines, NSW
– Karen Abernethy Architects with Louisa Macleod for Humming Puppy Sydney, NSW
– Ritz&Ghougassian for Penta, VIC
Retail Design – Award
– George Livissianis for Jac + Jack, NSW
Commendations:
– Flack Studio for Monk House Design, VIC
– Joanne Motee for Lost in Seasons, VIC
– Landini Associates for The Kitchens, QLD
– Karen Abernethy Architects with Louisa Macleod for Búl, QLD
Public Design – Award
– PTID for StudioFive, VIC
Commendations:
– BVN Architecture for UQ Forgan Smith West Wing Refurbishment, QLD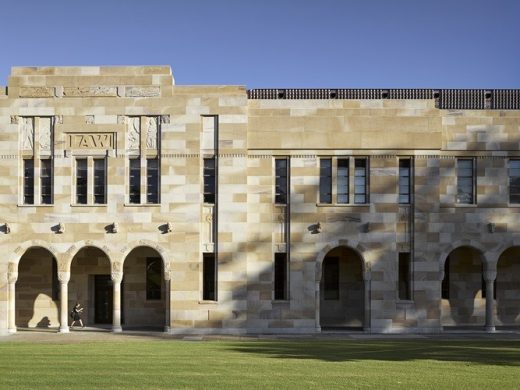 photo : Christopher Frederick Jones
– Peter Hunt Daryl Jackson (Joint Venture) Architects (PHDJ) for Supreme Court of Western Australia, WA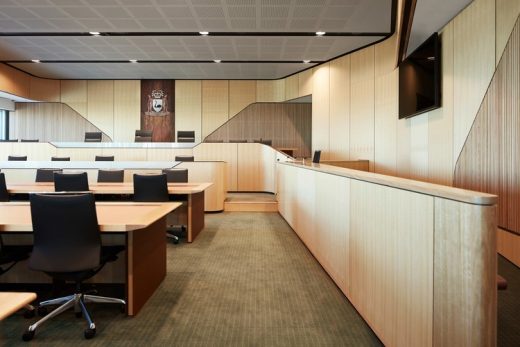 photo : AcornPhoto
– Cox Architecture for University of Queensland Oral Health Centre, QLD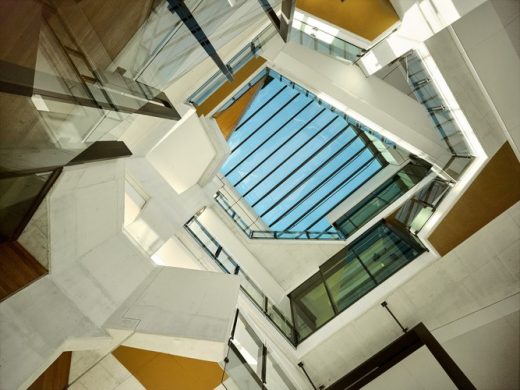 photo : Christopher Frederick Jones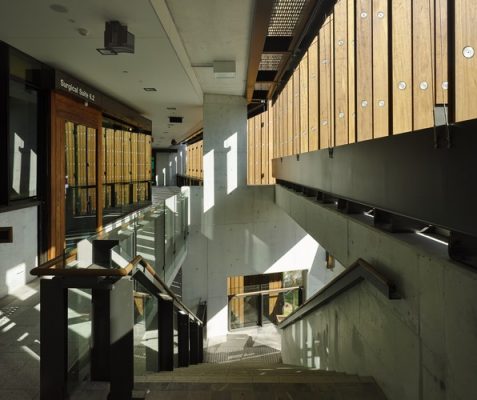 photo : Christopher Frederick Jones
– BVN Architecture for The Sanctuary, Bunurong Memorial Park, VIC
– BVN Architecture for Woollahra Library, NSW ARM + Architectus for Arts West, University of Melbourne, VIC
Workplace Design – Awards
– Archer Office for The EDG Forum, NSW BVN for Frasers Property Australia Head Office, NSW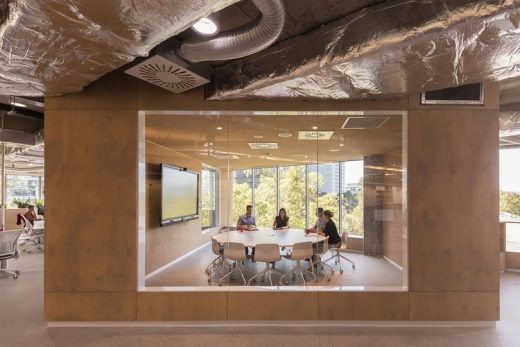 photo : Brett Boardman
Commendations:
– Warren and Mahoney Architects Australia for TVNZ Television Network Centre Refurbishment, NZ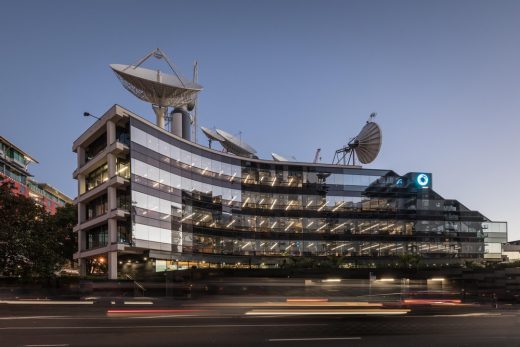 photo : Patrick Reynolds
– HASSELL for Swiss Re, Sydney, NSW Gensler for Dropbox Sydney, NSW
– Bates Smart for Salvation Army, NSW
Installation Design – Award
– StudioPlusThree for Egyptian Mummies: Exploring Ancient Lives, NSW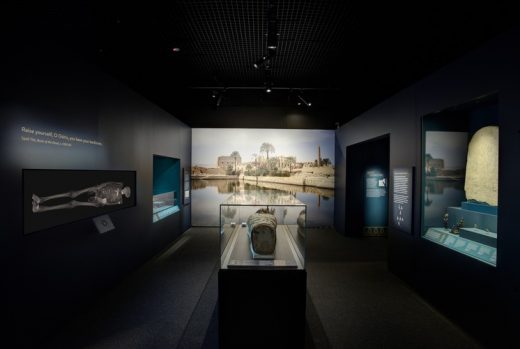 photo : Brett Boardman
Commendations:
– Aileen Sage Architects with Michelle Tabet for The Pool, Italy
– Trigger for Parramatta Park Dairy Cottage Installations, NSW
– Archier for Denfair Stand For Rakumba Lighting, VIC
– Cox Architecture for Wild State Exhibition Queensland Museum, QLD
Best of State Awards for Residential Design Victoria
– Eugene Cheah Architecture for Henry Street House, Queensland
– Chloe Naughton for Inverdon House, New South Wales
– Smart Design Studio for Indigo Slam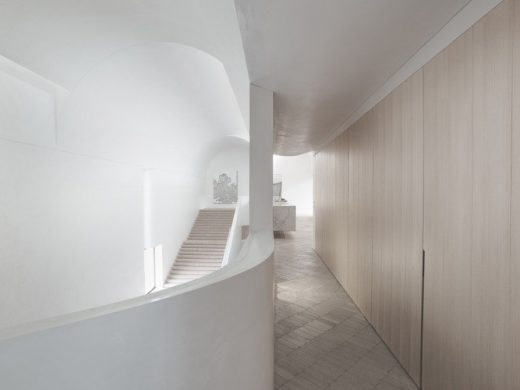 picture : David Roche
Best of State Awards for Commercial Design Victoria
– DesignOffice for Higher Ground South Australia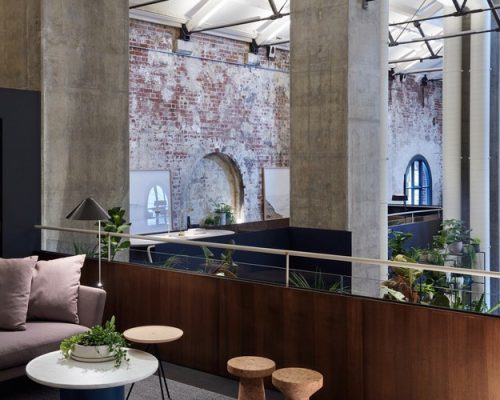 photograph : Sean Fennessy
– Genesin Studio for Antica Pizzeria e Cucina Queensland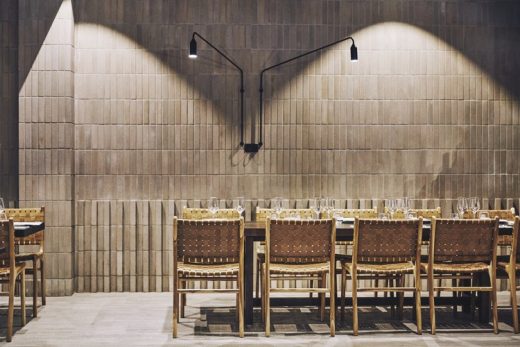 picture : Brendan Homan
– BVN Architecture for UQ Forgan Smith West Wing Refurbishment Western Australia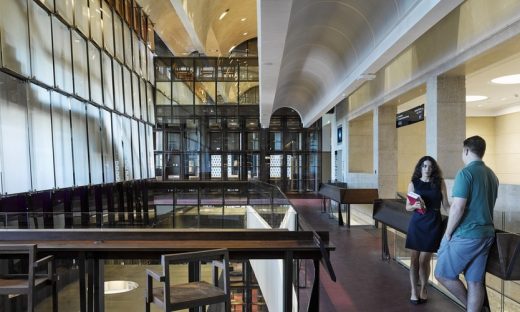 photo : Christopher Frederick Jones
– Peter Hunt Daryl Jackson (Joint Venture) Architects (PHDJ) for Supreme Court of Western Australia, New South Wales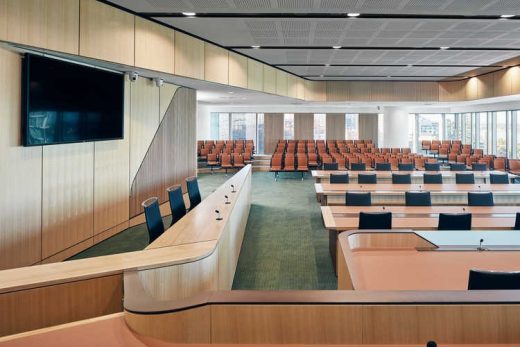 photo : AcornPhoto
– Archer Office for The EDG Forum Tasmania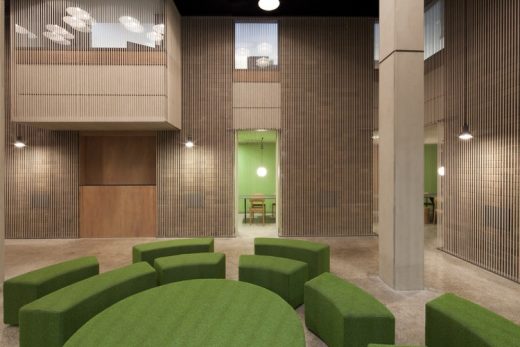 photo : Kasia Werstak
– Liminal Spaces for University of Tasmania Executive Workplace Renewal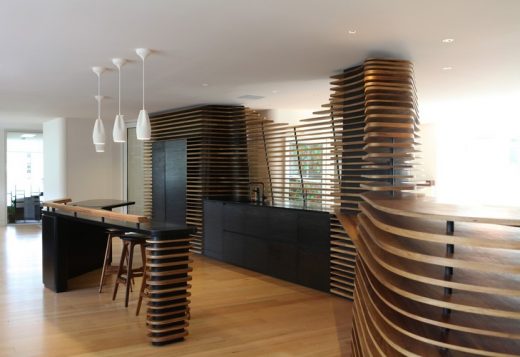 photo : Sandi Sissel
Best International Design Award
– Warren and Mahoney Architects Australia for TVNZ Television Network Centre Refurbishment, NZ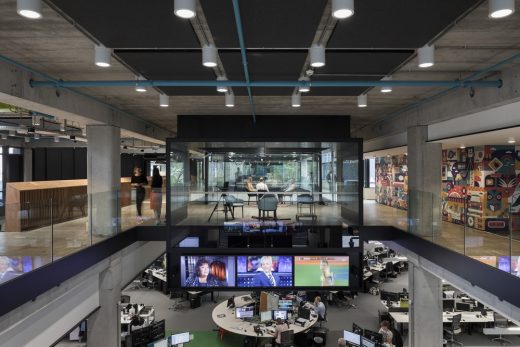 photo : Patrick Reynolds
3 + 1 Apr 2017
Australian Interior Design Awards Shortlist
Australian Interior Design Awards Shortlist 2017
Jury, 2017 Awards for Australian Interior Design:
• Sonda Banney, Head of Interior Design at Architectus (QLD)
• Elizbeth Carpenter, Managing Principal at FJMT Studio (NSW)
• Amanda Stanaway, Principal at Woods Bagot (NSW)
• Mark Simpson, Director of DesignOffice (VIC)
• Nick Travers, Director of Techne Architecture and Interior Design (VIC)
• Tony Chenchow, Director of Chenchow Little (NSW)
• Sophia Leopardi, Director at Williams Burton Leopardi (SA)
• Fiona Lynch, Director of Fiona Lynch (VIC)
Chair, Sustainability Advancement Award:
• John Gertsakis, Chief Sustainability Officer, Infoactive Group (VIC)
Jury, 2017 Award for Interior Design Impact:
• Madeline Lester, Director Madeline Lester and Associates (NSW)
• Roger Poole, Director of Roger Poole Architects (VIC)
• Sue Wittenoom, Founder at The Soft Build (NSW)
Results for categories are as follows:
2017 Shortlist
Hospitality design
Acme&Co. for Charlie Parker's, NSW
Acme&Co. for Fred's, NSW
Amber Road for Tamate Bako, NSW
Amber Road for Ume Burger, NSW
Architects EAT for Crux and Co, Vic
Bates Smart for Zephyr, Hyatt Regency Sydney, NSW
Biasol for No.19, Vic 
Carr for Collins Square Business and Events Centre, Vic
DesignOffice for Higher Ground, Vic
DesignOffice for Handpicked Wines, NSW
Edwards Moore in collaboration with Studio Edwards for Notel, Vic
Flack Studio for Caravan, Seoul, South Korea
Genesin Studio for Antica Pizzeria e Cucina, SA
George Livissianis for The Dolphin Hotel, NSW
Hachem for Bodhi & Ride, Vic
Harrison Interiors, Harry & Frankie Fitzroy, Vic
Harrison Interiors and Karyne Murphy Studio for TarraWarra Estate Restaurant, Vic
Karen Abernethy Architects with Louisa Macleod for Humming Puppy Sydney, NSW
Luchetti Krelle for Banksii Vermouth Bar and Bistro, NSW
Luchetti Krelle for Bar Brosé, NSW
Luchetti Krelle for M&G Café and Bar, The Star Gold Coast, Qld
Mata Design Studio for Chilli Panda, WA
Melissa Collison Design for Sake, Flinders Lane, Vic
Ritz&Ghougassian for Morris and Heath, Vic
Ritz&Ghougassian for Penta, Vic
Six Degrees Architects for STREAT Cromwell, Vic
Six Degrees Architects for Brae Restaurant Accommodation, Vic
SJB for 12-Micron, NSW
SJB & TRD for Buena Vista Hotel, NSW
Studio Edwards for Microluxe, Vic
Studio Edwards & Joseph Hoang for Tom Thumb, Vic
Studio-Gram for St Hugo, SA
Tanner Kibble Denton Architects for Glasshouse Restaurant, Goonoo, Goonoo, NSW
TomMarkHenry for Indigo Double Bay, NSW
Travis Walton Architecture for Bikini, Bali, Indonesia
Travis Walton Architecture for Expat. Roasters, Bali, Indonesia
We Are Huntly for Moby 3143, Vic
We Are Huntly for The Penny Drop, Vic
We Are Huntly for The Sum of Us, Vic
Woods Bagot for Campos Barangaroo, NSW
Woods Bagot for Great Southern Rail Platinum Club, SA
Installation Design
Aileen Sage Architects for The Pool, Veneto, Italy
Archier for Denfair Stand For Rakumba Lighting, Vic
Cox Architecture for Wild State Exhibition Queensland Museum, Qld
Design Studio, Melbourne Museum for Meet me at the train! Welcome to the Pauline Gandel Children's Gallery, Melbourne Museum, Vic
Design Studio for Camouflage Disco: Pauline Gandel Children's Gallery, Melbourne Museum, Vic
DKO and AJAR Furniture and Design for Kaleidoscope, Vic
Elenberg Fraser for Rockley Gardens – Installation Design, Vic
Gloss Creative for By Appointment Only, Vic
Loopcreative for Alquema, NSW
SJB Interiors for 41 Birmingham, NSW
Studio Mether for Biomedical Breakthroughs – A new view of you, Vic
StudioPlusThree for Egyptian Mummies: Exploring Ancient Lives, NSW
Technē Architecture + Interior Design for Victoria Harbour, Vic
Trigger for Hill End Heritage Centre, NSW
Trigger for Parramatta Park Dairy Cottage Installations, NSW
Public Design
ARM + Architectus for Arts West, University of Melbourne, Vic
Baldasso Cortese Architects for St Monica's Senior Centre, Vic
Billard Leece Partnership for Albury Wodonga Regional Cancer Centre, NSW
BVN for Guardian Early Learning Centre, Qld
BVN for The Sanctuary, Bunurong Memorial Park, Vic
BVN for UQ Forgan Smith West Wing Refurbishment, Qld
BVN for Woollahra Library, NSW
Cox Architecture for University of Queensland Oral Health Centre, Qld
Design Studio, Museums Victoria for Pauline Gandel Children's Gallery, Melbourne Museum, Vic
Hayball for Carey Baptist Grammar School, Centre for Learning & Innovation, Vic
McBride Charles Ryan for Ivanhoe Grammar School Senior Years Centre, Vic
Peter Hunt Daryl Jackson (Joint Venture) Architects (PHDJ) for Supreme Court of Western Australia, WA
PTID for StudioFive, Vic
PTID for The Ark, NSW
Residential Decoration
Adam Kane Architects for Hardwood House, Vic
Arent&Pyke for Pyrmont Apartment, NSW
Bates Smart for The Eastbourne Display Suite, Vic
Carole Whiting Interiors and Design for Hotham, Vic
Doherty Design Studio and Inarc Architects for Fitzroy Residence, Vic
Elenberg Fraser for Rockley Gardens – Residential Decoration, Vic
H Interior Design for Bondi Breeze, NSW
Handelsmann + Khaw for Hunters Hill House, NSW
Hare + Klein for Peninsula, NSW
Leeton Pointon Architecture + Interiors, and Allison Pye Interiors for Twig House, Vic
Nexus Designs for Queenie, Vic
Nina Maya Interiors for Palm Beach House, NSW
Sarah Davison Interior Design Pty Ltd for Manly Residence, NSW
SJB for A Private Residence, NSW
Studio Tate for The Melburnian, Vic
Templeton Architecture for Little Parndon, Vic
Watts Studio for Rose House, Vic
Residential Design
Adam Kane Architects for Hardwood House, Vic
ADDARC for Hawthorn House, Vic
Architects EAT for Moving House, Vic
Austin Maynard Architects for Dorman House, Vic
BoardGrove Architects for Footscray Apartment, Vic
Bower Architecture for Hide and Seek House, Vic
Bower Architecture for The Villa at Barwon Heads, Vic
Brad Swartz Architects for Darling Point Apartment, NSW
Brad Swartz Architects for Milsons Point Apartment, NSW
Breathe Architecture for Halo House, Vic
Carole Whiting Interiors and Design and Y10 for Hotham, Vic
Chloe Naughton for Inverdon House, Qld
Clare Cousins Architects for High Noon, Vic
Coy Yiontis Architects for Nolan House, Vic
DKO for Waterloo Street, Vic
Doherty Design Studio for Ivanhoe Residence, Vic
Doherty Design Studio and Inarc Architects for Fitzroy Residence, Vic
Eugene Cheah Architecture for Henry Street House, Vic
Full Of Grace Interiors for South Yarra Residence, Vic
Ha – Architecture, Product & Environment for Yarra's Edge Apartment, Vic
Handelsmann + Khaw for Hunters Hill House, NSW
Hare + Klein for Peninsula, NSW
John Wardle Architects for Freshwater Apartment, Vic
Kennedy Nolan for Belmont House, Vic
Lawless and Meyerson for Notts Avenue, NSW
Leeton Pointon Architects + Interiors, and Allison Pye Interiors for Twig House, Vic
Madeleine Blanchfield Architects for Bellevue Hill Residence, NSW
Madeleine Blanchfield Architects for Clovelly Residence, NSW
Make Architecture for House To Catch The Sun, Vic
Make Architecture for Perimeter House, Vic
Marc & Co. Architects + Baber Studio for Undercroft_Attic House, Qld
Marston Architects for K Apartment, NSW
MCK Architects for House W, NSW
Neometro and MA Architects for Six Brookville Rd, Vic
Object/Subject for Object 01, Vic
SJB for A Private Park, NSW
SJB for A Private Residence ,NSW
SJB for Redfern Terrace, NSW
Smart Design Studio for Indigo Slam, NSW
Studio Tate for The Melburnian, Vic
Tribe Studio Architects for House Au Yeung, NSW
Tribe Studio Architects for House Collins, NSW
Tribe Studio Architects for Lindfield House, NSW
Vitale Design for Quarry House, NSW
Wolveridge Architects for Courtyard Cottage, Vic
Wolveridge Architects for East Melbourne Terrace House, Vic
Retail design
Arkhefield for Room 480 Food Gallery, Qld
Ewert Leaf for Black Leopard Skincare, Vic
Flack Studio for Monk House Design, Vic
Flack Studio for Ginger & Smart, Pacific Fair, Qld
George Livissianis for Jac + Jack, NSW
Joanne Motee for Lost in Seasons, Vic
Karen Abernethy Architects with Mike Macleod for Búl, Qld
Landini Associates for The Kitchens, Qld
McCartney Design for ATTIK Clothing, NSW
MIKA Studios for Dolci Firme Eastland, Vic
Pinto Tuncer for iKOU, Vic
Russell & George for Aésop Capitol Piazza, Singapore
Russell & George for Aésop Doncaster Renewal, Vic
Russell & George for Aésop IFC Seoul, Seoul, South Korea
Studio 103 for Melbourne Flower Merchant, Vic
TomMarkHenry for News Essentials, NSW
Workplace Design
Amber Road for Trackmaster, NSW
Archer Office for The EDG Forum, NSW
Bates Smart for Salvation Army, NSW
Bates Smart for Maddocks, Vic
Bates Smart for Allens (Brisbane Office), Qld
Breathe Architecture for Slack Melbourne Office, Vic
BVN for Frasers Property Australia Head Office, NSW
BVN for Southeast Water, Vic
BVN for BHP Billiton Workplace, Qld
Carr for BCG Digital Ventures, NSW
Carr for Collins Square Business and Events Centre Melbourne, Vic
CODA Studio for Claisebrook Design Community, WA
Fitzpatrick+Partners Architects for Macquarie Fitout, NSW
Futurespace for Financial Services, NSW
Gensler for Dropbox Sydney, NSW
Genton Architecture for Sydney Processing Centre, NSW
HASSELL for Swiss Re, Sydney, NSW
HASSELL for Ashurst, Sydney, NSW
HASSELL for Hub Melbourne, Vic
Hoyne and Interni for Hoyne Sydney Studio, NSW
Liminal Spaces for University of Tasmania Executive Workplace Renewal, Tas
Make Architects, Great Portland Estates, London, United Kingdom
Six Degrees Architects for Swisse Victorian Head Office, Vic
Six Degrees Architects for ACMI X, Vic
Studio Tate for PDG Head Office, Vic
TomMarkHenry for WeWork Martin Place, NSW
TomMarkHenry for WeWork Pyrmont, NSW
Warren and Mahoney Architects Australia for TVNZ Television Network Centre Refurbishment, Auckland, New Zealand
Australian Interior Design Awards Winners images / information received 090617
Location: Australia
Australian Architectural Design Awards
Australian Design Awards
Australian Institute of Architects National Architecture Awards



picture from LEAF Awards
Australia Award for Urban Design
Australian Urban Design Awards 2017 Shortlist
New South Wales Architecture Awards
South Australian Architecture Awards
New South Wales Architecture Awards
Australia Architecture Designs – chronological list
Interior Design
New Zealand Building Designs
Comments / photos for the Australian Interior Design Awards 2017 Winners page welcome