BVN Architecture Australia, Architects, Building, Office, Project, NSW Design Studio
BVN Architecture : Australian Architects
Contemporary Australian Architectural Practice – NSW Design Office News
post updated 21 May 2021
BVN Architecture News
BVN Architecture – latest additions to this page, arranged chronologically:
10 Sep 2019
The John B. Fairfax Learning Centre, Macquarie Street, Sydney, New South Wales, Australia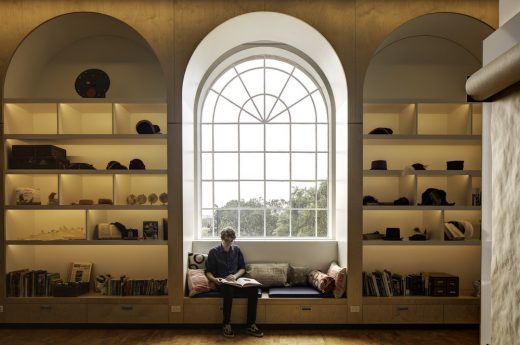 photography : Brett Boardman
The John B. Fairfax Learning Centre
The John B. Fairfax Learning Centre aspires to position the State Library as an excellent learning destination, by providing a fun, flexible and agile space allowing the children to act as scene setters, creating their own unique learning experience.
24 Mar 2019
Emblem Apartments, New South Wales, Australia
Architects: BVN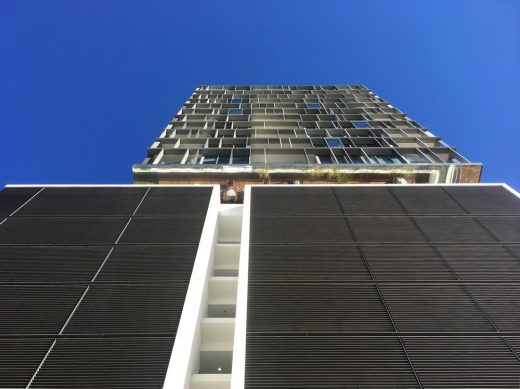 photography : John Gollings and BVN
Emblem Apartments in Sydney by BVN Architecture
The building sits between two smaller residential buildings designed by different architects. All three share a common basement carpark. Height, setbacks and building footprint were strongly defined by the Development Control Plans for the Precinct and the brief for the Design Excellence Competition.
21 Sep 2016
Children can build their own house
Children between the ages of 8-12 years are being given the opportunity to build a model house, that they can keep, as part of "Supermodels: Architects of Tomorrow" a Sydney Architecture Festival event being held on Sunday 2 October 2016 from 10am to 12noon at The Brewery Yards Market, 28 Broadway, Chippendale.
Every child participating in ""Supermodels: Architects of Tomorrow" will be given a kit of parts that includes all the pieces required to make an Australian house that is based on the one in this photo that was designed by James Grose.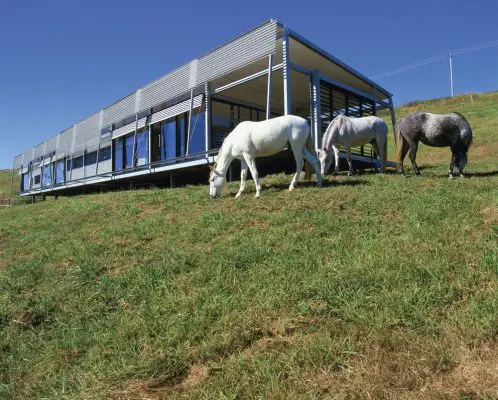 Architects and architecture students will be on hand to offer advice and guidance to each child. They will give them insights into why this house does not have a pitched roof, and why its walls are mainly made of glass. They will talk about what architects consider when designing a house for Australian conditions.
According to Mr Brian Clohessy, BVN Sydney Studio Director, "BVN aims to support the development of a strong architecture culture and one of the ways this aim can be realised is through being a partner of the Sydney Architecture Festival with its programme that offers experiences that transform the way people understand the places they live, work and play in every day." ENDS
Parents should register their child on http://www.eventbrite.com/e/supermodels-architects-of-tomorrow-tickets-27270011338 to ensure they secure one of the limited places and kits available.
26 Jul 2016
The importance of architectural culture
26 Jul 2016 – Announcing a new partnership with 'Sydney Open', BVN Principal, Mr Neil Logan said, "The fabric of our cities and towns forms an important part of our culture, it helps define who we are and architecture is fundamental to the richness of our built environment."
One of BVN's ongoing concerns is the development of a vibrant Australian architecture culture, "it is up to us as architects to help people understand what a good building is and the cultural importance of architecture to everyone in the community," said Mr Logan.
Although BVN have been an supporter and active participant of Sydney Open House, according to Mr Logan it is time to increase that support by taking up the offer to partner with Sydney Living Museums on the 2016 Sydney Open that is being held on 5 and 6 November.
"To start this partnership we looked at all the opportunities around Australia for the community to learn more about architecture and discovered that there is no one place that contains all these links," noted Mr Logan.
"Therefore we have collated all the links to events across Australia that make architecture accessible to everyone and put them in a post on our website," said Mr Logan who noted that the first event is Melbourne Open House that happens this weekend 30 and 31 July go to link here http://bit.ly/2acQuGG
Also included in the post are links to some of the notable events overseas including the London Architecture Festival that coincides with London Open which is an entirely free event and that opens 750 buildings of all kinds on the weekend of 17 and 18 September.
The value to the community of events like Sydney Open is captured by the London Open team who write about the importance of direct experience. "You can't make an informed decision merely through abstract images… You need to be engaged with the space in question to know what the reality is."
25 Jul 2016
BVN Wins Another award for Project Zero
Project Zero, a house that reuses a typical post WW2 "Queenslander", received the Award for a House Alteration and Addition over 200 m2 at the Houses Awards on 22 July.
This follows it receiving two awards at the Queensland Architecture Awards on Friday 24 June that included the Harry Marks Award for Sustainability, the highest award given to a project that demonstrates a comprehensive use of sustainable design principles by the Queensland Chapter of the Australian Institute of Architects.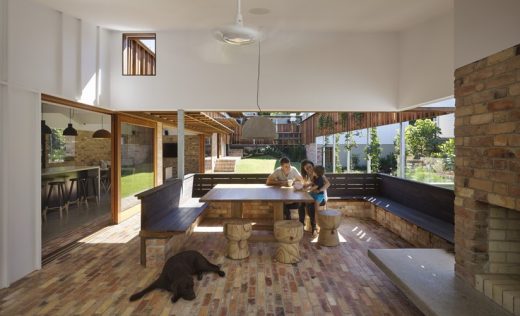 photo : christopher frederick jones [CFJ] architectural photographer
According to the Houses Award jury Project Zero has "the living areas organised around a central courtyard, which is largely a green space, creating the feeling that you are living within a garden".
They noted how in the joint between the existing house and the new addition there is an outside living area with a recycled brick floor and found that this, "…space acts as a delightful covered retreat from the sun and rain, and reinforces the casual nature of the house."
Notable also was the many "zero impact" devices employed in the house, "such as solar-powered energy on the north-facing sections of roof, on-site water treatment, reclaimed building materials and vegetable gardens with chooks and a worm-farm."
The battened screen that serves to wrap around the garden and bind the different elements of the building together was another element referred to in the jury citation.
They concluded saying "The house has a village-like feel and maximises the use of the site through pushing the building to the boundaries."
According to Mr Brian Donovan, Principal BVN, "The house consolidates the research embedded in precedent buildings where central outdoor spaces are used to organise the composition of interior rooms…This is reflected in the way that the building elements have been pushed to the boundaries to create a major landscape area in the centre of the site," he said.
At the core of the design are two highly engaged clients who asked for a design of a four bedroom family house that would be as sustainable as possible and that could serve as a new model in the housing market of an environmentally friendly residence. ENDS
4 Jul 2016
BVN wins three prizes
4th July 2016 – The NSW Architecture Awards that were announced on Friday 1 July 2016 recognised three BVN projects.
The Minter Ellison workplace in Governor Macquarie tower received a prestigious named award whilst the Southeast Regional Hospital Bega and Our Lady of Assumption School, North Strathfield were both given commendations.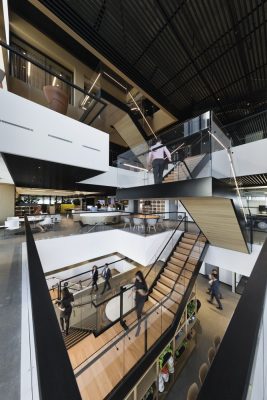 The jury gave the John Verge Award for Interior Architecture to the Minter Ellison workplace noting that it "provides a new benchmark for the design of legal workplaces."
According to the jury "through a rigorous challenging of the traditional hierarchical legal office structure, the architects have developed a new model blending office based work with the principles of Activity Based Workplace (ABW). The result is a physical representation of a collaborative and connected working environment."
The jury also noted that choosing to minimise material use in Minter Ellison by exposing concrete floors and ceilings "was bold for a legal workspace and reflects the progressive nature of the project and the client."
This win now puts the Minter Ellison project on the list of projects eligible to receive a National Architecture Award that will be announced in Sydney in November.
In giving a Public Architecture commendation to the Southeast Regional Hospital the jury noted that whilst meeting the burden of technical demands and health care legislation the design manages to "successfully carve out humane, generous and natural light filled spaces for both staff and patients alike."
They commended the project for framing the extensive landscape views "to extend and open up the interior spaces of the hospital…to break open the usually tightly constrained envelope of most hospitals."
Our Lady of the Assumption Primary School Stage 1 was given a commendation in Educational Architecture by the awards jury for successfully transforming "a thoroughly ordinary existing structure into an inspiring new learning environment of flowing, open and malleable teaching and learning spaces."
Reusing a former three storey Telstra building this first stage of the new school covers the ground floor and uses natural materials with timber floors and joinery that the jury noted can be subdivided by moving panels and is "controlled almost entirely by the children who inhabit the space, granting them almost unlimited control over the spatial configurations they choose to learn within."
Legal Workplace Wins Named Award
4th July 2016 – The BVN designed Minter Ellison workplace is the winner of the 2016 John Verge Award for Interior Architecture in the NSW Architecture Awards conducted by the Australian Institute of Architects.
According to the jury this project "provides a new benchmark for the design of legal workplaces".
They found that "through a rigorous challenging of the traditional hierarchical legal office structure, the architects have developed a new model blending office based work with the principles of Activity Based Workplace (ABW). The result is a physical representation of a collaborative and connected working environment."
The jury also noted that choosing to minimise material use by exposing concrete floors and ceilings "was bold for a legal workspace and reflects the progressive nature of the project and the client."
Ms Domino Risch, Workplace Director, BVN, noted that "a desire for visual connectivity has created a series of overlapping and cascading voids with a ribbon-like winding oak stair connecting the floors, minimising lift use and encouraging less sedentary behaviour."
She also pointed out that there are a range of work settings, "with minimally sized multi-functional offices for partners and sit-to-stand benches, with the number of partners choosing to sit with their teams steadily increasing."
Also notable is the fact that Minter Ellison attributes a doubling in graduates seeking to join them to the value of the workplace strategy and design.
The named awards are the most prestigious prizes given by the Institute and this award also makes the Minter Ellison workplace eligible to receive a national architecture award that will be announced in Sydney in November.
OLA Primary School, North Strathfield, Sydney, NSW, Australia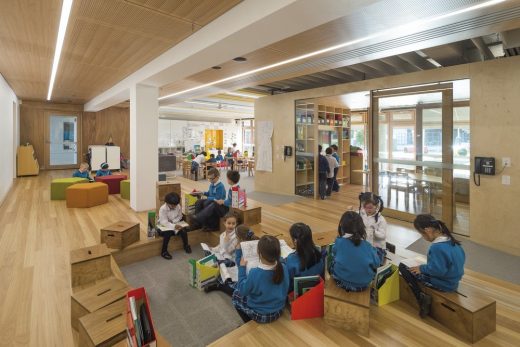 photo from architects
OLA Primary School wins two awards
13 Jun 2016 9:43 AM AEST – Our Lady of the Assumption Primary School (OLA) won the National Public Design and the Best of the State Awards at the Australian Interior Design Awards held in Sydney on Friday 10 June 2016.
According to the jury OLA "is an exemplary demonstration of adaptive reuse of a building that had outlived its original function as a Telstra training centre."
"The designers (BVN) have shown great foresight and leadership in creating a new, active use for the building. The flexibility afforded by the design is authentic."
The design uses joinery and movable screens to define spaces and the jury found that, "The spaces can be separated and reconfigured, positively impacting on the social experience of young children at a formative stage of their development, and encouraging interaction and co-operation."
"The designers controlled the 3D dynamics of the space through high-quality customisation of interior elements," noted the jury.
This is just Stage One of an entirely new Primary School in Sydney's North Strathfield and provides learning space from Kindergarten to Year Two.
The challenge for the BVN design team led by Principal Bill Dowzer was to turn an unattractive concrete building into an inspirational educational space.
The overarching design provides flexible, open learning spaces, using materials that create a warm and natural atmosphere. Equally important was the need to produce a variety of differently scaled spaces to suit small children and the frequent use of technology.
While the existing concrete structure is partially exposed, timber floors, moveable screens, joinery with shelves, built-in seats and withdrawal spaces enable different teaching configurations.
10 Jun 2016
480 Queen Street, Brisbane, Queensland, Australia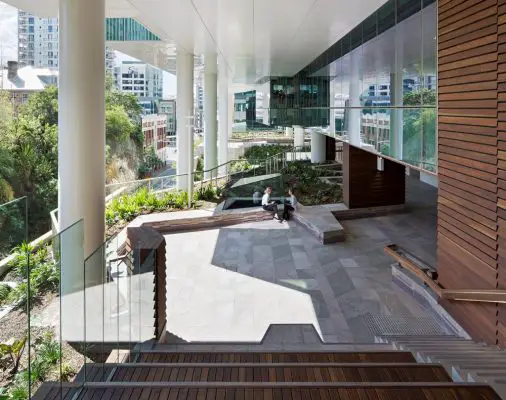 photo from architects
Brisbane Office Building by BVN
"The innovation on display in this building is a real credit to all involved," said the Hon Anastasia Palaszczuk, Queensland Premier and Minister for the Arts, as she officially opened 480 Queen Street, Brisbane on 9 June 2016.
1 Jun 2016
Our Lady of the Assumption Catholic Primary School, Sydney
School wins with strong design
1 Jun 2016 10:20 AM AEST – Winner of the Renovations/Modernisations award in the 2016 Learning Environments Australasia Awards, Our Lady of the Assumption Catholic Primary School's design was described by the jury as "a triumph of understated simplicity, informed by both theory and practice".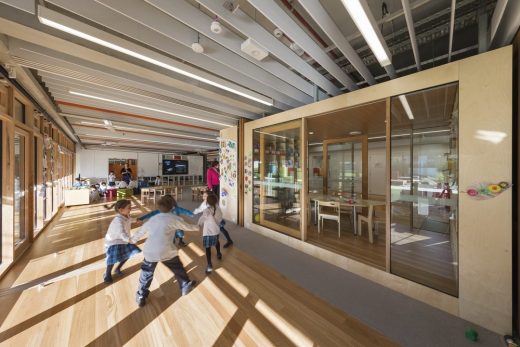 BVN worked closely with the school Principal and Directors of Sydney Catholic Schools to understand the physical requirements of this new school being developed around a theory of student-centred learning.
The result according to the Award jury is "an elegant and playful-reimagining of school on many levels that started with the repurposing of a commercial services building into a place of learning that honours diverse ways of coming to know."
This is Stage 1 of the new primary school that is reusing an unattractive 1970 three-storey former Telstra training centre in North Strathfield that presented many challenges to turn it into an inspirational educational space.
The jury found that "The refined interior pallet is soft and warm, incorporating natural materials, tones and textures, which help to create a tranquil learning environment that will age gracefully with use."
As well as the design being "insightful" the jury noted "The understated element of surprise, present in the joinery, is an example of how to provide learners with opportunities for exercising autonomy without adding operational complexity to the day-today practice of teaching and learning."
The existing concrete structure is partially exposed and a central spine defined by elevating it one step up creates a bridge connecting the length of the space. This in turn provides various learning spaces such as the floor that is a collection of wooden boxes that children can remove and use as seats whilst turning the pit into a reading or play space.
"The heart of this project is a clearly articulated theory of student-centered learning, sensitively translated and imbued throughout with a strong design ethic," concluded the jury.
Address: 1 Hamilton St E, North Strathfield NSW 2137, Australia
Architects on International Women's Day
7 Mar 2016 – Women architects are gathering on International Women's Day, Tuesday 8 March 2016, to celebrate with a Pecha Kucha talk, in BVN's Sydney Studio.
The participants are all from leading Sydney architecture practices who are members of the Male Champions of Change (MCC) programme that was initiated and is run by the NSW Chapter of the Royal Australian Institute of Architects.
The practices include: Architectus, Bates Smart, Carter Williamson, Cox Richardson, Crone, Hassell, PTW and SJB Architects
"Despite being competitors, it is really important that we can come together as united colleagues on big issues such as gender equality on occasions like International Women's Day. The power for change is actually within our own hands as organisations. Change doesn't have to wait until tomorrow, we all have the ability to make change happen today. In many ways its complex, but really it's that simple," said Ninotschka Titchkosky, Principal, BVN.
The Institute's Male Champions of Change are developing ideas and processes to improve gender equity in the architecture profession.
Their principles are based on the programme established by Elizabeth Broderick, the previous Australian Sex Discrimination Commissioner that requires changes to gender equity to be driven by men in leadership positions to use their influence to see women are more equally represented in leadership roles.
State Netball Centre at the QSAC, Australia
Architects: BVN



image from architects
State Netball Centre at Queensland Sport and Athletics Centre – 14 Feb 2016
Queensland's first State Netball Centre at the Queensland Sport and Athletics Centre, following an announcement by the Treasurer and Minister for Sport, Curtis Pitt MP.
New Arthur Phillip High School and Parramatta Public School Building, Parramatta, NSW, Australia
Design: Grimshaw Architects / BVN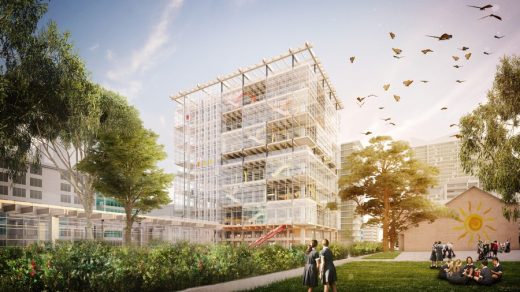 image courtesy Grimshaw
New High-rise School Building in New South Wales – 11 Feb 2016
Grimshaw Architects and BVN have won an international design competition for the first high-rise public school in NSW.
Sydney 2000 Olympic Games Tennis Venue


image from architect
Sydney Olympic Park Tennis Centre design by BVN – 13 Jan 2016
The APIA Sydney international was once again impacted by heat and rain, continuing a summer tradition of play being affected by Sydney's ever-more extreme summer weather. As drenching rain and over 35 degree temperatures beat down, players are forced from the court, leaving spectators waiting for play to resume. In 2012 the Men's Doubles and Singles finals had to be played on the following day due to rain.
BVN Donovan Hill architects news
Sydney wins Three International Awards
BVN Donovan Hill – 12 Aug 2013
A research centre, a school and a church in Sydney have been selected by a distinguished group of American architects and educators in the International Architecture Awards 2013 that honour new and cutting-edge design.
55 Elizabeth Street Building, Brisbane, Queensland, Australia
Design: BVN Architecture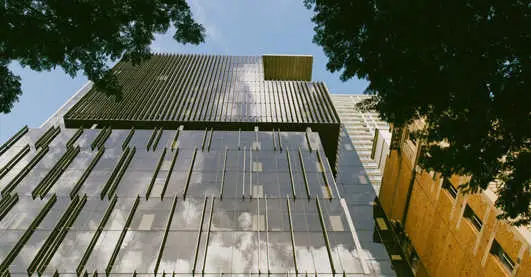 photo : Willis Lim
55 Elizabeth Street Brisbane – 7 Jun 2013
The building is relatively modest in scale, with a tripartite arrangement which reflects historic CBD development heights, stepping both in plan and section in response to important street views to neighbouring heritage buildings. Each datum of the building reflects the changing contextual qualities and eras at each level – ranging from monumental sandstone planes at entry level to minimalist anodized sunshades to the upper western façade.
Latest Architecture Awards
17 Jul 2012 – BVN has won five International Architecture Awards in the last month.



image : John Gollings
The BVN designed Monash Student Housing complex at the Clayton campus of Monash University was the only Australian building to receive a prestigious International Architecture Award when the Royal Institute of British Architects (RIBA) recently announced the winning projects in their 2012 International Award programme.
According to the RIBA jury, this large student housing project has a delightful collegiate feel to it and is a creditable and credible application of modern sustainable design principles.
Another of the awards announced were the International Architecture Awards that were given to BVN for the Brain and Mind Research Institute (BMRI) in Sydney and the Puckapunyal Military Area Memorial Chapel in Puckapunyal, Victoria.
These Awards are conducted by the Chicago Athenaeum and The European Centre for Architecture Art Design and Urban Studies and will be presented in Istanbul, Turkey in October at the launch of an exhibition of the award winners that will travel across Europe.
In addition BVN's Robina Hospital Expansion was awarded two Design and Health International Academy Award High Commendations, one for interior design and the other for sustainable architecture at the Design and Health World Congress in Kuala Lumpur. These awards recognise professional excellence in the research and design of healthy built environments.
Mr James Grose, BVN National Director, noted 'It is a tremendous confidence booster for Australian architects, to have Australian designs being recognised at the highest levels internationally'.
Sulman Architecture Award, Australia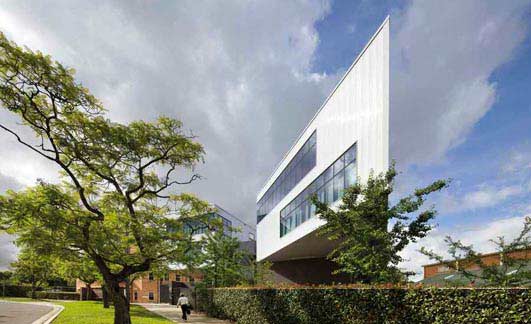 photos : John Gollings
Ravenswood School for Girls
3 Jul 2012 – BVN won the 2012 Sulman Architecture Award at the Australian Institute of Architects Awards, becoming the first architecture practice to win seven Sulman awards since the award was first given eighty years ago in 1932. It is 22 years since BVN received its first Sulman award, this latest award was given for the Ravenswood School for Girls, Mabel Fidler Building, that contains a Library and Resource Hub, in Gordon, Sydney.
Narbethong Community Hall, Australia



image from BVN Architecture
The Narbethong Community Hall – 29 Jun 2012
BVN was successful at the Australian Institute of Architects, Victorian Architecture Awards on 29 June winning two awards for community based projects. The Narbethong Community Hall was a pro-bono job that BVN took on in response to a request from the Narbethong Community to help them rebuild their hall that was destroyed in the black Saturday bushfires.
Robina Hospital, Gold Coast, Queensland, Australia



photo : Christopher Frederick Jones
Robina Hospital Gold Coast – 27 Jun 2012
The Australian Institute of Architects' 2012 Queensland State Architecture Awards were announced on 22 June and a Public Architecture Award was given to the Robina Hospital Expansion designed by BVN.
21 Mar 2012
BVN Architecture – Gold Medal News
Australian Institute of Architects Gold Medal won by Lawrence Nield
Lawrence Nield, architect, planner – who led the Sydney Olympics master-plan team, teacher, writer and researcher, has been awarded the Australian Institute of Architects (AIA) highest honour, the 2012 Gold Medal.
According to the jury he has 'made an outstanding contribution to architecture for over forty-five years. His career combines a prolific and continued output of significant architecture and urban design projects with services to the AIA and academic and teaching achievements, including a distinguished list of writings and publications.'
Recent News for BVN Architecture
Monash Student Housing Before Awards Jury



image : John Gollings
Monash Student Housing – 21 Mar 2012
A nominee in this year's Institute of Architects Awards that will be presented to the jury next Saturday 24 March is the Monash Student Housing that sets a new standard of student housing. BVN Principal, Ninotschka Titchkosky will explain to the jury how the new housing at Monash responds to the need for higher end facilities for students 'this has been done by moving away from dormitory accommodation, and providing self contained bedroom/study space,' she said.
Brain and Mind Research Institute – Youth Mental Health Building, Australia
2010



photo : John Gollings
Brain and Mind Research Institute – 9 Sep 2011
Griffiths House, HMAS Creswell, Jervis Bay, NSW, Australia



image from architect
HMAS Creswell Griffiths House – 6 Sep 2011
Griffiths House is an accommodation building built on the site of HMAS Creswell in Jervis Bay, established in 1915 as the location for the Royal Australian Naval College. It provides short term accommodation for Officers of the RAN who are at HMAS Creswell to undertake leadership and management training, and consists of 32 single bed units with shared ensuite and deck facilities.
8 Jun 2011
BVN Architecture design blood processing facility Building, Australia
BVN Architecture has turned a world's best practice blood processing facility into a piece of architectural art for the Australian Red Cross Blood Service. Answering the brief to design a building to house Australia's largest blood processing centre BVN decided to ensure the design brought a level of delight to staff and visitors by opening up the laboratory, administrative and public spaces with a large atrium facing the street and inserting a delicately detailed curving timber staircase through its centre.
BVN Architecture Sydney Studio, NSW, Australia



photo : John Gollings
BVN Sydney Studio – 5 May 2011
Puckapunyal Memorial Chapel, Victoria, Australia
2011



photo : John Gollings
Puckapunyal Memorial Chapel – 4 May 2011
BVN Architecture Awards News
BVN Architecture winners at New South Wales Architecture Awards
New South Wales Architecture Awards 2011 – 6 Jul 2011
BVN Wins 4 Interior Design Awards
BVN Architecture won four prizes at the Interior Design Awards (IDA) that were presented in Melbourne on Friday 15 April. They picked up Best of the State Awards in both NSW and Victoria, as well as the Public Design Award and the Sustainability Advancement Award.
Read more at : Bligh Voller Nield – 18 Apr 2011
Energex Headquarters, Brisbane, Australia
2010
Cox Rayner / BVN Architecture



photo : Christopher Frederick Jones
Energex Headquarters
Key Projects by BVN Architecture
Major Developments by BVN, alphabetical:
The Academy, Melbourne, Australia
2009



photo : Anson Smart
The Academy Melbourne
Boolarong & Kinkabool, Stradbroke Island, Queensland, Australia
2009



photo : Christopher Frederick Jones
Boolarong & Kinkabool
Goods Shed North, Melbourne, Australia
2010



photo : Peter Clarke
Goods Shed North
The Ivy, Brisbane, Australia
2008



photo : Christopher Frederick Jones
The Ivy Brisbane
More BVN Architecture projects online soon
Location: 11/255 Pitt Street, Sydney NSW 2000, Australia
BVN Architecture Practice Information
Bligh Voller Nield – Contemporary architects office with studios in Brisbane, Canberra, Melbourne & Sydney.
2008 Design Institute of Australia: Interior Design Awards
14 Apr 2008
BVN Architecture – Santos Centre, Adelaide:
2008 Award for Interior Design Excellence and Innovation
Santos Centre : Best of State [South Australia] Commercial Interior Design Award Santos Centre : National Corporate Interior Design Award
Lincolne Scott : short-listed – Corporate Interior Design category
Lincolne Scott : commendation – Environmentally Sustainable Design category
Building Images by this Studio
Sydney Overseas Passenger Terminal, NSW, Australia:



photo from BVN Architecture
Sydney Olympic Park, NSW, Australia:



photo from BVN Architecture
Sydney International Tennis Centre, NSW, Australia:



photo from BVN Architecture
Sunshine Coast University Library, Australia:



photo : John Gollings
UNSW L5 Building, NSW, Australia:



photo from BVN Architecture
Beijing Olympic Green Tennis Centre, China:



photo : John Gollings
Cook & Phillip Park, Sydney, NSW, Australia:



photos : Anthony Browell
Mt Druitt Hospital, Mount Druitt, Sydney, New South Wales, Australia:


photo : Max Dupain
Buildings by this Architects Studio, no images
Gold Coast City Council Chambers, Gold Coast, Queensland, Australia
Hall of Memory, Australian War Memorial, Australia
Latrobe City Council Corporate HQ, Australia
Lincolne Scott, Australia
Santos Centre, Adelaide, South Australia
University of New South Wales – L5 Building, New South Wales, Australia
RIBA International Award 2007
Client: University of NSW
Comments / photos for the BVN Architecture – Australian Architects page welcome
Website: www.bvn.com.au