Australian Interior Design Awards 2020 Shortlist, DIA News, Architecture
2020 Australian Interior Design Awards Shortlist
26 & 25 Mar 2020
Australian Interior Design Awards 2020 Shortlist
The Australian Interior Design Awards, Australia's preeminent program for design excellence, has today announced the eagerly anticipated shortlisted projects for the 2020 awards.
Delivered by the Design Institute of Australia (DIA) and Architecture Media's Artichoke magazine, the 2020 program will mark the 17th year of Australia's leading industry-based awards program, which celebrates excellence in interior design across the residential, commercial and public sectors.
Judged by some of Australia's most well-respected interior designers and architects, the 2020 program received a high number of submissions from Australian practices that showcased both domestic and international projects.
As the country's most distinguished program for Australian interior design, the awards recognise and promote exceptional projects across all sectors, including retail, hospitality, workplace, public, installation and residential design.
The full list of final award recipients will be revealed on Friday 29 May.
Jury, 2020 Awards for Australian Interior Design:
• Angela Biddle, Director, Scott Carver (NSW)
• Ljiljana Gazevic, Director, SJB (Vic)
• Kelvin Ho, Founding Director, Akin Atelier (NSW)
• Patrick Kennedy, Co-founder, Kennedy Nolan (Vic)
• Rachael McCarthy, Studio Director, Bates Smart (Vic)
• Sarah-Jane Pyke, Principal, Arent & Pyke (NSW)
• Eva Sue, Principal, Woods Bagot (WA)
• Stuart Vokes, Co-founder, Vokes and Peters (Qld)
BHP Adelaide, South Australia, design by Woods Bagot: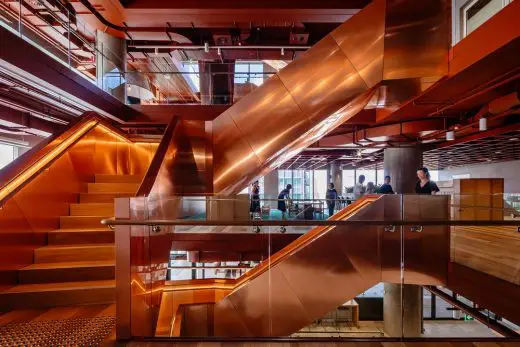 photographs : Trevor Mein
Edgar's Creek House by Breathe architecture: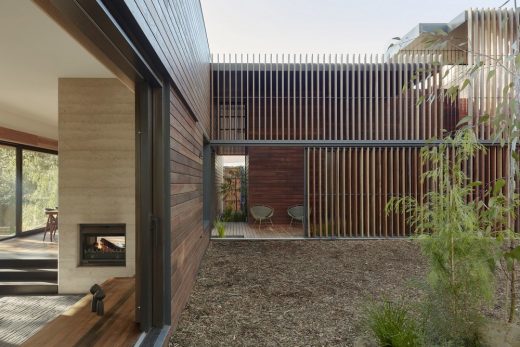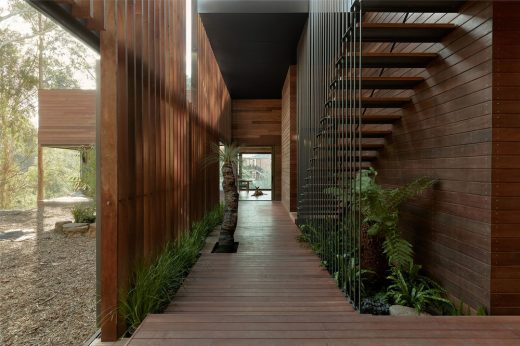 photos : Tom Ross
Marrickville Library and Pavilion, Sydney, NSW, design by BVN: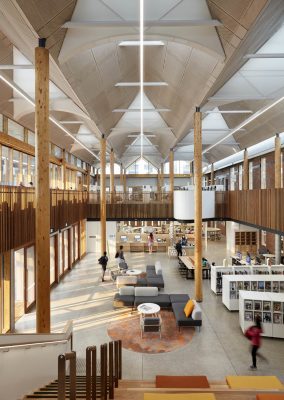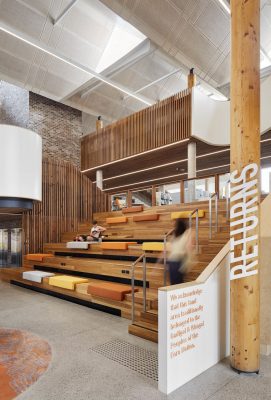 photographs : Tom Roe
Frederic Restaurant & Bar in Melbourne by SJB Interiors: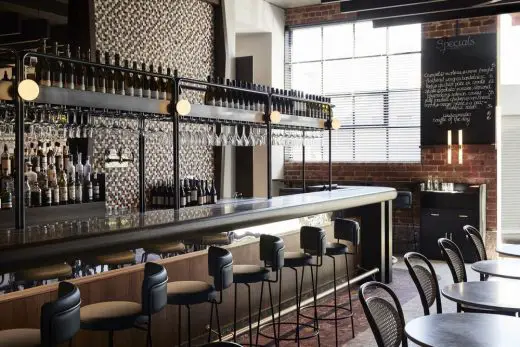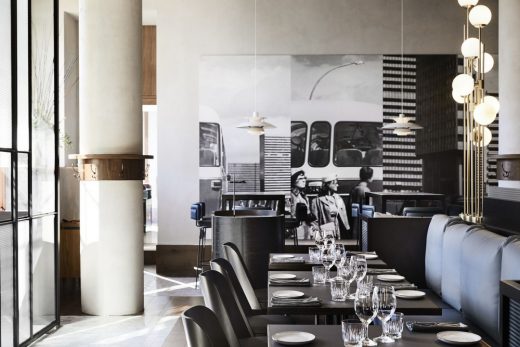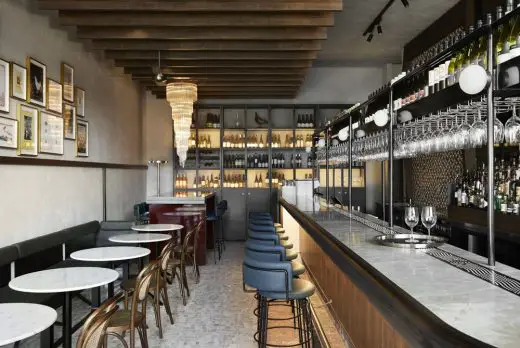 photographs : Sharyn Cairns
Travis Walton Architecture & 21-19 for Sibling Espresso Bar, Jl. Kayu Cendana, Kerobokan Kelod, Kec. Kuta Utara, Kabupaten Badung, Bali 80361, Indonesia: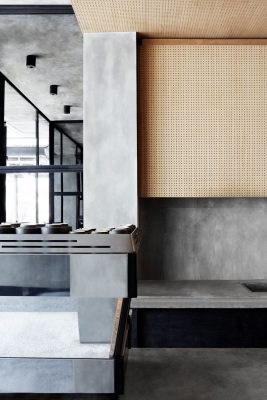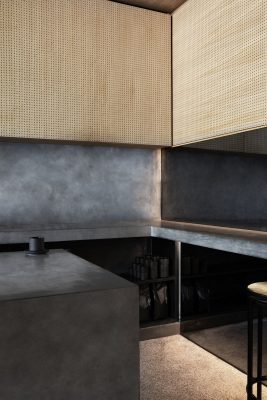 photographs : Elisa Watson
Great Ocean Road Residence, Rob Mills Architecture & Interiors: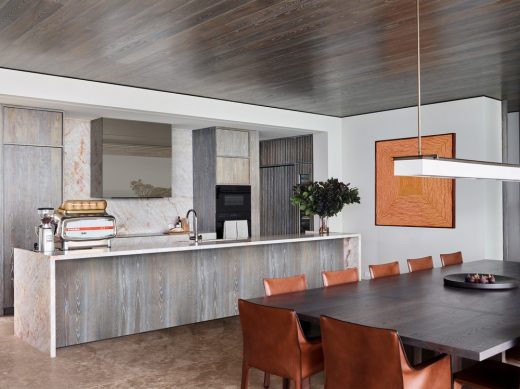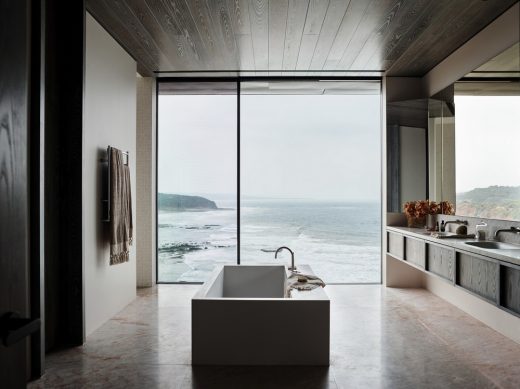 photographs : Mark Roper
2020 SHORTLIST
Residential Design
Alexander &CO. for Bondi Junction House, New South Wales
Alicia Holgar for Avian Apartment, Queensland
ANNA.CARIN Design Studio for The Marlo House, New South Wales
Austin Design Associates for Dutch Gable House, Victoria
B.E Architecture for Mermaid Beach Residence, Queensland
B.E Architecture for Orrong Road Apartment, Victoria
Bates Smart for The Eastbourne, Victoria
Bennett Murada Architects for Tamarama House, New South Wales
Biasol for Casa Chiaroscuro, Victoria
Biasol for Forever Home, Victoria
Brad Swartz Architects for Darlinghurst House, New South Wales
Breathe Architecture for Edgar's Creek House, Victoria
Brendan Wong Design for Point Piper Tranquility, New South Wales
Carr for 97 Mathoura Road Toorak, Victoria
CHROFI in collaboration with We Are Triibe for Khayalethu House, New South Wales
CJH STUDIO for Penthouse M, Queensland
CM Studio for Woorak House Palm Beach, New South Wales
CO-AP (Architects) for Orange Grove Cottage, New South Wales
CoLAB Design Studio for Highbury House, Victoria
Coy Yiontis Architects for Solid House, Victoria
Curious Practice for Vikki's Place, New South Wales
David Boyle Architect for Breezeway House, New South Wales
Decus Interiors for Coastal Home, Western Australia
Decus Interiors for Hill House, New South Wales
Doherty Design Studio for Back To The Future House, Victoria
DREAMER with Roger Nelson for Two Sheds, Victoria
Eastop Architects for Elm Tree Place, Victoria
Elenberg Fraser for Gem, Victoria
Fender Katsalidis for The Grace Albert Park Lake, Victoria
FMD Architects for CLT House, Victoria
Fowler and Ward for Bourke Street Apartment, Victoria
Fox Johnston for Ballast Point House, New South Wales
Freadman White for Fitzroy Penthouse, Victoria
Freadman White for Napier Street for Milieu, Victoria
Freadman White for Palazzo Marcello, Victoria
GOLDEN for Brighton Residence, Victoria
GOLDEN for St Kilda Road Penthouse, Victoria
GSID Georgie Shepherd Interior Design for The Pavilion, South Australia
Ha for Harry & Viv's House, Victoria
Hecker Guthrie for Darlinghurst Apartment, New South Wales
Henry Francis Design for Skywalk, Victoria
Hindley & Co Architecture and Interiors for Mid Century Sand Dune Sanctuary, Victoria
Ian Moore Architects for Redfern Warehouse, New South Wales
Inarc Architects for Wyoming, Victoria
Jackson Clements Burrows Architects for Gillies Hall, Victoria
Killing Matt Woods for Perfect Storm, New South Wales
Leeton Pointon Architects + Interiors & Allison Pye Interiors for Canopy House, Victoria
Lucy Bock Design Studio for Toorak House, Victoria
Madeleine Blanchfield Architects for Tree House, New South Wales
Melanie Beynon Architecture & Design for Northcote House, Victoria
Mim Design for Coastal Pavilion, Victoria
Nina Maya Interiors in Collaboration with Bevan Boss Architect for The Art House, New South Wales
Partners Hill for Daylesford Longhouse, Victoria
Richards Stanisich for Private Residence, New South Wales
Rob Mills Architecture & Interiors for Great Ocean Road Residence, Victoria
Sanders & King for Armadale House, Victoria
Sans-Arc Studio for Plaster Fun House, SA
SJS Interior Design for Northbridge House, New South Wales
Splinter Society Architecture for Three Stories North, Victoria
Studio Bright for Clinker Brick House, Victoria
Studio Bright for Ruckers Hill House, Victoria
Studio Tate for Armadale Residence II, Victoria
studiofour for Ruxton Rise Residence, VIC
Stukel Architecture for Exhibit House, New South Wales
Susi Leeton Architects + Interiors for Birch Tree House, Victoria
Techne Architecture + Interior Design for Prahran House, Victoria
Travis Walton Architecture for Caulfield North Residence, Victoria
Travis Walton Architecture for Toorak Residence, Victoria
Williams Burton Leopardi for The Esplanade, South Australia
YSG [Formerly Amber Road] for Budge Over Dover, New South Wales
BHP Adelaide, South Australia, design by Woods Bagot: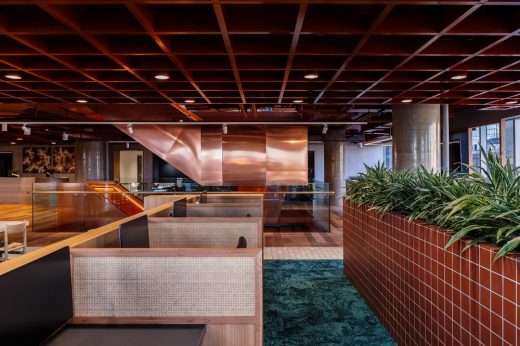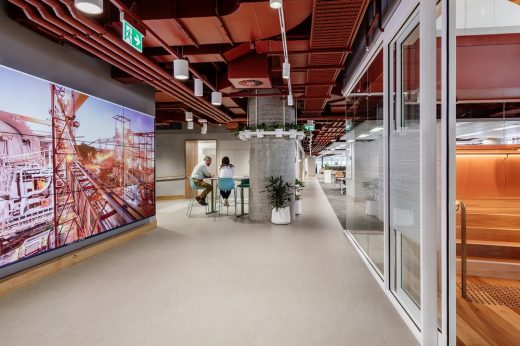 photographs : Trevor Mein
Residential Decoration
Alicia Holgar for Avian Apartment, Queensland
ANNA.CARIN Design Studio for The Marlo House, New South Wales
Brendan Wong Design for Point Piper Tranquility, New South Wales
Chelsea Hing for Orchard House, Victoria
Decoration by Simone Haag, with Woods Bagot and Hecker Guthrie for Tidal Arc House, Victoria.
Decus Interiors for Coastal Home, Western Australia
Decus Interiors for Hill House, New South Wales
GOLDEN for Brighton Residence, Victoria
GOLDEN for St Kilda Road Penthouse, Victoria
Hugh-Jones Mackintosh for Courtyard House, New South Wales
In Design International for JJA House, Victoria
Lucy Bock Design Studio for Toorak House, Victoria
Madeleine Blanchfield Architects for Tree House, New South Wales
Sarah Davison Interiors for The Art House, New South Wales
Studio Barbara for Penthouse Apartment, Millers Point, New South Wales
Studio CD for Art House, New South Wales
Studio Tate for Armadale Residence II, Victoria
Swee Design for Jade House, Victoria
Travis Walton Architecture for Toorak Residence, Victoria
YSG [Formely Amber Road] for Budge Over Dover, New South Wales
YSG [Formely Amber Road] for Crane in the Sky, New South Wales
Frederic Restaurant & Bar in Melbourne, Victoria, by SJB Interiors: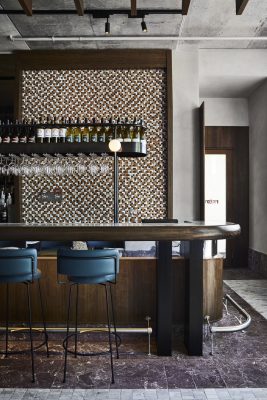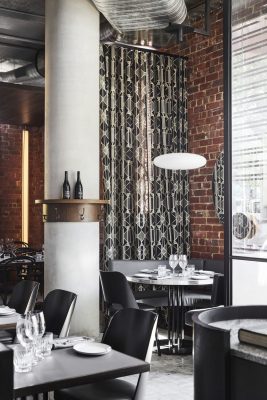 photographs : Sharyn Cairns
Hospitality Design
Alexander &CO. for Glorietta, New South Wales
Alexander &CO. for Tilly May's, New South Wales
Alexander &CO. for Will&CO, New South Wales
Alexander &CO. for Woolwich Pier Hotel, New South Wales
B&SStudio for Avli by tashas, Dubai
BAR Studio for The Legacy House, Hong Kong
Biasol for Sisterhood, Tasmania
Brahman Perera for Stamford Park Homestead, Victoria
CAON Studio in Collaboration with Akin Atelier for QANTAS First Lounge, Singapore
Carr for Eazy Peazy Richmond, Victoria
Chris Connell Design for Tetto di Carolina, Victoria
CoLAB Design Studio for Florence Coffee, Victoria
Control Space for Paper Crane, Queensland
CTRL Space for Lilian Auckland
Cumulus Studio for Stillwater Seven, Tasmania
Esoteriko Interior Architecture for Shelter, New South Wales
Giant Design Consultants for SOMA Collection, New South Wales
GOLDEN for Laurent Kew, Victoria
Gray Puksand for ONE + RISE at 101 Collins Street, Victoria
Guru Projects for Sonora, New South Wales
Hassell for Di Stasio Citta, Victoria
Hogg&Lamb for Babylon, New South Wales
Hogg&Lamb for Duck & Rice, New South Wales
Luchetti Krelle for Tattersalls Hotel Armidale, New South Wales
Maddison Architects for Chocolate Buddha, Victoria
Megan Hounslow for Carter Lovett, Victoria
Melissa Collison Design for Rajasthan Rifles, Hong Kong
Melissa Collison Design, Electrolight for Marthas Table, Victoria
Ohlo Studio for Willing Coffee, Western Australia
onefour interiors for The Byng Street Boutique Hotel, New South Wales
Pattern studio for No. 92, New South Wales
Proto-Tipo for BondStore, Victoria
RADS for Madre, South Australia
Richards Stanisich for Hotel Rose Bay, New South Wales
Sans-Arc Studio for Part Time Lover, South Australia
Sans-Arc Studio for Stem, South Australia
SJB Interiors for Frederic, Victoria
Studio Esteta for Via Porta, Victoria
Studio Tate for Holism Retreat at MGallery, Victoria
studio-gram for Chica Bonita, New South Wales
studio-gram for Leigh Street Wine Room, South Australia
studio-gram for The Beach House, Western Australia
studio-gram for The Guardsman, South Australia
The Stella Collective for Blacksmith, Victoria
Travis Walton Architecture & 21-19 for Sibling Espresso Bar, Indonesia
Edgar's Creek House by Breathe architecture: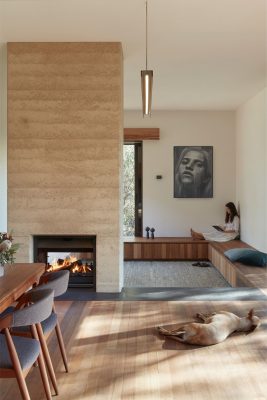 photo : Tom Ross
Installation Design
Bates Smart for 17 Spring Street, Victoria
Chris Tomoya for Four Pillars Gin, Victoria
Exhibition Studios in collaboration with MOD for SleepOps, South Australia
Gloss Creative for NGV Gala 2019, Victoria
Grumpy Sailor Creative for Cascade, New South Wales
Hassell with Eness and Arup for Pause for Melbourne Design Week 2019 (Design Experiments), Victoria
Liminal Objects with Van Tuil for The Magic Box, Tasmania
Museums Victoria for Gut Feelings, Victoria
Riverlee for Seafarers Display Suite, Melbourne, Victoria
Studio Goss for Articolo Lighting – Milan, Milano
Marrickville Library and Pavilion in Sydney, New South Wales, design by BVN Architects: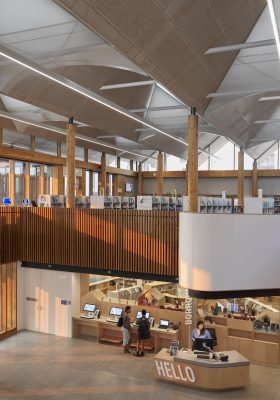 photograph : Tom Roe
Public Design
Bates Smart for Gandel Wing, Cabrini Malvern, Victoria
Branch Studio Architects for Arts Epicentre, Victoria
BVN for Marie Reay Teaching Centre, ANU, Australian Capital Territory
BVN for Marrickville Library, New South Wales
BVN with City of Sydney for Darling Square Library, New South Wales
Carter Williamson Architects with Blacktown City Council for Woodcroft Neighbourhood Centre, New South Wales
Cox Architecture + DesignInc for Adelaide Botanic High School, South Australia
Cox Architecture for Sydney Coliseum Theatre, West HQ, New South Wales
Hassell for Angel Place Lobby, New South Wales
Hassell for Geelong Performing Arts Centre, Victoria
Hassell for The University of Melbourne Life Sciences Building, Victoria
Six Degrees Architects for RMIT Capitol Theatre, Victoria
Travis Walton Architecture & 21-19 for Sibling Espresso Bar in Bali, Indonesia: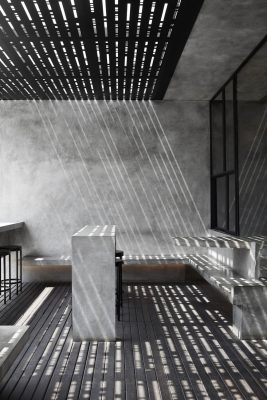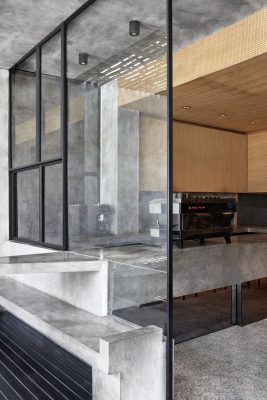 photos : Elisa Watson
Retail Design
Architecture by NH Architecture, in partnership with Russell & George on the interior design. for Burwood Brickworks, Victoria
Ewert Leaf for Little Sky Gelato, Victoria
Fowler and Ward for NAR Showroom, Victoria
GOLDEN for Seen Skin, Victoria
Hassell, Living Edge & Taylor Robinson Chaney Broderick for Living Edge Perth Showroom, Western Australia
Hecker Guthrie for Script Skincare, Victoria
Hogg&Lamb for Salon X Papas, Queensland
Kestie Lane Studio for RC+D Gallery, Victoria
Koichi Takada Architects for National Museum of Qatar Gift Shops, Qatar
Megan Ryan for CAW 2.0, New South Wales
Melissa Collison Design, Electrolight for Marthas Table, Victoria
Studio Esteta for Via Porta, Victoria
Studio Goss for Armadillo & Co Sydney Showroom, New South Wales
The Stella Collective & Thomas Coward Studio for II Bosco Artedomus, Queensland
Tom Mark Henry for Elite Spinal Physiotherapy & Pilates, New South Wales
We Are Triibe for St Agni, Queensland
Great Ocean Road Residence design by Rob Mills Architecture & Interiors: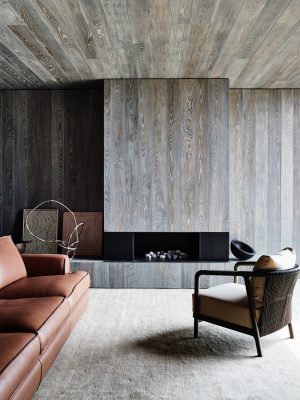 photograph : Mark Roper
Workplace Design
Adam Kane Architects for Adam Kane Architects Office, Victoria
Bates Smart for Australian Unity, Victoria
Bergman & Co. for Armitage Jones, Victoria
Biasol Studio for Officina Biasol, Victoria
BVN for Space&Co – 580 George Street, New South Wales
Carr for Norton Rose Fulbright Sydney, New South Wales
Cera Stribley for Thinkerbell HQ, Victoria
Cox Architecture for Charter Hall Workplace, Queensland
DesignInc for Victorian Comprehensive Cancer Centre (VCCC) Executive Workplace, Victoria
Foolscap Studio for The Commons QV, Victoria
Fowler and Ward for NAR Office, Victoria
Gensler for Mizuho Bank Sydney, New South Wales
Geyer for International Towers 'Carpe Diem Community', New South Wales
Hallmarc for Hallmarc Offices Collins Street, Victoria
Hammond Studio for Havas HQ – A vertical village for global communications company Havas Group, New South Wales
Hassell for Transurban Melbourne, Victoria
Inarc Design Qld for VSON Laser Vision Specialists, Queensland
Lawless & Meyerson for Richards Lane, New South Wales
Melanie Beynon Architecture & Design for Warwick Creative Studio, Victoria
Mim Design for Cobild HQ, Victoria
Outline Design Office for Q Dermatology, Queensland
PLUS for Plus Studio – Melbourne, Victoria
PTID for Government Organisation, Victoria
Studio Nine Architects for Mill Film, South Australia
Travis Walton Architecture for L'Oréal Workplace, Victoria
WMK Architecture for Energy and Water Ombudsman Victoria, Victoria
Woods Bagot for BHP Adelaide, South Australia
Woods Bagot for CBA Axle, South Eveleigh, New South Wales
Woods Bagot for KPMG, Western Australia
Photographers per project are:
• Breathe Architecture for Edgar's Creek House, photography by Tom Ross
• BVN for Marrickville Library, photography by Tom Roe
• SJB for Frederic, photography by Sharyn Cairns
• Travis Walton Architecture & 21-19 for Sibling Espresso Bar, photography by Elisa Watson
• Rob Mills Architecture & Interiors for Great Ocean Road Residence, photography by Mark Roper
• Woods Bagot for BHP South Adelaide, photography by Trevor Mein
2020 Australian Interior Design Awards Shortlist images / information received 250320
Location: Australia
Australian Interior Design Awards Winners 2017
Premier Award winner – Indigo Slam NSW house: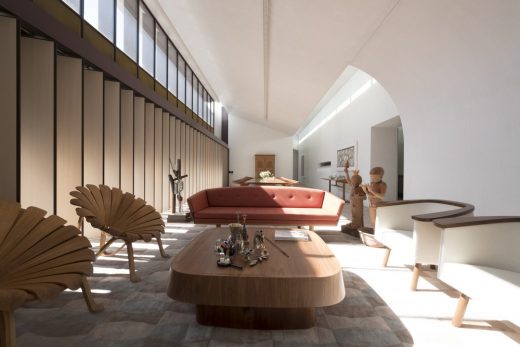 photos : David Roche
Indigo Slam, NSW, by Smart Design Studio: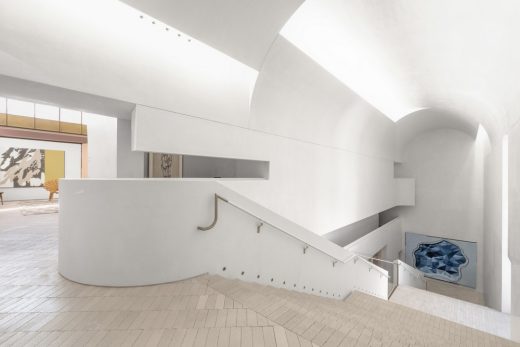 photo : David Roche
Australian Architectural Design Awards
Australian Design Awards
Australian Institute of Architects National Architecture Awards
Australia Award for Urban Design
Australian Urban Design Awards 2017 Shortlist
New South Wales Architecture Awards
South Australian Architecture Awards
New South Wales Architecture Awards
Australian Architecture
Australia Architecture Designs – chronological list
Interior Design
Architecture Awards
American Institute of Architects Gold Medal
Comments / photos for the 2020 Australian Interior Design Awards Shortlist page welcome