Powerhouse Museum Exhibition, Australian Architecture Show, Sydney, Design, News, Images
Powerhouse Museum Exhibition
Australian Architecture Show by Chris Bosse of LAVA, Architects
3 Aug 2010
re-LAVA ed : Geometries beyond the blob
31 Jul – 10 Oct 2010
Location: 500 Harris St, Sydney, Ultimo NSW 2007, Australia
Chris Bosse has sliced up the Panton chair as part of the Re-loved: designer stories at the Powerhouse Museum 31 July – 10 October 2010.
Bosse, director of innovative architectural firm LAVA, is one of several designers commissioned by the Powerhouse to use a pre-loved chair to tell a story about a piece of furniture they love.
He chose a design classic that relates to current design and manufacturing techniques.
The gravity defying Panton chair c1967 by Danish designer Verner Panton was a radical departure from traditional design and manufacturing techniques. It anticipated the digital revolution by 30 years and is the first freeform, organic molded piece of furniture.
"I've chosen to represent this shape as slices, similar to an MRI scan in order to make visible its complex 3dimensional geometry. The chair is metaphorically and physically carved out of a sliced box " says Bosse.
"The project retro-digitises the chair design, although it was the chair that preceded the digital design revolution."
"What made the Panton chair so spectacular when it came on the market and what makes it so interesting today in terms of design history is not only its shape, which is as extravagant as it is elegant, but also the fact that it was the first chair made out of one piece of plastic. Every chair at the time was about the assembly techniques of materials, compression, tension, and junction. Verner Panton exploited the possibilities offered by the new material in order to achieve a total departure from classical design thinking."
"In the nineties digital architecture started to become more interested in the generation of form. Freed from previous constraints through computation the first generation of digital projects cared more about the form making than its buildability, materiality, assembly. The slicing enables us to read the geometry like the pages of a book, slice by slice. It is also the only way to approximate 3dimensional curvature in a 2dimensional way and make it buildable at any scale."
Bosse believes that today we understand better how to derive form from geometry, such as the underlying geometries in nature, and can incorporate buildability into the form from the inception through parametric modeling techniques.
Re-loved is on display at the Powerhouse Museum from 31 July – 10 October 2010 during the Sydney Design Festival.
Images: Chris Bosse
LAVA Panton chair – sliced model negative
LAVA Panton chair – sliced model positive
LAVA (Laboratory for Visionary Architecture)
Powerhouse Museum: (02) 9217 0111, open daily 10am-5pm
Powerhouse Museum Exhibition Sydney information from LAVA
Location: 500 Harris St, Sydney, Ultimo NSW 2007, Australia
Architecture in Australia
Contemporary Architecture in Australia
2 Nov 2016
Powerhouse Museum Exhibition by Chris Bosse of LAVA
Out of Hand: Materialising the Digital
Location: 500 Harris St, Sydney, Ultimo NSW 2007, Australia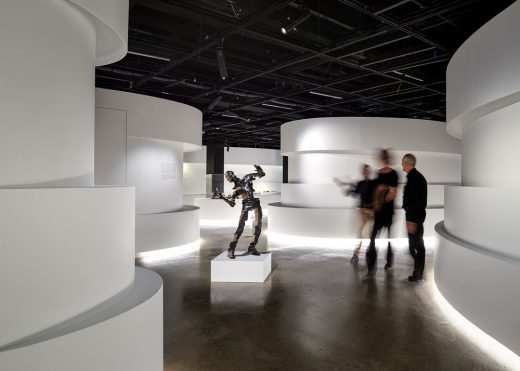 photo : Peter Bennetts
Powerhouse Museum Exhibition by Chris Bosse of LAVA
LAVA Designs
LAVA – Selected Projects
Customs House origami tigers, Sydney, Australia
2010



image : LAVA
Customs House origami tigers
Customs House Sydney Installation : Green Void, Sydney, Australia
2009



photo : Peter Murphy
Customs House Sydney
Masdar Design Competition, UAE : LAVA win
2009-



image : LAVA
Masdar Design Contest
UTS Tower Skin, Sydney, Australia
2010-



image : LAVA
UTS Tower Skin – University of Technology Broadway Tower
Comments / photos for the Powerhouse Museum Architecture Exhibition Sydney page welcome
Website : www.powerhousemuseum.com