Tips for adding value to your backyard, Kansas City decking, US home landscape design ideas, Property garden design advice
Tips for Adding Value to Your Backyard – Build It and They Will Come
10 February 2022
All homeowners want to add value and style to their home. And if you're looking for a great way to add value and an attractive quality that your guests will love, investing in your backyard can be the perfect starting point.
Modern homes today usually don't offer that feel of comfort one expects when they visit grandpa's house. Basically, though a new home may be nice and have all the modern accessories, without adding a bit of character, it might feel a bit lackluster. And this is usually evident in an otherwise empty and lifeless backyard.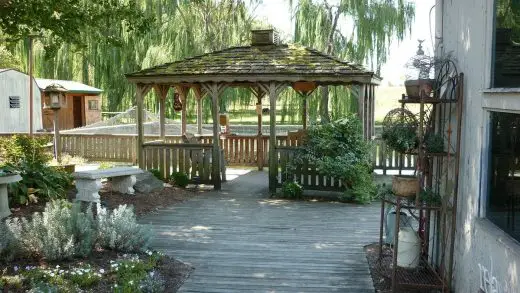 Backyard spaces are for gathering and relaxing. And with the COVID-19 pandemic forcing people to spend much of their time at home for the last couple of years, sales of products and materials for remodeling and enhancing backyard spaces have been trending upward.
If you're looking to get the most value out of your backyard, the following will provide a few starting points for you to consider.
Build a Deck
If you really want to build a perfect gathering place for your home, adding a deck is perhaps one of the better ways to facilitate this goal. And you'll have a variety of options to consider when planning out your deck.
Natural Wood Decks
Nothing beats the look and feel of natural wood. And though most people believe that wood decks are the most inexpensive, this isn't entirely accurate.
For example, wood such as mahogany is rich, durable, and beautiful. But you could be paying thousands of dollars more than you would with readily available wood such as pine. So the type of wood you choose needs to be taken into consideration.
Additionally, maintenance may also be an issue with wood decks because you can grow mold, moss and mildew on natural wood decks if they're not washed regularly. In the case of natural wood, washing your deck and maintenance becomes a more frequent task.
Composite Decks
A composite deck is one of the more preferred options when building a deck for a variety of reasons. And when it comes to the benefits, you'll have a lot to consider:
Superior durability
Sustainability
Minimal maintenance
More options for colors
Warranties
Splinter-free
Composite decks offer those who choose this type of building material the better deal in a variety of ways, and this is mostly related to maintenance. But these decks tend to hold up better in regions where weather fluctuates rapidly.
For example, if you live in Kansas City, you likely have harsh, cold winters and hot summers, and these fluctuations can warp natural wood decks over time. As such, Kansas City deck builders offer expert consultation for composite decks that hold up well in inclement weather environments.
Build a Fence
Though many homes in older, established neighborhoods often have fenced yards, if you've recently purchased a home in a new, developing neighborhood, chances are your property may not be fenced.
Fenced yards offer you privacy and security. And this also allows you to enjoy your backyard in a relaxing environment, free from worrying if the nosey neighbors are watching you as you sunbathe or perform any other activity.
Fencing your yard also helps to facilitate other landscaping projects such as building gardens, planters, and other landscaping elements. Additionally, fenced yards also offer the kids a safe environment to play in.
Landscaping
No backyard space is complete without quality landscaping to tie the property together. And depending on the layout of your yard, you'll have a variety of options to consider.
Maybe you'd like to add a splash of life and color to your backyard space. If this is the case, adding a floral garden is the perfect element to beautify your yard. Or if you're a nature lover, planting trees, hedgerows, and other botanicals will give you that natural feel that offers peace of mind and tranquility–two elements that are sought after for any backyard space.
The key to landscaping is to tie in the home with the property itself. As such, consulting with a landscaping designer might be the best strategy going forward when you begin forming your ideas for how you want your backyard space to look.
Tips for Adding Value to Your Backyard Conclusion
Making your home a place to enjoy is a priority for most homeowners across the country. And with a little bit of ingenuity and creativity, you can design the perfect backyard space for yourself and your family, while also creating a gathering space that your friends and neighbors will also love to be a part of.
Comments on this Ideas To Help You Create A Relaxing Backyard Landscape Design article are welcome.
Backyards
Backyards Posts
Create a Relaxing Backyard Landscape Design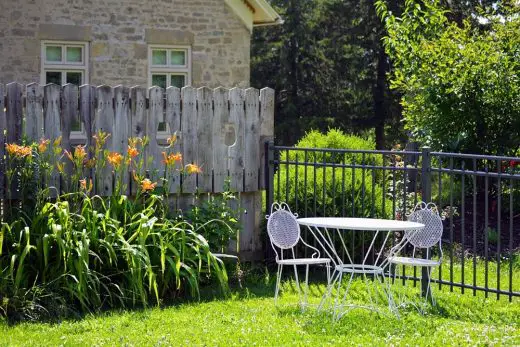 How to choose trees for backyards
Exploring Tree Cutting Benefits
Amazing Ways To Incorporate Trees Into Your Home
Autonomous WorkPod Backyard Home Office
Buildings
Residential Architecture
Comments / photos for the Unique Ideas To Help You Create A Relaxing Backyard Landscape Design in Kansas City, United States of America, page welcome