Impressive Scandinavian Architecture Overseas, Architectural Projects, Architects
Impressive Scandinavian Architecture Overseas
Building Designs by Gert Wingårdh, Arne Jacobsen, Eliel Saarinen and Kjetil Thorsen
20 Oct 2017
Interesting Scandinavian Architecture Overseas
Most impressive Scandinavian architecture overseas
We post some beautiful illustrations, depicting the journey that Scandinavian architecture has taken.
Follow four of the prestigious architects; Gert Wingårdh (Sweden), Arne Jacobsen (Denmark), Eliel Saarinen (Finland) and Kjetil Thorsen (Norway) on this series, revealing how their designs have reached international fame.
Find out more about the architects and some of the most iconic designs that are crossing the borders worldwide by clicking here.
Top 8 list of Scandinavian architecture overseas:
1 Bibliotecha Alexandrina (Thorsen)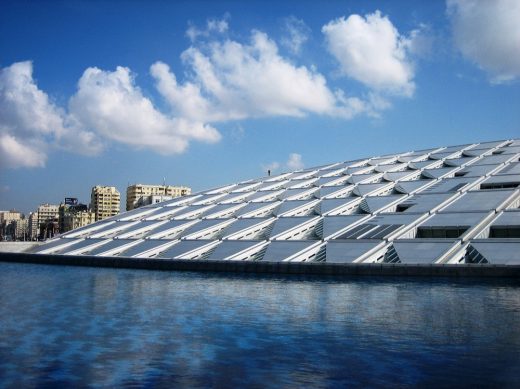 photo : Bibliotecha Alexandrina by Albert / CC BY 2.0
The Library of Alexandria was Snøhetta's first major project. After Snøhetta won an international design competition in 1989, the building officially opened its doors in 2002. Bibliotheca Alexandrina is a cultural building with public functions and the horizontal form enhances its inclusivity.
2 National September 11 Memorial Museum Pavilion (Thorsen)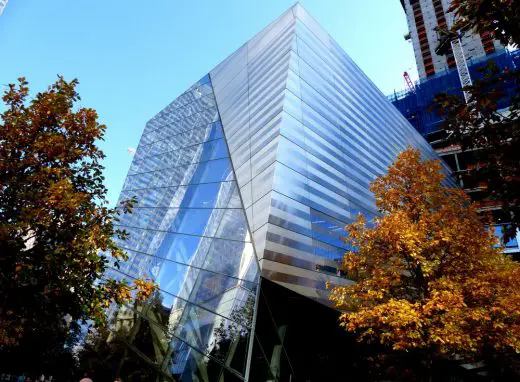 photo : NYC – 9/11 Memorial Museum by Giggel / CC BY 3.0
In 2004, Snøhetta was commissioned to design the only building on the memorial plaza which opened to the public in 2014. The building is meant to give a sense of descending to earth and then ascending back into daily life. Upon entering the pavilion, two huge columns that were part of the original World Trade Centre towers are visible.
3 House of Sweden (Wingårdh)
The building opened in 2006 and was designed by Wingårdh and his Gothenburg peer Tomas Hansen after beating five of Sweden's top architects in a 2002 competition. The design aims to incorporate and mirror Swedish values of openness and transparency which are reflected in the use of modern glass design and wooden framings.
4 Müritzeum (Wingårdh)
Müritzeum is a science and nature discovery centre which opened in 2007 and is located by Lake Müritz in the German state of Mecklenburg-Vorpommern. The Müritz Lake area is often described as the 'Land of a Thousand Lakes', and so Müritzeum is aptly known as the 'House of a Thousand Lakes'.
5 Mainz City Hall (Jacobsen)



photograph authorised by Verve Search Ltd on 20Oct2017
The Town Hall in Mainz, Germany was the final project Arne Jacobsen completed before he died in 1971 – designed with his colleague Otto Weitling.
6 Kleinhans Music Hall (Saarinen)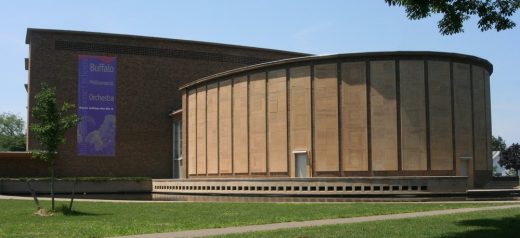 photograph authorised by Verve Search Ltd on 20Oct2017
This grand music venue serves as a 2,400-seat concert hall and is widely recognised as one of the greatest music halls ever built on US soil. In terms of design, it is a prime example of Saarinen's International Style.
7 Cranbrook Educational Community (Saarinen)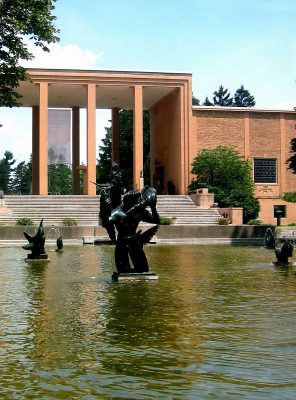 photo authorised by Verve Search Ltd on 20Oct2017
The Cranbrook Educational Community is a public museum and complex for education and research. Cranbrook's initial phase of building was completed in 1928. Saarinen later taught at the complex's Academy of Art, inviting many Finnish artists and designers to visit the community.
8 St. Catherine's College (Jacobsen)
In 1960, Arne Jacobsen was invited to design St. Catherine's College – the University of Oxford's first new college in almost 100 years. After his design was selected, the buildings officially opened in 1962. The design separates itself from other Oxford colleges by incorporating glass and concrete, and through its integrated landscape plan.
Impressive Scandinavian Architecture Overseas
Major Scandinavian Architects
Headlines:
Gert Wingårdh celebrates 40 years since the establishment of his company – Wingårdhs.
Sweden's most accomplished and popular architect Gert Wingårdh (Born 26th April, 1951) has won the Kasper Salin-award five times – more than any other Swedish architect. He describes his style as "maximalistic" and considers the design to be "modern baroque". You will find him on Swedish TV and he has also published a series of books about architecture together with his wife.
It's been 90 years since Arne Jacobsen's first architect project.
The fabulous architect Arne Jacobsen has found himself a place in all Danish hearts and around the world, widely known for his interpretation of functionalism. As if this wasn't enough, Jacobsen has also had a successful career in making furniture design and cutleries. Some of his chair designs are considered classics today, such as the "egg" or the "ant" series.
Eliel Saarinen has created many legacies, among them was his son, following his footsteps.
He is most famed for his Art Nouveau style. In his native Finland, you will forever be reminded about his National Romanticism when looking at the Helsinki Central Railway station. Together with his son, many buildings were brought to life. Among them is the GM Technical Center in Michigan. He moved to USA in 1923, bringing his son with him, and became a lecturer at the University of Art in Michigan and also Cranbrook Academy of Art.
Kjetil Thorsen integrates the natural surroundings into his masterpieces.
The co-founder of Snøhetta – he is one of the reasons that the world is able to enjoy some of the world's most inspiring architecture. Having a flair for mixing sustainability and horizontal lines, he understands how to plan for urban compositions. He can also claim the title as a commander of the royal Norwegian order of St Olav. The highest reward for remarkable accomplishments in Norway.
Impressive Scandinavian Architecture Overseas images / information received 201017
Location: Norway / Sweden / Denmark / Finland
Scandinavian Architecture
Norwegian Architecture Design – chronological list
Danish Buildings
Fisketorvet – Copenhagen Mall designed by Schmidt Hammer Lassen Architects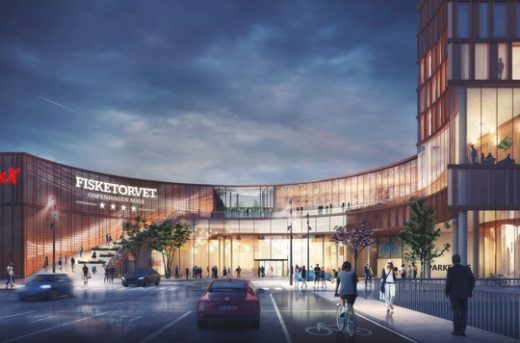 image courtesy of architects
The Silo Apartments in Copenhagen
Copenhagen Architecture Designs – chronological list
Norwegian Buildings
The Munch Museum
Design: HerrerosArquitectos
Munch Museum Building Oslo
Oslo Operahouse – cultural building
Design: Snøhetta
Oslo Operahouse
Eco Cube
Design: a-lab architects
Eco Cube Oslo
National Museum of Art, Architecture and Design Norway
Scandinavian Architecture
Scandinavian Architecture
Scandinavian Architecture Design
Scandinavian Style Dream Home Guide
Comments / photos for the Impressive Scandinavian Architecture Overseas – page welcome
Website : Oslo