Wingårdh Arkitektkontor Sweden, Swedish Design Studio, New Building Images
Wingårdh Arkitektkontor : Swedish Architects
Contemporary Swedish Architect Practice News
Wingårdh Arkitektkontor News
Architecture News – latest additions to this page, arranged chronologically:
Emporia, Malmö, Sweden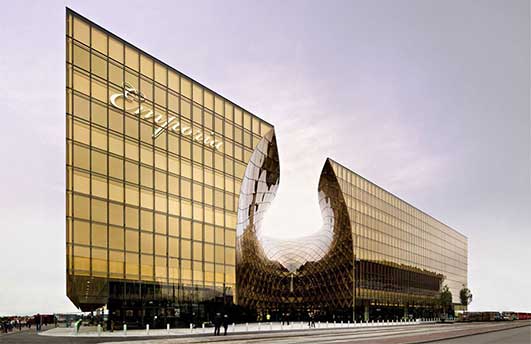 photo : Tord-Rikard Soderstrom
Emporia Malmö – 4 Oct 2013 + 27 Jun 2013
WAF Awards 2013 International Completed Building Shopping winner
World Architecture Festival Awards
Emporia is first and foremost an urban planning project in which offices, housing, and retail come together in a mixed-use development along Boulevarden and Stationsgatan in Hyllie, on the south side of Malmö. The main idea of our winning competition entry was to hide inward-looking retail behind a wreath of residential and commercial buildings. The whole shopping complex would thereby eventually become integrated into the fabric of the city.
Gert Wingårdh Installation – Stockholm Furniture Fair
6 Feb 2013 – Installation by Gert Wingårdh at the Furniture Fair in Stockholm
Swedish architect Gert Wingårdh and Finnish illustrator Kustaa Saksi have joined creative forces to design the installation that will set the stage for talks on design and architecture at the fair.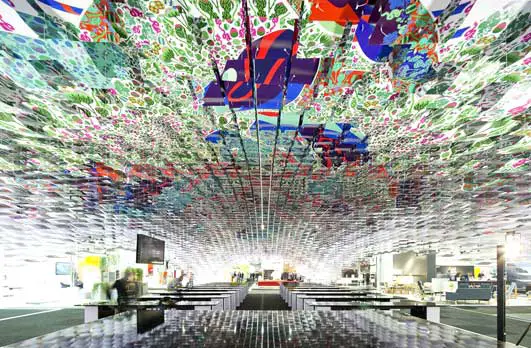 photograph : Tord-Rickard Söderström
They have each started out from their own perspective while adhering to a shared vision.
"From the very beginning, the idea has been to create a spatiality for communication in which furniture and design have a presence in words and images, as well as a physical presence.
To explain the concept behind an item of furniture, what you were thinking and how you arrived at the design, gives a deeper dimension to the object.


photograph : Tord-Rickard Söderström
This is something we've wanted to focus on more this year and so we're giving furniture companies a chance to introduce themselves, their products and designers by communicating through a new program item we call Show 'n Tell," explains Sanna Gebeyehu, the producer of the project.
The design suggests a church interior, with rows of high tables in front of an 'altar' where panels hold sway. The table tops are made of a mirror laminate and balance on stacks of A4 paper sheets – 700,000 in total.
The entire dome-like structure consists of stacks of paper sheets that hang from the roof in a Venetian blind-like construction. The lowest sheet in each stack carries part of a gigantic illustration that forms the dome-shaped ceiling.




photographs : Tord-Rickard Söderström
Preparations for construction have been going on for months and the actual raising of the dome is something of a never-ending task.
"Precision in all the preliminary work is crucial. 1,120 stacks consisting of a total of 11,000 A3 sheets in 44,000 points of attachment are being installed across an area of 200 sqm and are then gradually hoisted up," reports Sanna Gebeyehu.
6 Dec 2012
Emporis Skyscraper Award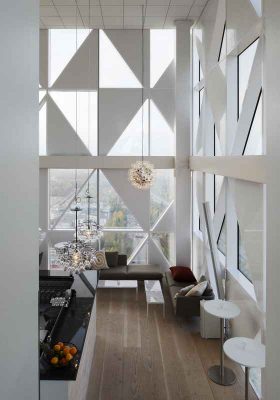 photograph : Tord-Rickard Söderström
Emporis Skyscraper Award
#4 Victoria Tower, Sweden
Points: 16
Height: 385.83 ft
Floors: 34
Location: Stockholm
Architect: Wingårdh Arkitektkontor AB
Recent Wingårdh Arkitektkontor Designs
10 Aug 2012
Sven-Harry's Art Museum, Stockholm, Sweden
Architect: Wingårdh Arkitektkontor AB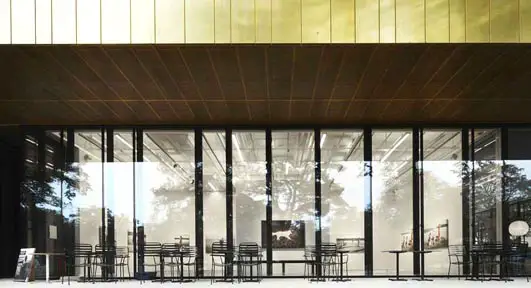 photograph : Tord-Rickard Söderström
Sven-Harry's Art Museum
The vertical museum is a city type. In urban situations are collections connected by stairs, elevators and escalators. It is an effect of density, but also a way to create sequences in the exhibition with the natural boundaries of the building. The top and the ground floor do have a significant importance in every building; exhibitions emphasises these dynamics of access and secrecy.
10 Aug 2012
Tåkern Visitor Centre, Östergötland, eastern Sweden
Architect: Wingårdh Arkitektkontor AB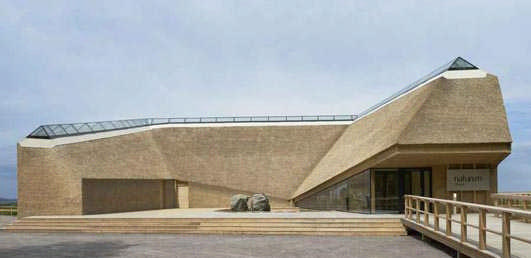 photograph : Åke E:son Lindman
Tåkern Visitor Centre
All the way out where the forest ends and the reeds begin, a visitor center hovers low on piles set carefully into the water's edge. The building is clad in thatch, camouflaged like a birdwatcher's blind, hiding its contents from the natural world that surrounds it. This is quiet architecture, using traditional local materials to break new ground with its crystalline geometry. Steep roofs transition seamlessly into walls.
12 Apr 2012
Spira Performing Arts Center, Jönköping, Sweden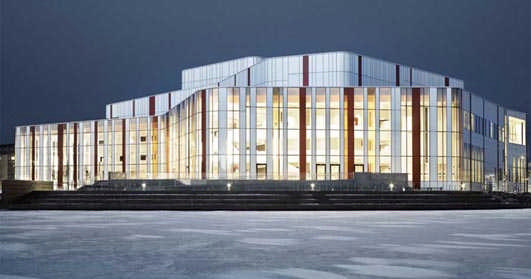 photograph : Ulf Celander
Spira Performing Arts Center
Spira has four different performing arts venues: a main concert hall that seats 910, a 450-seat theater, a 200-seat black box, and a 200-seat café stage. The building is situated on an artificial peninsula jutting out into Lake Munksjön, right in the center of downtown Jönköping.
The layout follows from a foyer that opens to the west and the sun as it sets over the lake, and from the four main halls strung together along the foyer.
28 Mar 2012
Victoria Tower, Kista, Stockholm, eastern Sweden
2012
Wingårdh Arkitektkontor



photograph : Tord-Rickard Söderström
Victoria Tower
Wrapped entirely in a cloak of glass, Victoria Tower stands like a lighthouse along the road between downtown Stockholm and the city's airport. The 117.6-meter tower is marker for the Kista IT office park and for the conference center at the base of the tower, and a manifestation of the area's high-tech profile.
24 Jan 2012
Klevens udde, Smögen, south west Sweden
2011
Wingårdh Arkitektkontor AB



photographs : Tenjin Visuals AB
Klevens udde
16 Aug 2011
Kuggen, Lindholmsplatsen, Göteborg, south west Sweden
2011
Wingårdh Arkitektkontor



photo : Åke E:son Lindman
Kuggen Gothenburg
Kuggen is nestled in among Lindholmen's big office buildings, like a colorful blossom surrounded by gray leaves. Its form and color are not immediately revealed. The round building looks different from every direction. The upper floors project out over the lower—more on the south side than on the north, so that the building partially shades itself when the sun is high in the sky.
Wingårdh Arkitektkontor – Key Projects
Featured Buildings by Wingårdh Arkitektkontor, alphabetical:
K:fem department store, Vällingby City, Stockholm, Sweden
2008



photograph : Patrik Gunnar Helin
K:fem Stockholm
Müritzeum, Germany
2005-07



photograph © Åke Eson Lindman
Müritzeum
More design projects by Gert Wingardh online soon
Location: Gothenburg, Sweden
Swedish Architects Practice Information
Wingårdh Arkitektkontor AB
Architect offices based in Gothenburg + Stockholm / Kontor i Göteborg + Stockholm
Swedish design studio led by Gert Wingårdh
Principal architect studio based in Göteborg, Sweden
Swedish Architecture
Comments / photos for the Wingårdh Arkitektkontor Sweden page welcome
Website: https://www.wingardhs.se/en