Ethical Architecture, Article, Capitalist Building Design, Disenfranchised Social Order
Ethical Architecture
Built Environment Discussion by Trevor Tucker
21 Feb 2012
Ethics & Architecture
Let's say we're in tough economic times. Let's pretend that once prosperous countries are going bankrupt. Rumours of war in the Middle East. Civil unrest as whole peoples march. "Disenfranchised from the ruling elite," they say. That's how my screen looks this morning. There's a clip of a man threatening to jump off a bridge, in protest of anti-austerity measures in Greece.


Trevor Tucker
And I have to comment on this: A Paris mall project wherein "Space can become a brand" and with "Wow Effect."'
Beaugrenelle Shopping Mall, Paris, France
Agence Search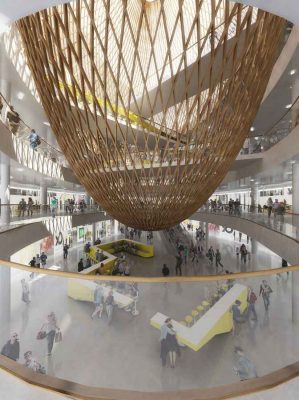 image from architects
Keep scrolling.
"AXA Real Estate Investment Managers, the leading real estate portfolio and asset manager in Europe, with over €42 billion of assets under management as at December 2011, in partnership with private equity real estate investment advisory company MGPA, announce that they have appointed Skanska to commence construction on 6 Bevis Marks, the major new 170,000 sq ft office development in the City of London. Development finance for the speculative office scheme has been provided by Eurohypo and the project has an expected circa £115 million total development cost."
6 Bevis Marks, London, UK
Fletcher Priest Architects



picture © Fletcher Priest Architects
This is starting to sound like a Samuel Beckett play.
Go get a coffee.
Let's see…reality, reality, reality. Is there any here?
Vladimir: This is becoming really insignificant.
Estragon: Not enough yet.
Can't seem to shake Beckett
Here is something to pass the time. My first real stop is at the National Museum of African American History and Culture, a monument to the African experience in America. Have a look at the six competition semifinalists—some big names like Fraser and Assoc. and a Canadian connection, Moshe Safdie—and compare their diverse concepts.
The writeup notes that the chosen architects are black, but I think there is something more to the winning concept here. There is a simplicity, cohesion, and a story inherent in the design. Unfortunately most of the writeup is about the architects and not so much about what went into the thinking behind the competition and the winning entry. We are told, "The—the institution and the building—embodies the African American spirit. Majestic yet exuberant, dignified yet triumphant, the building will be worthy of the museum's vision, and its prominent place on the National Mall." We'll watch for more.
NMAAHC Building, Washington DC, USA
Groundbreaking News



picture courtesy Freelon Adjaye Bond Smith Group
Back to surfing through projects. Another theatre, and yes, its in China. Opening up one side to take in the view. That's slightly different. There's the Nine Elms Masterplan, and Embassy Gardens: a textured, multi-faceted plan with parks, mixed use zoning and diverse housing. An obvious attempt to fully integrate into its context. Architecture giving back, not just sucking in. Good work.
Nine Elms + Embassy Gardens, London
Design: various architects



image from Wandsworth Council
Ahh, here's where I find my ethical equilibrium for this week. Amidst all of the billions of dollars and glass and steel and egos is this nugget: a youth centre and skate park. You have to read this. A former industrial district in Calais. Part of an urban renewal. The use of an old industrial hall. The architects want to "create a signal in the landscape" which is otherwise "bleak".
I love this description: "The existing building is a common industrial hall with no outstanding features […] The hall was once a roasted peanut factory, followed by various other incarnations (including a go-kart track) before being abandoned for several years." So, the architects have opened up one end, let in gallons of natural light and got to work on bringing new life—and community interaction—into this disregarded structure. Using good minds to solve important problems.
Zap'Ados, Calais, France
Bang Architectes



photograph : Julien Lanoo
As an English teacher, I am struck by how language is used in the skate park writeup and in that of 6 Bevis Marks. Here's what Harry Badham, AXA Real Estate's UK Director of Development said: "This development, with its spectacular sky-garden on the 16th floor, will provide one of the most exciting additions to the skyline in the City's tower cluster, alongside the Gherkin and the Heron Tower. We believe Bevis Marks will provide an exceptional workspace and is being delivered at a time when new build space will be in short supply, further emphasising our ability to source innovative assets which have the potential to create significant value for our clients."
The examples of the skate park and 6 Bevis shall go into my lecture on subtext, ambiguity, and clarity. One trumpets its importance, while the other, which recognizes its inner value and has no need to shake its tailfeathers, steps back and states its case simply. Sounds like architecture.
As I come to these pages this week, I'm a bit preoccupied with the Arquine design competition and where it will lead in the coming weeks. On recent editions of this site, Arquine has been advertising for architects to envision a "shelter for the displaced". A place for migrant workers to be safe amidst a cultural climate that has seen its share of graphic violence over recent years. I have been pouring over past stories and pictures of the present shelters in Lecheria, Mexico, where noble priests and volunteers are trying, with very few resources, to simply give whatever safety and nourishment they can.
Arquine Architecture Competition : A Shelter for the Displaced
In a strange way, the clip on the Eisenhower Memorial, to be designed by Frank Gehry, further informs our discussion. According to the Eisenhower family Gehry has missed the mark, at least in this version. "The Eisenhower family says the design overemphasizes "Ike's" humble roots and neglects his accomplishments," and they want the final approval delayed.
Eisenhower Memorial, Washington DC, USA
Frank O. Gehry – Criticism



picture from architects
At some point, legacy become important.
You can design a skate park for youth, a museum that tells a story of disenfranchised peoples, even a shelter for migrant workers beside a railroad track in an unheard of town just outside of Mexico city and know you're leaving a legacy. Or, you can build a spectacular 22-story luxury office tour, and even meet heady environmental standards.
This morning, the rest of the pictures on my screen tell me where we should be building.
Comments on this Ethics & Architecture: Capitalist Building article by Trevor Tucker are welcome.
Trevor Tucker
Trevor is an editor and sessional professor of English literature, at the University of Ottawa, Canada.
ttucker(at)rogers.com
International Architectural Designs
Architecture Context : article by Trevor Tucker. Sep 2010
Sizing Identities : article by Sergio López-Piñeiro. Jan 2011
Architecture Narrative : article by Trevor Tucker. Aug 2010
Sustainable Buildings – Building Issues : article by Adrian Welch
Comments / photos for the Ethics & Architecture Article page welcome